Woodworking enthusiasts are always wanting to improve their efficiency in the shop. From managing their time well to saving money to improving their workspace, woodworkers try to find solutions for all their needs. One problem that the small-scale builder or DIYer often faces is making a choice between a wide range of tools.
If you want to make a simple wall shelf or garden table, or if you want to install crown moldings or refinish furniture, everywhere you'll need some sort of cutting job. And the saw, either hand or power operated, is an essential cutting tool that you must have.
Once you've decided to get a saw for your next DIY projects, you'll quickly discover that there are a plethora of various types of saws (probably 100 various types) available on the market. When you have to choose between a hand saw and a power saw, it becomes even more difficult.
This article examines the features of some of the most essential types of saws, as well as their applicability in different scenarios and recommendations on which one to use in your DIY shop.
Let's get ready to have fun.
Know The Different Types Of Saws
Saws exist in a wide range of shapes and sizes, from simple cutting tools to complex motorized machines. It can be classed in a variety of ways, including by style, number of teeth per inch, application, and origins. However, the most fundamental classification of a saw is based on the power source: hand-operated and machine-operated saws.
Hand-operated saws include the traditional or crosscut saw, hack saw, bow saw, coping saw, and Japanese saw. Jigsaws, circular saws, miter saws, scroll saws, and reciprocating saws, on the other hand, are among the most popular machine-operated saws.
The type of saw you should use for woodworking is determined by the material being cut. Handsaws are excellent for cutting through large pieces of wood that must be cut straight, but they are not suitable for precision work. Power saws are better suited for precise cuts, but they are a bit tricky to use and expensive. Before making a decision, consider how much energy the saw will consume as well as the material it is made of.
Let's get details of each below-
Hand Saw
It's clear from the name that a hand saw relies on the user's force to work. Handsaws have been used in a variety of trades since ancient times and are still in use today.
Hand saws are commonly utilized in DIY or home crafts due to their easy-to-use feature and low cost. They are, however, slower than the power saws means you need quality time to get the job done. Let's take a look at some of the most prevalent hand saws.
Traditional Hand Saw
When we think about cutting any wooden piece, the traditional hand saw is the first thing that comes to mind. It is an essential tool for every carpenter. A hand saw has a long blade that is attached with a sturdy handle. Its long blade allows you to cut extra thick logs or studs that are not possible to cut even with a circular saw. However, it is completely muscled powered. So, you will need a bit more time than the power saws to get the job done.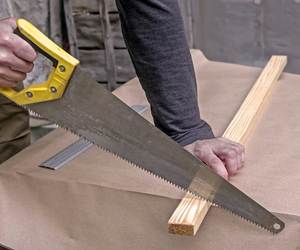 The blade of hand saws usually contains large size 8 to 12 teeth per inch, which allows them to cut fast but unevenly. As a result, traditional hand saws can be used in situations when precision cutting is not essential. However, it is a low-cost option that takes up less space and is simple to use, making it the preferred saw for all woodworkers.
Traditional hand saws are best for rip cuts, which involve cutting wood along its grain.
There is another common type of traditional hand saw available which can assist you to cut across the grain of the wood, known as a crosscut saw.
If you utilize a miter box, you can also make miter cuts with a hand saw. Simply place the wood piece in the miter box and drive the hand saw over it, following the preset slots. To get the correct angle and length, select the appropriate slot in the miter box.
Type Of Cuts: Straight (rip or cross) cut, miter cut subjected to using a miter box.
DIY Uses: These hand saws can be used for almost every woodworking project, including furniture construction, door, and window construction, crown molding and baseboard work, small wood crafts, and more. They'll come in handy in situations when power saws aren't an option.
Our Recommendation: Craftsman CMHT20880 is our top pick for a traditional hand saw. Its 15-inch blade is comprised of induction hardened teeth for prolonged use without the need to re-sharpen. Its unique geometric shape tooth also allows for quick and clean cuts every time. The handle of this Craftsman hand saw is ergonomically designed with bi-material and has square and miter features for user comfort. You can check out more on it on Amazon.
Hack Saw
A hack saw is a fine-toothed saw designed specifically for cutting metal. It consists of two parts: a thin blade and a C-shaped frame. Typically, the blade is 8 to 12 inches long and has 14 to 32 teeth per inch (TPI). The blades are interchangeable, and you can select the type that best suits your needs.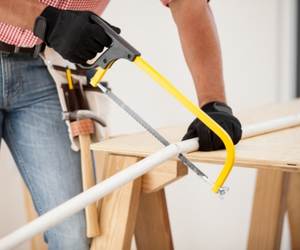 Its interchangeable blade is held taut against the frame by screws or clamps at both ends. Some hack saw models have adjustable blade angles to allow for flush cuts. With its flush-cut feature, you can also easily reach tight corners, such as cutting a conduit pipe under a sink cabinet. You can use it to cut plastic or metal pipes, as well as laminate boards, in addition to cutting metal.
A hack saw can also be used to cut wood, but it will quickly wear out the blade. Instead, a bow saw, which is similar to a hacksaw in design, can be used. A bow saw can cut both straight and curved lines.
Type of Cuts: Typically designed for cross-cutting of metal or plastics.
DIY Uses: DIYer can use a hack saw to cut metal, plastic, or laminates when needed. Because of its flexible fine-toothed blades, it helps you to cut metal or plastic pipes that are flush out from a wall. It also can be used to cut ornate pieces like piano hinges or wooden dowels.
Our Recommendation: We discovered that the CRAFTSMAN Hack Saw – CMHT20138 is one of the most popular and the best hand saw for metal cutting. It has a 12 inch long 24T carbide steel blade and a huge adjustable tension knob that allows you to cut flush at 90 or 180 degrees. Its sturdy metal structure can withstand tensions of up to 225 pounds. You can check more features and reviews on Amazon.
Coping Saw
Coping saws resemble hacksaws in appearance, but their blades are shorter (typically 6 inches) and narrower. Coping saw frames are U-shaped rather than C-shaped. Tension is employed to maintain the blade in position, and spinning pins at both ends of the U-shaped frame are used to do so. The blades have an average of 15 to 17 teeth per inch and can be interchanged depending on the materials you want to cut. It can easily cut through most materials, including wood, PVC, plastic, and light metal.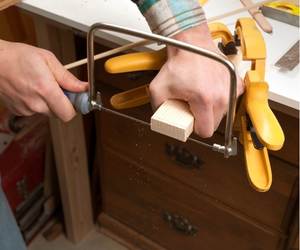 Because of its deep U-shaped frame (about 5-1/2 to 6-1/2 inches deep) can cut huge and thick wood logs or other materials. This lightweight, low-cost saw is great for cutting curves or hollowing down the inside of wood and bevel-backed surfaces. It's also great for making coping joints in moldings instead of mitering them.
Type of Cuts: Curves or hollowing out the inside of wood
DIY Uses: Coping saws are commonly used for DIY projects and dismantling works. You may use this saw to create intricate external designs as well as inner cut-outs. It can cut the connection of two twisted crown moldings or baseboards, cut holes, cut metal or PVC pipes, and do other modest carpentry chores.
Our Recommendation: The IRWIN Tools ProTouch Coping Saw's high-speed steel cutting blade allows you to cut through most materials with ease. As a result, IRWIN received our vote for the best coping saw. Let's click here to learn more about it.
Japanese Saw
The Japanese saw, also known as nokogiri, is comparable to that of a regular handsaw, but the blades are strong and narrow, and one end is coupled to a long handle for added maneuverability. Unlike other European saws, it cuts with a pull stroke rather than a push stroke. Therefore, it is also known as a pull saw.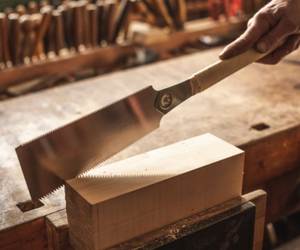 You'll have more control over it because of its pull motion. It is lighter in weight, demands less physical force, and produces narrower and more precise cuts with a cleaner edge. However, because you can't utilize your body weight to propel a stroke, it's unsuitable for rougher cuts and isn't as excellent for hardwoods.
There are three core types of Japanese saw available. Those are
The Ryoba: It has two cutting edges and is useful for rough cuts, carpentry, resawn, or dimensioning wood.
The Dozuki: This knife features a thin blade that is ideal for precision and precise cuts. Dozuki can be used to cut joints such as dovetails and tenons.
The Kataba: Its blade is slightly thicker than the other two, but the handle is longer to provide more control. It is an ideal option to get long cuts in thicker wood by using a kataba Japanese saw.
Type of Cuts: Narrow and cross cuts, dovetail, or tenon.
DIY Uses: Japanese pull saws are ideal for any homeowner or amateur woodworker since they cut with minimal force and provide a clean edge (thin kerf). It enables you to create long straight cuts without wasting wood, as well as cut door jambs to accept new flooring tiles and cut off a corner.
Our Recommendation: SUIZAN Hand Saw is our favorite Ryoba style Japanese pull saw. It boasts a 9.5-inch-long double-edged flush-cut blade for cross and rips cutting. However, SUIZAN Japanese Dozuki Dovetail Hand Saw is a good choice for DIY furniture work when you frequently need to cut dovetail or tenon.
Power Saw
Power saws are propelled by electricity, rechargeable battery, or gas motor, whilst hand saws are propelled by human strength. Power saws allow you to cut any material far more quickly and accurately than hand saws. It could be stationary or portable in nature.
Though the power saws help you get the work done faster, they are more expensive than handsaws and need a constant power supply to run. Some power saws are simple to operate, while others are more difficult and require expert instruction prior to usage.
Let's explore some of the most common types of power saw.
Jigsaw
Jigsaws are one of the most popular power saw among DIY enthusiasts. It's a multi-purpose saw that can be used to cut straight lines as well as curves. It is composed out of a short blade (typically 4 inches long) pointed downwards, and a flat base called a "shoe" that allows it to glide smoothly across the surface.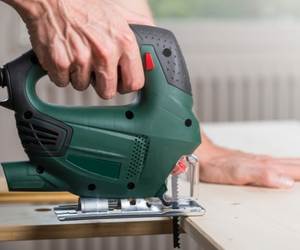 A jigsaw with a shoe and blade guard is safer for all users, and it can be used to cut circles or straight lines perfectly. You can also cut bevels because some jigsaws come with a tilted base.
Jigsaw blades typically have 8 to 10 TPI, pointing upwards and creating upstrokes during the cut. It is also lightweight and easy to use. As a result, jigsaws are suitable for cutting thin materials like plywood smoothly along with cutting thick or construction wood.
Type of Cuts: As a jigsaw is a versatile saw, it can be used to get various cuts, including straight, cross, bevel, and curved.
DIY Uses: It is one of the best saw for DIY projects and can be used to cut curves, but you can also use it for various purposes. You can use it to cut patterns on plywood, crosscuts on boards, finishing inside corners, and so on. If you use a blade with higher TPI, you can also use it to cut metal or plastic pipes, tiles, or ceramics.
Our Recommendation: Because of high performance and superior curve control, we love 5.0 Amp electrical BLACK+DECKER Jig Saw. With its strong variable speed motor, you may achieve up to 3000 strokes per minute. Let's look into it further on Amazon.
Circular Saw
Another DIY-friendly cutting equipment is the circular saw, which has a circular moving blade or abrasive disc. The blade moves very fast in a rotary motion around an arbor of the saw. Because of its high speed, it can accurately cut large materials in curvilinear and straight lines.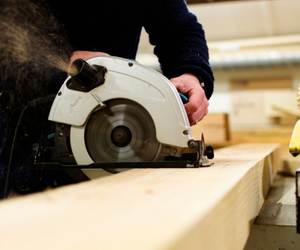 Circular saws were invented in the late 18th century and are now widely used in sawmills in the United States. It is a multipurpose tool that can cut a variety of materials such as wood, metal sheets, brickwork, stone, plastic, tiles, and others.
There are two kinds of circular saws: hand-held and machine-mounted. Hand-held circular saws are commonly used in woodworking and DIY projects. Other types of circular saws include table saws and chop saws.
Hand-held circular saws are often driven by a battery or electricity. They are lightweight and can be utilized for a variety of purposes. From furniture making to framing, everywhere you will see the use of a circular saw. After mounting the circular saw beneath a table, you may use it as a table saw, cutting huge pieces of plywood or hardwoods straight and precisely.
It quickly becomes one of the best multipurpose saws among woodworkers due to its versatility and high cutting ability.
Type of Cuts: It's usually used for crosscuts, but it can also be used for bevel cutting with the tilted base.
DIY Uses: A circular saw is the best saw for DIY projects and is also suitable for cutting straight, cross, and bevel of long plywood, large-sized timber, framing materials like studs, rafter, or joist, metal, masonry, stone, plastic, tiles, and more materials.
Our Recommendation: From the corded option, we found the SKIL 5280-01 circular saw is the best electric saw on the market. Its robust 15-amp motor can deliver up to 5,300 RPM for faster cuts and more speed. On the other hand, for cordless or battery-powered options, we prefer the DEWALT 20V MAX circular saw as it can outperform its competition.
Reciprocating Saw
When jigsaw and circular saw give you a clean straight cut, reciprocating saws are designed for rough cuts. It is more of a demolition tool than a DIY saw, and you can use it to chop everything from trees to metal pipes.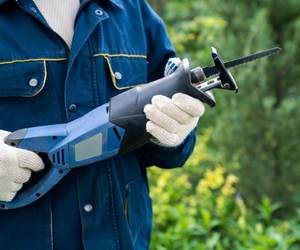 We're talking about it because you can use a reciprocating saw to cut big logs of wood or remove the buckle from the trunk of a tree to perform some DIY carving work.
Type of Cuts: Rip-Cut
DIY Uses: Mainly, it is used for rough cuts and demolition purposes, but we can use it for some selective DIY tasks such as carving a massive log of a tree.
Our Recommendation: We exclusively recommend the best cordless reciprocating saw here because cordless reciprocating saws provide us more freedom than corded reciprocating saws. And our nominee is the DEWALT ATOMIC 20V MAX Reciprocating Saw. Let's have a look at why it's the best by clicking here.
Scroll Saw
Scroll saws are useful for doing highly delicate tasks like cutting letters on boards or constructing beadboard stars for Christmas. It's a small electric or paddle-powered saw that's used to cut precise profiles, curves, patterns, or joints in wood, plastic, or metal.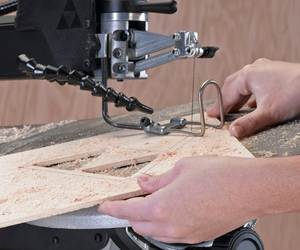 Scroll saws have finer blades (almost invisible) than jigsaws, allowing you to gain greater precision and get the work done faster than coping or fret saws.
If you want to carve wood, create artwork, or carve ivory, a scroll saw is the finest tool for the job. It's also the best saw for a woman to use.
Type of Cuts: Intricate curves and joints.
DIY Uses: Intarsia, marquetry, cutting metal for jewelry or art pieces, lettered signs and patterns, wooden toys, and jigsaw puzzles can all be made with a scroll saw. It's also useful for cutting dovetail joints and wood inlays when making little furniture or ornament boxes.
Our Recommendation: The WEN 3921 16-inch variable speed scroll saw is one of the best scroll saw for beginners. Its unique design allows blades to be inserted in two directions (standard and 90 degrees) for endless ripping capacity. The engine can achieve speeds ranging from 400 to 1600 storks per minute for better performance.
Miter Saw
You can simply do most DIY projects if you have a jigsaw and a circular saw. However, if you want to grow your shop and make a significant investment, you should consider adding a miter saw to your power tool arsenal.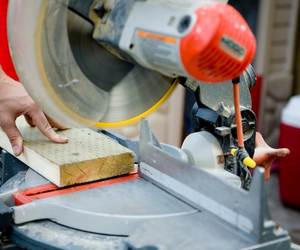 A miter saw, or mitre saw, is a kind of circular saw, but it uses a mounted blade instead of hand-held to make precise crosscuts and miter cuts in a workpiece. It is primarily used to cut wood trim and molding, but it can also be used to cut metal, brick, plastics, and other materials using the correct blade.
Although it may appear that miter saws are primarily designed for cross cuts, some miter saws, a.k.a. compound miter saw, can also be used to cut bevels. By altering the vertical tilt axis of the miter saw's upper half, you can cut bevels into a workpiece while the table remains flat horizontally.
Type of Cuts: Cross and miter cut, Bevel cut
DIY Uses: A miter saw is the best tool for cutting crown molding. It's also great for crosscutting because the blade is steady and provides powerful strokes that cut through any hard material straight and accurately. Miter cuts for frames, doors, and windows can also be made with a miter saw to make 90-degree corners. Compound miter saws can also be used for compound angle cuts.
Our Recommendation: DEWALT, in our opinion, makes the best miter saw on the market. Its DWS715 model features a double-bevel design with 14 positive stops that allows you to bevel from 0 to 48 degrees to the left and right. You can easily cross, or miter cut any materials with its powerful 15Amp 3800RPM motor. Let's have a look at the features and customer reviews for this Dewalt miter saw on Amazon by clicking here.
Which Saw Should I Use?
We went over some of the most basic saws that are useful for small projects or DIY. Aside from this, there is a myriad of other options. However, we believe that if you have the above saws in your toolbox, you will be able to complete 99 percent of your DIY or home craft as well as professional projects successfully.
We'll move on to the table saw, which is one of the saws mentioned above. However, we demonstrate how to use a circular saw as a table saw by mounting it beneath a table.
So, if you've ever wondered, "which saw should I use?" now you know!
FAQ
What Saw Should I Use To Cut A Door?
You can cut the door using a hand saw, but it will take a long time to complete the task. As a result, a circular saw is the perfect tool for cutting the door. However, you must ensure that the blade is sharp, at least 7 inches long, and has 40 teeth per inch. For instance, you may use the Freud D0740A Diablo 7-1/4 40 Tooth ATB Finishing Saw Blade.
What Saw Should I Use To Cut 4×4?
You can cut 4×4 posts using a hand saw, or Japanese saw because they have long blades, but it will take a long time and a lot of muscle power.
You can cut 4×4 with a circular saw, but keep in mind that the cutting depth of a 7-1/4″ circle saw blade is just 2-1/2″. If you wish to cut a thicker post, such as a 4×4, you'll need to pass the saw blade through the post twice. You'll need a calculator and a measurement square for this.
A 12″ miter saw is the best tool for cutting a 4×4 post. In a single pass, it will offer you a smooth and exact cut. You can also use a reciprocating saw to rip cut the pole or shaft.
What Saw Should I Use To Cut 2×4?
Depending on the tools available, the precision required, and the sort of cut, you can cut 2×4 with a circular saw, miter saw, or reciprocating saw.
What Saw Should I Use To Cut Laminate Flooring?
A variety of tools, ranging from a flooring saw to a hand saw, can be used to cut laminate flooring. The flooring saw, however, is the most effective tool for cutting laminate boards smoothly. Cutting flooring boards with a table saw is also common. You can also use a miter saw, circular saw, jig saw, and Dermel tool for this project.
What Saw Should I Use To Cut Plywood?
Plywood is typically thin and brittle, especially when sliced across the veneer face. As a result, a circular saw with a kerf, and higher teeth count blade can be used to cut plywood. For this, you can use the Freud D1280X Diablo 12-Inch 80 Tooth ATB Crosscutting Saw Blade.
What Saw Should I Use To Cut Wood?
To cut the wood or lumber, you can use practically any of the saws mentioned above, such as the hand saw, coping saw, Japanese saw, jigsaw, circular saw, scroll saw, miter saw, and so on. Although you can use a hack saw to cut wood to some extent, it is best to use it for cutting metals and other materials.
What Saw Should I Use To Cut Metal?
If you wish to cut metal by hand with precision, a hack saw is an ideal tool to use. You can also cut metal or metal pipes with a jigsaw, circular saw, or miter saw with the right blades.
What Saw Should I Use To Cut Plastic?
A circular saw is the most excellent tool for cutting various types of plastics, such as plexiglass, PVC, and polycarbonate sheets. However, you must select the appropriate blade for the job. For plastic, you'll need a blade with at least 80 teeth, as the higher the number of teeth, the finer the cut. Another thing to keep in mind when cutting plastic is the blade's overheat protective layer. You'll wind up with a melted plastic if you don't.
What Saw Should I Use To Cut A Tree?
Chain saws are ideal for cutting down large trees. However, if you need to cut small shrubs or pruning branches, you can use a reciprocating saw or pole saw instead.
Related Reviews
Tools Mirror is reader-supported. When you shop through retailer links on our site, we may earn an affiliate commission at no cost to you.
Recent Posts