The popularity of shiplap has skyrocketed in recent years. However, it gained popularity after Chip and Joanna Gaines of HGTV's Fixer Upper began to use them in almost every area, including the living room, kitchen, and bathroom.
The popularity increases manifold when folks find the benefits of using a brad nailer for shiplap. A brad nailer is also called a finish nailer, which is used to fasten pieces of wood together. The nails are typically small, so they don't take away from the natural beauty of the wood.
Brad nailers are great for shiplap because they are able to nail into the slats without denting the surface of the shiplap. A brad nailer is also used to put in small accents like wainscoting. If you are trying to decide whether or not you can use a brad nailer on your shiplap, this article will explain whether or not it's safe to use one.
Before we get into the details of whether or not you can use a brad nailer for shiplap, let's learn what shiplap exactly is?
What Is Shiplap?
Shiplap is a type of rectangular shape wooden board or siding commonly used for interior decoration. You can create shiplap with a variety of materials, including cedar, pine, cypress, cherry, and even plywood. Shiplap is created by cutting two rabbet joints on opposing sides of the board, which is then secured together with glue and nails.
However, the phrase "shiplap" comes from the early ways of shipbuilding. Shipbuilders of the period used shiplap to construct the shell of a ship. The overlaying boards created a waterproof surface that would make the ship seaworthy. It's possible that this is where the phrase "shiplap" came from.
Shiplap was utilized as sheathing between the exterior and the framing in the early days. It's also been observed being used to make sheds, barns, and other rustic structures. When used outside, it helps to keep the house warm and watertight.
However, it has recently been seen as an interior finish to add rustic appeal and subtle texture (you may get some inspiration from fixer upper). Shiplap has become a popular interior design element for accent walls – and even ceilings.
Is A Brad Nailer Good For Installing Shiplap Or Not?
Shiplap is a type of siding or trim. As a result, they are normally narrow in thickness. To fasten shiplap to the sheetrock or frame, any finishing nailers, such as 18 gauge brad nailers or 15 to 16 gauge finish nailers, would suffice.
However, in order to determine which nail gun is best for installing shiplap, we must first determine the size and length of the shiplap nails. Let's have a look at them.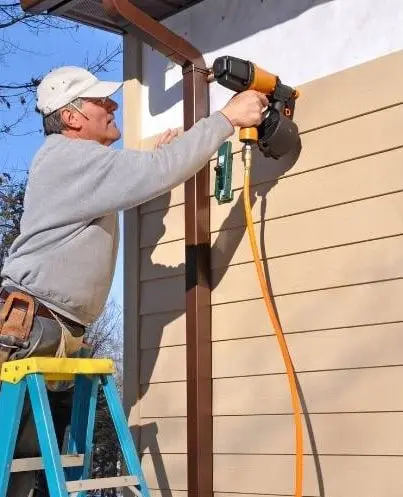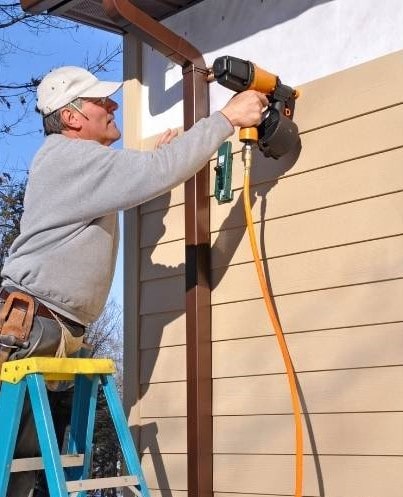 What Size Nails Should I Use For Shiplap?
We discovered two types of shiplap: one is real and made of substantial wood, while the other is false and composed of MDF boards or plywood to mimic the look of shiplap. As a result, the thickness and materials of shiplap have a big influence on nail size.
For materials with a lesser thickness and medium weight, such as MDF or plywood, you'll need less holding strength and can use an 18 gauge brad nail without an issue. For a slightly thicker and solid wood shiplap, on the other hand, 15 to 16 gauge nails will provide more holding force.
You must also pay attention to the holes formed by the nail head in addition to the holding capacity. When using 15 or 16 gauge finish nails, the holes will be larger than when using 18 gauge brads. The deeper the holes, the more putty or wood filler you'll need, which may seem weird on your wall or ceiling.
When using 15 gauge nails in a faux shiplap siding, you may encounter the risk of splitting the boards. As a result, it is preferable to match the nail size to the shiplap's nature.
How Long Should Shiplap Nails Be?
After you've set up the nail gauge, the next step is to choose the proper nail length. When driving nails to attach a board or piece of wood into a frame, the size of the nails should be one inch larger than the combined thickness of the boards and drywall, according to the rule of thumb.
As a result, if the thickness of the shiplap is 3/4 inches, you'll need a 1-3/4 inch long nail. You'll also need a 2-1/4 or 2-1/2 inch nail to fasten a 3/4-inch shiplap through 1/2-inch drywall.
Based on the above discussion, we can deduce that three types of nail guns can be used for shiplap installation: 18 ga brad nailer, 15 ga, and 16 ga finish nailer.
Takeaways: Can You Use A Brad Nailer For Shiplap?
If you're a professional woodworker who has to deal with a wide range of shiplap installations on a regular basis, investing in a brad nailer and a 16 gauge finish nailer is a good idea.
If you're a weekend warrior who wants to add style to one or two walls of your room with faux shiplap siding, an 18 gauge brad nailer is the way to go. Instead of purchasing a nail gun, you could consider renting one for a small amount of work.
Our Recommendation:
• The best brad nailer for shiplap is WEN 61721 18-Gauge 3/8-Inch to 2-Inch Pneumatic Brad Nailer.
• The best finish nailer for tongue and groove is NuMax SFN64 Pneumatic 16-Gauge 2-1/2″ Straight Finish Nailer.
Recent Posts
link to Can You Use Staples Instead Of Nails?
We're wondering whether or not staples can be used in place of nails. Between staples and nails, which is more appropriate? When it comes to securing items like wall or roof framework, sheathing,...
link to Can You Use A Brad Nailer For Upholstery?
If you purchase a new sofa and discover after a few months of use that it does not match your interior or has snags and stains as a result of poor quality, you may need to replace the...