Yes, you can use a brad nailer for shiplap. Brad nailers are commonly used for installing trim, molding, and other delicate woodworking projects, making them suitable for securing shiplap boards due to their small nail size and precision.
The popularity of shiplap has skyrocketed in recent years. However, it gained popularity after Chip and Joanna Gaines of HGTV's Fixer Upper began to use them in almost every area, including the living room, kitchen, and bathroom.
The popularity increases manifold when folks find the benefits of using a brad nailer for shiplap. A brad nailer is also called a finish nailer, which is used to fasten pieces of wood together. The nails are typically long but tiny, so they don't take away from the natural beauty of the wood.
Brad nailers are great for shiplap because they are able to nail into the slats without denting the surface of the shiplap. A brad nailer is also used to put in small accents like wainscoting. If you are trying to decide whether or not you can use a brad nailer on your shiplap, this article will explain whether or not it's safe to use one.
Before we get into the specifics of whether or not can you use a brad nailer for shiplap, let's first define what a shiplap is, what the benefits of utilizing shiplap are, and then whether or not you can use a brad nailer to install shiplap. We'll also try to discuss some tips on how to install Shiplap easily.
What Is Shiplap?
Shiplap is a type of rectangular shape wooden board or siding commonly used for interior decoration. You can create shiplap with a variety of materials, including cedar, pine, cypress, cherry, and even plywood. Shiplap is created by cutting two rabbet joints on opposing sides of the board, which is then secured together with glue and nails.
However, the phrase "shiplap" comes from the early ways of shipbuilding. Shipbuilders of the period used shiplap to construct the shell of a ship. The overlaying boards created a waterproof surface that would make the ship seaworthy. It's possible that this is where the phrase "shiplap" came from.
Shiplap was utilized as sheathing between the exterior and the framing in the early days. It's also been observed being used to make sheds, barns, and other rustic structures. When used outside, it helps to keep the house warm and watertight.
However, it has recently been seen as an interior finish to add rustic appeal and subtle texture (you may get some inspiration from fixer upper). Shiplap has become a popular interior design element for accent walls – and even ceilings.
What Are The Benefits Of Using Shiplap?
Shiplap may give a space a pleasant, homey feel and add texture. Shiplap has become a popular wall interior material in recent years due to its rustic appearance. It has numerous advantages in addition to improving the aesthetics of a room. Let's brainstorm some ideas in light of this.
Easy To Install
The ease with which shiplap may be installed is the first feature that has made it so popular. Shiplap has rabbets cut into each side, making it easy to match one piece to the next in a smooth and consistent manner.
Inexpensive
If you decide to décor your interior with shiplap, you can do it without denting your pocket as it'll cost lower compared to other sidings. You can purchase shiplap by spending around a dollar per board foot. Most of the time shiplap is made of pine which is low cost than cement board or plywood siding. It is so cheap that you can cover a 10×10 wall for just $80 to $100.
Add Old Rustic Look In Modern Structure
Another appealing quality of shiplap is that it can give your space a rustic vibe without making it appear too old. Shiplap is typically constructed of natural and lovely woods such as pine, cedar, or oak, and they can just give your home a beautiful natural feel. It also adds a craftsman style to the interior because it is generally installed by hand. If you finish your shiplap with white, it'll work well with more contemporary furniture and home design easily.
Flexibility Of Application
Shiplap is versatile enough that you can use it in every corner or room of your home and outdoors. You can use shiplap in living rooms, bathrooms, kitchens, bedrooms, and garages throughout the country. It also can be used in piazza or pergolas. As a result, it has a tremendous opportunity to apply.
Shiplap is also easy to color and you can add any color, white, blue, or ash as per your choice, and match it with your cabinet or other furniture. However, the white color will give you more room to adapt to any type of floor and furniture.
Resistance To Corrosion And Rusting
As shiplap is sourced from natural wood, there is no way of getting rusted or corrosion as what happens for aluminum or other metal sidings. Organic wood also shows good resistance against weather variations and scratches or dents.
Required Less Finishing Job
You may leave the shiplap as original to get a more rustic feel. However, if you want to add some color, you can do it simply too.
Easy To Repair
Shiplap is less costly and needs less time to install. It is also less hassle to upkeep. If you found any damaged part, you can replace it yourself effortlessly if you have a finish nail gun and a circular saw.
Shiplap is becoming increasingly popular as a result of its numerous advantages. If you want to do your own shiplap installation, you'll need a nail gun and a circular saw. Then scroll down to see which nail gun you should get.
Is A Brad Nailer Good For Installing Shiplap Or Not?
Shiplap is a type of siding or trim. As a result, they are usually narrow in thickness. Any finishing nailers, such as 18 gauge brad nailers or 15 to 16 gauge finish nailers, would suffice to fasten the shiplap to the sheetrock or frame.
However, before we can figure out which nail gun is best for installing shiplap, we must first figure out the different types of nail guns, the typical thickness of shiplap, and the size and length of shiplap nails. Let's take a closer look at the points below.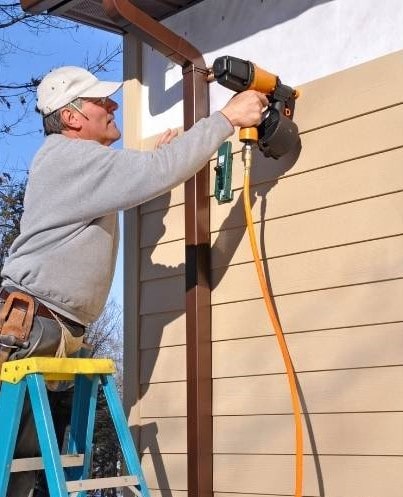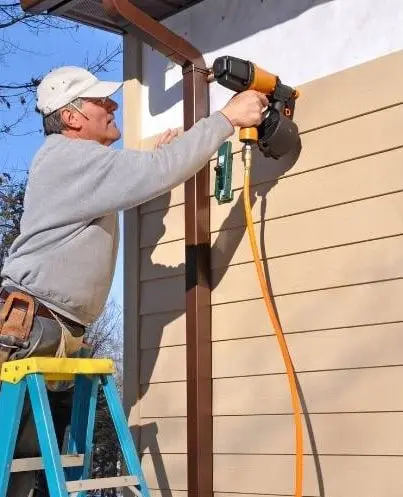 Which Nail Gun For Shiplap?
There are various sorts of nail guns on the market, each with its own purpose and size. Some nail guns are meant to drive slightly larger 10 gauge (thickness) nails, while others are designed to drive incredibly thin 23 gauge nails. We can categorize them into three groups based on what we know about them:
Heavy-duty or framing nail gun
Medium-duty or finishing nail gun
Small-duty or pin nail gun
Framing Nailer Or Heavy-Duty Nail Gun:
They are made to carry out heavy framing work whether constructing a new home or renovating an existing one. Framing nailers can drive nails that are 10 to 12 gauge (the thicker the nail, the lower the gauge number) and 2 to 3-1/2 inches long. As a result, they're a good choice for fastening nails in fencing, decking, siding, sheathing, furniture assembly, and other heavy woodworking projects.
Because shiplap is thin, using a framing nailer to attach them may break the board and leave a large hole for the head, which necessitates the use of putty, which isn't always attractive.
Finishing Nailer Or Medium-Duty Nail Gun:
They are suitable for finishing carpentry works such as installing crown molding, window or door jambs, furniture assembly, or attaching a photo frame. There are two kinds of finishing nailer, one is known as a brad nailer and the other is a finish nailer.
Brad nailer, what we are talking about today, is designed to drive small nails known as brads. Brads are usually 18 gauge thick and 3/8 to 2 inches long. As a result, they are ideal for trim works like installing trim molding, staircase, and chair rails, making bird or pet houses, or other delicate woodwork.
Finish nailers, on the other hand, are designed to drive a bit thicker nails, 15 to 16 gauge in size and 1 to 2-1/2 inches long. Finish nails are capable to provide more gripping strength than the brad nailers. As a result, they are a suitable option to attach heavy crown molding, all kinds of furniture work, and other medium-duty wood projects.
Both the brad and the finish nailer are competent for attaching shiplap. However, which one is more appropriate, to know, wait until the end of this article.
In the meanwhile, if you want to know more about the finish nailer and the brad nailer, you may read a comparison by clicking here.
Pin Nailer Or Small-Duty Nail Gun:
They are the smallest type of nail gun among others and are designed to drive extremely thin 23 gauge nails. Because the pins (what pin nailers are drive) are extremely thin, they have very less holding capacity. As a result, pin nailers are not suitable for shiplap. You can use them for delicate works like attaching veneer or furniture trim or temporarily holding two-piece of plank after applying glue.
What Is The Size Of Shiplap?
We discovered two types of shiplap: one is real and made of natural wood like oak, cedar, and pine, while the other is decorative and composed of MDF boards or plywood to mimic the look of shiplap. As a result, the thickness and materials of shiplap have a big influence on nail size.
The thickness of a solid genuine wood shiplap is normally 1 inch thick (unfinished) or found 3/4 inch thick after being sawed. The MDF or plywood-made shiplap, on the other hand, is often 1/4 inches thick. The length and width of the shiplap vary widely, though the thickness remains constant for every shiplap.
We should also consider the weight of a shiplap board or plank as the measure of the holding capacity of a nail is dependent on this. Typically a 1×8 12 ft. pine shiplap weighs around 12 pounds.
What Gauge Nails Should I Use For Shiplap?
The thickness and materials of shiplap have a big influence on nail size. As we came to know that the shiplap constructed of MDF or plywood is less dense and thick than the genuine wood-made shiplap.
As a result, you'll need less holding power for less thick and medium weight shiplap and can use an 18 gauge brad nail without an issue. For a slightly thicker and solid wood shiplap, on the other hand, 15 to 16 gauge nails will be more appropriate and can provide enough holding force.
You must also pay attention to the holes formed by the nail head in addition to the holding capacity. When using 15 or 16 gauge finish nails, they will create bigger holes compared to 18 gauge brads. The deeper the holes, the more putty or wood filler you'll need to finish those, which may seem weird on your wall or ceiling.
Furthermore, when you will use 15 gauge nails to attach faux shiplap sidings, you may encounter the risk of splitting the boards, in the worst cases may ruin your projects too. As a result, it is preferable to match the nail size to the shiplap's nature.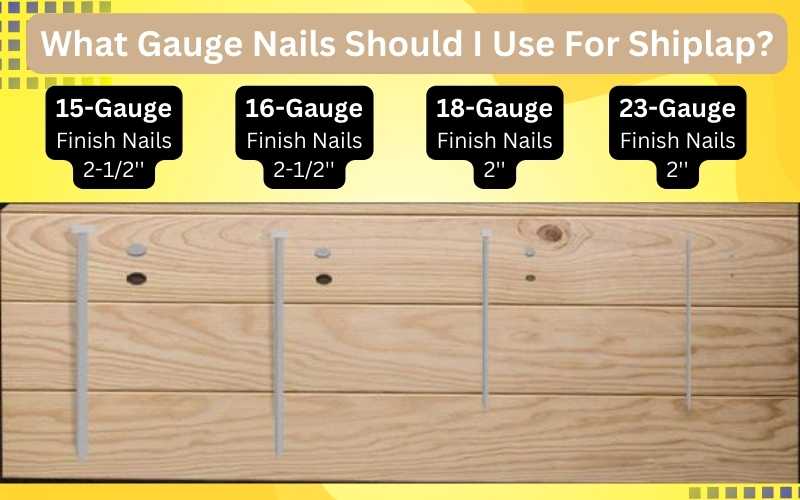 How Long Should Shiplap Nails Be?
After you've set up the nail gauge, the next step is to choose the proper nail length. When driving nails to attach a board or piece of wood into a frame, the size of the nails should be one inch larger than the combined thickness of the boards and drywall, according to the rule of thumb.
As a result, if the thickness of the shiplap is 3/4 inches, you'll need a 1-3/4 inch long nail. You'll also need a 2-1/4 or 2-1/2 inch nail to fasten a 3/4-inch shiplap through 1/2-inch drywall.
Based on the above discussion, we can deduce that three types of nail guns can be used for shiplap installation: 18 ga brad nailer, 15 ga, and 16 ga finish nailer.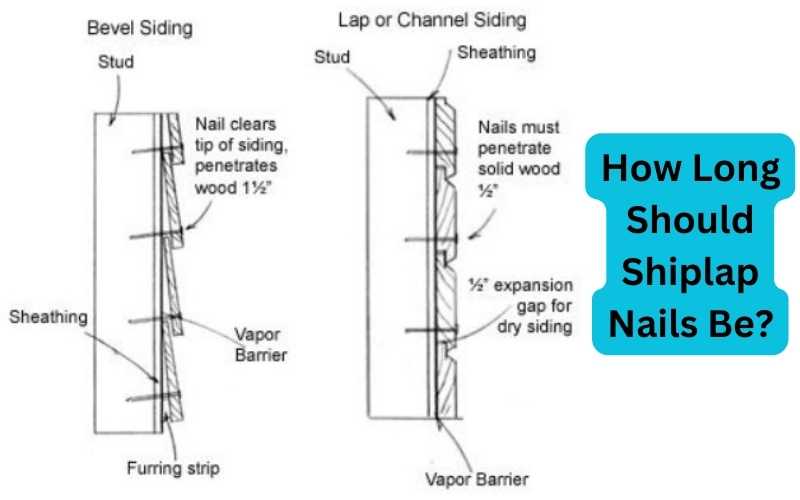 Summary of the Above Discussions
Based on the above discussion, we can deduce that three types of nail guns can be used for shiplap installation: 18 ga brad nailer, and 15 or 16 ga finish nailer.
If the shiplap is constructed of solid wood and is somewhat hefty, a 15 or 16 gauge finish nailer is preferable because it is designed to drive 2-1/2 inches long 15 or 16 gauge nails, which can provide more holding capability than brads.
On the other hand, if the shiplap is ornamental, constructed of plywood or MDF, and of a thinner thickness, a brad nailer should be used. Because bards are thin and frequently headless, they will require less or no filling, which is significant for ornamental purposes.
So, you can use a brad nailer to install shiplap, as well as a finish nailer, but never a framing or other heavy-duty frame nailer (since framing nails leave enormous holes in the shiplap and can split it).
Takeaways: Can You Use A Brad Nailer For Shiplap?
If you're a professional woodworker who has to deal with a wide range of shiplap installations on a regular basis, investing in a brad nailer and a 16 gauge finish nailer is a good idea.
If you're a weekend warrior who wants to add style to one or two walls of your room with faux shiplap siding, an 18 gauge brad nailer is the way to go. Instead of purchasing a nail gun, you could consider renting one for a small amount of work.
Our Recommendation:
• The best brad nailer for shiplap is WEN 61721 18-Gauge 3/8-Inch to 2-Inch Pneumatic Brad Nailer.
• The best finish nailer for tongue and groove is NuMax SFN64 Pneumatic 16-Gauge 2-1/2″ Straight Finish Nailer.
Recent Posts