As semi or non-professionals, we are constantly perplexed as to which type of nail gun is best suited to our mission. It is especially noticeable when deciding between a brad nailer and a finish nailer. They are very similar in appearance and functionality, and both are used in the finishing stage of carpentry or woodworking.
Once we got a clear view of these two styles of nail guns, hope we'll never slip into such a nightmare. That's why we're going to write this short story about brad nailer vs finish nailer to divulge the truth.
History Of Nail Gun
I know like me, you're also excitedly waiting to unveil the reality of brad nailer vs finish nailer. It is, for that reason, important to know the history behind the invention of the nail gun.
People have been using hammers since the Stone Age. The movement to use mechanical hammers, however, dates back to the 1800s. In 1862, Doig Manufacturing Company created the first stationary machine for industrial purposes, which can only feed and drives bulk nails.
The real power nailer or air nailer was invented at a much later date, nearly 100 years after the first attempt, in the 1900s. In 1944, Morris Pynoos, an engineer, developed the first pneumatic nailer for Howard Hughes as a way of assembling the wooden sections of the 'SPRUCE GOOSE' aircraft.
However, Bill Burnison, a true visionary in the nailing industry, invented and commercialized the most popular portable bulk nailer in the early 1950s in Los Angeles. Until the invention of plywood, it was used for nailing wooden roofing boards.
From the need for speed and ease of work, people from then tried to bringing changes and developing the nail gun numerous times and are able to reach today's shape. They didn't stop by inventing just one kind of nail gun, though. As a result of their continuous effort, we have been able to see many forms of them today. And some of the main types are framing nailer, finishing nailer, brad nailer, pin nailer, staple gun, and more.
We will discover the specific functions and values of a brad nailer and a finish nailer by the end of the discussion. We'll also learn what they were designed for.
Now, let's see a contrast to make a distinction between them.
Brad Nailer Vs Finish Nailer: A Detail Comparison
The primary difference between brad and finish nailers is the nail gauge they are driving. While brad nailers are driving only 18-gauge nails, finish nailers are built to shoot 15 to 16 gauge nails.
What this 'Gauge' stands for?
The 'Gauge' is a measuring unit, which used to calculate magnitude or quantity, such as the thickness of the wire, the dimensions of the machine component, the amount of liquid in the container, the pressure of steam, the capacity, etc.
Here in our article, the gauge stands for the thickness of the wire or nails. Standard nail sizes are 10, 15, 16, 18, and 23.
Generally, the higher the cross-sectional thickness is, the lower the gauge number.
You can measure the nail gauge by merely counting the number of nails per inch, though. If you found 18 brads in an inch, it is 18-gauge. And similarly, 16-gauge nails contain 16 nails per inch.
You can also measure it by measuring the diameter of the cross-section of the nail. Let's check the chart below –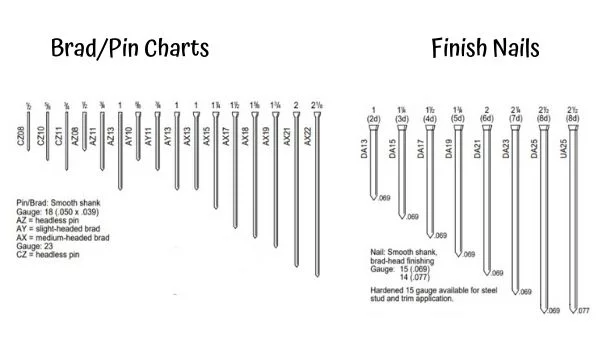 Let's dig down more on brad nailer vs finish nailer in the table below –
Comparison Table: Brad Vs Finish Nailer
| Criteria | Brad Nailer | Finish nailer |
| --- | --- | --- |
| Nail Gauge | Thin, 18-gauge | A bit thicker, 15-gauge and 16-gauge |
| Nail Head Size | Approx. 0.0475 inches (1.207 mm) | 0.0625 to 0.0720 inches (1.588 to 1.83 mm) |
| Nail Length | 5/8 to 2 inches | 1 to 2-1/2 inches |
| Power Source | Pneumatic and Electric or battery-powered | Pneumatic and battery or gas-powered |
| Holding Capacity | Less holding power – can hold small crown molding or thin baseboards | Ability to withstand higher payload – can hold hardwood and bigger crown molding. |
| Materials Can Fasten By | Soft, thin woods (Non-MDF) | MDF, plywood, baseboards hard and softwoods |
| Function and Uses | Ideal for delicate woodworks.Can attach the thin trims without splitting.Excellent for lightweight boards and moldings. | Ideal for finish carpentry.Excellent for finishing furniture, door casing, heavy moldings, and other carpentry works. |
| Price | Depends on the Brand value and quality | Depends on the Brand value and quality |
Okay, you've got a bit of a glimpse about brad nailer and finish nailer above. Now, I'm going to tell you what more things you need to know about these two kinds of nail guns, and what their key differences are, and when to go for either one of them.
Brad Nailer Overview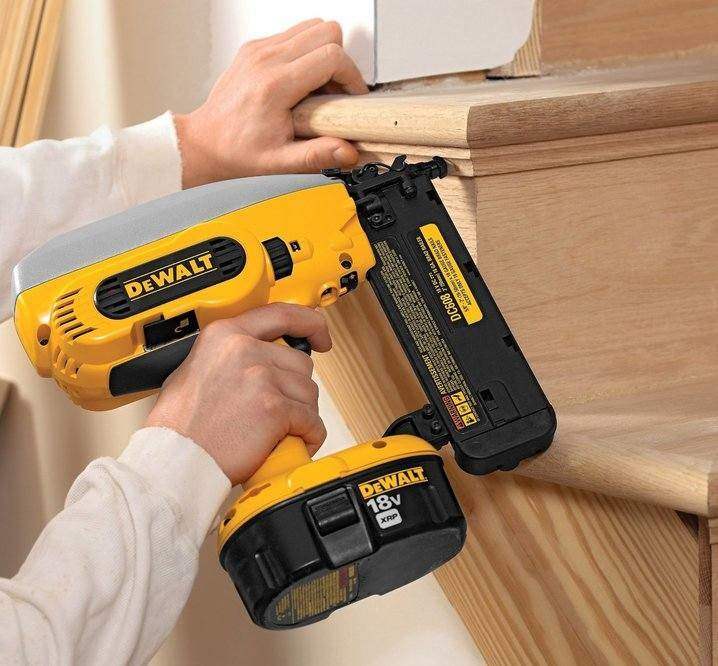 What Is A Brad Nailer?
The brad nailer is a small member of the nail gun family. It has been designed to firing nails with a tiny cross-section, known as brads. Brads are thinner and have a smaller head than standard nails; therefore, it is an ideal tool for fastening lightweight pieces of trim without ruining them.
As it is designed to handle small gauge nails, it doesn't require that much force to drive. So, brad nailers are lightweight and petite in size and shape that allow you to work in tight corners with ease.
Usually, the brad nailers are capable of shoots a wide range of 18-gauge brads from 5/8-inches to 2-inches long.
Since brad nailers are designed to fire 18-gauge nails, they leave almost undetectable hole marks and are less likely to damage the edges. As a bonus, because of their small size, you don't even need to use wax to cover the holes. It won't look strange when painting or staining, and it'll give you a smooth, polished look that finish nails can't match.
They don't have the same holding strength as finish nails as a downside. They're ideal for home improvement projects that need diligent nailing and little hole visibility.
Pneumatic Vs Cordless

brad nailer
We can categorize the brad nailer into two major groups – pneumatic and electric or cordless. You will require an air compressor to operate the pneumatic brad nailers. Pneumatic brad nail guns are a bit more powerful than the cordless types and provide continuous runtime. While battery-operated or cordless brad nailers give you extra freedom to work in remote corners as you no longer need to pull the hoses or compressor.
Please read the buyer's guide section of the best brad nailer reviews to get the details about them.
Advantages Of A

brad nailer
Great for thin and delicate wood trims and moldings.
You can drive the 18-gauge nails without any concern about breaking the trim.
As the size of the brad head is negligible, leaving a tiny hole that doesn't require any putty.
It allows you to drive brads into thin baseboard or plywood even ½ inch thick with ease.
It helps you in the gluing task. You can use brads to keep the items in place momentarily after applying glue. Only remove it when the glue has settled, and the nail holes are nearly invisible.
Downsides Of A

brad nailer
It doesn't have enough holding power to carry a large, thick piece of wood. This cannot pass into thick frames, plywood, or MDF.
You can't use it in patio woodworking activities like framing or fencing.
If you want a pneumatic variant, you have to spend extra to buy an air compressor.
What Do You Use An 18 Gauge Brad Nailer For?
You may have already deduced from the preceding discussion that Brad nailers are ideal for materials or wood where cracking is an issue. It is also obvious that where you want a cleaner finish and no visibility of the nail head hole, thinner nails like brads are very suitable. The brad nailer may be used for a variety of things, but the following are the most common ones:
Trim work
Paneling
Fastening decorative molding
Casing
Baseboard
In addition to ordinary uses, you can also use them in small projects, like making jewelry boxes, picture frames, or attaching decorating trims and edges to cabinetry.
What Is The Best Brad Nailer?
According to our research and experiece, we found the Metabo HPT NT50AE2 is the best 18 gauge brad nailer on the market.
Metabo HPT Brad Nailer Kit, (NT50AE2)
Pneumatic Brad nailer in the lightweight body (2.2 lbs. only)
Allows driving 5/8 inches up to 2 inches 18-Gauge fasteners
Depth of drive dial for easy adjustment of the drive depth for a professional finish
No-mar tip on the nose protects the workpiece from dents
360-degree adjustable exhaust keeps dust, debris off the finished project
Includes: NT50AE2 brad nailer, Safety Glasses, Air Fitting, No-Mar Tip, Hex Bar Wrenches, and Carrying Case
If you want the full list of best brad nailers, then you may head over to our top picks by click here.
How To Use A Brad Nailer
Using a brad nailer does not entail any advanced training or skills, but if you are using a nail gun for the first time or are looking for some batons to follow, be sure to check out our blogs on how to use a brad nailer or follow the following video:
---
Finish Nailer Overview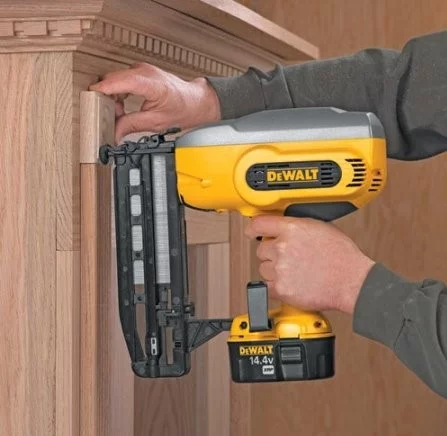 What Is A Finish Nailer?
A finish nailer is a middle-level member of the family of nail guns. It's a little robust than a brad nailer but not as heavy-duty as a framing nailer. The nail gauge can distinguish a finish nailer and a brad nailer. When brad nailers can drive 18-gauge brads, finish nailers are intended to push 15 gauge nails or 16 gauge nails.
In terms of size, your typical finish nailer can handle nails from 1-inch up to 2-1/2 inches wide. These nails are often headless compared to framing nails and blend perfectly with the surface of the wood. But you have also kept in mind that the removal of headless nails is not easy.
In summary, you'll get more holding power than brads in the finish nailers that you can use to fasten cumbersome baseboards, cabinets, crown molding, and even MDF.
Angled Vs

straight finish nailer
Based on the style of use, we can classify the finish nailers into two types: straight and angled. The main difference between the two versions is that the angled nailer comfortably adapts into small spaces than the straight one.
Pneumatic Vs

cordless finish nailer
Again, we found pneumatic and cordless versions of finish nailers on the market too. Pneumatic finish nailers are naturally more powerful and considerably lighter. If you have an air compressor at home, a pneumatic finish nailer is no doubt a reasonable choice. If it doesn't, cordless is definitely a worthwhile option to do the job.
Advantages Of A

finish nailer
This is an ideal tool for connecting thicker and heavier wood as it can move a little wider and longer nails.
It gives you a reliable fixing power that will not go anywhere after you actuate the nails.
It's more versatile than brad nailers. And you can use it on a wide range of surfaces and materials.
Angled finish nailers will give you the added benefit of pushing your nails hard to reach corners.
Usually, the finish nail comes in longer stripes than brads that tend to reduce the time of reloading.
Disadvantages Of A

finish nailer
It is not an ideal tool to driving nails into thin, fragile materials as it can break them.
The finish nails create bigger holes than brads that require further filling with the putty.
What Are Finish Nailers Used For?
Finish nailers are usually used for big projects than brad nailers, where there would require a little more strength and holding power. Usual jobs can include:
Installing crown and base moldings
Window and door casings
Chair rails
Cabinets
Exterior trim
Staircases
Hard and softwood flooring
What Is The Best Finish Nailer?
We found the Hitachi NT65MA4 as the best 15 gauge finish nailer because of its versatility and robust features.
Hitachi NT65MA4 15-Gauge Angled Finish Nailer
An integrated air duster helps to keep the area clean by blown away dust and debris.
Tool-less, easy to clear nose for quick nail extraction in the case of jamming nails
Flip switch selective actuation to change either sequential or contact nailing
Give better control during flushing nails into different materials with its Tool-less depth of drive dial adjusts system.
Lightweight, at only 4.2 pounds, minimizes user fatigue and increases maneuverability
Magazine angle of 34 degrees enables the user to move comfortably into corners or tight spaces
No-mar tip protects the work surface against damage and can be removed unless necessary
A rubber grip adds comfort and a secure hold
If you want to read the full review, then head over to our articles of Hitachi NT65MA4 Finish Nailer. Or, if you love to check out more options on the best finish nailer you may click here.
How To Use A Finish Nailer
Using a finish nailer is no different from using any other nailer tool, but there are some useful tips in the following video that you may find helpful.
Differences Between Brad Nailers And Finish Nailers
You'll get all the points from our discussion above to make a difference between brad nailer vs finish nailer. And, if you like, you can skip this part of it.
Nevertheless, if you look closely, you can also find some correlations between them. They are designed to shoot tiny nails compared to other nail guns. They both are used in the finishing stage of the carpentry works. These similarities might easily confuse you, and you might conclude that you can use either of them to do all the trim carpentry work.
However, they are both built to perform unique functions, and one cannot eliminate the need for the other. To clear up any misunderstanding, I'll mention and explain some of the key differences between the two nailers.
Hole Size
Every nail gun makes a hole in the wood when nails are placed on it. However, the size of the hole depends on the head of the nail they push. When it makes a wide dent, you must have to use putty to cover it before painting. Once you apply the lacquer to the wood's surface, the putty makes a variation of the paint that doesn't look good. It's always a bit challenging to choose the best nail gun, depending on the woodwork you're going to do.
Finish nailers make a little larger opening, which often needs to be filled with putty. On the other hand, after you drive the nails, the brad nailer leaves almost no mark. So, you can save yourself from adding some wax or seal.
We like it to look tidy when we do trim work. Therefore, if you want no mark left by your nail on the working surface, you can use a brad nail.
Nails
You may note that we distinguish the brad and the finish nailer from the nails they used to fire. Yeah! The brad nailers are designed to actuate thin, 18-gauge nails, while the finish nailers are designed to fire medium, 15, or 16-gauge nails. 18-gauge nails are small in size and cross-section than 15 and 16-gauge nails.
There is a correlation between the holding power and the nail gauge. The larger the nail gauge, the less strength it carries, and vice versa. If you need to attach heavy-duty boards like siding, it will be wise if you go with finish nails, and for delicate trim work, brad nails are good enough.
Hold Power
We have already discussed that the higher the nail gauge, the less power it persists. And we all know that the brad nailer is built to fire 18-gauge nails, while the finish nail guns can fire 15-gauge or 16-gauge nails. So, the brad nailers are less substantial than the finish nailers.
So, if you use the brad nailer in the wrong situation, there will be a chance that the trim or molding will gradually drop away from the wall.
On the other side, the finishing nailer hands down the best choice of the two if you need strength. However, if you push the nails into a thinner surface, the finish nailer's strength becomes an impediment.
Uses
Finish nails are much more powerful than brad nails and suitable for applications requiring greater strength and holding capacity. Conversely, brad nails are ideal for small, delicate applications that reduce the likelihood of wood splitting.
Read also: Finish nailer vs framing nailer
Summary Of Brad Nailer Vs Finish Nailer
Now it's time to conclude which nailer you're going to buy. You need both of them, or one is good for all. Although it's not easy to answer in one line, we can say from the above discussion that you can collect both if you're a professional carpenter and need to do a variety of work. As a DIYer, you can also receive both if you don't have budget constraints. Otherwise, it's better to fix the task you're going to do, and based on your project, and you can choose anyone from brad nailer vs finish nailer.
FAQ
Can a finish nailer use brad nails?
It's not possible to use brad nails with finish nailers. Finish nailers are designed to shoot 15 or 16 gauge nails, whereas brad nails are 18-gauge only. Therefore, the head barrel and magazine cannot accommodate brad nails.
Brad nailer or finish nailer for baseboard?
As 15ga and 16ga nails are more robust and have more holding strength than 18ga brad nails, it is safer to use a finish nail gun when you want to fasten the baseboard to walls.
What nail gun is best for trim work?
There is a wide range of finish moldings and materials available on the market, known as trim. Which nailer suits what kind of trim depends entirely on its size. For example, you can use the finish nail gun to trim doors and windows as they are heavier and need more holding power. On the other hand, a brad nail gun is a better choice for thin and decorative moldings.
What nail gun do I need for fencing?
First, pressure-treated lumber, such as pine or cedarwood, is used to build a fence. Second, 1.25×6 inch panels and 4×4 inch posts are commonly used for fencing work. From these stats, you can easily understand that you need something heavy-duty to fasten your nails. Therefore, a framing nailer is better suited to build a fence around your home instead of a brad or a finish nailer.
Tools Mirror is reader-supported. When you shop through retailer links on our site, we may earn an affiliate commission at no cost to you.
Recent Posts