Decades of research have provided no conclusive conclusions about the advantages of hardwood vs. engineered wood flooring. One thing is certain: hardwood flooring is better for the environment than engineered wood flooring. When engineered wood flooring is the most contemporary and cost-effective floor option.
Real hardwood floor tiles are a classic flooring option that isn't as common in today's homes as it once was. They are, nonetheless, especially advantageous because they are more durable and resistant to degeneration.
Engineered wood floors, on the other hand, are a great way to update the flooring in your home and are easily accessible.
If you have to know what to look for when shopping for engineered wood flooring vs real hardwood, then you have come to the right place. We'll go through what they are, what they do, and how they stack up against each other. We'll also look at the options accessible to you and analyze the views of home renovation professionals to assist you in selecting the best flooring for your home.
Real Wood Flooring Vs Engineered Wood Flooring
Despite the fact that there are numerous advantages to using real hardwood, the use of hardwood as a flooring material is declining due to the advent of new wood-look flooring products.
According to research, solid hardwood was employed by around 30% of households in the pre-covid condition, compared to 40% of homeowners who use engineered hardwood.
According to market insight estimates, engineered hardwood has a market share of more than 60% and is growing on a daily basis due to enhanced performance, dimensional stability, and cost-effectiveness, especially when fitted into slab construction.
However, in recent years, we observed that homeowners have begun to utilize LVT (luxury vinyl tiles) as an alternative to engineered wood due to its outstanding resistance to moisture and humidity. LVT is also more durable than other flooring options and simple to clean and maintain.
Whatever our today's goal is to compare the benefits and drawbacks of solid hardwood vs engineered wood flooring.
Let's start with a definition of both before moving on to the clear winner.
Real Hardwood Flooring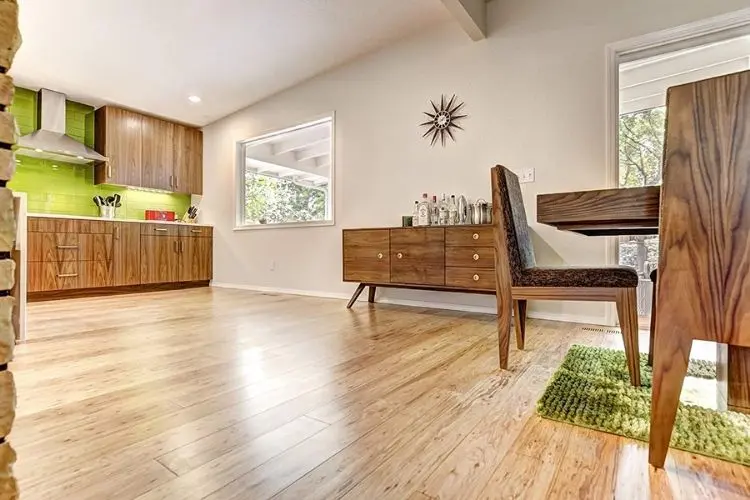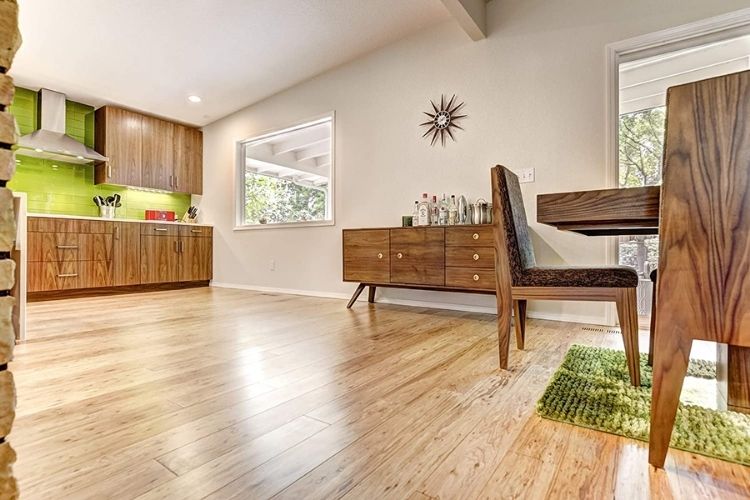 Hardwood flooring is comprised of real wood planks (no composition of other materials), as the name suggests. They are usually cut from a single piece of wood and range in thickness from 5/8″ to 3/4″.
Hardwood flooring is often harvested from deciduous trees that develop slowly and store sufficient nutrients. As a result, they are denser and more durable than softwood. Some of the most widely used hardwood trees for flooring are oak, beech, hickory, mahogany, maple, and walnut.
Real hardwood flooring is typically utilized for structural purposes and laid over wooden support beams known as joists or bearers due to its hardness.
Hardwood flooring has the advantage of being able to be sanded and refinished multiple times while also lasting a long period. They are not, however, suitable for usage in high-moisture environments.
If you're interested in learning more about hardwood, visit our blog by clicking here.
Engineered Hardwood Flooring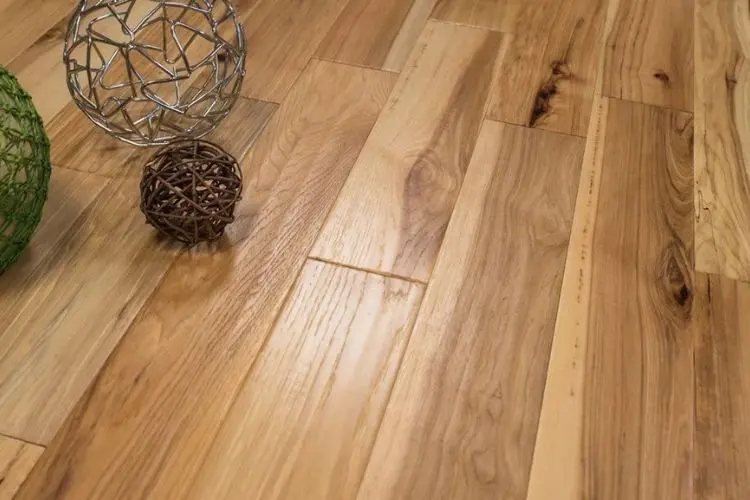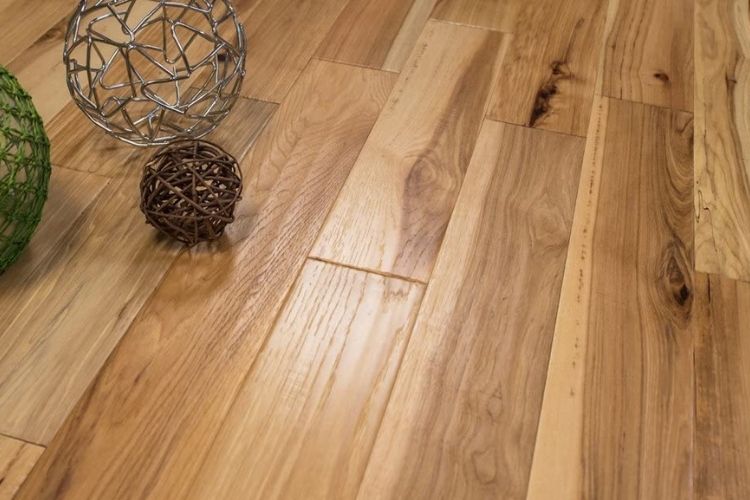 Engineered hardwood floors are made up of numerous layers of hard and softer wood. Unlike solid hardwood floors, which are made up of a single layer of 100 percent naturally grown wood, engineered wood floor is made by man. Engineered hardwood floors have a wood wear layer, also known as lamella or veneer, on top (which is 100 percent solid wood), and a core made up of 5 to 7 layers of thin plywood that are crisscrossed. The bottom is constructed of solid wood as well.
Engineered hardwood is particularly sturdy against any expansion or contraction caused by weather change due to the numerous layers securely adhering together. As a result, engineered hardwood floors can be installed over any sort of subfloor, whether above, below, or on grade.
Engineered wood floors are generally thought to be less expensive, although you can find high-priced engineered flooring on the market as well. The less expensive one is built of a thin layer of lamella (less than 1 mm thick), whereas the more expensive engineered wood is made of a thick layer of wood. As a result, you can sand and refinish those engineered wood floors multiple times.
If you are searching for the best flooring nailer for DIY projects, you may visit our page, where you will find our honest reviews on the 5 top flooring nailers.
Engineered Wood Flooring Vs Real Hardwood: A Head To Head Comparison
We discovered the distinction between solid hardwood and engineered wood floors and found that the latter is getting more famous steadily. Now we'll compare their features side by side to obtain a better understanding of which will be the greatest option for our future flooring project.
Appearance And Construction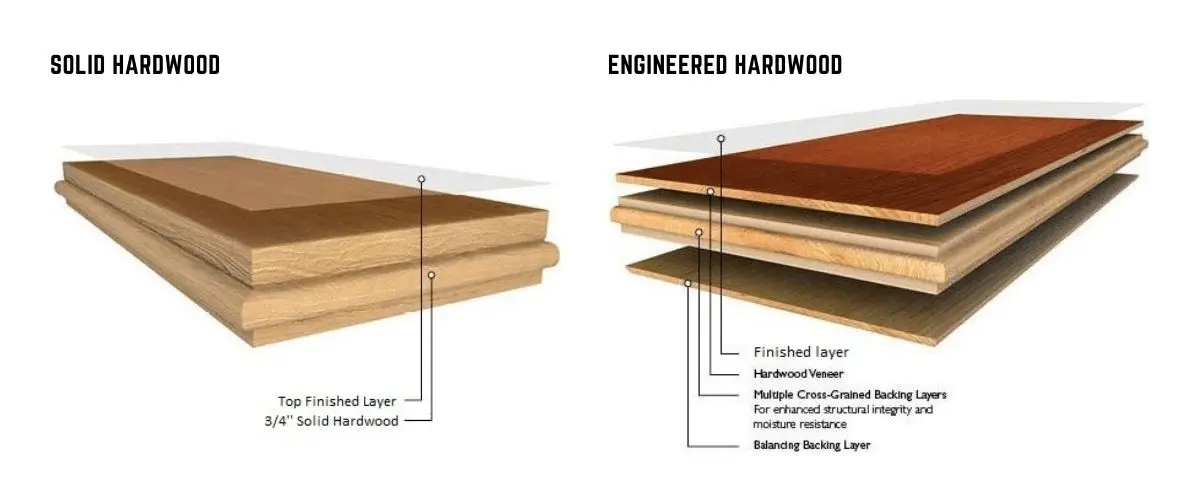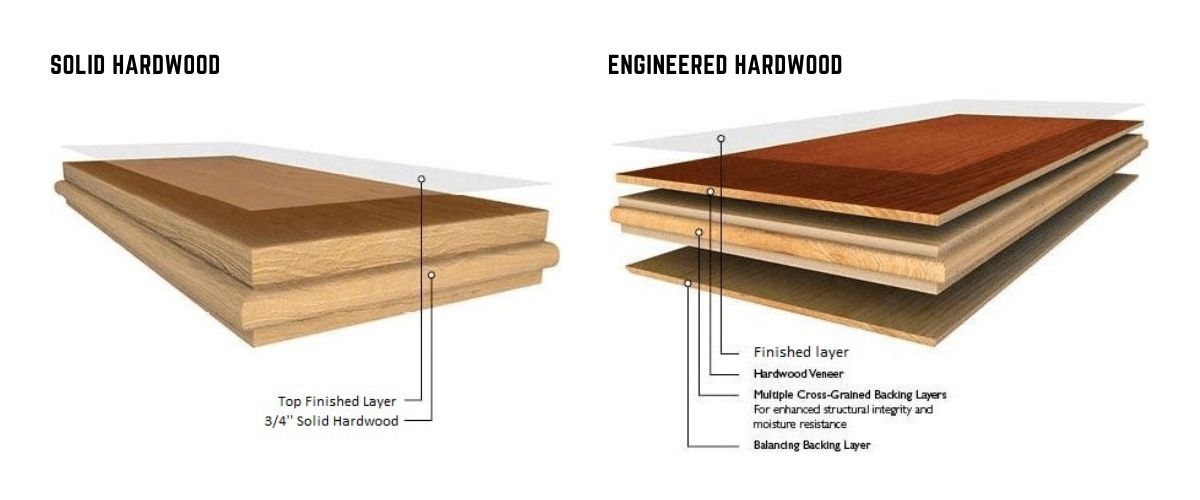 Hardwood Flooring:
If you read the definitions above, you will realize that the hardwood floor is composed of 100 percent solid wood with no layer. As a result, a solid hardwood floor will be resilient and a bit heavier in weight. Real hardwood floors are usually 8 to 12 inches wide and are available in both pre-finished and unfinished forms. Based on what wood it is cut from, you will find a wider range of colors and species than the other possibilities.
Engineered Wood Flooring:
Instead of a single solid plank, engineered wood floors have at least three layers that are pressed together. The appearance of engineered wood flooring differs depending on the top layer. Because the top layer or wear layer is comprised of wood, it cannot be separated from the natural look wood floor once put. Engineered wood comes in a variety of colors, although not as many as real wood. It is largely pre-finished and has fewer refinishing options.
Winner: In appearance, no one is the clear winner. You will find both real wood and engineered wood flooring in a wide range of styles. However, in terms of construction, real wood is really heavy-duty and lasts for a long time.
Water And Heat Resistance
If you have children, pets, or a young talented individual that is constantly spilling things (filthy), you'll need a floor that can manage it all. Not just your children, but the basement in which you lay the flooring could be the source of the problem. Is it possible, however, to find water-resistant organic flooring? Let's take a look at what we've learned thus far:
Hardwood Flooring:
As hardwood flooring is made out of 100% wood, it is susceptible to swell, warp, and buckling up when introduced water on it. As a consequence, it may end up with a nasty look which truly will be a heartbreaking situation.
However, by chance, certain types of wood can withstand water better than others—white oak, teak, walnut, or hickory, for example. Boats and exotic decks are made of woods like oak and teak. Their ability to withstand water is due to tyloses. Again, no hardwood is completely impervious to water.
Engineered Wood Flooring:
Engineered wood flooring is built from organic components too, so it is not completely water resistant. If they become wet, they'll warp and bend. Standing water will destroy even the best engineered wood flooring.
Engineered wood, on the other hand, is less susceptible to moisture and temperature changes due to its composite structure. As a result, you can use them instead of hardwood floors in your kitchen, bathroom, or basement. It can also be used with a concrete foundation.
Winner: We can proclaim engineered wood flooring the victor in this category since it is less vulnerable to moisture and heat.
Care And Cleaning
Because engineered and solid wood floors appear to be identical, you might wonder if the cleaning and maintenance procedures are the same. Let's check
Hardwood Flooring:
The maintenance of a hardwood floor is rather straightforward. To maintain your floor nice and scratch-free, all you have to do is sweep it with a broom once a day. You can also vacuum your floor using a canister vacuum (which has a floor brush attached) or mop your floor with recommended cleanser if there is any sticky dirt and grime. However, remember to dry it right away because even a drop of standing water might cause it to wrap.
Engineered Wood Flooring:
If you choose engineered wood as your flooring, you'll have to clean it the same way you would a solid hardwood floor. You must clean your engineered floor with a broom, vacuum, or mop, as well as the specified cleaning chemical.
You should avoid using harsh chemicals as a cleaning agent or using a wire brush on your flooring since they will damage it.
Winner: Because the cleaning technique for both types of flooring materials is the same, there is no clear winner.
Durability And Maintenance
Because flooring is viewed as a long-term investment, people naturally seek out materials that are both durable and low-maintenance. So, let's compare solid hardwood vs. engineered wood flooring to see which is more durable.
Hardwood Flooring:
Because hardwood is constructed of one piece of solid wood, there is little doubt that it is a durable and long-lasting flooring option. As a result, you can refinish and sand solid hardwood floors multiple times without harming them.
However, not all hardwoods are equally hard and long-lasting. It differs from one species to the next. When compared to oak or teak, Brazillian walnut is the toughest wood. Gabriel Janka, an Austrian-born American scholar, created the Janka Rating to help people comprehend the hardness of wood.
Let's look at some Janka ratings for various hardwoods to get a better idea of the hardness of different solid wood flooring.
| SPECIES | JANKA RATING (POUND-FORCE/NEWTONS) |
| --- | --- |
| Brazilian Walnut | 3,684 lbf (16,390 N) |
| Bolivian Cherry | 3,650 lbf (16,200 N) |
| Red Mahogany | 2,697 lbf (12,000 N) |
| Brazilian Cherry | 2,350 lbf (10,500 N) |
| Golden Teak | 2,330 lbf (10,400 N) |
| Santos Mahogany | 2,200 lbf (9,800 N) |
| Tigerwood | 1,850 lbf (8,200 N) |
| Hickory, Pecan, Satinwood | 1,820 lbf (8,100 N) |
| Hard maple | 1,450 lbf (6,400 N) |
| White Oak | 1,360 lbf (6,000 N) |
| Ash (White) | 1,320 lbf (5,900 N) |
| Red Oak (Northern) | 1,290 lbf (5,700 N) |
| Yellow Birch | 1,260 lbf (5,600 N) |
| Heart pine | 1,225 lbf (5,450 N) |
| Teak | 1,155 lbf (5,140 N) |
| English Oak | 1,100 lbf (4,900 N) |
| Cherry | 995 lbf (4,430 N) |
| Douglas Fir | 660 lbf (2,900 N) |
| Basswood | 410 lbf (1,800 N) |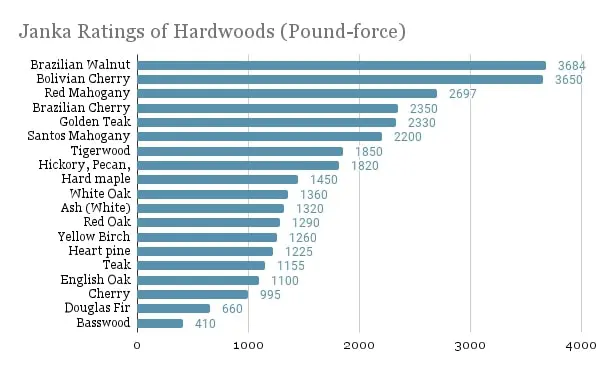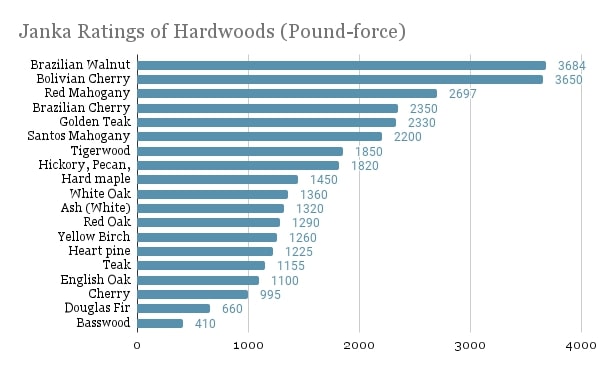 Keep in mind, however, that hardness does not imply indestructibility or resistance to denting. A hardwood floor's durability is also determined by the type of finish, traffic intensity, and how well the floor has been maintained, among other factors.
Engineered Wood Flooring:
Like hardwood floors, you cannot define the hardness of engineered wood floors with Janka ratings as it is constructed with several layers of hard and soft wood or plywood. Though, you will get a little idea of hardness as the top wear layer or veneer is made out of solid wood.
Engineered hardwood can only be refinished or sanded once or twice, as the top surface wears down quickly. As a result, it looks like engineered hardwood is less durable than solid hardwood. It does, however, offer certain advantages.
Engineered hardwood is
• more moisture-resistant.
• less expansion or contraction when exposed to humidity or temperature, shows
• simple to maintain.
• cost-effective
Winner: In terms of the amount of refinishing chores, hardwood flooring outlasts engineered wood flooring. However, if you choose a pre-finished floor of any type, you will benefit from increased longevity.
Installation
Hardwood Flooring:
Hardwood floor planks frequently have groove cuts on one side and ridge or tongue cuts on the other, allowing them to fit together tightly. Hardwood planks are often fastened to a subfloor by nailing them through the tongue or ridge side. Installing a hardwood floor requires some skill because matching two edges is a critical undertaking.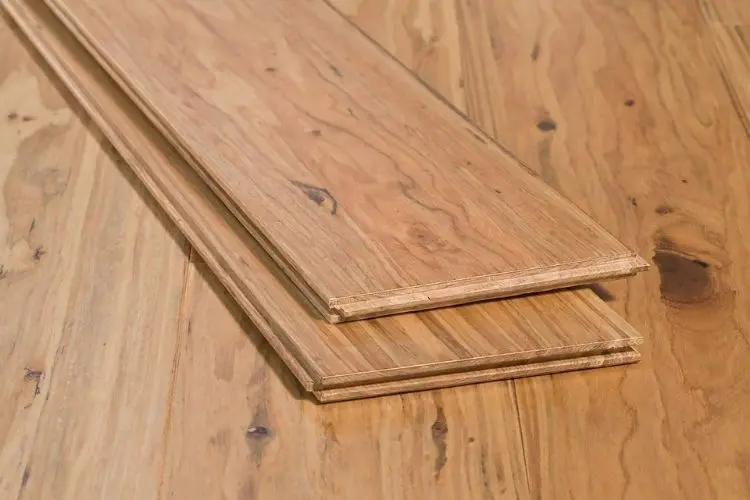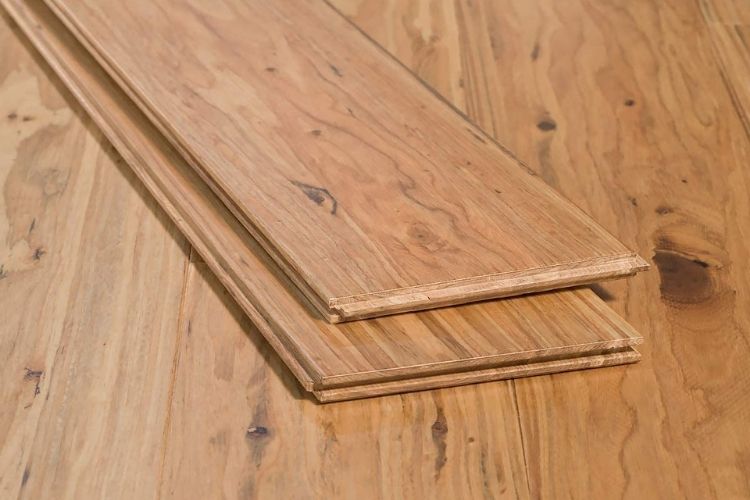 Engineered Wood Flooring:
Because engineered wood floors generally come with a click-lock edge, they are simple to install one after the other. It is known as the floating approach. You can also use glue or a nail to secure them in place. Whatever method you use to install engineered floors, it is much easier than installing hardwood floors and is ideal for do-it-yourselfers.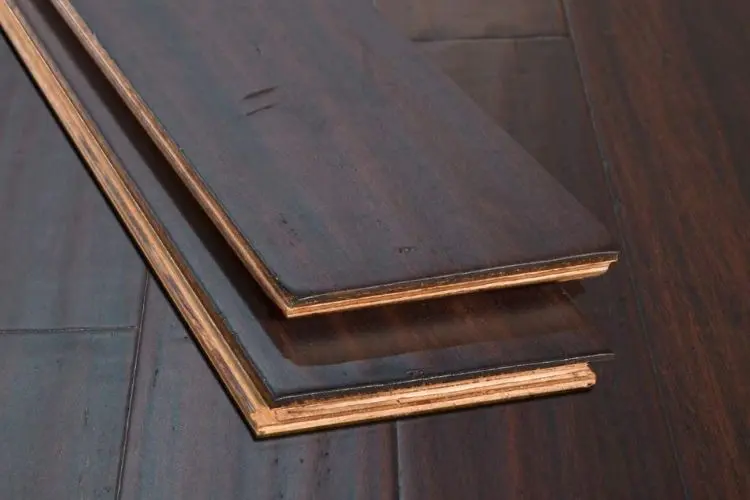 Winner: Engineered flooring is easier to install than hardwood floors.
Cost
Hardwood Flooring:
When you assess the cost of any flooring procedure, you must include the cost of installation as well as the cost of the materials itself. The price of solid wood planks ranges from $3 to $15 per square foot, with installation costs ranging from $3 to $8 per square foot.
When shopping for hardwood flooring, you'll see that it's divided into three grades. Let's look at the costs of wood and installation in the table below.
Table Of Hardwood Flooring Cost
| Wood Grade | Wood Species | Av. Cost Of Wood Floor Per Square Foot | Installation Cost Per Square Foot | Total Cost Per Square Foot |
| --- | --- | --- | --- | --- |
| Lowest Tire | Pine, Poplar | $3 – $6 | $3 – $5 | $6 -$11 |
| Middle Tire | Oak, Teak, or American cherry | $5 – $10 | $4 – $8 | $9 – $18 |
| Highest Tire | Tigerwood, Mahogany, or Brazilian Walnut | $8 – $15 | $4 – $8 | $12 – $23 |
Engineered Wood Flooring:
Engineered hardwood flooring is less expensive than solid hardwood floors. The least priced engineered hardwood floors cost $2.5 per square foot, while the most expensive engineered hardwood floors cost around $14 per square foot. The majority of engineered flooring ranges in price from $4 to $7 per square foot.
The cost of engineered flooring varies depending on its thickness. The cost of 3/8″ flooring is less than the cost of 3/4″ flooring. It also changes depending on the species of the top veneer. Exotic woods imported from other countries, such as Santos mahogany, bamboo, and Brazilian koa, are the most expensive.
Though the majority of engineered hardwood floors are pre-finished, unfinished engineered wood floors are also available. You can save an additional $2 – $3 per square foot if you choose an unfinished engineered wood floor.
Because installing an engineered hardwood floor is easier than installing a traditional hardwood floor, professional installation of engineered wood is usually less expensive than installing solid wood.
Table Of Engineered Wood Flooring Cost
Grade
Cost Per Square Foot
Features
Basic
$4.50 – $9
• Three core layers
• Thickness of the veneer is between 1/16 to 1/12-inch
Mid
$6 – $12
• Five core layers
• Veneer is thicker than basic grade
High
$9 – $16
• Seven or more core layers
• Thickness of the veneer is ⅙-inch or higher
• Veneer often made from exotic hardwood
Info Source: https://www.homeadvisor.com/cost/flooring/install-wood-flooring/
Winner: If you want to save money upfront, an engineered hardwood floor will be less expensive. However, if you want a long-lasting solution, solid hardwood flooring will be more cost effective.
Lifespan
Hardwood Flooring:
Depending on the species and maintenance, hardwood flooring can endure from 30 to 100 years or more.
Engineered Wood Flooring:
Engineered hardwood flooring has a lifespan of 20 to 30 years.
Winner: Solid Hardwood flooring is the clear winner in this category.
Resale Value
Hardwood Flooring:
Because of its extended lifespan, having solid hardwood flooring placed in your home will increase the value of your home by around 2.5 times when you sell it.
Engineered Wood Flooring:
There is no evidence that installing engineered hardwood in a property affects its resale value. However, because it resembles conventional hardwood, it helps to impress customers while selling.
Winner: Solid hardwood floor is a winner again.
Environment-Friendly
Hardwood Flooring:
Natural wood flooring is one of the most environmentally friendly and renewable materials available. To build authentic hardwood flooring, fewer raw materials must be used, saving money and natural resources. Traditional hardwood floors also help us save money on energy bills since they conserve heat in the winter and keep us cool in the summer.
Deforestation, on the other hand, is an increasing worry these days. If you want to ensure that the hardwood floor you're planning to install does not contribute to deforestation, you can get it from a responsible source that is Forest Stewardship Council certified.
Engineered Wood Flooring:
The engineered wood floor, like solid hardwood floors, is made entirely of organic elements, making it more environmentally friendly than other flooring options. Wood chips, sawdust, and other byproducts are utilized to make reusable engineered wood floors.
We are all aware that softwood grows faster than hardwood. Furthermore, the majority of engineered wood raw materials, such as wood chips, are obtained from softwood, which helps to renew the forest by limiting the usage of hardwood.
Winner: Both of the flooring solutions listed above are environmentally friendly. Engineered hardwood, on the other hand, uses fewer natural resources and allows for more forest growth.
Solid Hardwood Vs Engineered Hardwood: The Verdict
There aren't many differences between real hardwood and engineered wood flooring in terms of style and appearance. Engineered hardwood flooring is becoming increasingly popular due to its ease of installation, low cost, and increased resistance to moisture and heat. Solid hardwood flooring, on the other hand, will be a terrific choice for them if durability is a top priority and heavy use is anticipated.
In conclusion, to simplify your choices, ask yourself the following questions: What kind of life do you want to lead? What are your priorities? If a hardwood floor is important to you, then you should opt for real hardwood. If saving money and time is your priority, then an engineered floor may be the better choice.
Additional Resources:
How To Remove Pencil Marks From Wood & Woodworks Easily?
How To Carve A Face In Wood?
What Are The Best Flooring Nailers For Diy Projects?
Recent Posts