If you're planning to build a new home or think about remodeling or repairing the one you currently possess, crown molding is a must-have for enhancing the elegance of your interiors. It not only enhances the interior attractiveness of your home but also conceals any gaps or cracks between the wall and the ceiling, increasing the value of your home.
When you've made the decision to add crown molding to your ceiling, the next step is to figure out how to put it up. If you're considering it for the first time, it appears to be a professional job that necessitates the services of an architect. Yes! You're completely correct. Crown molding on the ceiling can be difficult to install, especially in areas with a lot of bulging corners or irregularly shaped rooms.
Today, however, you will find many lumberyards or large hardware stores around you that offer premade crown molding in the sizes and forms that you desire. As a result, all you have to do now is measure your ceilings carefully, choose styles of molding, and place an order. The rest is as easy as putting them in place and nailing them down.
So, if you decided to do it yourself, I think it will be imperative to know what crown molding is, what varieties there are, and what kind of equipment you'll need to put it up. In the following few minutes, we'll try to talk about all the subjects briefly.
A Brief Overview Of Crown Molding:
What Is Crown Molding?
Simply described, crown molding, a.k.a. cornice, is a material that is usually installed between the wall and ceiling connecting point.
However, these days the use of crown molding is not limited to sealing cracks, instead, you can use it to serve a wide purpose to enhance the aesthetics of your living place. You can easily transform an ordinary space into a well-organized one by applying crown molding.
Like other moldings, it is also trim, but it installs only on the top of the wall or ceiling. In addition to the ceiling, today, we also see it being used on top of cabinets, doors and windows, entryways, and other decorative locations like a mantel.
In the world of trim, crown molding is king. Sal Vaglica described this way. According to him, Crown molding helps elevate a room's stature, bringing the eye up to the ceiling and replicating design elements found in other moldings to create a coherent and polished aesthetic for the space.

Sal Vaglica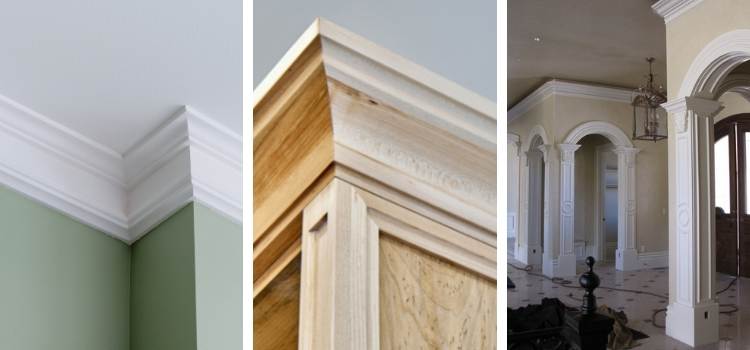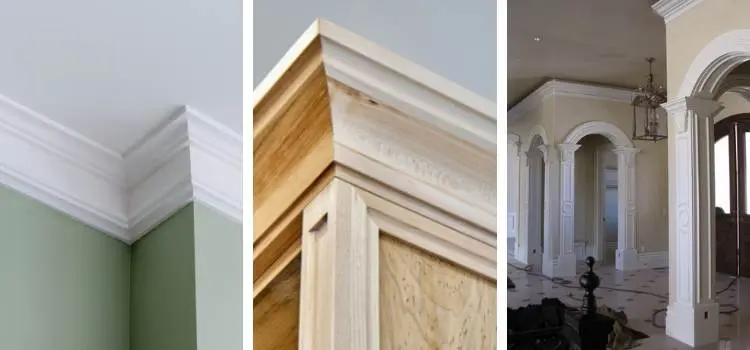 Uses Of Crown Molding
Crown molding was once exclusively used to close the gap between the wall and the ceiling. Now it is becoming useful material to decorate our homes and different types of furniture. It reflects the person's personality and raises the worth of a home.
We see crown moldings are being used to bring a sophisticated feel to a furnished space, add style and narrow the gap in a room with a high ceiling. Not only does it function to transform the beauty of old houses, but it also works to transform the grace of modern homes into a classy, elegant, and vintage look according to your personality.
Let's look at some specific areas where crown molding can be used.
Cabinet – When you apply crown molding to the ceiling, it is evident that you should use them at your cabinets too by matching with them. Doing some crown molding work at the top of the cabinet helps to reduce the gap and enhance the beauty of your kitchen and entire space.
Door or Window – If you want to give your doors or windows a vintage look, you can add crown molding on the studs by mix with casings.
Entryway – Adding archways at the entry point or passageway of your house may change the entire look. Openings made of classic crown molding are a great option for that.
Shelf – To maintain harmony with ceiling and cabinets, you can add ornate crown molding at your corner or book selves as well to enhance the beauty of your living place and flourish your personality.
Fireplace – Why did you leave the fireplace unattended when everything was being touched? To improve the look of your fireplace, you should do some trim work, and the easiest way to accomplish that is to add crown molding to the top of the mantel.
Conceal Wires – Finally, but not least, you can use crown molding to hide the wires run through the walls or cabinets.
Knowing what crown molding is used for allows us to plan and decide where and how much crown molding we will need. Before that, there is one more element to consider: the materials used to make the crown moldings.
Let's have a look at them in the following section –
Types Of Crown Molding
Crown molding or cornice can be classified in a variety of ways. It can be categorized based on its size and shape. Crown moldings with dove, dado, and miter or bevel cuts are offered in sizes ranging from 2-1/2 to 7-1/4 inches and are available in tons of styles.
However, crown molding is most commonly classified by its materials, which can be of several varieties. Every type of crown molding has its own set of advantages and disadvantages. For your convenience, we've listed some of the most prevalent varieties.
Plaster
Rubber or Flex
Styrofoam
PVC or Polyurethane
MDF
Wood and more
Plaster Crown Molding:
Plaster is the most prevalent crown molding material, and it has been used since the beginning of trim history. The most significant benefit of plaster cornice is that it remains consistent throughout the line. It's also a good choice for huge details in high ceilings or entryways. Plaster moldings are very simple to replace or recreate if a portion is damaged. They are not, however, ideal for do-it-yourself installation.
Wood Crown Molding:
Crown molding made of wood is also a good option. It's light, simple to install and maintain, and it lasts a long time without cracking. You can use wood crown molding on the top of your cabinet or bookshelf, which is not possible with plaster. However, they are costly and a bit tricky to cut the bevel or miter before fastening.
But the matter of comfort is that you will find readymade wood crown moldings at your local lumberyard or big hardware store. Therefore, DIYers will have fewer cutting projects to cope with. Even if your home has many corners or ups and downs on the walls, you won't be concerned because readymade corner moldings (inside and outside edge) are also available. Depending on your budget, you also have the flexibility to choose paint-grade pine or stain-grade oak, walnut, or ash crown molding.
MDF Crown Molding:
MDF (medium-density fiberboard), which is made of sawdust and resin, is another DIY-friendly crown molding material. Due to its smooth finish and strength, MDF has been a popular crown molding material among do-it-yourselfers and professionals. Furthermore, it is inexpensive and, when painted, resembles wood molding. Light MDF crown molding, unlike natural wood, is prone to dents and scratches if not used properly.
Composite Crown Molding:
Composite materials such as PVC, polyurethane, Styrofoam, rubber, or flex are commonly used in modern crown moldings. They're light, flexible, and simple to set up. It's difficult to trace them separately once you've painted them. They're also less likely to soak up moisture, making them ideal for bathroom and outdoor use. You will get more ideas on crown molding materials by clicking here.
What Size Nail Gun For Crown Molding?
Except for plaster, you'll need to use either nails or glue or both to fasten all of the above-mentioned crown moldings with its baseboard. When you will need to fasten nails, you have to take the help of either a hammer or a nail gun. If you choose a hammer, chances are there the nails may pound incorrectly, causing harm to the delicate molding. You may also injure your finger if you are a beginner in this field.
On the other hand, if you've decided to work with a nail gun, you will discover a variety of nail guns on the market. Each has its unique set of capabilities and isn't appropriate for all types of jobs. As a result, determining what size nail gun is best for crown molding is a challenging task.
You'll have to wait a while to find out the answer to that. We'll go over each of them briefly before determining which one is best for crown molding. Let's have a look at the various nail guns available and how they differ.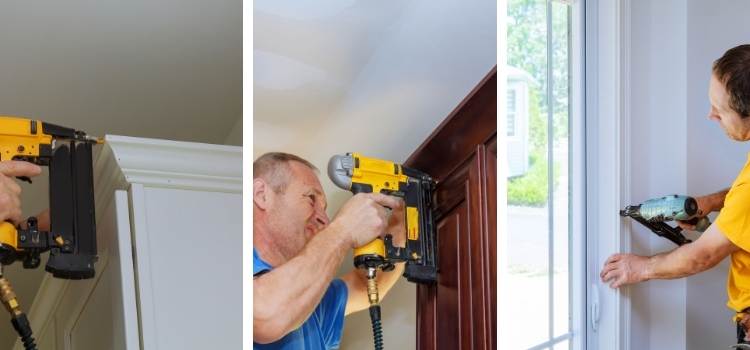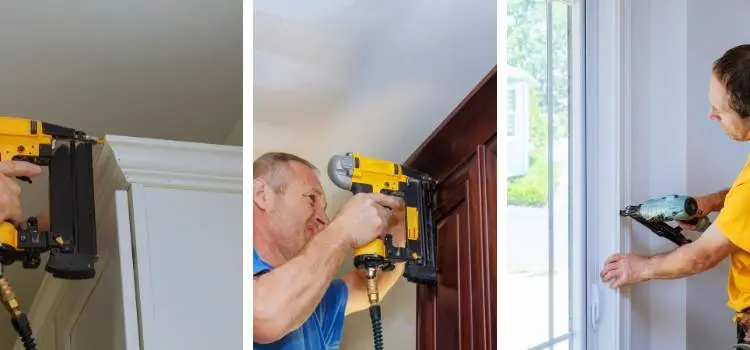 Framing Nailer:
It is the first kind of nail gun and the heaviest variant of the nail gun family. Framing nail guns are built for heavy-duty tasks such as framing, constructing fences or decks, and attaching siding, among others. With a framing nailer, you can usually drive 10-12 gauge 2 to 3-1/2 inch long nails.
Here, the nail gauge refers to the cross-sectional diameter of nails and is the most important factor in nail gun selection.
Finish Nailer:
It's clear from the name that this tool is intended to do finish carpentry jobs. As a result, it should come as no surprise that this type of nail gun is ideal for installing crown molding.
On the other hand, a finishing nail gun is designed to drive 15 or 16 gauge 1 to 2-1/2 inch long nails, which are a touch too thick for delicate crown moldings. As a result, using a finish nailer to fasten exceptionally delicate crown moldings will almost certainly result in a broken piece. Be careful!
Brad Nailer:
The brad nailer is the smaller of the two nail guns discussed previously. It's also great for fragile crown moldings because it's designed to drive 18 gauge nails up to 2 inches long. Brads are usually thin enough to penetrate through the moldings yet powerful enough to hold them in place over time.
You can also use a brad nailer for small decorative tasks like making a birdhouse or attaching photo frames along with installing trim, chair rails, and more.
Pin Nailer:
A pin nailer is designed to drive a bit more delicate nails called a pin. Pins are usually 23 gauge in cross-section and not longer than one inch in size. As a result, they're best for driving nails into skinny trim, ornamental woodworking, and attaching thin veneers.
Because the pins are so small, it's clear that they won't be able to hold even the lightweight moldings in place for an extended period. They can, however, be used to temporarily hold the trim or veneer sheet in place after gluing.
If you are still confused about what size nail gun is for crown molding, then scroll below to explore the correct size or gauge nails to use for crown molding will help you conclude.
What Gauge Nails To Use For Crown Molding?
To determine what gauge nails to use for crown molding, we need to look at the typical size of crown molding and where it will be fastened.
Crown moldings are available in a variety of heights ranging from 2-1/4 to 7-1/4 inches. If your ceiling isn't very high from the ground, you can go with a small size molding. Conversely, in the event of a high ceiling, the large size crown moldings will look better.
In terms of nail size, you should select a nail that will be sturdy and long enough to connect the molding securely. Crown moldings are typically put on frame stud walls, as you may know. And studs are typically 3-1/2 inches thick, with 1/2 inch drywall and 1/2 inch crown molding following. As a result, you'll need to use a nail that can pierce at least 1-inch thick wood.
As a general rule of thumb, while combining two pieces of wood, you should use at least two times long nails than the thickness of the top surface. So, in the example above, you'll need to sink at least 2″ long nails into the stud through the molding and drywall to secure the crown molding.
When installing large crown moldings, such as 7-1/4 inches wide, use 15 or 16 gauge 2-inch nails to gain more holding force. But, to drive the exterior section of that molding, 1″ brads are recommended.
On the other hand, if you wish to install delicate crown moldings, such as those that are 2-1/4 inches wide, 18 gauge 1-inch brads are a preferable choice. Brads are too thin that they won't split the molding while driving. Also, because brads have a small head, you'll just need a little or no putty.
What Is The Best Nail Gun For Crown Molding?
One thing is certain: finishing carpentry will necessitate the use of 15 or 16, 18, and 23 gauge nails and nail guns. Professional carpenters try to collect all of the variations in order to complete their work appropriately. However, choosing one or two among them can be difficult for DIY enthusiasts and homeowners. There's no need to be concerned. Allow us to perform the scut work for you.
We may deduce from the discussion above about what gauge nails to use for crown molding that it is best to use two of them: a 16 gauge finish nailer and an 18 gauge brad nailer. Because the nature and functionality of 15 and 16 are so similar. So, you can do almost everything with a 16 gauge finish nailer that a 15 gauge can do and vice versa.
The 23 gauge pin nailer, on the other hand, is a little tool that can drive pins up to 1 inch long. As a result, you can't utilize them for everything. However, you can use an 18 gauge brad nailer to cover pin nailer chores.
As a result, if you have a 16 gauge finish nailer and an 18 gauge brad nailer with you, you can conveniently do all the finish carpentry and crown molding projects.
If you just have the option to pick one from the list above, I recommend the 16 gauge finish nailer with the ability to drive both large and small size nails. When looking for the best 16 gauge finish nailer, you may consider the NuMax SFN64 for the pneumatic option and the Makita XNB02Z 18V LXT straight finish nailer as a cordless alternative.
If money isn't an issue, you can acquire both a finish and a brad nailer, and our top pick for the best 18 gauge brad nailer is the WEN 61721.
Related Reviews:
Tools Mirror is reader-supported. When you shop through retailer links on our site, we may earn an affiliate commission at no cost to you.
Recent Posts