You're standing in your backyard, contemplating how lovely it would be to have a gazebo in the corner. You start thinking about doing it yourself with logs right away. However, you'll notice something is missing the next minute.
Let me tell you what was lacking. You don't have the proper equipment for the job. A FRAMING NAILER, among other things, is the most important instrument for such projects.
The framing nailer is a versatile instrument that has replaced chiefly the need for a manual hammer, making it handy for home renovation and construction projects such as framing, fence building, floor or roof decking, and wall sheathing, among other things.
However, when you decided to buy a framing nail gun, you will find lots of brands and types, which may feel you despondent. It looks like finding a needle in a haystack.
DIY HOMEOWNERS, is this really so difficult? Obviously not, this isn't the case! You'll find the match for you as well.
Myself and my crew have been in the woodworking trade for five years and have evaluated numerous brands of framing nailers. This allows us to determine which products are the most useful on the market. Based on our experience, we've compiled a list of the top 10 framing nailers for you.
Though we choose the 10 best framing nailers based on usefulness and style, we also have the best choices. The Metabo HPT Framing Nailer NR90AES1 is the best of the best, according to our research. If you're in a rush, you may skip the following list and go straight to this one.
So, without further ado, let's dive into the article.
Why It's Better To Use A Framing Nailer Than A Hammer?
Using a framing nailer instead of a hammer offers several benefits in terms of speed, accuracy, and safety. Here are some advantages of using a framing nailer over a hammer, which can make your construction work easier and more efficient:
Speed: A framing nailer can drive nails much faster than a hammer, saving you time and effort.
Productivity: As a framing nailer allows you to work faster and more efficiently than a hammer, you can complete a large volume of work in a short period of time.
Consistency: It delivers consistent force and depth of drive, ensuring that each nail is driven to the same depth, which results in a more professional finish.
Precision: A framing nailer can place the nail precisely where you want it, which means fewer mistakes and less wasted material.
Safety: It reduces the risk of injury by eliminating the need to hold a nail with your fingers while striking it with a hammer.
Reduced strain and fatigue: Using a framing nailer can help reduce strain and fatigue on your hands and wrists, which is especially important for professionals who use these tools regularly.
Versatility: A framing nailer can be used for various projects, from constructing building frames to making furniture.
In summary, a framing nailer is a valuable tool for any construction project, offering speed, consistency, precision, and safety.
As a woodworking expert like me, after examining the above, you may also take the framing nailer's side. Jeez! Yea!
Attention, Homeowners! If you are determined to construct your dream home independently and are seeking an all-inclusive guide, look no further than our comprehensive article on "Framing Your Own House: Is It Possible?"
The 10 Best Picks For Framing Nailers
We've compiled the best nail guns from the marketplaces based on product quality, performance, brand popularity, and user-friendliness. Here you'll find framing nailers from Metabo HPT, the new moniker of the world-famous brand Hitachi, and other popular brands, including Bostitch, Dewalt, Paslode, and Porter-Cable.
We also consider the ease of both cordless and pneumatic nail guns and select the finest framing nail guns from each category. Let's have a look at it.
1. Editor's Choice: NuMax SFR2190 Pneumatic Framing Nailer
If you're hungry for heavy-duty construction and functionality, the NuMax SFR2190 is what you should be looking for. Loaded with stunning features and an affordable price range, this can be your best bang for your buck framing nailer.
Unlike cheap ones that do not maintain quality and durability, this nail gun is made of high-strength magnesium. You can expect this framing nailer to withstand all the beatings while nailing.
If you have the NuMax SFR2190 Framing Nailer with you, the installation of heavy-duty frames or decks, sub-floors, roofing, wood fencing, sheathing, and any other wood construction works will not be undone. Its tool-free depth adjustment system or interchangeable trigger gives you the highest maneuverability while driving full-size nails from 2 to 3-1/2 inches into any engineered lumber.
And all you can do without getting tired because of its ergonomically designed handle. Its 360-degree adjustable exhaust also saves you from the bother of hot air during operation. So, please don't wait for more; grab this best rated nail gun now.
To learn more, you can read our post on the Numax SFR2190 framing nailer also.
Benefits:
Long-term use is possible because of the sturdy and resilient structure.
Its versatility makes it excellent for both professionals and DIYers.
It lets you nail distraction-free as no more gust of wind comes to your face.
To drive, you can use any generic brand of nails.
Every time, you will receive a perfect countersink of nails.
You will get a secure grip, especially during toenailing, because of its non-slip teeth.
It is simple to change the triggers and disassemble parts for quick maintenance.
For worry-free use, a one-year limited warranty is provided.
Limitations:
Changing the trigger in the middle of nailing is an operational hazard.
No rafter hook is attached to it to hang it on.
Our Comments:
As part of their loyalty to offering high-end products and ensuring top-notch customer service, the Numax framing nailer has already won the most trusted place in the minds of Americans.
Therefore, if you are looking for the best pneumatic framing nailer that matches your budget without compromising quality, then the Numax SFR2190 will be the right choice for you.
2. Pro Preferred Brand: Metabo HPT Framing Nailer NR90AES1
In comparison to our previous nailer, Metabo HPT is a hugely popular and well-known brand that we're going to present. Builder and Developer Magazine has elected it the "Pro Preferred Nailer" for the past seven years. What could be better than that when we're looking for the best pneumatic nail gun on the market?
The pricing of this top-of-the-line framing nailer is the most striking feature. It's incredible that Metabo can provide such a high-quality framing nailer at such a low cost. The NR90AES1 additionally accepts full-size nails from 2 to 3-1/2 inches long, whereas the previous version (Metabo HPT NR83A5) only allowed up to 3-1/4 inches.
Metabo HPT manufactured the Metabo HPT NR90AES1 following its next-generation "Industrial Design." As a result, it's an ergonomically designed nailer that weighs only 7.5 pounds, but it can deliver full power, just like other heavy-duty nailers. It also includes a simple click actuation mode change trigger. Unlike our previous model, you won't have to replace the entire trigger.
It also has a new head guard design for easy maintenance and the ability to modify the driving depth on the fly.
On Amazon, it comes in three different packages: a 50-foot air hose, a pancake air compressor, and lubricant for enhanced convenience. If you're a beginner, you may go for a nailer with a pancake air compressor package.
You can read our article on the Metabo HPT NR90AES1 framing nailer to learn more.
Benefits:
It is lighter than the Numax, weighing only 7.5 pounds.
It is a cost-effective solution when compared to its characteristics.
For heavy-duty performance, it's made of tough materials.
Versatile and adaptable to a wide range of uses.
It will not jam throughout the nail-shooting process.
You'll always obtain a beautiful flush whether you drive nails straight or angled.
You can change the actuation mode simply by flipping a switch.
It comes with a 5-year professional warranty for further peace of mind.
Limitations:
No dry-fire lockout system.
The exhaust port is not adjustable.
Our Comments:
The Metabo HPT NR90AES1 framing nailer is easy to use for professional and DIY tasks because of its simple, lightweight, and reliable features. As a result, building frames, floor or roof decking, door or window build-up, wall sheathing, and mobile or modular home construction will all be a breeze if you have it.
3. Best Overall Framing Nailer: BOSTITCH Framing Nailer F21PL
For many years, the name Bostitch has glimmered in the framing nailer arsenal, and it has cemented its place in framers' imaginations. You can rely on Stanley-Bostitch to provide you with the highest-quality, most innovative nail guns available.
The BOSTITCH F21PL becomes the most skillful frame nailer among many models because of its 2-in-1 functionality. You can use this pneumatic framing nailer for framing or fastening metal connection plates thanks to its two interchangeable nosepieces. This feature saves your money from being split between two different tools. However, if you're going to undertake a lot of metal connector or joist hanger installation at hard-to-reach corners, I also recommend the Bostitch PN100K Impact Nailer.
With the Bostitch F21PL, you can handle fasteners with lengths ranging from 2 to 3-1/2 inches in framing tasks, and you can use its adjustable nosepiece to drive metal connector nails with lengths ranging from 1-1/2 to 2-1/2 inches.
You can easily countersink or flush full-size framing nails into any engineered lumber or hardwood with this nailer because of its incredible 1050 in-pound driving force. It builds its body with magnesium to endure this power.
The Bostitch F21PL is a tad bulkier (8.1 pounds) than our previous Metabo model, despite the magnesium housing. When you consider the power-to-weight ratio, though, it appears to be suitable for daily tasks. It also has minimal or no recoil, allowing for all-day nailing without weariness.
This nailer features a patented push-button depth adjustment system. To adjust the drive depth, you no longer need to utilize any tools or dial any buttons. It also has a 16″ layout indicator on its magazine, which helps you gauge the precise distance between studs.
Whether you're a professional contractor or a weekend warrior, once you start utilizing this best air framing nailer in your project, I'm sure you'll fall in love with it.
To read the complete BOSTITCH F21PL review, click here.
Benefits:
The 1050-inch-pound driving strength allows nails to be flushed into any board.
It has multiple functions and can be used as a framing nailer and a metal connector.
Because of its higher power-to-weight ratio, this nailer is well-balanced.
It's comfortable and simple to use; simply plug in the air hose and turn it on.
It allows you to reuse half-used or partially-used nail strips, reducing waste.
Even after falling from the roof, it does not break or stop working.
You can mark the distance between studs with the magazine's 16-inch layout indicator.
A 7-year warranty is included, which is the highest in the business.
Limitations:
There is no proper dry fire lockout system in place.
You must change the trigger to switch between firing modes.
Plastic makes up the rafter hook.
Our Comments:
Finally, one thing I can say about this great BOSTITCH F21PL framing nailer is that it provides an unrivaled blend of power and durability. So, if you want to dominate the woods by yourself, you should definitely attempt it.
4. Best Battery Powered Framing Nailer: DEWALT DCN692B 20V Max
Say bye to those days when you had to combat while dragging all of your hoses and a hefty compressor. I know how it feels when you crack your best to drive your nails into remote corners or up high, but it doesn't.
So there's no more hose, and there's no more compressor. DCN692B cordless framing nailer from DEWALT has all the solutions for your home remodeling and wood construction tasks. It has the same power as a pneumatic nailer and can drive nails. And because it is fueled solely by the battery, you won't need to acquire any pricey fuel cells.
We found a dual-speed XR brushless motor in the Dewalt DCN692B, which is driven by a 20V Max Lithium-Ion battery. It appears to be the most crucial element of the Dewalt framing nailer ability to outperform pneumatic competitors. The letter 'XR' stands for Extreme Runtime, which signifies that the battery has 33% more power than a standard battery. It also has a brushless motor that provides 57% more runtime than a normal motor.
It includes a tool-free depth of drive adjustment, stall release lever, rafter hook, and dry-fire lockout system, in addition to an enhanced motor design. As a result, you may use this robust nailer to drive 2 to 3-1/2 inch framing nails into any lumber without becoming tired.
To read the complete DEWALT DCN692B review, click here.
Benefits:
There's no need for a fuel cartridge or an air compressor, so it's completely cordless.
The upgraded engine will provide a longer runtime as well as a more powerful drive.
A compact and well-balanced form allows for easy installation in narrow spaces or between studs.
A simple depth adjustment dial ensures a perfect nail flush every time.
Easy-to-use features and zero or minimal recoil.
The batteries are simple to swap across Dewalt tools.
It has a trigger lock system for user safety.
Anti dry-fire system prevents firing when nails reach near zero in the magazine.
Limitations:
Accepts only a limited number of branded nails.
Compared to pneumatic competitors, you will have to invest a little more. However, when you consider the compressor price, it does not appear to be prohibitively expensive.
Our Comments:
Due to its improved motor design and user-friendly features, the Dewalt DCN692B has become a highly efficient cordless framing nailer. If you're seeking the best battery powered framing nailer, you should definitely give it a shot.
5. Best Gas Powered Framing Nailer – Paslode 905600 Cordless XP
While Paslode is designed to run on a fuel cell, Dewalt DCN692 brings complete battery-powered technology. If we looked at the differences between the battery and gas powered nailers, we discovered that the latter is meant to deliver more driving force. As a result, unlike pneumatic frame nailers, you will achieve precise nail flushing into any hardness of lumber with a gas-powered nailer.
Paslode is the inventor of cordless technology that is fueled by gas.
With the Paslode 905600 cordless XP framing nailer, you can drive up to 9000 nails for each charge. It is not just high compared to other cordless nailers, but it is even higher than its predecessors, the Paslode 902600. As a result, you can save 50% on runtime by using this CF325XP cordless framing nailer.
In addition to having more driving power, you will be able to work in a wide range of weather variations with it. Yes! Paslode 905600 allows you to work at temperatures as low as 14°F thanks to its new all-season formula framing fuel.
It's also one of the lightest framing nailers in the arsenal, weighing only 7.2 pounds. Its lighter form allows you to work in the attic or on the rafter without tiring your hands. It also offers several user-friendly features that a framing nailer should have, such as tool-free depth of drive, adjustable rafter hook, and dry-fire lockout.
The cordless feature allows you to operate in off-grid regions, and the stunning small form lets you work in tight spots. As a result, you'll find it to be an excellent tool for both DIY and professional construction jobs.
To read the complete Paslode 905600 cordless XP framing nailer review, you may click here.
Benefits:
Its pneumatic-like capability gives it the same power as pneumatic nailers.
Design that is the lightest among competitors.
A small footprint fits between roof trusses and 16″ O.C.
Because of the upgraded battery, it can drive 50 percent more nails on each charge.
It can drive up to 200 nails in just 2 minutes of charging.
It has an aggressive teeth design for perfect toenailing.
Suitable for use in a variety of weather conditions.
When not in use, the device has a battery standby mode that saves power.
Limitations:
Changing fuel cartridges is a costly choice.
Small-capacity magazines required frequent reloading.
It is extremely expensive than the other nailers on this list.
Our Comments:
Although purchasing fuel cells appear to be more expensive, it will save you time and money by eliminating the need to wrap hoses and compressors, as well as allowing you to drive more nails each charge. As a result, if you're looking for the best cordless framing nailer, you can definitely think about Paslode 905600 cordless XP framing nailer.
6. Best Framing Nailer For Professionals – Milwaukee 7200-20
Milwaukee has a long history of being regarded among professional contractors for its best-in-class product line. Although they are a relative newcomer to the framing nailer arsenal, they ensure the highest quality that has never failed.
As a result, if you're looking for the best 21 degree framing nailer, you shouldn't overlook the Milwaukee 7200-20 framing nailer.
The fact that it has no recoil is the first aspect that captivates us. After Paslode, you'll discover great recoil control in it. As a result, you can use it to drive up to three nails each second. You'll also have enough driving strength to countersink or flush full-size framing nails ranging from 2 to 3-1/2 inches into any engineered lumber or plywood.
After functionality, its build quality also fascinates us. It comes with a metal housing made of magnesium. As a result, it features a wonderful power-to-weight balance ratio. At 7.4 pounds, it is the third lightest nailer on our list (though the difference is very close to others).
The Milwaukee 7200-20 nailer is quite comfortable to use. It includes a rubber over-molded handle that gives consumers a secure and pleasant grip.
Besides the above, we also observed some advanced features in it. It is equipped with a fast mode change trigger to switch between single actuation and bump fire setups. You can select your firing mode on the fly by just pressing a button.
The depth adjustment of this nailer is a breeze. With its tool-free knob, you can switch the depth settings quickly without changing the air pressure.
It also comes with a self-cleaning air filter, which keeps the nailer free from dirt and debris, thereby prolonging the life of the tool.
Benefits:
It makes use of long-lasting materials to ensure long-term performance.
Because of its small size, it is easy to work between studs.
Toe-nailing can be done smoothly with a sharp tip.
Fast nailing thanks to excellent recoil control.
Reloading is a breeze using the rear-loading magazine's bypass pusher.
Due to the reload indicators, it can no longer be used for dry-firing.
There will be almost no instances of jamming.
It has a removable shingle guide that allows for roofing work.
Limitations:
It would have been better if the air connector was the swivel.
It's a bit louder than the Bostitch model nailer.
Our Comments:
Milwaukee 7200-20 is a framing nailer that can alter the mood of your tool shed. You'll find a great blend of functionality, efficiency, value, and ergonomics in it. So, for your next home building or remodeling task, you can get on with it without hassle.
7. Best Framing Nail Gun For DIY Projects – Freeman PFR2190
If you're a do-it-yourselfer searching for a framing nail gun that can compete with the best on the market in terms of quality while being reasonably priced, the Freeman PFR2190 Full Head Framing Nailer is the ideal choice.
Why am I telling you this? Because Freeman Framing Nailer has a good track record of assisting both mavens and DIYers in handling any woodworking projects related to framing, sheathing, wood fencing, and everything in between without any flaws.
Freeman's nail gun is beautifully designed and well-known for its sturdy and reliable results. The magnesium body makes it durable and lightweight, and the secure ergonomic handle allows the framer to perform some hard tasks without putting pressure on his shoulders. Besides, the No-Mar tip does not permit any marking to be placed on any sophisticated surface while nailing.
This nailer's best feature is that it accommodates full-head nails. You can drive 10 – 12 gauge 21 degree plastic collated full round head framing nails from 2 to 3-1/2 inches with the Freeman PFR2190. As a result, it's an excellent choice for various woodworking projects, such as framing, subflooring, roof decking, fence, palate construction, and so on.
To read the complete Freeman PFR2190 review, you may click here.
Benefits:
Versatile – may be used for a variety of woodworking applications.
It is constructed with high-quality materials at a reasonable price.
It's simple to use and quite comfortable.
For greatest holding strength, accepts full head nails.
This is an excellent choice for both professionals and do-it-yourselfers.
It contains a solid heat-treated one-piece driving blade that prevents jamming.
During shooting, make a very gentle sound.
It comes with a convenient storage case for easy transport and storage.
Limitations:
Little heavier than other pneumatic nailers, 8.6 pounds.
It will not shoot the last 3/4 of nails for safety which dislike by some customers.
Our Comments:
Freeman PFR2190 is probably one of the most durable nailers you'll ever see in your woodworking career. If you want something that comes at an affordable price but still has all the features, this air nail gun is a perfect choice.
8. Best Heavy-Duty Framing Nailer – BOSTITCH F28WW Clipped Head
If you look at the Bostitch F28WW, you might stop staring for a 28-degree framing nailer. Hye Guys! You're lucky that the most renowned brand Stanley-Bostitch has brought such a versatile and lightweight nailer that supports 28-degree wire weld nails.
The reason I love this Bostitch F28WW so much is for its powerful 1050 in-pound engine and innovative design, which is perfect for wood framing, siding, decking, and masonry wood. And you can do all these jobs without changing compressor pressure because of its course of control for the depth-of-drive.
When it comes to robustness, it goes beyond borders. Made from magnesium, this means easy handling and unmatched durability. It is also designed in such a way that supports you in nailing top plates to floor joints or crawling under that low deck to reinforce the new bathtub.
That being said, on a single load, you'll be able to drive around 100 nails without any pause. It comes with a large magazine compared to its competitors.
The best part is that it offers extensive 7-year warranty support that will never let you tense to investing in this.
Benefits:
Strong enough to drive nails into any type of wood with ease.
Ideal for heavy-duty applications such as a deck or home construction.
Without much adjustment, it is possible to drive nails to the required depth.
You may work in humid environments using Weir-Collated nails.
It includes a toenailing claw for precise and secure nailing.
For proper stud spacing, the magazine's bottom is marked with a 16″ layout indicator.
Its magnesium housing ensures durability and long-term use.
To protect the tool from bumps and drops, it incorporates steel wear guards with integrated rubber skid pads.
Because of the huge magazine, you can save time at work by lowering the number of reloads.
Limitations:
Only accepts clipped head nails which may not be permitted in many regions.
A bit sensitive to adverse weather (extreme cold or hot).
Our Comments:
The Bostitch F28WW is built for heavy-duty industrial woodworking. However, you can only shoot clipped head nails with it, which is against several building codes. As a result, you should thoroughly investigate this matter before making a purchase.
9. Best Lightweight Framing Nailer – Porter-Cable Framing Nailer FR350B
With more than 100 years of experience and commitment to its customers, Porter-Cable has led to the creation of high-quality power tools for professionals and DIYers. As a result, they built and introduced the new innovative FR350B model nailer for homeowners.
First off, its incredible power and driving speed will leave you mesmerized. Have you had difficulty in nailing work? No issue, this Porter Cable FR350B framing nailer will take care of your woodworking and home-building jobs in a good way.
With the strength of the Porter Cable FR350B, you can easily drive up to 3-1/2″ x 0.131″ nails into engineered lumber. The selectable trigger enables you to secure the trigger either in restrictive or contact actuation mode for precise and quick nailing.
Are you worried about the other weighty nailers? Your Porter Cable Framing Nailer F350B would not let you die. It weighs only 7.3 pounds, is the second lightest framing nailer on our list, and will be the chosen device for a woodworker to do their job all day long without any fatigue.
To read the complete Porter Cable FR350B review, you may click here.
Benefits:
Compact, well-balanced, and easy to operate with one hand.
Powerful enough and compatible with any compressor capable of generating 70-120 PSI.
Its internal piston catch mechanism ensures uniform blast power on each nail.
The in-line, hard-coat anodized magazine ensures durability and smooth firing.
Magazine reloading is a breeze thanks to its bypass nail pusher.
Accept plastic collated nails instead of wire weld nails, which can save you money.
It has a reversible rafter hook for added stability while riding a ladder.
Limitations:
Some parts (non-major) are made of plastic.
The package does not include any tool kit or carrying case.
Our Comments:
After testing this wonderful nailer from PORTER-CABLE, I hope any doubts regarding its efficacy and longevity are dispelled. Because the FR350B includes some features that were not available in its prior model. Some examples are tool-free depth of drive, trigger safety and auto-trigger, low nail indicators, and the engine sound (now quieter than its old model).
As a result, you may use this Porter Cable Nail Gun to test the best framing nail gun on the market.
10. Best Bang For The Buck – Wen Framing Nailer 61793
If Numax SFR2190 appears to be too expensive, consider WEN 61793. It is extremely inexpensive and ideal for DIYers who require a framing nailer on a regular basis.
Despite its low cost, it is capable of doing the majority of woodworking tasks, including framing, fencing, siding, and so on. It allows you to drive 21 degree round head nails into any lumber with a length of 2 to 3-1/2 inches (10 to 11 gauge). It also includes a large magazine that can hold up to 60 nails at once. As a result, you can blast nails for an extended period of time without having to replenish the gun.
However, due to its low price, you have to sacrifice some features. It does not include a button or dial method for adjusting the drive depth. Instead, you have to release the depth lock screw with a hex wrench and adjust the drive depth by sliding the depth bracket upward or downward.
You must also change the actuation mode trigger manually in WEN 61793 because there is no selectable button. Though this is not exclusive to the WEN framing nailer, you must follow the same technique if you own a Numax nail gun.
But the positive thing is that if you acquire this best bang for the buck framing nail gun, you will receive two years of warranty, a nationwide service network of skilled technicians, and a responsive customer support line.
Benefits:
When compared to other framing nailers, this one is really affordable.
Versatile – can be used for a variety of tasks.
With the single fire mode trigger, precise nailing is possible.
The bump fire mode trigger allows for quick nailing.
Large magazines with quick loading help to reduce the number of reloads and so save time at work.
You can carry it securely as it comes with a large carrying case.
Jamming occurrences are rare or non-existent.
Limitations:
A little heavy, weighing in at 2 pounds more than our lightest framing nailer.
You'll need a powerful air compressor to obtain full support from it.
Our Comments:
When compared to other high-end framing nailers such as Dewalt or Paslode, the WEN 61793 does not perform as well. It is, nonetheless, a good alternative for low-cost nailers. So, if you're a homeowner or a DIY woodworker, you should absolutely give it a try for your little to medium construction tasks.
---
FRAMING NAILER BUYING GUIDE
Those days are gone when carpenters or contractors use a hammer and a bunch of nails to accomplish their tasks of framing, sheathing, decking, remodeling houses, or other heavy-duty jobs by spending a ton of time and labor. Nowadays it is clear to all of us that the advantages of using an automatic framing nailer far outweigh the uses of manual hammers.
Framing Nailer already proved itself as a productive and error-free tool. Not limited, the flexibility, swiftness, and responsiveness of a robot-like framing nailer is an ideal tool to reduce the risk of work-related incidents, improve job satisfaction and maximize contractors' profit.
However, choosing the wrong nail gun will ruin your day. Therefore, considering its superior advantages, we're approaching to present a comprehensive guideline on how to select the best framing nailer for your project.
What Is A Framing Nailer?
In the meanwhile, we already got an idea about the definition of a framing nailer. However, for better understanding here we quote the definition from Wikipedia.
"A nail gun, nailgun, or nailer is a type of tool used to drive nails into wood or some other kind of material. It is usually driven by compressed air (pneumatic), electromagnetism, highly flammable gases such as butane or propane, or, for powder-actuated tools, a small explosive charge. Nail guns have in many ways replaced hammers as tools of choice among builders."

Wikipedia
A framing nailer can be run by many sources of power, like as-
Compressed Air
Powder-actuated (little explosive charged)
Combustion power (use flammable gasses like butane, propane, etc.)
Electric power, and
Battery power
When Should You Use A Framing Nailer?
Framing Nail gun is a handy device that you can use in a wide range of heavy-duty as well as smaller woodworks or construction projects like as follows –
Deck building
Installing hardwood Subfloors
Applying roof shingles
Sheathing
Wood Fencing
Assembling furniture
Installation of cabinets
Pallet and crate manufacturing
Room Additions
Framing Houses
Remodeling Houses
Wooden Siding and suitable for projects involving plaster where typical hammers can cause plaster to loosen and crack
Types Of Framing Nailer
It is essential to know the types of nail guns to select the best device that matches your purpose, especially if you are fresh in this line. Framing nailers can be classified in different ways, but the most common types of framing nailers available on the market are –
Pneumatic Framing Nailer (air-powered)
Cordless Framing Nailer (battery-powered), and
Electric Framing Nailer (electric-powered)
Pneumatic Framing Nailer
Because of their versatility and heavy-duty performance, pneumatic types are the most popular nail gun among contractors. The engineering term 'Pneumatic' means to achieve mechanical motion by using the kinetic energy of compressed air or inert gases. In the case of the pneumatic nailer, the air compressor pressure turns a piston which then drives a nail with high velocity to fasten two pieces of material.
Hence, to generate the hammering force in a pneumatic framing nailer, you need a separate machine. That means, if you want to use a pneumatic nail gun, you had to have an air compressor or if not then have to buy it independently.
However, you need to be careful during the purchase of an air compressor for framing nailers as different guns require different rates of air pressure to run. They are rated as PSI – pounds per square inch and CMF – cubic feet per minute, which needs to be equal to or more than the requirements of a nail gun.
While a pneumatic nailer is a powerful tool that capable of handling heavy-duty tasks, simple to control, reliable and safe, the compressor and air hose limit mobility.
Cordless Framing Nailer
A cordless framing nail gun, powered by battery-fueled offers more prominent movability than a pneumatic model since it doesn't require an air blower or a hose. So, for people who have no compressor or do not like to be attached with a hosepipe all the time, a cordless framing nailer is for those.
You may wonder without a compressor how it runs. In fact, the principle is the same, instead of a compressor, compression occurred by fuel combustion. Fuel discharged from a disposable gas cartridge into the chamber. A battery provides an electric spark to ignite the fuel. The resulting explosive force drives a nail into the wood.
There is another version of cordless found in the industry which is entirely powered by a battery, no fuel cell. This type of nailer uses 18V or 20V Lithium-Ion batteries to drive the motor.
Though the model has a quick start-up time, however, doesn't have the equal intensity of a pneumatic nailer.
Electric Framing Nailer
The electric nailer is operated by a rotating electric motor, which gradually compresses a spring to store energy and suddenly releases it. However, this sort of nailer is made to perform a small scale of works like brads or staples. Electric framing nail guns are corded – need mains to power means limited mobility. Plus point of this type of nailer is you will no longer be required to use any compressor, fuel cartridge, or battery to drive nails.
| Nail Gun Type | Pros | Cons |
| --- | --- | --- |
| Pneumatic | Design for heavy-duty works, Powerful, simple design, and control, reliable and safe, deliver a consistent amount of force each time, fewer parts mean less chance of break or wear-out | Air hose mess, slow start-up, a bit louder, requires an air compressor |
| Cordless | Faster, Quieter, Cordless – higher mobility, convenient to work in tight space, (modern battery-powered nailers are powerful too) | Expensive, Required charging batteries |
| Electric | Inexpensive, compact, and light, no issue with charging the battery or carrying a compressor | Only suitable for the small scale works |
Once you decide to get a pneumatic framing nailer or a cordless one, you have to consider a few more factors to choose the best framing nailer.
Let's inspect our next topics to learn about them.
Features To Check Before Buying A Framing Nailer
Power
The power source is an important aspect that everyone needs to consider before purchasing a framing nailer. Because the cost of operation and convenience largely depends on that. If you choose an air framing nailer, you will get heavy-duty performance, but you have to manage or buy an air compressor additionally which involves spending some penny from your pocket.
On the other hand, if you choose battery operated nail gun, you will get a convenient operation in a tight place but have to buy a fuel cartridge (if run by fuel combustion) and or charge the battery at a specified interval. We enthusiastically discuss the pros and cons of each framing nailer in our review part to back you to pick the right one according to your project nature.
Weight And Handling
Once you have decided on pneumatic or cordless, the next most significant aspect is the mass of the tools. It is essential because lift-up a 4 or 5 kg nailer for a single time will not feel so heavy, but when you have to hold it for a long time even a whole day, or when you are going to do some overhead framing works, this small amount of load may seem like a burden.
Rolling of the time, engineers continually apply different innovative ideas to each tool and equipment that we use in our daily life, framing nailers is no exception. For the comfort of work the manufacturers design the handle of the nailer ergonomically and cover it with a soft rubber grip that reduces the effect of mass and allows you to work a long time without fatigue.
Another excellent creativity that happened on modern framing nailers is the use of lightweight build materials without compromising performance. Magnesium is the lightest engineering metal in the earth's crust with a density of 1.73g.cm-3. Recently many companies are starting to use magnesium as the build material of the body of nail guns to make them lighter and sturdy. The NuMax SFR2190 which holds the first position in our framing nailer reviews uses magnesium to construct it.
Therefore, for the proper completion of your project, it is necessary to check the quality and weight of the framing nailer that you are going to purchase. It is okay if it is constructed with magnesium or similar lightweight and durable metal.
Size
When weight indicated the mass of a product, size stands for the volume it occupied. For the sake of job nature sometimes you may need to work in a confined space and sometimes not. Hence, it is essential to check the size of the nailer before purchase along with its weight.
Generally, pneumatic nailer occupies bigger space as they are required to connect a hosepipe to drive nails. So, to work in a narrow space cordless option is better. However, the cordless nail gun is not as powerful and heavy-duty as a pneumatic one. Then the other option that comes to mind is the coil framing nailer which is compact in size and can hold more nails to serve you continuous shooting for a long time. You can check Bostitch N89C-1 for the best coil nail gun in our review part.
If you already decided to have a pneumatic one and at the same time want to work in a tight space, then you can go for a low-profile nailer too. An excellent example in this category is the Bostitch LPF21PL low profile framing nailer, which you can check in our reviews.
Types Of Triggers
A trigger in framing nailer is not only required to choose the actuation mode but also it is an essential safety component. Generally, there are two main types of triggers found in framing nail guns: sequential trigger and contact trigger.
i) Sequential Trigger –is also known as single-shot trigger or restrictive trigger or trigger fire mode. In this mode, a framing nailer drives a nail when the safety contact tip is depressed against the material, then presses the index finger trigger to release a nail. This method is usually used when precision is required. It is also the safest mode as it fires nails when the controls are active in a specific order. However, a certain skill is necessary to operate the nail gun in this mode safely.
ii) Contact Trigger – is also known as bump trigger, multi-shot trigger, successive trigger, dual-action, touch tip, contact tip, and bottom fire. In this mode, the nail gun drives a nail as soon as the contact tip touches wood or materials. This mode is appropriate for those who need speedy nailing rather than precision. However, this is not a safe way as accidentally a nail can shoot out in any direction which causes serious wounds.
Buying Tips: Most modern nail guns are equipped with a dual-mode selector switch which helps you to change the mode as per your job requirement. However, it is advisable to not use bump mode if you are short on time or very experienced.
During framing nailer review, we found Makita AN923 offers a three-mode of actuation instead of two. Bump, sequential, and lock mode for more control over the trigger. So, check the trigger option carefully before making the final decision.
Depth Control System
We do not need the same depth of drive during nailing. In the case of using a hammer, we can fix the range manually, but that was laborious. So, modern nail guns come with a depth adjustment mechanism that allows you to set the depth of drive or how far a nail goes into the wood. Depending on the brand you can fix it by manually using a wrench or automatically using switches, dials, or buttons.
Contemporary nailers come with toolless depth adjustments which are convenient and easy to use. However, the tool-free mechanism is not as accurate as a manual adjustment system, mainly when you need frequent changes. However, due to the continuous improvement of this system, it has become the industry standard nowadays.
Air Pressure
If you already decided to go with a pneumatic one, then you must need an air compressor. Generally, we use framing nailers in different wood construction, and wood finishing works. Based on work nature we have to select various lengths and depths of nails. A nail how much goes through a material is depends on how much pressure you applied.
Usually, air pressure is measured by pound per square inch (psi), and driving a 2 to 3½-inch nail with a framing nailer correctly required max of 130 PSI and 3 CFM air volume.
Buying Tips: Pneumatic nail guns required constant air pressure to drive a nail with equal strength. You have to choose a compressor that meets the specification of 2-3 gallon tank capacity, engine power around 1-2 HP, can generate 70 – 120 PSI pressure, and 2 to 3 CFM air volume for correct operation. However, this specification is for a small size compressor, to keep some room or connect more than one nailer you can go for a bigger one like Makita MAC5501G.
Magazine Angle
The degrees between the nailer's head and the magazine are known as a magazine angle. However, this angle doesn't affect the direction in which the nail discharges from the head. Usually, we hold the head flush of the nail gun against the material surface and drive nails perpendicularly into that. Hence, the purpose of angling the magazine is entirely saved space or made the nailer suitable to work in a tight area.
In our review part, we observed that most of the framing nailer angles exist somewhere between zero and 34 degrees. Among this range 21, 28 and 30 – 34 degrees are the most common. The steeper the angle allows you to work in a more tight space it is.
The heavy-duty pneumatic nailers that are suitable for fastening 2 to 3½ inches nails are usually 21 degrees magazine angle. This angle magazine can hold a maximum number of nails besides saving 15 percent horizontal space compare to zero angles. Also, a 21-degree framing nailer is perfect to drive round head nails instead of the clipped head which is banned by many local building codes.
You may think that the 28-degree magazine angle will allow you more room to work in a compact space. Yes, you are right, but in that instance, you will not get the same strength as like 21 degrees due to the complex driving mechanism. Therefore, in any of your lighter projects like interior carpentry where space saving is more important than power 28 or 30-34 degree nailer is best. Usually, we see that cordless nailers are using a 30-34 degree magazine to make them lightweight and compact.
Buying Tips: For your heavy-duty job like framing – a 21-degree pneumatic framing nailer is the perfect match. Elsewhere, if you need a tool that is perfect for finishing related works in tighter space, you can go for the 28 or 30-34 degree category.
Magazine Style
Stick and Coil, are the two major types available in the market. The magazine style largely depends on the purpose and types of nails which you are going to use.
i) Coil Style Magazine:
In this fashion, the nails are held together by the use of two thin wires that load into a round feeder of a nailer. Usually, it can hold large capacity nails which can save your time of reload.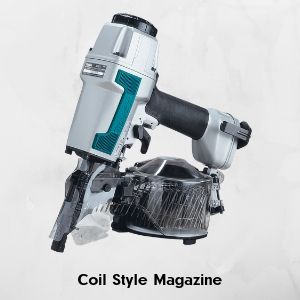 Pros:
Nail holding capacity 200 to 300 nails per coil at a 15-degree angle
Can fire nails at a speedy rate
Less reloading compare to stick style
Easily fit into a tighter space
Cons:
Centered design magazines cannot equilibrium the weight
Pretty heavy
A bit more expensive than the stick type
Not suitable for overhead work
ii) Stick Style Magazine:
In the stick-style nailer, utilize an extended flat magazine that holds a single line of nails. The nails are confined together by wire, plastic, or paper strips. The straight magazine of nails slides into a feeder area on the framing nailer near the nose.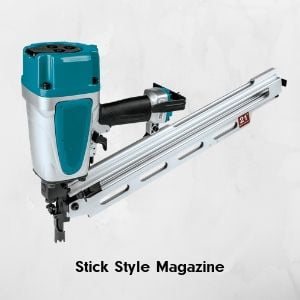 Pros:
Provide better balancing as the weight is distributed evenly
Used to fire three varied kinds of nails – paper collated nails (30 to 34-degree nails), plastic collated nails (20 – 22-degree nails), and wire-weld collated nails (28-degree nails)
Cons:
Cannot hold more than 40-60 nails per strip, required frequent reload
Not suitable to work in tighter space always
Buying Tips: For a project where you need to fire many nails together without any interruption, coil style is best. On the other hand, the job which demands more maneuverability and a balance stick style is a perfect choice.
Jam Clearing
Modern framing nailers are designed in such a way that the chances of getting jammed are very less. However, occasionally a nail goes out of alignment and stuck the nailer. Previously, framers need to clear the jam manually with the help of tools. Modern nail gun reduces that hassle and facilitate a tool-free jam clearing mechanism. So, during purchase check what the system is.
Anti-Dry Fire
Anti-dry fire is the latest technology in framing nailers that prevents firing when there are limited or no nails in it. This feature is useful as it saves the tools and the working surface from possible damage. It is also a great feature that helps to prevent jamming to a great extent. Check whether this feature has in your tools or not during go for the new one.
Rafter Hook
Imagine that you need to climb up with a nail gun or may need to free your both hand during the framing or truss building job. If your framing nailer has a rafter hook, you can quickly hook it up with your belt or hang it on a rafter. So, having a rafter hook with your device is a plus point.
Contact Tip
Some framing nailers accompany diverse sorts of contact tips. For example, the nail gun may have a no-mar tip that prevents the tool from leaving marks on the working surface. Another form is the positive placement tip which allows you to nail precisely on metal pieces, for example, metal joists.
Contact tip also has a significant role in differentiating two actuation modes of a framing nailer. Different contact tip keeps different effects on nailing. For example, some types of contact tips are – Pointed, Spiked, No-mar, Exposed, Interchangeable, metal connector, and so forth.
Criteria For Choosing The Right Nails
In addition to evaluating the above factors, it is critical to consider the type of nails that will be used when selecting the best framing nailer. Some nail guns are designed for straight magazines or cartridges, while others are made for round or coil magazines. Some nails are held together using paper, while others may be held together with plastic or wire.
Let's read our short story on varied types of framing nails for nail guns below-
Nail length
Choosing the proper type of nail gun is entirely dependent on the nature of the project, and selecting the right nails is also dependent on the type of job and the framing nailer brand. The gripping power of a nail also depends on the length. If you use small nails to fasten big planks together, they may fall apart within a few days. Brad nailers, for example, may shoot 3/8″ to 1-1/4″ nails, which are ideal for trim carpentry and interior projects. A framing nailer, on the other hand, can often shoot 2″ to 3-1/2″ nails, which are suitable for framing and other heavy-duty woodworking operations. It will be not wise to use brad nails for framing tasks.
As a result, always determine the nail length according to your job requirement.
Nail Diameter
The diameter of the nails, like the length, is determined by the nature of the job. The long or fat nail may split the wood if you're doing interior carpentry work. Similarly, employing thin and short-length nails for framing will not provide adequate holding capacity. The majority of framing nail guns on the market are capable of driving 0.113 to 0.148 diameter nails (i.e. 16D, 12D, 8D, and 6D).
Nail Angle
Nail angles, or magazine angles, are the same term and describe as a degree between the nails and the horizontal surface of a workpiece. Usually, we see four different angles of nails – 21, 28, 30, and 34-degree on the market. The most used nail angle is 21 degrees. However, it is advisable to check the magazine angle of your framing nailer before purchasing nails.
Nail Head Type
The nail head is the top part that sits over the nail shank and where we apply the hammer to drive it. Though there are many types of nail heads available, the most common are the round-head and clipped-head.
Clipped head nails – come with a little-trimmed head and are always collated with a stick. It allows the shank of the nail to attach to each other tightly. Thus, it can load up to 30% more nails than the round head.
Building codes of many states do not support to use of clipped head nails, because there is a perception that the fastening capacity of a clipped head nail is not as strong as round heads. Though, there is no significant evidence found related to the holding power difference between a round-head and a clipped-head nail as the shank does the maximum task.
Round Head Nails – comes with a circular head design and looks like an ordinary one that you see in most of the hardware stores nearer to you. In the case of framing nailers, we observed that all coil collated nails must be round head nails, but all stick collated nails are not necessarily round heads.
Nail Collation
To make the nails usable for nail guns, manufacturers glued them together with paper, plastic, or wire which is known as a nail collation. There are three common collations available. These are as follows-
Paper Collated Nails – are the most expensive option among other collations. However, it has a significant performance benefit – when the nail gun fires nails, bits of paper are pushed into the wood instead of scattered around or spitting toward the user. According to the manufacturer, the paper-collated nails won't "flag" or leave collation material over the top of the nail head to create an uneven surface and prevent nails from seating fully.
Pros: Less flying debris, safer, cleaner, can hold more nails per strip than plastic collations, and consistent nail penetration. Usually, used in 30 to 34-degree collation.
Cons: Moisture can ruin collation – not suitable to use in wet weather.
Plastic Collated Nails – are the budget variant option among collated nails. Usually, the manufacturer uses the most inexpensive quality plastic to make them. When pressing the trigger, bits of plastic fly here and there. In the worst scenario, those may spit toward the users of framing nail guns.
Pros: Suitable to use with 20 – 22 degree and 15-degree magazines, economical.
Cons: Collation breaks easily, is prone to damage, is susceptible to jamming nail guns, and can hold fewer nails than other collations.
Wire-Weld Collated Nails – are collated together with a thin wire to the side of each nail by tack-welding. The benefit of this process is to keep the nails in proper alignment and make them impervious to the impact of weather and job-site abuse. This collation is mostly used in the case of coiled nails.
Pros: No chance of getting wet and damaged by moisture, there is no effect of hot or cold temperature; very durable in stick form as well as in coil form.
Cons: Prone to dwindling; rebounding bits of metal chips are dangerous; more expensive than plastic.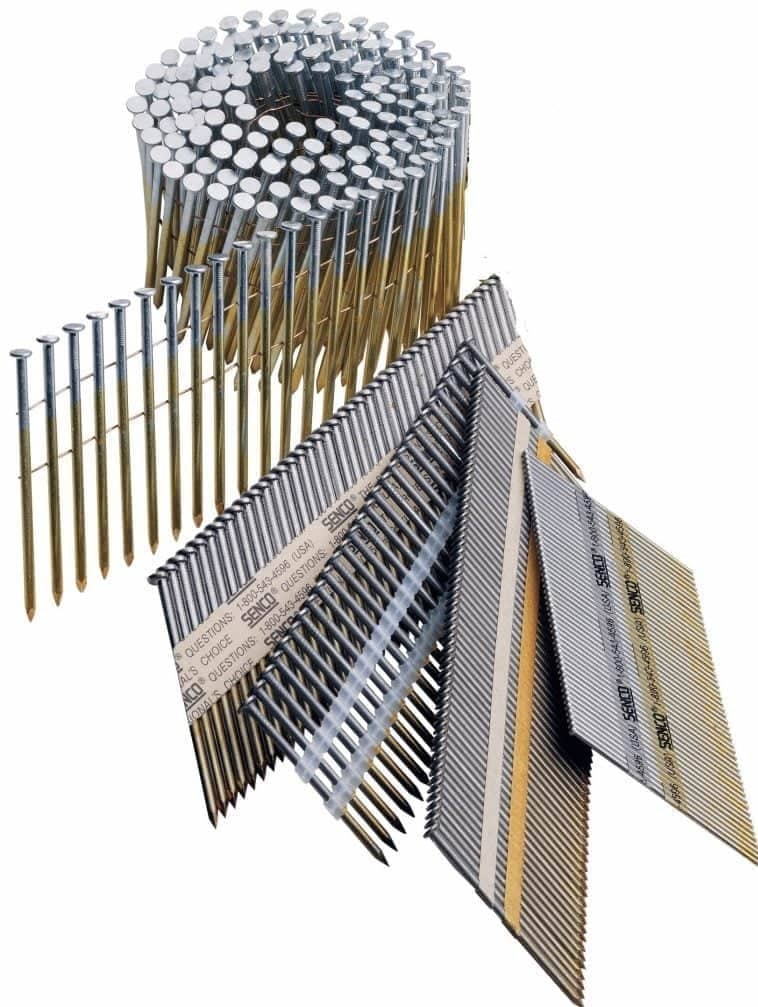 How To Oil A Framing Nailer?
A framing nailer is made up of a lot of small pieces, such as a piston ring assembly, a cylinder, and valves. They come into contact with each other while sprinting, causing friction. Proper lubrication will function as a cushion between them, increasing efficiency while also preventing wear and tear. As a result, the nailer's life cycle is extended.
Put oil in your framing nailer on a regular basis (if it's pneumatic), if possible twice a day, to ensure smooth performance. Regularly applying oil will help lessen the likelihood of a misfire. Thankfully, lubricating the instrument is simple. Here's what you should do:
Disengage the air hose from the nailer if connected. Firmly hold the nail gun with one hand and grasp the air hose coupling with the other one. Then pull back the connector away from the nailer until it is disconnected.
Position the nail gun in such a way that the nipple of the air inlet is facing upward. Place the tip of the oil bottle right over the nipple of the air inlet. Gently squeeze the bottle to force a drop of oil out and enter into the air inlet. Repeat the procedure 2 to 3 times.
Tips:
Don't use car oil or other machine oil; there is specific pneumatic oil available on the market for a framing nailer. There are two versions of pneumatic oils, one for the winter season and another for regular use segregated based on viscosity. Always use the specific oil recommended for pneumatic tools.
Preferably apply it daily – once before starting the job in the morning and secondly in the afternoon to keep your cylinder lubricated to move smoothly.
To learn more, you may read this article on How to oil a framing nailer.
How To Clear A Jammed Nail Gun?
One thing we always believe is that no technology is completely problem-free. For some tools, it is lower, while for others, it is higher. Nobody enjoys being trapped in the middle of a project, no matter what it is. We may, however, reduce the problems by taking adequate care of our machines. Apart from using reasonable caution, we also necessary to know how to perform minor repairs in order to keep our devices working, and nail guns are no exception.
A nail gun might jam for a variety of causes rather than just one. A nail gun usually drives fasteners with a lot of power, and most of the time a nail gets caught in the barrel or hits something and deflects, jamming the gun. When you push the trigger, the nail gun simply blows air instead of releasing any nails, you'll notice it.
Clearing jammed nails, for whatever reason, is a simple procedure. Simply open the barrel's latch and use a screwdriver or a piston rod to remove the trapped nails.
To learn more about how to unjam a nail gun, see our blog on how to unjam a nail gun that won't shoot nails.
Frequently Asked Questions (FAQs)
Even though we attempted to cover the majority of the details about the framing nailer, we understand that you may still have some unanswered queries. No need to be dissatisfied; we'll address some of the most frequently asked questions from around the world that we found on the internet.
Q1. What is the best framing nailer?
If we want a simple answer to the above query, the ideal nail gun for us is one that is simple to use, saves time and money, and is durable enough to handle job site abuse.
However, to find out the best one, you need to check out some basic features that a nailer can bring. In our previous section of this buying guide, these features are explored in detail. I believe that, after reading those selection criteria, you can easily discern which one is the best air nailer for your project.
As per our opinion and review, we consider Numax SFR2190 to be the best nail gun on the market in terms of price and features.
Q2. Can I use a finish nailer for framing?
Based on our expertise, we can claim that using a finish nailer for framing works is neither worthy nor safe. However, in order to get a more conclusive response, we need to compare a framing nailer to a finish nailer. Let's take a quick look at what a framing nailer and a finish nailer are mostly for.
Framing Nailer – is made for heavy-duty jobs that require a lot of gripping power. As a result, it's a perfect tool for framing homes or renovation projects, as well as decking, fencing, siding, wood sheathing, and other heavy-duty carpentry projects. Framing nailers are designed to drive big nails with a length of 2 to 3-1/2 inches, capable of firmly securing 2×4 trusses or similar.
Finish Nailer – Installing trim molding, baseboards, shoe panels, tiny crowns, and interior decorations are just a few of the small to medium-duty woodworking projects that a Finish Nailer can do. It can also be used to put together furniture and cabinets.
A finish nailer can usually drive thinner nails, ranging in thickness from 15 to 18 gauge, and has less holding power than frame nails. However, because they are small and headless, they provide less of a risk of splitting the material being fastened, and they do not require the use of putty to conceal the hole left by the nail head.
As a result, selecting the appropriate tools for the work is critical. Otherwise, it may be prohibitively expensive. If you need to undertake heavy-duty work, a framing nailer is a way to go. For ornamental and sumptuous work, however, a finishing nailer is recommended.
Q3. What is the difference between a finish nailer and a framing nailer?
If you read our earlier FAQ, you may already get the answer. Usually, a finish nailer is used for ornamental or finishing works like assembling furniture or attaching crown or trim moldings. On the other hand, a framing nailer is used for driving nails into big or thick frames or trusses to prepare decks or building frames for house construction.
Now, if you're using a framing nailer to create a cabinet, you can do it, but the driven nail will leave a huge mark on your furniture that doesn't look good. Conversely, if you use a finish nailer to fasten two studs together, it will add them, but it might soon pose a massive hassle that might cost a lot.
So, please use the correct tools to do the right thing.
Read Also: Framing Nailer Vs Finish Nailer: Which Is Good For What?
Q4. What size nail should be used for framing?
Nail size is a significant feature of the framing function. Framing nailers, primarily used for rough and tough construction processes, are mostly used for joining 2-inch or more thick lumbers. And, if you're using a shorter nail, it may cause severe harm and even occur in the fall of the constructed house.
Therefore, the best nail size for framing is 3-1⁄2 inches, as it's often needed to fasten 2x4s studs. In the United States, traders call this size nail 16d. Here the letter "d" stands for the penny that England had named in the 15th century.
On the other hand, a framing nailer is often used to add furring strips, sheaths, subfloors, and other materials where it is not appropriate to use big nails. You can use 8d means 2-1⁄2 inch nails in those situations.
Q5. Can I use 30 degree nails in a 34 degree nailer?
Yes, you can use 30-degree nails in a 34-degree framing nailer. Most of the nailers in this category available in the market marked that they can handle 30 to 34-degree nails. So, I think it will not cause any harm to your device if you use 30 on 34 degrees. To know more, you can read our article on framing nailer degrees.
Q6. How to load a nail gun?
It's easy to load nails into a framing nailer. It may, however, differ from one nail gun to the next. In most cases, a magazine is mounted to the barrel of the nailer at an angle. The magazine has a lock that is used to secure and retain the nails in place.
To load nails in the magazine –
First, disconnect the hose of the air compressor for safety. Then empty the magazine if there are any leftover nails or remove jammed nails if any.
After making sure that there are no leftover nails or strips of the nail, connect the nail gun with an air hose. Do this now, because connecting the air hose with a loaded nail gun may cause accidental firing.
Now, slide the lock/latch at the magazine's end (nearer the nail gun head). Insert the nail strip parallel to the barrel and in line with the magazine. When installing the strip, make sure the nail head is pointed toward the nail gun upward.
Next, hold the gun upside down until the strip reaches the end of the path.
Then release the latch or spring mechanism that is attached to the sleeve and allows you to slide it back past your nails. Holding the button during doing that for soft sliding inside the magazine. That's all.
Don't forget to disconnect the air hose or power connection during reloading. Moreover, always use the right nails to match your device.
Read Also: How to load a Bostitch Nail Gun?
Q7. What type of air compressor for a nail gun?
You'll need an air compressor if you're using a pneumatic nailer. If you don't have one, you'll have to get one. The air compressor is usually rated based on two factors: compressed air pressure and flow rate. When air pressure is measured in PSI (pounds per square inch), the flow rate is measured in CFM (cubic feet per minute).
PSI and CFM requirements vary depending on the type of nailer; typically, framing nailers require 70 to 120 PSI pressure and 2 to 3 CFM air flow rate. As a result, any compressor that falls within this range will be capable of smoothly operating a pneumatic framing nail gun.
Typically, framers prefer to utilize pancake-style air compressors (with a capacity of 3 CFM@90psi and a tank capacity of 6 gallons) since they are portable. Click here to read our reviews of the best air compressors for nail guns if you're wanting to buy one.
Read Also: How Big of An Air Compressor Do I need for a Nail Gun?
Q8. How much does a nail gun cost?
It depends on a variety of elements, including the brand's value, size, functionality, and features, among others. Based on our research, we discovered that it ranges from $50 to $400 or more. Whatever the case may be, it is critical to first define a target based on your job requirements and then select a device. Keep in mind that you should not always judge quality based on pricing.
FRAMING NAILER WRAP UP
Thank you for taking the time to read the framing nailer reviews and buying tips presented above.
We strive to demonstrate through our reviews and buying guides that utilizing the best framing nailer is the only way to execute high-value projects or even small domestic jobs. Only a good nailer can help you maximize your profits by speeding up your work and eliminating tedium.
In addition to stressing about remuneration, we also need to consider safety issues while fastening nails. And, keep this in mind, we not only authorize the fantastic features but also try to cover safety issues in our writing. I hope this little attempt will help you choose the right product and save you and your nearer kinds from possible damage.
It will not be wise in any way to compromise on quality for the sake of saving a penny. You may be able to find a lot of screaming deals on cheap framing nailers, but you will see yourself replacing it in a month or two. In our reviews, we try to list down high-quality, reputable framing nailer brands based on our honest research and customer feedback.
I'm sure that after reading our reviews on the top-rated framing nailers on the market, ordering one for your tools bag will not be an overwhelming task anymore.
Best of luck while hunting for your favorite tools for your toolbox, buddy!
Thanks again for reading the entire article with endurance.
Related Reviews:
Tools Mirror is reader-supported. When you shop through retailer links on our site, we may earn an affiliate commission at no cost to you.
Recent Posts