Framing is a crucial aspect of construction, and having the right tools for the job can make a world of difference in terms of efficiency and precision. One such tool that has revolutionized the framing process is the Freeman PFR2190 21 degree full head framing nailer.
This powerful and versatile tool has quickly become a go-to choice for contractors and DIY enthusiasts alike, thanks to its ease of use, durability, and impressive range of features. Whether you're building a new deck, framing a house, or putting up a fence, the Freeman PFR2190 Nail Gun is an indispensable tool that can help you save time and get the job done right.
In this blog post, we'll take a closer look at this top-of-the-line nail gun and explore its many features and benefits.
Power Up Your Projects with the Freeman PFR2190 Framing Nailer
The renowned tool company Freeman produces the PFR2190 21-Degree Framing Nailer. Freeman Tools was established in 2008 in Georgia, United States. It's a well-known brand among professional contractors and DIYers for its durable staplers and nailers at a reasonable price. In truth, they cost 20-50 percent less than other well-known products on the market with identical attributes.
The Freeman nail gun is the finest choice for your projects to perform framing, subflooring, roof decking, or wood fencing smoothly and efficiently, as the jingle "powerful tools to get the job done" perfectly complements it.
Let's look at the Freeman PFR2190 reviews to understand more about this tool's technology and performance.
Freeman PFR2190 Pneumatic 21 Degree Framing Nailer
Core Features
Quick-fire or single-shot mode are both available in the double-actuation mode.
A mechanism for rapid depth shift
Anti-dry fire mechanism and no-mar tip
Exhaust can be adjusted 360 degrees.
Magazine and anodized aluminum cylinder
For long life, it uses a one-piece drive blade with rubber O-rings.
Specification Of Freeman PFR2190
Power Source: Pneumatic
Operating pressure: 70 – 115 PSI
Magazine Capacity: 55 pcs
Magazine Angle: 21°
Fastener Range: 2 – 3½ inch
Fastener Gauge: 0.113″ – 0.131″ (10 – 12 GA)
Weight: 8.6 lbs.
Dimensions: 20.25″ x 6.63″ x 14.38″
Detailed Features Of Freeman PFR2190
Made With the Most Excellent Materials
The cylinder of a framing nailer is the most critical component because it produces the needed back thrust to drive the nails. Freeman used anodized aluminum to create the cylinder of PFR2190 to make it hard-wearing. The same durable material has also been used to produce its magazine, another most usable part of any nail gun. It also implemented an oil-less Teflon O-ring to guarantee a prolonged life.
Not ending here, the body of Freeman PFR2190 is made with die-cast magnesium that helps to achieve the essential characteristics: durability and lightweight. Magnesium is now one of the most favored industrial commodities by all renowned manufacturers, and Freeman rightly addresses it.
The use of solid structural materials helps Freeman Framing Nailer to gain popularity and has received a maximum number of customer reviews.
User-Friendly Design
When you see the PFR2190 weight, you may think it is on the heavier side. But if you ratio strength to weight while shooting, you will find a perfect balance between power and mass. And you will find it the right nail gun for your woodworking purposes.
Additionally, it comes with an ergonomically designed, safe handle that provides you with a comfortable grip and non-slip action during operation.
It also comes with a pre-installed ¼ inch NPT fitting which allows you to set your nail gun with an air hose without buying any extra parts.
Freeman air nailer is fitted with an interchangeable trigger that allows you to switch between quickfire and single-shot mode. However, you will not find any knob to press and simply shift from one state to another in this Freeman 21 degree framing nailer. Maybe Freeman considers user safety during the design of its trigger assembly.
It is also equipped with both flat foot and spike teeth. So you can do toe-nailing with this Freeman PFR2190 smoothly.
All these high-end features make the freeman framing nailer one of the most famous nail guns among professional contractors as well as a DIYer home remodeler.
Versatile And Powerful
The Freeman framing nailer features a Tool-Free Depth Adjustment & a No-Mar Tip, making it adaptable to operate in different materials. The strong engine and durable body structure make it perfect for shooting 10-12 gauge nails up to 3 ½ inch size for framing works and or wall sheathing, siding installation, sub-floors, pallet building, wood box assembly, and fencing.
360° Adjustable Air Exhaust
Keeping your workspace free from debris is no more laborious task now if you have Freeman PFR2190 with you. Yes! It is equipped with a 360-degree swivel air exhaust that not only keeps your surroundings clean but also directs the exhaust air away from your face.
Anti-dry fire
Few users may feel resentful as the nail gun stop firing before finishing the last 3/5 nails. Indeed it is helpful for the long-lasting use of a nailer as the anti-dry fire mechanism protects the nail gun from any possible internal damage. Freeman PFR2190 offers you this essential attribute too.
You may have to face another issue with this feature, however, which is jamming the nails. When you load new strips with these leftover nails and begin firing, there is a possibility of sticking the gun. You can solve this problem by removing the remaining nails, but it will increase your operational cost.
Anti-Dust Cap And Air Filter
Any single particle of dust may cause harm to the cylinder and ruin the life of a nail gun. Freeman nail gun equipped with both the air filter and anti-dust cap which protect from entering any dust in the engine and reduce the hassle of maintenance.
Benefits Of Freeman PFR2190 Nail Gun
Beautiful design, durable and lightweight
Versatile work on different surface materials
Rust-free Anodized aluminum magazine
Easy to use and easy to reload
Reasonably priced
Required minimum maintenance
The hard plastic carrying case makes storage and transport easy
Sold, distributed, serviced, and warranted in the USA
Limitations Of PFR2190
Bigger, Heavier, Louder, and less well-balanced than Porter Cable
Solution: The Freeman PFR2190 is indeed a bit larger and heavier than many other nailers on the market. Usually, the bigger-sized nail guns are very capable of working on hard materials and industrial jobs.
Every pneumatic framing nailer is more or less louder, and so is Freeman. However, that is not beyond the tolerable DB limit. And finally, it's not correct that it's not well balanced. Furthermore, it enables you to shoot nails every time precisely because of its excellent weight and power ratio.
It said that it has an oil-less O-ring, but in fact, it is not oil-less
Solution: Freeman declares in the instruction manual and product features that the cylinder assembly is made of an Oil-less Teflon O-ring. However, it's not like that. You must put oil before you begin every day to maintain it workable. The term oil-less might be a mistake.
Lack of instruction about Toe nailing in the manual
Solution: Some reviewers stated on Amazon that toenailing with it is hard. A spring clip can be separated from the plastic safety end. This tip will show a serrated nose that makes the toenailing much quicker. But there is no instruction in the user manual about it, which is a bother.
NuMax SFR2190 Vs Freeman PFR2190
When it comes to framing nailers, two models that often come up for comparison are the NuMax SFR2190 and the Freeman PFR2190. Both of these tools are highly capable and offer a range of features that make them suitable for professional use.
The NuMax SFR2190 boasts a lightweight design, making it easy to maneuver and use for extended periods. On the other hand, the Freeman PFR2190 is known for its durability and reliability, making it a favorite among contractors and DIYers alike.
Get ready to be amazed because we've got a fun fact for you! The Freeman PFR2190 and NuMax SFR2190 are like two peas in a pod – they look alike and work the same way, but just have different names and colors. Both of these nailers are marketed, distributed, and serviced by Prime Global Products, Inc.
So, if you've noticed any cool features in the NuMax, you can expect to find them in the Freeman too! The only difference is in the warranty policy. While NuMax offers a 1-year warranty, Freeman steps it up with a whopping 7-year professional warranty. How's that for peace of mind?
Ultimately, choosing between these two models will come down to personal preference and the specific needs of the job at hand.
Is The Product Worth Your Money?
Freeman nail gun travels through a strict quality control procedure during manufacturing, even wrench, and plastic case. The U.S. Company Prime Global Products Inc. handles all of its warranty and after-sales service issues.
For your kind information, they also offer the industry's best 7-year professional warranty to satisfy its customer. Moreover, if you analyze Amazon's customer feedback, you will discover that it got a remarkable 90 percent positive feedback from its customers.
All these parameters indicate that Freeman PFR2190 is one of the best pneumatic framing nailers to buy.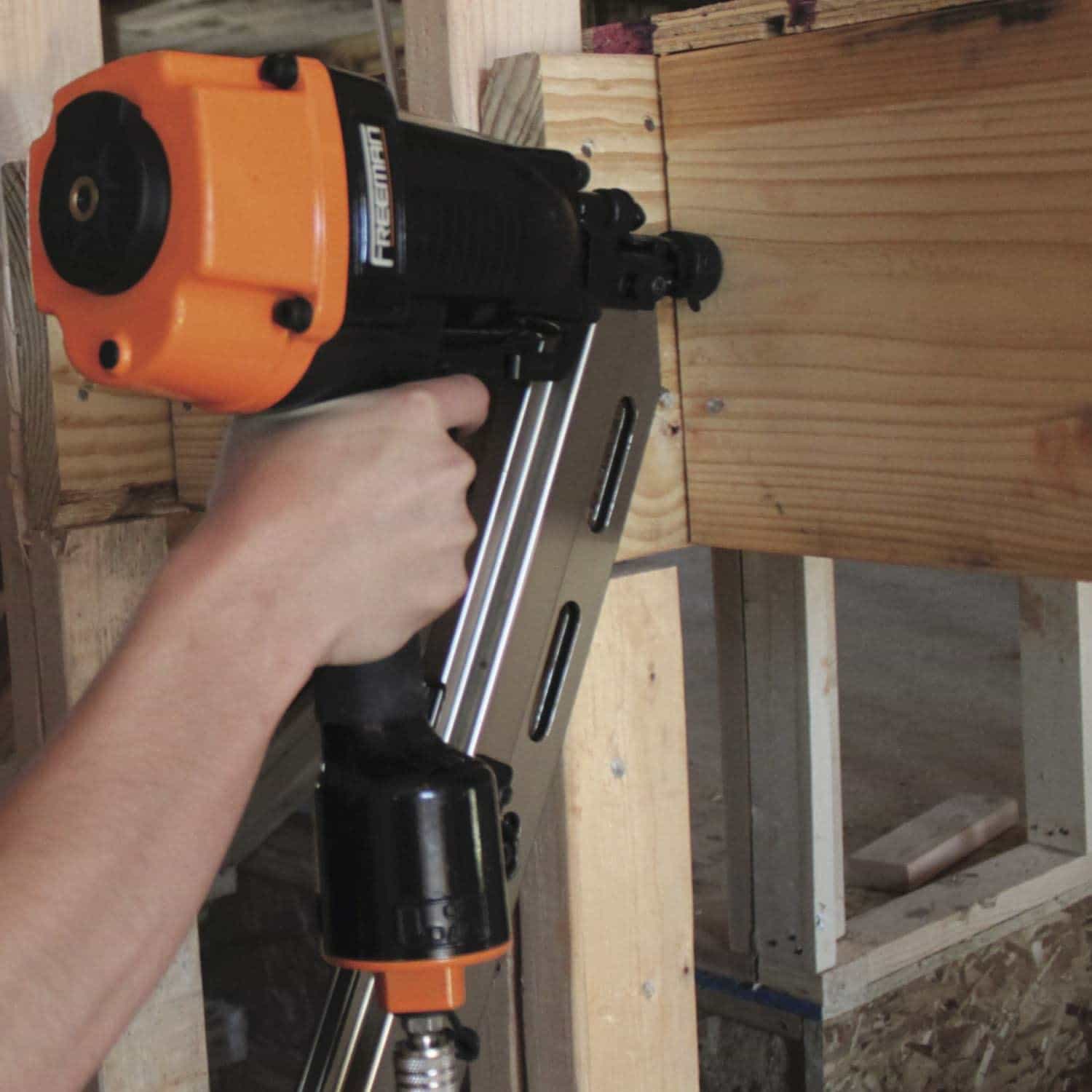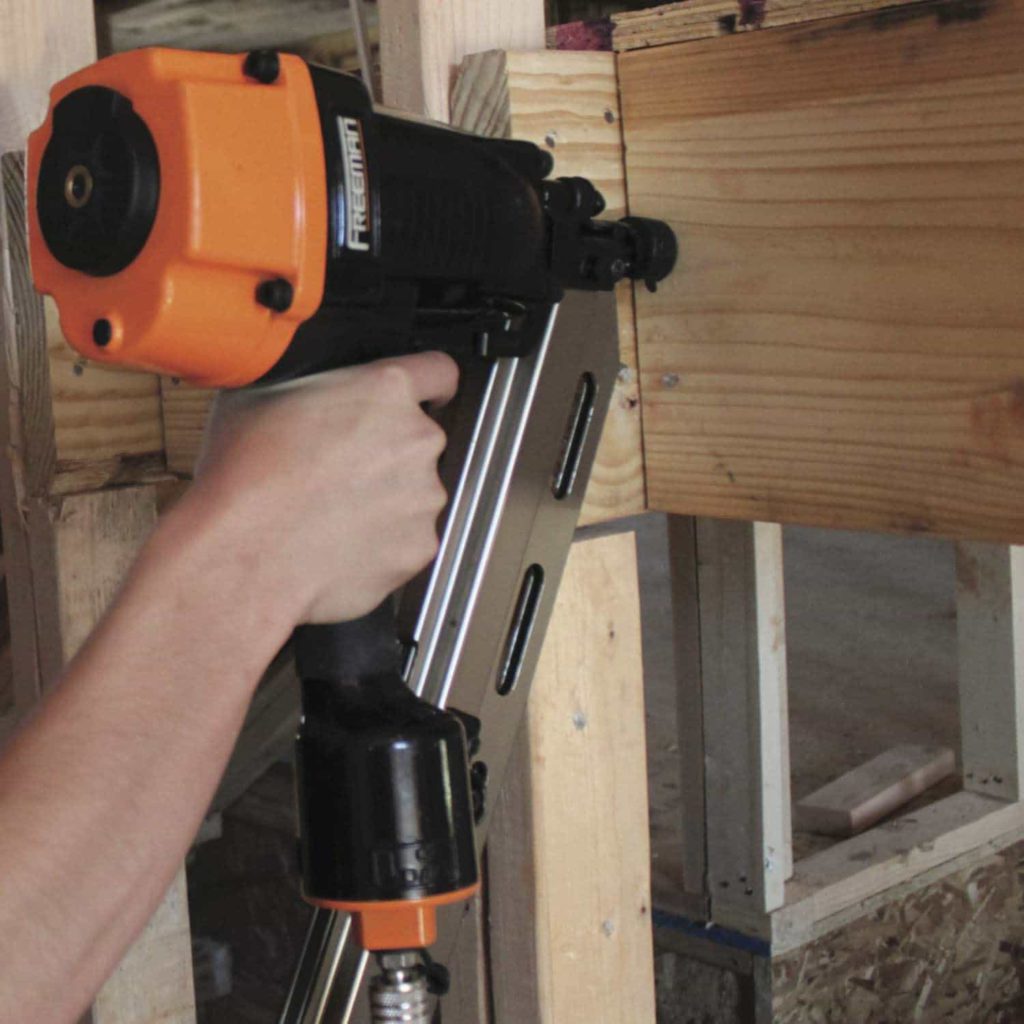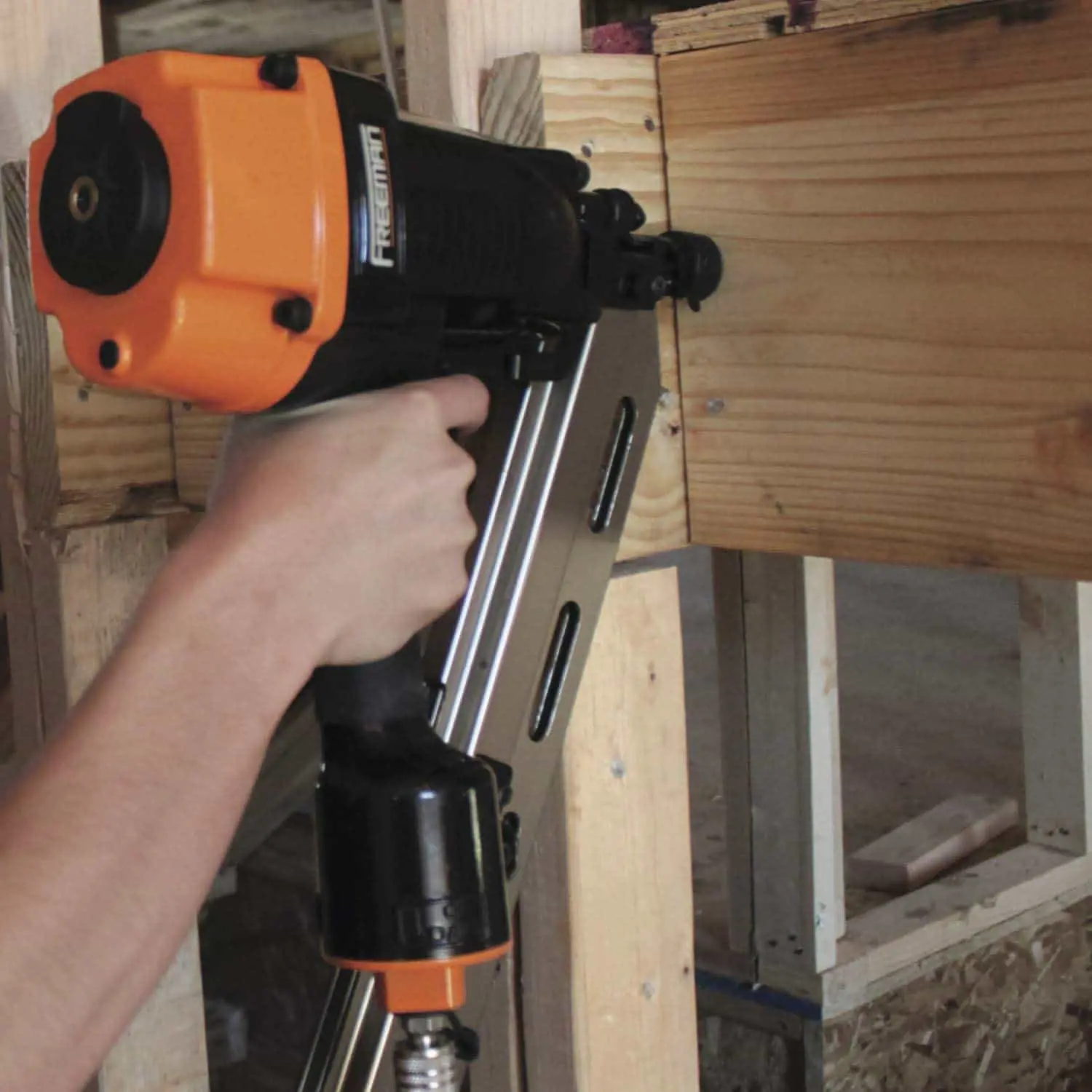 Frequently Asked Questions (FAQ)
What's the actual weight of the PFR2190 nailer 14.5 or 8.6 pounds?
​In my experience, I never see a nail gun that crosses the weight limit of more than 10 pounds, even in the case of cordless. So, 14.5 pounds is absurd. It weighs only 8.6 pounds. If you found 14.5 pounds anywhere, it may be the gross weight, which includes the plastic case and other accessories.
Can I drive 20 or 22-degree nails with this gun?
​​The manufacturer recommended angle of the nail is 21° plastic collated nails. However, you can use any generic nails from a 20 to 22-degree angle.
Can I sink nails in LVL-engineered lumber with this nail gun?
​​Freeman PFR2190 is a robust and heavy-duty nailer which can drive nails into any engineered lumber without an issue. So, you can sink nails in LVL lumber too.
Is it equipped with any rafter hook?
​​No! There is no rafter hook with the Freeman framing nailer.
Where can I get replacement parts for this nailer if I need them?
​​For any service or spare parts issue, you can visit the website of Freeman Tools (freemantools.com). You will find a contact us tab there where they mention the email address and phone number to reach them.
Final Thoughts
All right! We spoke a lot about the Freeman PFR2190 21-Degree Full-Head Framing Nailer. Don't get annoyed. This was our small effort to explain the advantages of this tool, along with the drawbacks.
Nevertheless, inconveniences do not happen in the real world. The gun can not fire the last 3/4 bullets, for example. It's basically designed in such a way as to minimize dry fire and prolong the life of the unit.
With the specialist in mind, the Freeman Pneumatic Nailers line is built. They have worked tirelessly to manufacture each of the products to meet the demand of skilled contractors and remain loyal to the reputation associated with the company.
In PFR2190, you will notice every professional feature just like other high-end nailers with a very good price point.
Related Reviews:
Tools Mirror is reader-supported. When you shop through retailer links on our site, we may earn an affiliate commission at no cost to you.
Recent Posts