Good day, there! Make sure the seat belt is securely fastened. We'll show you the OrionPower OGG-3490CH, a long-lasting but low-cost gas-powered framing nailer. Although it is relatively new in the framing nailer market, the American company OrionNexus, which manufactures this product, began operations in 2012.
For contractors who are looking for a versatile tool with a tad pricey, the OGG-3490CH cordless framing nail gun will be a perfect choice. You will find a combination of energy and reliability in it. There are very few cordless framing nailers on the market that allows you to drive both clipped and round-head framing nails like this one.
Moreover, the Li-ion Battery and Propylene-Butane Fuel Cell make it highly portable and well-balanced to perform framing, sheathing, subflooring, decking, siding, and crate-making work like a pro.
Let's discover some performance and technical issues about this young but fantastic gas cartridge nail gun.
OrionPower OGG-3490CH Gas-Powered Cordless Framing Nailer
Cordless, Portable, Lightweight usage on the job site, with no hoses or compressors.
Lithium Ion Battery Technology fires 4000 shots on a single charge
Generic Propylene-Butane Fuel Cells deliver plenty of power, each cell firing 1200 nails
Fires up to 3.5 inch 30-34 Degree Clipped or Round Head Paper Strip Collated Framing Nails
Also Includes: Two Li-Ion Rechargable Batteries, Charger, Carrying Case, Goggles.
Specification Of OrionPower OGG-3490CH
Power Source: Cordless gas powered
Fastener Range: 2 – 3.5 inch
Nail Angle: 30-34 Degree Paper Strip Collated
Head Type: Clipped or Round Head
Shank Diameter: .113 to .131 inch
Nail Head Diameter: .266 to .303 inch
Magazine Load Capacity: 48 nails per magazine
Cycle Rate: 2 nails per second
Fuel Cell Life: up to 1200 nails
Battery Life: up to 4000 nails
Recharge Time: 2 Hours
Weight: 8.16 lbs (3.7 kg)
Dimensions: 13.7 x 13.3 x 4.2 inch
Key Features Of OrionPower OGG-3490CH
Portable, cordless, and lightweight
Can fire 4000 nails per charge of the Li-ion battery
The powerful shoot comes from the Propylene-Butane fuel cells
With a single fuel cell, it can fire 1200 nails
Allows both clipped and round head nails
The package includes two Li-ion batteries, charger, a carrying case, and goggles
Performance And Technical Issues Of OrionPower OGG-3490CH
Nails Compatibility
With this OGG-3490CH gas-powered framing nailer, you can drive 50 to 90 mm (2 to 3½ inches), 0.113 to 0.131 gauges of 30-34 degree paper collated any generic brand nails. It complies with both the complete round head and clipped head nails.
When you need to drive faster and more nails per sec, the clipped head nails come in handy. On the other side, you could go with the round head nails when you need extra gripping power and concrete fastening performance.
Compact And Portable Design
Like Makita Gn900Se, OrionPower OGG-3490CH utilizes a 7.2-volt 1.5Ah lithium-ion battery that is accountable for a solid stroke while not increasing the weight of the device. Therefore, the tool weight of 3.7 Kg (8.16 lbs.) and 13.7×4.2×13.3 dimensions make it easy to work in tight angles as well as portable from one place to another without dragging cords or hoses.
Oh! I forgot to notice that you could actuate 4000 nails per charge with this 7.2-volt OrionPower battery, and it takes about two hours to fully charged. It's so pleasing, ha!
Generic Gas Cartridge Nail Gun
OGG-3490CH is run by a 165-mm propylene-butane fuel cell capable of producing plenty of power to flush up to a 3.5-inch shank smoothly in any planks. With each gas canister, you could drive 1200 nails and the OrionPower cordless framing nail gun is compatible with Paslode, Hitachi, PowerMax, and other fuel cells. So, there is no worry about the availability of gas cartridges.
Useful Carry Case
The device comes in a hard plastic-made useful carry case, and the case includes the following items for your ready-to-start fastening.
2x Lithium-ion Rechargeable battery
1x 12v Charger
1x safety goggles
2x hex wrench
One pair of foam earplugs
Fuel cell not included. Fuel and nails are available at Amazon under the OrionPower brand.
Easy-to-unjam
The method of unjamming the OrionPower OGG-3490CH nailer is shown in the flow diagram below. Although it's not tool-free, with only two rotations of hex wrench you can quickly open the nose and expel jammed nails to make your device workable.

Tool-Free Depth Adjustment
You can adjust the depth of drive with a wheel-type knob in this nailer like other high-end brands.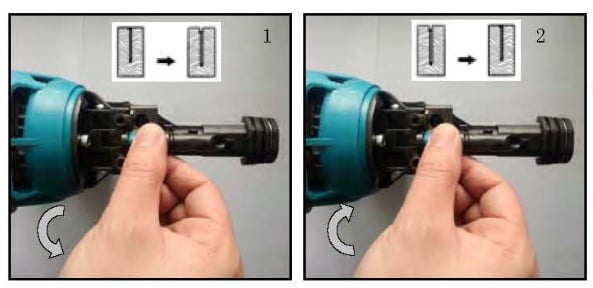 Rear Loading Magazine
By following easy two steps, you can load nails in this OGG-3490CH framing nailer. The magazine can hold up to 48 pins.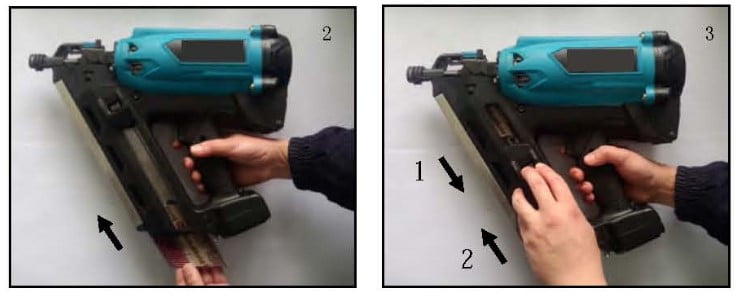 Reversible Rafter Hook
You can set the holding hook either left or right according to your comfort.

Benefits Of OrionPower OGG-3490CH
Portable and Lightweight
Powerful and efficient
Affordable compared to other same-range nailers
Compatible with any branded gas cartridges
Easy tool-free depth adjustment system
Easy two-step nail loading system
Hung on a rafter with its reversible Rafter hook
A decent cycle rate can shoot two nails per sec
1-year full warranty
Limitations Of OrionPower OGG-3490CH
Change of fuel cell is a bit expensive
Observe delay in firing nails
Hard to find a replacement for the battery
Customer support is awful
Frequently Asked Questions (FAQ)
Q1. Where I Find The Compatible Nails For This Gun?
You can use any generic brand clipped or round head 30 -34 degree plastic collated nails in this OrionPower OGG3490CH nail gun.
Q2. Can I Drive Concrete Nails With It?
The OrionPower cordless framing nailer is compatible to drive only framing nails onto the wood surface. So, you might not flush concrete nails with it.
Q3. Is It Handle Large Scale Projects Or Only Suitable For Small Tasks?
Yes! You can use it to complete your large-scale projects.
Final Thoughts
The user-friendliness and convenience of this cordless gas-powered framing nailer are incredible. It is prepared to perform high-intensity work as well as to support efficient DIY work.
The best part of this OrionPower OGG3490CH gas-powered nailer is that it has all the characteristics, of other high-end nailers, but does not increase its purchase cost. So, if you're looking for something new and reasonably priced, you might be thinking about it.
Related Reviews
Tools Mirror is reader-supported. When you shop through retailer links on our site, we may earn an affiliate commission at no cost to you.
Recent Posts