Compact, small design 3PLUS H2190SP 21 degree framing nailer is for those individuals who love to check out something new. It is an ideal tool for the weekend warrior or DIYer for remodeling or housing works.
Nonetheless, it is equally suitable for professional contractors too as its designs keep them in mind. This cheap nailer can drive 21-degree full round head plastic collated nails ranging from 2 to 3-1/2-inch.
The tool-free depth control is as effortless as cutting a piece of butter with a sharp knife. Its rear-loading structure also saves downtime while operating and makes it simpler than most devices. It also provides a dry-fire lockout, proper steel construction, and a secure, ergonomic layout.
Let's scroll down to know more details on this relatively new but promising 3PLUS H2190SP framing nailer.
Our Score
Uses 21 degree 2 inch to 3-1/2 inch full round head plastic collated framing nails
Tool-free depth adjustment for precise flush or countersink nailing
Multi-directional exhaust cover rotates 360° to direct exhaust air away from user; no-mar tip eliminates damage to working surfaces; dry-fire lockout feature extends motor life and prevents missing nails
Hardened claw tip reduces wear on the nose and minimizes slippage when toe-nailing
Selective actuation: allows for easy change between sequential and bump fire with the flip of a two-mode switch.
Specification Of 3PLUS H2190SP 21 Degree Framing Nailer
Power Source: Air-powered
Operating pressure: 70 to 120 PSI
Magazine Angle: 21°
Fastener Range: 2 – 3½ inch
Weight: 10.7 lbs.
Dimension: 19.7 x 6 x 15 inches
Key Features Of 3PLUS H2190SP 21 Degree Framing Nailer
Tool-less depth of drive for precise flush and countersink nailing
Multi-directional 360° exhaust port
Protect the surface from probable damage by the No-Mar tip
A hardened claw tip means no wear on the nose
Actuation mode: Single sequential firing
Rear nail loading system
Performance And Technical Issues Of 3PLUS H2190SP 21 Degree Framing Nailer
Well Manufactured
It's true that at a meager price, you can buy a 3PLUS H2190SP framing nailer. However, you don't have to believe it's a low cost means low value. 3PLUS H2190SP is a well-constructed framing nailer which made professional use in mind. Moreover, to offer you long-lasting service, the manufacturer uses all-metal (aluminum and steel) to construct its body.
Variety of Application
You can use the 3PLUS H2190SP nailer in a wide range of industries starting from framing works to roofing, siding, or fencing. You can also make wall sheathing, subflooring, and bracing with this device efficiently.
Comprises all High-end features
3PLUS H2190SP is a user-friendly nail gun suitable for operation by a skilled or weekend soldier equally. You will find all the fundamentals necessary for construction work in it. Such as –
You will get a precise flush or countersink with this device due to its tool-free depth adjustment system. It also allows the proper setting of nail heads with ease.
It comes with a hardened claw tip, which allows you perfect toe-nailing without slippage and helps to reduce the wearing of the nose.
The dry fire lockout feature is essential to save your gun as well as the surface you work on. It also helps to extend motor life and prevent missing nails.
Like other modern nailers, 3PLUS is also designed with a Rear nail loading system, which is pretty convenient and efficient, especially for professional users. ​They name it the "Drop and Pull" system. You have to tilt the tool towards the heavier side, drop the nail strip, and pull the follower back until it rests in place. That's it.
No more air thrust on your face to create a distraction while nailing. The multi-directional exhaust cover rotates 360° to direct exhaust air away from you. No-mar tip eliminates damage to working surfaces.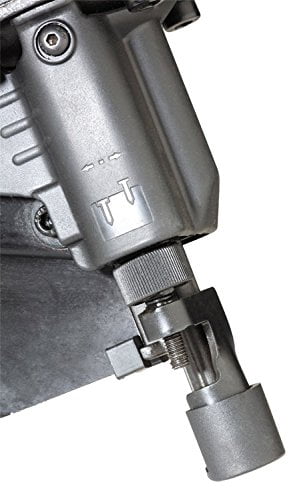 Comfortable Grip
If you don't feel comfortable holding the tool, you won't drive the nail efficiently. The 3PLUS handle comes with a rubber cover that ensures non-slipping as well as a comfortable grip during a day-long operation.
Rigorously Tested
3PLUS passes through a rigorous testing procedure during manufacturing to perform in all weather conditions and the harshest work site. So, no matter how difficult the work is or what the weather is, you can count on it.
Common Applications:
You can use a 3PLUS framing nailer for the following purposes.
House Construction
Framing
Truss Build-up
Roof decking
Flooring
Sheathing
Key Differences In This Category From Other Items
If we analyze 3PLUS H2190SP 21 Degree Framing nailer with other high-end models then find the fundamental difference in price. It is very cheap, but it possesses almost all the features like them. The only thing I like to mention is its firing mode. Yes! You cannot get bumps or contact actuation in it. Indeed, it is safer for you.
Benefits Of 3Plus H2190SP 21 Degree Framing Nailer
Manufactured well and works great
Developed for professional use in mind
No slippage during toenailing
No jamming problem
Portable and works just fine
Extremely affordable
Limitations Of 3Plus H2190SP
Cheap and Suitable Mostly For Small Projects or DIY Uses
Solution: You will get this device for five or six times lower than the higher value nailer's price ranges from $300 to $600. So, it is reasonable to think that it will not last as long as they are. However, a large number of customers found it sturdy enough and satisfied with its performance. So, no need to worry much.
Occasionally Misfire
Solution: 3PLUS H2190SP has a dry fire lockout system which reduces the chances of a misfire. However, if you still face the problem means something is going wrong in the setting. So, read the instruction carefully and set the nails and air compressor properly before firing.
Only One Actuation Mode
Solution: Yes! It's designed to drive nails in only one mode which is a single fire which may slow down your work a bit, but it is safe for you and perfect to drive nails precisely.
Despite the fact that it purports to be suitable for use in all weather conditions, one buyer alleges that he was unable to fire nails with it during the winter. If you are facing the same status quo, then check whether or not you kept the gun in the cold before firing. Always try to keep the nail gun in a warm place to get maximum advantage from it.
Frequently Asked Questions (FAQ)
Q1. How Much Air Pressure Is Necessary To Operate This Nailer?
To drive a nail smoothly, it needs 70 – 120 psi air pressure.
Q2. Is It Comes With A Spike Tip For Toe-Nailing?
Yes! 3PLUS is equipped with a spike tip for perfect toe nailing.
Q3. What Size Air Compressor Is Enough To Run This Nailer?
Ideally, any brand of 3 gallons and 2.5 HP air compressor which can make 70 -120 psi pressure is enough to drive nails with it. However, if you want fewer compression cycles, you can use a bigger air compressor like 6 or 9 gallons.
Q4. What Material Used To Make The Magazine Of This Nailer?
Aluminum.
Q5. Can I use this nailer in Bump Fire Mode instead of Single?
No! 3PLUS design for shooting single fire mode only.
Final Thoughts
If you read the above 3PLUS H2190SP 21 Degree Full Round Head Framing Nailer review, then you may understand it is one of the best small framing nailers designed for the professional user. It is a well-made nailer, that works excellently without having so many jamming problems. Moreover, it is portable and does not require a large compressor to run it.
It comes with clear plastic glasses to protect your eyes during drive nails and an oil pot for oiling before the start. So, for your DIY job or finish any small or medium size woodworking project, you can definitely give a thought to it.
N.B
3Plus comes with another supermodel framing nailer that helps you quickly change the angle of the magazine for various fasteners at 21, 28, and 34 degrees.
Yap! The 3PLUS HFN90SP 3-in-1 Air Framing Nailer can be tested by those framers or woodworker professionals who needed a frequent change of angle to suit the job site to match with their flexible working conditions.
Related Reviews
Tools Mirror is reader-supported. When you shop through retailer links on our site, we may earn an affiliate commission at no cost to you.
Recent Posts