It's natural for DIYers or homeowners to wonder if roofing nailers are worth buying because they're not everyday gear and are only used for specific tasks like constructing a new roof or re-roofing.
Roofing nailers are coil-style nailers that are specifically designed to drive roofing nails through asphalt and fiberglass shingles, waterproof tarpaper, and various types of insulating boards. As a result, it enables you to do roofing and re-roofing chores more quickly and accurately than if you used a manual technique.
As a homeowner, you may want to consider purchasing a roofing nailer to do your re-roofing. But, because most roofing materials last many years, you may need to use them in a considerable interval, or it will require whenever you want to fix a shingle damaged by a storm. As a result, it appears that renting a roofing nail gun is more cost-effective than purchasing one. On the other hand, the cost of a new roofing nail gun is in some cases equal to the cost of 2-3 days' rent.
Professional roofers, on the other hand, cannot avoid buying a roofing nailer since the roofing season is so short. They should also need to think about investing in the best roofing nailers in order to achieve the best results.
Our guide will assist professional roofers as well as DIY homeowners in selecting the best roofing nail gun for their budget and requirements. Let's scroll below to check out.
Best Overall
BOSTITCH RN46-1
Durable and Lightweight
Zero nail lockout feature
Comfortable use with depth change feature
Best Value
Metabo HPT NV45AB2
Lightweight and well balanced
Quick driving system
Tool-less depth change for comfortable use
Best Budget
WEN 61783
Flexible shingle guide
Easy depth change
Easy shingle spacing
Comparison Of 7 Top Rated Roofing Nailers
Can I Use A Regular Nail Gun For Roofing?
Roofing nailers are used to driving nails into shingles or insulation boards. This may prompt you to consider whether you could complete the work with other nail guns rather than a roofing nailer. The close resemblance between siding nailers and roofing nailers raises this confusion double.
Roofing nailers, for your information, are designed to drive nails with a broad head, smooth shank, and pyramidal point that are distinct from ordinary nails. Roofing nails are also little, measuring 3/4 to 1-3/4 inches long and collated with weir or plastic. They're also designed to drive nails into a variety of roofing materials, such as asphalt or fiberglass shingles, insulation boards, tar paper, and other materials that require extra strength.
Siding nailers, on the other hand, resemble roofing nailers in appearance but are designed to drive longer and smaller-headed nails. Other nail guns, such as finishing nailers or brad nailers, are made to drive little, delicate, and often headless nails or pins, while framing nailers are made to conduct framing or decking projects that require a lot of gripping power.
Not to mention, there are correct and incorrect ways to nail shingles to a roof. You can wind up with a mess if you don't arrange the shingle correctly or don't drive nails to a specified depth. Poor shingle placement might lead to a risk of penetrating water into your home, or it may fly away in a strong wind.
As a result, there is no alternative to use the proper sort of nail gun for roofing.
Top 7 Best Roofing Nail Guns Reviewed
We spent around 20 hours at our garage shop driving roofing nails on various shingles and boards, evaluating performance based on the depth of drive, the time necessary to accomplish the work with each brand nail gun, user-friendliness, and other factors. After performing our research, we discovered that the Bostitch RN46-1 is the best on the market.
Let's have a look at the Bostitch RN46 and the other top 6 roofing nailers in this study –
#1
Why We Select It: The Bostitch RN46 1 coil roofing nailer is a powerful and lightweight tool with an adjustable shingle guide for fast shingle spacing and a quick-set adjustable depth guide for placing nails to chosen depths quickly and comfortably. Because of these features, as well as the carbide inserts in the nosepiece, we recommend this pneumatic roofing nailer as our top pick.
Pros
Durable and powerful (410 in./lbs. of torque)
Lightweight, 4.9 lbs. only
Comfortable over-molded grip
Great damage protection from abrasive surfaces
Super easy one-stop nail loading
No misfire with its zero nail lockout feature
Cons
It's possible that if you're not used to using a sequential trigger, it'll fire twice.
If you don't use the right size nails, you can have a jam.
Features Description
When it comes to roofing, you may be required to install some difficult materials such as 3-tab, fiberglass, architectural asphalt shingles, or metal roof shingles. As a result, you'll need a powerful roofing nail gun on hand to get the job done well. And for that, you may put your faith in the Bostitch roofing nailer RN46, which can deliver 410 in/pound torque every time you shoot.
After driving power, the next important aspect for a roofing nailer is its depth adjustment system. And this time also you will find the Bostitch RN46 as the winner. It comes with a quick-set depth change guide to set the desire nail penetration swiftly and easily.
It has a one-of-a-kind single-action side load canister for loading nails quickly. When there are no nails on the magazine, the dry-fire lockout protects the dry-fire, and the carbide insert nosepiece provides lengthy performance.
Bostitch Coil roofing nailer also has a shingle guide to assists you in placing shingles at the right distance. Its lightweight aluminum housing gives you the durability required for Jobsite mishandling along with long-time fatigue-free operation.
If you're planning to build a new home, you'll need to manage a lot of framing and decking work. In preparation for that, you should get the best framing nailer in your toolbox.
#2
Best For High-Speed Roofing
Why We Select It: The Dewalt DW45RN offers the fastest nail-driving speed in its class, at 10 nails per second. Aside from that, it has a long-lasting engine and feed system. We choose it as our second-best option because of its ability to deliver consistent results and valuable features for roofing or re-roofing projects.
Pros
Durable and long-lasting design
Robust engine
Can fire faster than the competitors
Superior balance with slide guard inserts
Ergonomic and lightweight
Cons
Stationery exhaust port
Lack of dry-fire protection system
Features Description
The DW45RN Dewalt's robust engine construction and high-speed valve make it significantly faster than any other roofing nailer on the market. As a result, you can drive up to ten nails every second, while others can only drive two to three nails each second. It is not only speedier, but it is also more durable than others.
There will be no more guesswork when it comes to nail driving. Its one-of-a-kind depth adjustment wheel with number detention allows you to precisely set the nail depth according to the materials. The DW45RN is also a lightweight roofing nail gun, which makes it easy to operate from a rooftop.
Furthermore, the steel skid pads with rubber inserts and frame protection bumper help to keep the nailer from sliding and safeguard the surface you're working on. Its side-load magazine makes it simple to load nails while working.
However, you can't change the direction of the exhaust outlet, and you can't see the final nails on the magazine to prevent dry firing, which is a disadvantage.
Aside from the drawbacks, the Dewalt coil roofing nailer is a fantastic alternative for experienced roofers looking to increase their productivity. You can also check out the DeWalt DCN45RND1 cordless roofing nailer kit, if you want more maneuverability.
#3
Best Pneumatic Roofing Nailer
Why We Select It: The Metabo HPT NV45AB2 has a rapid drive and quick response cylinder valve for speedier operation. It can also accommodate a variety of fasteners ranging in size from 7/8 inch to 1-3/4 inch, making it a versatile tool for professionals. Overall, it's the best pneumatic roofing nailer in our opinion.
Pros
Quick-driving with a powerful motor
Versatile, with the ability to drive a wide variety of nails
Lightweight, well-balanced, and simple to use
Accepts all common roofing nails
Reload the magazine is straightforward
Cons
Occasionally it fires two nails while pulling the trigger once
No easy way to clear the jam
Features Description
If you're looking for the best coil roofing nailer for nailing down asphalt shingles or installing insulation boards, the Metabo NV45AB2 is a sure bet. Its powerful rapid drive and unique cylinder valve motor let you fire up to 3 nails per second, and you can nail down a square miter of roofing shingles just over 2-1/2 minutes with it.
In addition to its robust engine, it comes with a side load magazine for quick nail refills, a tool-free depth change lever for accurate depth, and the pneumatic power feed and return allow operation in the toughest conditions.
The body of the Metabo roofing nailer made of aluminum instead of plastic, makes it sturdy and lightweight for longer, tiring less operation, and easy maneuverability. Its long-lasting rubber pad handle ensures comfort, and the carbide tip push lever helps to protect wearing.
Following the completion of your roofing project, you may need to attach the crown molding. You can do that by selecting the best brad nailer for trim work.
#4
Why We Select It: The price of the Wen 61783 roofing nailer is the primary reason for its selection. It has a handful of features that any high-end shingle nailer would have, but at one of the lowest prices in its class. It even has several functions that are difficult to found in expensive nailers. Let's take a look at some of the WEN roofing nailer's most outstanding features.
Pros
Extremely affordable
Powerful, can deliver up to 430 in./lbs. force
Versatile can drive screw, ring, or smooth shank nails
Easy jam clearing facilities
Good after-sales service
Cons
A bit heavier than Bostitch or Dewalt
It needs a bit extra time to reload the magazine
Features Description
When comparing the WEN 61783 to the heavy-weight competition Bostitch, we discovered that WEN could deliver 430 in./lbs. of force to Bostitch RN46-1's 410 in./lbs. As a result, you can use it to nail down a variety of roofing tiles, including asphalt, fiberglass, fiber cement roofing, waterproof tarpaper, and insulation board. It can also be used to fix siding or vinyl.
When compared to the Dewalt DW45RN, the WEN 61783 is half the price, around $90 less. However, the WEN coil roofing nailer has an adjustable exhaust and a rapid jam release mechanism, which the DW45RN lacks. Not only that, according to one Amazon reviewer, in the same amount of time, he was able to complete double tasks using a WEN roofing nailer than the Dewalt.
WEN also has features including an adjustable shingle guide, a depth-changing wheel, and a comfortable rubber grip. The magazine's shingle guide can be adjusted upward or downward for quick and easy shingle spacing. It also accepts 11 gauge (.12inch) 3/4 to 1-3/4 inch nails with screw, ring, or smooth shanks so that you can fasten a variety of roofing materials.
Though it offers many advantages over other roofing nailers, its durability for long-term use has yet to be determined. As a consequence, we can safely proclaim it to be one of the best roofing nailer for home uses.
#5
Why We Select It: 3PLUS HCN45SP, like the WEN 61783, has the lowest pricing on the market. It has become one of the most popular roofing tools among DIYers and professional roofers due to its inexpensive price and all of the usual characteristics similar to high-priced roofing nailers.
Pros
Robust to drive down tough shingles
Well recoil management
Speedy nailing
Easy regulating shingle guide
Split nose for effortless jam clearing
Cons
Some parts are made of plastic
A bit bulkier
Features Description
The 3PLUS HCN45SP has a die-cast aluminum body that makes it light while still being strong enough to tackle a variety of demanding and rugged operations. It combines force, recoil, and speed in a way that makes it an excellent roofing tool for both amateurs and experts.
You could drive 11 gauge 15 to 16 degree 34 to 1-3/4 inch long roofing nails of any brand with this budget-friendly 3PLUS roofing nailer. To get the best performance out of it, set the air pressure between 70 and 120 PSI.
The most impressive feature of the 3PLUS coil roofing nailer is that it can keep the last nail from popping out and notify you it's time to refill the magazine. Reloading, on the other hand, is straightforward; the side-loading magazine allows for quick reloading. The roofing nailer also has a built-in rubber cushion on each side to keep it from slipping on the roof when left unattended.
Like other branded roofing nailers, 3PLUS HCN45SP is also equipped with a simple depth adjustment wheel on the head that removes the need to adjust the air pressure frequently to get the desired depth. And its two interchangeable triggers allow you to change between single sequential and bump firing according to the speed required for the job.
However, as compared to WEN or other roofing nailers we've evaluated, 3PLUS is a little heavier. During the operation, though, you will not feel it heavy. So, it will not be a deal-breaker.
Overall, the 3PLUS HCN45SP is an economical roofing nailer that is suitable for both DIY and professional construction projects.
#6
Best For Resists Tar Build-Up
Why We Select It: We choose the Max SuperRoofer CN445R3 due to its exceptional durability and performance, as well as outstanding features that professionals want. Despite the fact that it is priced slightly higher than the WEN or 3Plus, it is intended to deliver value to its users. It's a high-powered pneumatic coil roofing nailer that capable of delivering accuracy and consistency during roofing or vinyl siding.
Pros
Enduring and robust
Superior tar build up protection
Self-cleaning mechanism
Straightforward maintenance
Tangled free movement
Cons
A bit pricier than 3Plus or Wen
Lack of significant jam removing system
Features Description
Max SuperRoofer CN445R3 is the 3rd generation roofing nailer of the Max USA Corp. and an improved version of its earlier models Max CN445R and CN445R2. It includes a complete round head driver blade, which allows you to drive nails in flush for consistent holding strength.
It is not only capable of holding stuff firmly, but it is also long-lasting. For long-lasting performance, the CN445R3 has a tar-resistant nose that prevents tar build-up up to 8 times more than competing roofing nailers. Its easy-to-open contact foot also lets you remove, clean, and repair individual pieces as needed. As a result, this roofing tool's upkeep is a snap.
You can save some nails from being thrown away if you have a Max roofing nailer available. Its magnetic nose keeps the last nail in position until it's time to fire it. As a result, you can use all of the coil's nails. It also aids in the prevention of jamming and dry-firing.
It also has a depth adjustment dial, so you may alter the drive depth to fit the materials you're going to secure. You can also move around freely thanks to the 360-degree swivel fitment. As a result, you can easily complete tasks such as roofing, vinyl siding installation, metal lath attachment, box assembly, and tile board installation with this Max CN445R3 SuperRoofer roofing coil nailer.
#7
Why We Select It: Milwaukee is a well-known home improvement tool maker in the United States, and the Milwaukee coil roofing nailer 7220-20 is made for professional use. Even though it obtains fewer consumer reviews (perhaps due to its higher price), we believe it to be the best roofing nailer in sturdiness and precision and brought it here to review. Let's discovers its amazing features below.
Pros
Can handle heavy-duty tasks
Ultra-lightweight housing
Comfortable to hold
Easy to load and use
All-day jam-free operation
Air deflector with muffler aids low noise
Cons
Expensive for DIY projects
Features Description
Both the Max SuperRoofer and the Milwaukee coil nailer are made in the United States and have self-cleaning air filters. You won't have to worry about upkeep because they keep dirt and debris out of your tool automatically. Both of them have a magnetic nose, which enables jam-free firing all day and helps to reduce nail wastage.
Moreover, the Milwaukee roofing nailer is composed of magnesium and has a thick mold safety shield to protect it from unintended damage. Its small size makes it easy to carry and allows for more maneuverability.
With the Milwaukee 7220-20, you can shoot 3/4 to 1-3/4 inch roofing nails quickly and efficiently since the textured selectable trigger allows you to switch from sequential to contact actuation by just twisting a knob. It also has an air deflector with a muffler for user comfort, which directs discharged air away from the user and reduces firing noise.
Aside from that, it contains a tool-free depth-changing wheel that allows you to set the desired depth of drive with ease, as well as a removable shingle guide that helps align shingle placement swiftly.
You'll need a compressor to operate any of the roofing nail guns listed above. You can read this post to discover more about the best air compressor for roofing nailers.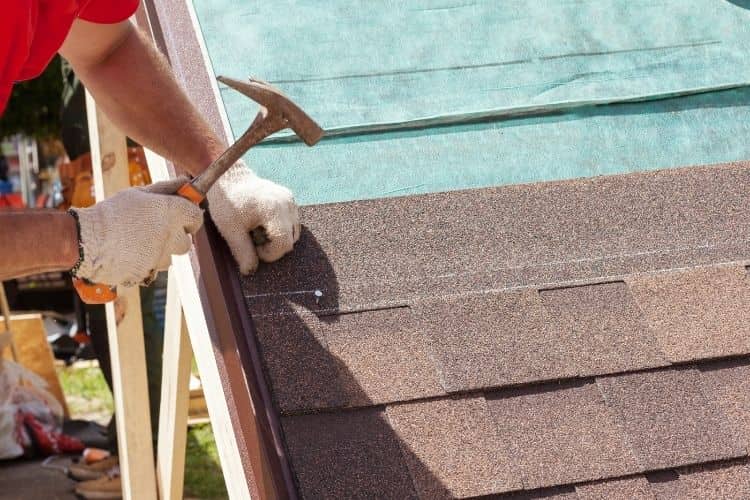 Can I Use A Hammer Instead Of A Roofing Nail Gun?
When it comes to repairing or installing a new roof, homeowners are torn between using a hand hammer or a machine roofing nail gun. For their knowledge, we can tell that sure, you can use a hammer to complete roofing projects, but you will need some experience.
Roofing appears to be a rather simple task. However, if something goes wrong, you must pay for it. If you fail to attach the shingles or other roofing components correctly, the roof may leak water or be destroyed by strong winds.
I believe you will not take this risk and choose the right roofing tool. The following are some of the benefits of using a power roofing nailer.
Convenient To Use:
Roofing nailers are more convenient to use because they are frequently coil fashioned and have a tiny, compact shape. Coil magazines may also hold the most nails per coil, reducing the requirement for frequent reloading.
It requires very little or no muscle exertion to operate because it is powered by air pressure (most roofing nailers are pneumatic). As a result, a power roofing nailer assists you in doing the job in a more comfortable manner.
Speed Of Operation:
It is obvious that you will get extra strength from a roofing nail gun than the hammer. Thus you can complete your roofing work much more swiftly and accurately.
Accuracy and Precision:
Roofing nailers frequently have a shingle guide for precise shingle placement as well as a depth of drive adjustment mechanism for proper penetration. Mechanical roofing nailers are more accurate than hammers because they have more power to drive nails and extra functionality.
Save Your Finger To Getting Hurt:
Hammer is difficult to master, whether you're a novice or an expert. It has the potential to harm your finger at any time while in use. If you use a roofing nailer, there's no way you'll damage your finger. Moreover, mechanical roofing nailers come with several safety measures to safeguard you and your work surface.
Some Tips On Choosing The Best Nail Gun For Roofing!
Above, we've highlighted some of the most popular and well-reviewed roofing nailers. If you think those aren't enough to help you choose your tool, you may use our guide and tips to uncover more possibilities on the internet.
Power Source:
Every nail gun operates with one of two power sources: compressed air or batteries. The roofing nailer is no exception. However, we discovered that the majority of roof nailers are pneumatic.
Pneumatic roofing nailers provide the strength to precisely drive heavy-duty roofing nails, which is often difficult with electric or cordless roofing nailers. However, pneumatic roofing nail guns are loud, and hoses cause hindrance to gain optimum mobility.
Weight:
Carrying a hefty roofing nailer is challenging since roofing operations necessitate riding on top of the roof. As a result, the lighter the roof nailer is, the more convenient it will be to use. Before you buy a roofing nailer, be sure it's the right weight.
Speed:
Roofing season is short, and it takes a lot of nails to complete a single roofing project. For example, in the main portion of the roof, you have to drive four nails per shingle, while starting shingles require five nails. As a result, you'll need to drive nearly 320 nails per square. If your roof is 25 square or 2500 square feet (each square is 100 square feet), you will need to drive approximately 8000 nails. If you're in a high-wind area, this number could rise even higher. Just imagine what a huge amount of nails you'll have to drive in such a short period of time. Consequently, you must select a roofing nail gun that can help you complete big projects within a short time effortlessly.
The Dewalt DW45RN high-speed roofing nailer can assist you in driving up to 10 nails per second. As a result, when you need to complete your roofing job quickly, you may choose such a roofing nail gun.
Actuation Mode:
The actuation mode of a roofing nailer determines whether the speed of operation increases or decreases. The majority of roofing nail guns have two firing modes: sequential and bump firing. The nailer fires nails anytime it comes into contact with the surface in contact or bumps firing mode (subjected to pull the trigger and hold relentlessly). As a result, using this method will expedite your roofing.
Sequential mode, on the other hand, allows you to have more control and accurate actuation. A trigger can be used to switch between modes. Some nailers have a single firing trigger, while others have two options. So, before you make a decision, double-check if your nailer has this feature.
Nail Size And Compatibility:
The use of a correct length of a nail can ensure the roof's long-term resilience. Both using a shorter or overly long nail can provide risk in the long run. Shorter nails may not keep the shingles in place as securely as longer nails, while too-long nails may pierce the base structure and cause injury. It is good if you select your roofing nails in a range from 3/4″ to 1-3/4″.
In addition to single out the right length of nails, check to see if your roofing nailer will accept nails from any generic brand. It's possible that if you use mismatched nails, you'll get a jam while driving.
Magazine Angle And Capacity:
Roofing nailers are typically constructed with a 15-degree magazine. However, only a few nail guns accept 16-degree coil nails. However, in a 16-degree coil nailer, you can use 15-degree nails too. So there's no need to be concerned.
On the other side, the bigger the magazine's capacity, the less frequently you'll need to reload it. As a result, you can save time and effort by not having to get down from the roof and back up again. Coil roofing nailers can usually carry up to 120 nails. So keep this feature in mind.
Magazine Loading:
Coil roofing nailers have a magazine that can be reloaded either from the side or from the top. However, loading the magazine from the side rather than the top or bottom is more convenient. Some roofing nailers, such as the Bostitch RN46 coil roofing nailer, allow you to load the magazine in a single action. As a result, picking such a roofing nail gun will help you to save your operational time.
Depth Change System:
Some roofing nail guns let you alter the depth by adjusting the air pressure at the compressor machine, while others have a built-in depth change dial or knob for quick adjustments. If you don't use the simple depth change mechanism, you'll have to regularly descend from the roof to modify the air compressor pressure rating, which is a major pain. As a result, always try to single out a roofing nailer with a quick depth change wheel. If you go through any of the roofing nailers listed above, you will notice that they all include this feature.
Comfort:
Check to see if the roofing nailer you're considering has a rubber molded handle. The rubber molded handle is required to give comfort throughout extended days of use as well as stable grip and control while nailing.
Durability:
Roofing nailers aren't meant to be used for a year or two, but to last year after year. Because some roofing shingles have a lifespan of 10 to 20 years or more. As a result, following your initial roofing operation, you may need to use it again in 10 to 20 years. Roofing nailers are also designed to handle heavy-duty activities. As a corollary, they should be strong enough to withstand such conditions.
Warranty:
Roofing nailers are designed to perform tough jobs. As a result, manufacturers strive to make them as durable as possible. However, machines might fail at any time, and warranties serve as a safety net for customers in such cases. As a result, a solid warranty can provide buyers with piece of mind.
The Bostitch RN46 has the longest guarantee period (7 years), followed by the Dewalt DW45RN. Metabo, Max USA, and Milwaukee all gave a 5-year warranty.
Safety And Maintenance Tips Of Using A Roofing Nailer
When using a power nail gun, such as a roofing nailer, safety should be a top priority. Follow instructions attentively for the safety of your working surface as well as yourself –
Eyeglasses, earphones, and hand gloves must be worn as protective gear.
Use a safety harness when ascending to the top of the roof.
To avoid injury, always strive to use sequential mode.
To avoid hurting the area you're nailing, use a no-marring cap or an industrial tap on the tip of the nail gun head.
Keep an eye on your finger while shooting nails to make sure it doesn't get caught between the materials and the nail tip.
You should follow some regular maintenance practices to get the best production and obstruction-free roofing. Like-
Keep the air inlet moistened by putting oil in it every day.
Inspect all moving parts to see if they are in good working order.
Keep the parts clean and free of dirt and debris. Choose a roofing nailer with self-cleaning technology if at all possible.
Before using or maintaining the product, read the instruction manual thoroughly.
If it develops a major problem while nailing, stop working with it and seek expert advice or contact the manufacturer for a warranty.
Roofing Nailers FAQ
Can I use a roofing nailer for siding?
The length of the siding nails should be at least 1-1/2″ and up to 2-1/2″ long. However, roofing nails can only be 1-3/4″ long. Siding nails typically have a head diameter of 5/16″ and a shank diameter of 0.125″, which is slightly less than the head diameter of a roofing nail, which ranges from 3/8″ to up to 1/2″. As a result, roofing nails should not be used to secure siding.
Hardy plank siding and vinyl siding, on the other hand, can be fastened with 1-3/4″ roofing nails since they require a smooth thick shank rather than a crooked shank.
Can I use a roofing nailer for metal shingles?
Metal shingles can be fastened with a roofing nailer, but there aren't many options on the market. We discovered that the Fasco F58AC ROOFLOC-75 Metal Roofing Tool is ideal for the job. It has the ability to drive a RoofLoc with a zero-degree angle. Scrail plastic sheet strips range in length from 1-1/2″ to 3″ and are suitable for nailing down any metal sheet without damaging it. It's easy to remove and reinstall Scrail since it's like a screw with a built-in washer. It's also leak-proof. Let's check this out on Amazon.
Can you use a palm nailer for roofing?
Of course, palm nailers can be used for roofing, but not all palm nailers are ideal for this purpose. Roofing nails can be driven with the Grip-Rite Mini Palm Air Nailer. It allows you to drive nails beneath overhangs and eaves, where ordinary roofing nailers are unable to reach. Let's have a look at it on Amazon.
Which one is the best air compressor for roofing nailer?
The best air compressor for roofing was found to be the Bostitch pancake air compressor, 6 gallons. It's small and lightweight, and it can deliver 2.6 SCFM At 90 PSI, which is ideal for effortlessly driving any roofing nailer. You can also use it to drive other power tools, such as an impact drill driver or framing nail gun. Let's take a look at the Bostitch BTFP02012 on Amazon to learn more.
Final Thoughts – Takeaway From Our Discussion
Don't be fooled: for a roofing nailer, quality is everything. During peak roofing season, most roofing contractors use their tools on a daily basis, so it's critical that the tool you buy is dependable and will last for several years. As a result, you have no choice but to select the best roofing nailer for your future tasks.
According to our research, the Bostitch RN46 is the highest quality roofing nailer due to its excellent driving strength and longevity, as well as its user-friendly features.
The Metabo HPT NV45AB2 is our second favorite roofing nailer. It's noted for its faster nail-driving capabilities, which are made possible by the rapid drive and quick-response cylinder design. It's also a roofing nailer that's tough, light, and powerful.
Our budget selection is the Wen 61783, which offers all of the features and convenience of a high-end roofing nailer for half the price.
Tools Mirror is reader-supported. When you shop through retailer links on our site, we may earn an affiliate commission at no cost to you.
Recent Posts