Good day, Framers! If you look at our previous nail gun reviews on this site, you'll notice that we usually discuss a certain type of nailer. They all have one thing in common: they're designed to drive a specific size of nail up to 3-1/2 inches long and aren't capable of driving bulk nails. They're a little cumbersome and pricey. However, they're indeed sturdy and handy for a variety of woodworking projects.
When other nail guns can not drive larger nails (as long as 5 to 6 inches) to the remotest corner like attics, palm nailers come in handy in such a situation. And you might think of the Bostitch PN100K impact nailer kit brought to you by the famous Bostitch Company as your reliable palm nailer. You've found it convenient and can easily reach the toughest places where even conventional nail guns and hammers can't reach.
With this useful and handy Bostitch palm nailer, you can now drive nails in any confined area to prepare heavy-duty external decks or fasten roof trusses where you may need to sink 60d or 5-inch long nails. PN100K is not only convenient for heavy-duty projects; its multipurpose nose pieces allow you to do finishing and trimming work too.
Therefore, if you have a Bostitch PN100K impact nailer with you, you wouldn't have to worry a lot, and the coolest part is that you have to spend less than a hundred dollars to get all the necessary equipment.
Bostitch PN100K Impact Nailer
If you're in the construction or renovation industry, you're no stranger to the tedious task of hammering nails into wood. It's a task that requires time, effort, and precision – three things that are often in short supply on a job site. Fortunately, the Bostitch PN100K Impact Nailer is here to revolutionize the way you work. This innovative tool is a game-changer for anyone who wants to increase their productivity and efficiency on the job.
The Bostitch PN100K Impact Nailer is a powerful, pneumatic tool that makes it easy to drive nails into even the toughest materials. It's designed to eliminate the need for traditional hammering, which can be time-consuming and physically demanding. With the PN100K, you can complete your projects faster and with less effort, leaving you with more time to focus on other important aspects of your work.
Therefore, this tool is a must-have for anyone who works in construction, remodeling, or carpentry.
Ideal for driving common bulk nails in confined areas and for nailing metal connectors and joist hangers.
A magnetic nose with a recessed nail slot holds nails stable for accurate fastener placement.
Hardened steel Nose for extreme durability.
Kit includes: impact nailer with a standard nose, finish Nail nose, large-bore nose, leather comfort glove, nose wrench, hex wrench, tool lubricant, and spare O-rings.
Spec In short
Power Source: Pneumatic
Magazine Angle: Straight
Magazine Capacity: 1 at a time
Operating Pressure: 70-100 psi
Overall Dimension: Height: 2.9-inch, Length: 4.13-inch, Width: 3.5-inch
Tool Weight: 2.9 lbs.
Key Features
Design to drive nails in confined areas
Facilitate fastening metal connectors and joist hangers
Comes with the standard nose, finish nose, large-bore nose
Magnetic nose with pigeonhole holds nail stable
Noses-piece made with hardened steel
How Should I Use The Bostitch PN100K?
Set the air hose and leather glove properly.
Hold the palm nailer, as illustrated in the figure.
Place the nail in line with the anticipated fastening direction.
To activate, press the air palm nailer gently against the nail head. When the nail pushed entirely, the nailer will stop automatically.
Drive fasteners only into the job surface; never actuate into materials that are too difficult to penetrate.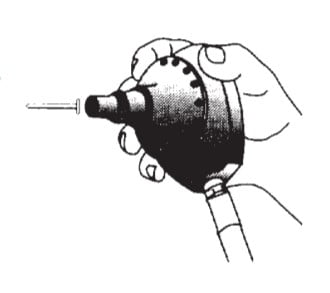 Features​​​​ Of Bostitch PN100K Impact Nailer Kit
Potent To Drive Long Nails
Bostitch Palm nailer PN100 is one of the most versatile tools that can help you to drive diverse types of nails which means you are free to buy any typical bulk nails to actuate with it. PN100K is not only generic but also powerful enough to drive up to 5-inch nails in any engineered lumber in tight spaces.
It is very much efficient in doing framing or decking works where you have to use metal connectors or joist hangers.
Compact And Lightweight
If you see it, you can easily understand how small size it is. Yes! With a dimension of 2.9 x 4.13 x 3.5 inches, the Bostitch impact nailers can enter in narrow areas where even a traditional hammer or other conventional nail guns failed to do their work.
Because it's tiny in size, it's also lightweight, and weighing just 2.9 pounds allows you to nail all day without any complications. There's no scope, however, to believe it's trivial means it's not sturdy enough. Bostitch produced the body with durable metal and used hardened steel to create the nose, making it a long-lasting instrument.
As a result of its compact size, it consumes very little air while driving nails, that is PN100 requires 2-4 cubic feet per minute. You can also operate it at 80 to 125 psi (4.9 to 8.8 kg/cm2).
Select the operating pressure within this range for the best fastener performance. DO NOT EXCEED THIS RECOMMENDED OPERATING PRESSURE. 
Easy-to-Operate
Because of its compact size, the Bostitch palm nailer gives you the highest portability to perform a wide variety of tasks from trimming to decking. It can drive HDG (Hot-dip galvanized) nails into any pressure-treated wood without any problem.
It will also give you superior control over how deep you want to sink the nail head, and you can enjoy the flexibility to operate with both hands (left or right) as per operation site condition. The good news is that you can drive nails without feeling any vibration in your hand numb.
PN100K comes with a magnetic nose that helps to hold nails in the right place and an ergonomic design body maximizes comfort during long-time work.
However, it is a bit slower as it can drive one nail at a time and takes 3 – 5 seconds per drive. Whereas, professional framing nailers can drive 50 to 100 nails within minutes or less.
Multipurpose Use
The Bostitch pn100k impact nailer kit comes with three different types of nose pieces: Standard nose, finish nail nose, and large bore nose. This means you can use this palm nailer for various purposes from building exterior decks, interior and exterior trim, and timber nailing, to framing and remodeling.
It is also a fantastic all-purpose palm nailer that can drive a wide range of fasteners from 5d to 70d and can drive any common bulk nails. So, you wouldn't need to tense to buy any branded nails or strip or coil style nails.
Comfortable Leather Glove
To drive nails comfortably, the BOSTITCH PN100K comes with a gentle leather glove, which ensures nailing with a large chunk of time at ease. Though, some customers stated that the glove is a bit small in size and cannot wear directly on the nailer.
Complete Package
The kit includes Impact Nailer with a Standard Nose, a Finish Nail Nose, and a Large Bore Nose to facilitate a variety of actuation. It also comes with a Leather Comfort Glove, a Nose Wrench, a Hex Wrench, a Tool Lubricant, and Spare O-Rings.
All the above parts come with a beautiful hard plastic case that assists you to carry the tools conveniently from one site to another.
However, we observe that the internal space of the case is tighter to hold the palm nailer after fitting the NPT adapter. 
Benefits Of Bostitch PN100K Impact Nailer
Extremely portable and lightweight
Excellent to drive common bulk nails in narrow spaces
Ergonomically design and comfortable to use
Can drive nails into LVL and engineered timber
Vibrate-free and superior control
Consume less air and can run low pressure
Safer sequential actuation
Manufactured in Taiwan
Limitations Of PN100K
It's a bit painful to install the leather glove that comes with it
The glove indeed comes with the package is a little tight to fit with the palm nailer. However, in customer reviews on Amazon, some explain the process of installing gloves merely. By following this you can easily do it. Quote one of the methods here for your assistance.
"Place the metal ring of the glove around the nose piece of the nailer where the nails are loaded. Then the two looping snaps help to hold the ring in place. Then fold the glove cap on top of the instrument so that the handle is facing towards the top front side. Finally, two snaps hook up above the air hose line and another one below."
Update: The case fits the tools in new versions.
The plastic sleeve that holds the magnetic part of the nose is a bit wobbly
During your day-to-day job, if it happens, no need to worry. Either replace it with a spare one (included) or repair it with the help of an expert.
The package does not include any ¼ NPT adapter​
Like you, I also feel that if Bostitch includes an air hose adapter in the package. It already offers so many parts. If it includes the NPT valve too, then we do not need to visit a nearby hardware store to buy it and be able to use the device right after opening the box. However, it is not a pricy one and is widely available so we can manage it without an issue.
Comparison: Bostitch PN100K Vs Metabo HPT NH90AB
If we compare Bostitch PN100K with Metabo HPT NH90AB Palm Framing Nailer, we observe that Metabo offers some additional advantages over PN100K. Like 360-degree swivel fitting for maximum maneuverability, front exhaust that directs the air away from the user, over-molded rubber grip which ensures added comfort, better hold, and reduced vibration, and Lightweight at only 1.3 lbs. Top of that Metabo is the new name of renowned brand Hitachi and offers all the above pros at a reasonable price.
However, Bostitch PN100 offers you the full package that requires you to drive a wide range of nails in a variety of works.
To get more reviews and product comparison, you may visit our page on the best palm nailers by click here.
Is The Product Worth Your Money?
When it comes to investing in a new power tool, the Bostitch PN100k is a solid choice for both professionals and DIY enthusiasts. This pneumatic impact nailer boasts a lightweight design, making it easy to handle and maneuver on various job sites.
Additionally, its high-speed motor ensures quick and efficient performance, while the adjustable depth control allows for precise nail placement. Despite its higher price point, the PN100k is built to last and offers a range of features that make it a worthwhile investment.
If you're looking for a reliable and versatile nailer that can handle a variety of tasks, the Bostitch PN100k is certainly worth your money.
Frequently Asked Questions (FAQ)
How big nails can I drive with the Bostitch PN100K?
In the instruction manual, it stated that the Bostitch PN100k could drive 5d to 70d nails. As per the standard specification of a 70d nail, the gauge size is 2, head diameter 17/32 inch (0.53125), shank diameter 0.284, and shank size 6 inches.
Is it possible to actuate ½ inch diameter nail with the Bostitch PN100K?
We can clinch from the above information that the Bostitch impact nailer can drive 1⁄2″ nails. However, practically it does not seem possible.
Can I do Toe Nailing with the Bostitch Palm Nailer?
​Yes! With the Bostitch PN100K palm nailer, you can do toe-nailing effectively. Even with this reliable and compact-sized device, you can do it in a better way than other conventional nailers.
What material was used to build this palm nailer case?
Plastic.
What size compressor is needed to run the Bostitch PN100K nail gun?
With any compressor that can produce 85 to 125 psi pressure, you could operate this PN100K mini palm nailer.
How to Use Bostitch PN100k Palm Nailer [Video]
Final Thoughts
Finally, we can say that if you want to drive common bulk nails into southern yellow pine or hard-engineered lumber to make decks or nailing trusses under your shredder roof, it's hard to discover an alternative to the Bostitch PN100K impact nailer kit.
Although there is a widespread complaint that the instruction manual is not sufficiently informative and the carrying case is not useful enough, the ease of use and long-lasting design could easily offset those back locks.
Now, it's your turn to decide whether you're going with it or not.
Related Reviews:
Tools Mirror is reader-supported. When you shop through retailer links on our site, we may earn an affiliate commission at no cost to you.
Recent Posts