Are you wondering if you can use staples instead of nails? This is a common question that arises when we need to attach fencing boards, flooring tiles, packaging, trim moldings, or objects like wall or roof framing.
The short answer is, yes, you can use staples instead of nails for certain projects. While staples might not be the go-to option for all situations, they can be a convenient alternative in various DIY projects and construction tasks.
In this blog post, we'll explore the benefits and limitations of using staples compared to nails, helping you make informed decisions on which fastener to choose for your next project.
Can I Use Staples Instead Of Nails? An Overview
Staples are thin, U-shaped metal pieces that are shot into wood using a staple gun. They are quick and easy to install, making them a popular choice for many woodworkers. Nails, on the other hand, are longer and thicker than staples and are driven into wood using a hammer.
Staples can deliver a greater holding capacity than nails since they have two extended legs and a board crown. Therefore, staples are great to use in cabinet shops and for upholstery work.
The flexibility of nails, on the other hand, allows them to bend without breaking against shear stress. As a result, professional contractors prefer to utilize nails while building house frames or heavy-duty structures. Nails were also recommended by most construction codes for structural stability.
As a result, nails and staples both have benefits and downsides. Staples, for example, can give more gripping power, but they can quickly snap if subjected to excessive vertical strain.
On the flip side, when you need to keep two objects tightly together, such as drywall on a frame wall, nails may pop out after a while, but staples will not.
Types of staple guns also impact largely on when to use a staple gun instead of nailer.
So, whether you should use staples or nails depends on the nature of the projects you're going to handle.
Effectiveness Of Staples Vs Nails In Different Projects:
As when to use staples or nails largely depends on the nature of the project, we decided to explain the applicability of the following project for example.
Staple vs nails for framing,
Staple vs nails for sheathing,
Staple vs nails for roofing or floor decking,
Staple vs nails for furniture building,
Staple vs nails for fabric stitching and others.
Staples Vs Nails For Framing
Wood frames have been used to construct walls and decks in North American homes for millennia. A house's wood frame is the fundamental skeleton on which the entire structure is built. As a result, a frame must be strong and robust enough to endure all exterior forces, such as wind, earthquakes as well as internal loads.
Whether you should use staples or nails for framing depends on the following points –
Shear strength of staples vs nails
Tensile strength of staples vs nails
Gauge Number
Fastener Size
Building Code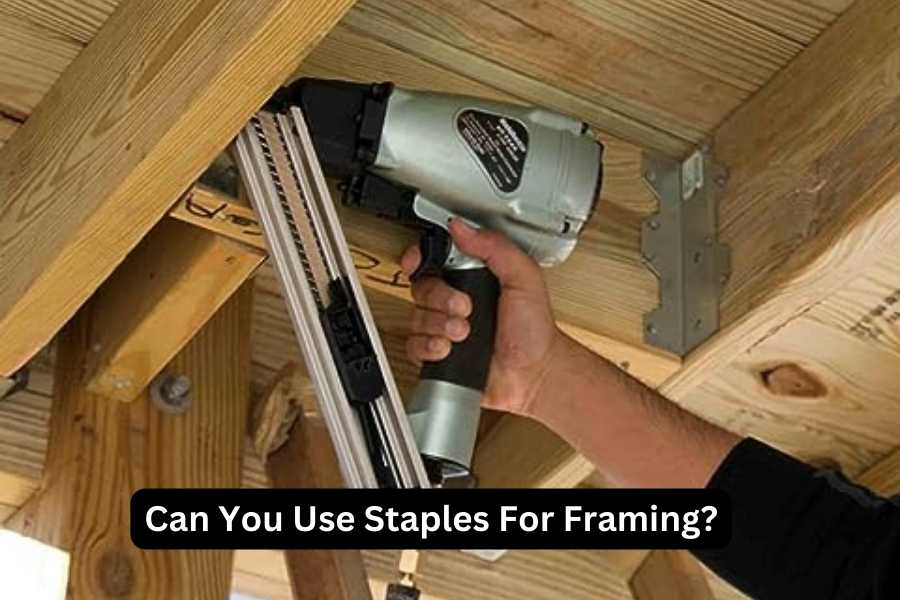 1. Shear Strength Of Staples Vs Nails:
When it comes to building wall or roof frames for your home, the structure must be able to withstand horizontal forces. When horizontal parts, known as joists, are connected to lengthy vertical studs, they tend to slide horizontally. As a result, a fastener that can endure horizontal or shear forces is required.
Because staples are comprised of thin wires, they cannot withstand shear tension. Nails, on the other hand, are the most widely used and oldest fastener in frame construction built to withstand severe horizontal loads and shear stress. The flexibility of the wire used to create nails provides the necessary shear stress resistance.
As a result, to withstand shear stress, nails are a perfect choice.
2. Tensile Strenght:
A structure faces vertical stress in addition to horizontal strain. Due to vertical pressure, when we connect ceiling sheathing to studs, the sheathing panel tends to sag away.
As staples have greater gripping capacity than nails, we may use them in such situations. However, professionals prefer to use screws instead of staples. Because screws with a helical or threaded shank provide increased resistance to tensile stress when applied vertically, protecting a structure from pulling apart.
3. Gauge Number:
The gauge number indicates the thickness of a wire. The lower the gauge number the thicker they are. Heavy crown staples are usually constructed of 15 to 16-gauge or more high-number gauge wires. Whereas nails are made of 9 to 11-gauge wires.
As a result, staples and even screws (as screws are not as flexible as nails) may snap when the structure is subjected to shear strain.
4. Size Of The Fasteners:
We also observed that the maximum leg length of construction-grade crown staples is usually not more than 2-½ inches. Whereas, to construct a framing panel you have to connect 2×4 or 2×6 studs or joists. The thickness of a two-by-wood plank is 1-½''. According to the rule of thumb, you have to choose a fastener that is two and a half times longer than the thickness of the material you're going to connect. For what, 16d nails, size 3-½-inches long, are perfect.
5. Building Code:
Besides the above reason, most North American and international construction codes also encourage using nails for framing. As a result, the use of nails for home construction is the only way to get an inspection pass.
Edge: Using staples instead of nails to join wood frames or studs for walls or roofs is not recommended.
Staples Vs Nails For Sheathing
When staples are totally inapt for wall framing, roof, or floor decking, you can use staples for sheathing.
Despite the paradoxes, contractors love to use staples instead of nails because they are easy to drive and cheaper than nails. Not only staples are cheaper, but they can also provide higher gripping power than nails because of their two extended prongs.
The International Building Code also permits the use of both nails and staples for a wide range of purposes, including joining drywall or plywood sheathing on roof or wall frames.
According to the fastening schedule under Table 2304.9.1 (2022 May), you can use 6d (2'' size) common, box or casing nails or 1-3/4″ 16 gauge staples at 6'' O.C. at the edges and 12'' O.C. at the field to connect 7/16'' OSB (Oriented Strand Board).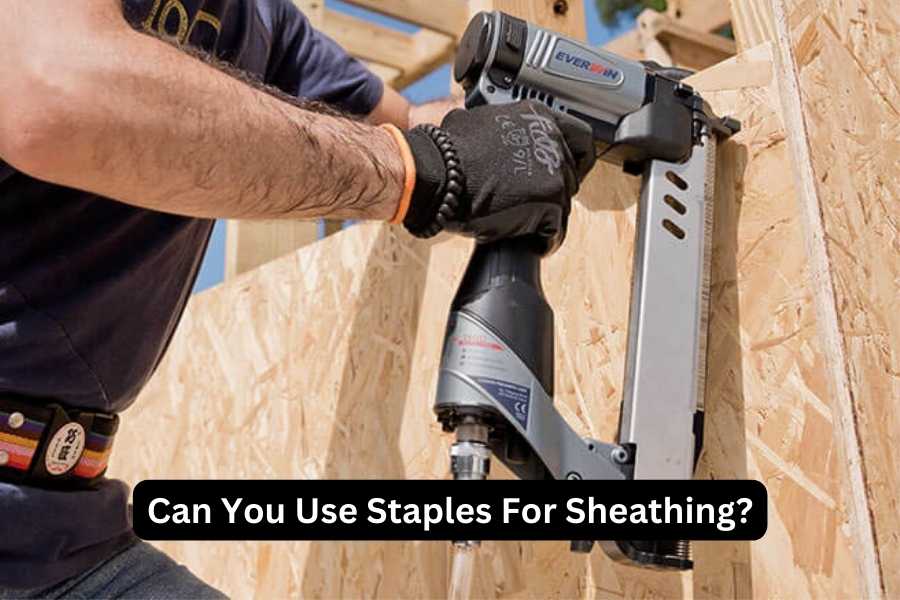 However, both staples and nails have some benefits and drawbacks. It is true that staples are easier to drive, but once in place, they are difficult to remove for correction. You may have to pry the plywood apart from the wall framing to remove it. Professionals view it favorably since it will stay longer if it is tough to separate.
On the other hand, whether or not you can use staples instead of nails for roof or wall sheathing also depends on the project's location. If it falls under high wind or earthquake zone, the fastening system will require special engineering.
Edge: It is not a problem to use staples or nails to connect OSB, gypsum, or plywood sheathing on the roof or wall panels. However, before making a decision, you should consult with a specialist.
Pro Tips: When you decided to use staples instead of nails, you also have to take care that the staples are not in overdrive as the small cross-section may cut the sheathing material and reduce the blow-off potential. We should also take care that the two prongs of staples are driven into the frame equally to avoid weakening the structure.
Staples Vs Nails For Shingles Roofing
After constructing the wall or roof framing and installing the sheathing, the next critical step is to install roofing shingles to protect your property from rain and storms.
Roofing shingles can be fastened with staples or nails. Staples provides better holding power and are simple to use. Special nails for roofing shingles, on the other hand, can provide the best protection against the wind and are easier to remove for correction. So, which fastener is the most appropriate?
To determine this, we must examine the following factors.
Proper fastener placement
Holding capacity
Cost and ease of installation
Precision of driving
Building Code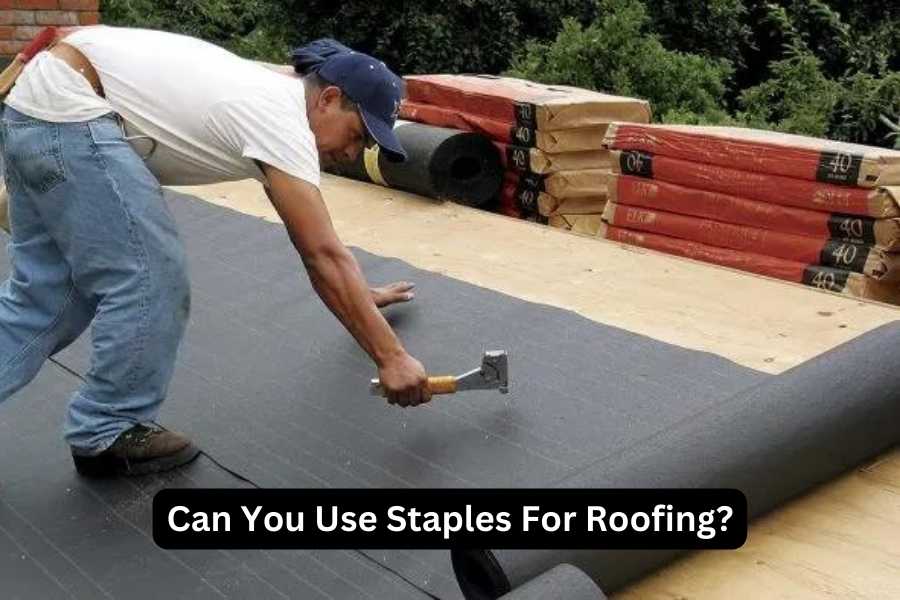 1. Proper Fastener Placement:
Roofers prefer to use staples instead of nails to install roofing shingles because staples are less expensive and easier to install. However, driving the fastener perpendicularly is necessary to keep the roofing shingles firmly in place, which is not always possible with a staple gun.
During firing, the crown of the staple should be parallel to the long axis of the shingles. The roofer, on the other hand, has a natural proclivity to rotate his body. Unless, at the very least, he rotates his wrist. As a result, staple crowns are slanted or misaligned with the long axis of the shingle.
This misalignment reduces the bonding capacity of the structure and makes it vulnerable to high-speed winds.
You won't have this difficulty if you use a modern roofing nail gun, on the other hand. Roofing nail guns can shoot nails perpendicular to the substrate and are flexible enough to drive nails where they are needed. As a result, in this contest, a nail gun is the best alternative.
2. Holding Capacity:
Though there is a myth that staples can handle greater weight than nails, this is not the case. According to a roofer's test, a 5/8″ staple (which may penetrate up to 1/4″) can sustain around 1 or 2 pounds of pull-out force. A 3/8″ staple may also endure up to 10 pounds of strain.
A 1-1/2" galvanized roofing nail, on the other hand, can endure up to 50 pounds of pull-out force. You may get up to 100 pounds of pull-out force by using ring-shank roofing nails.
As a result, nails are the ideal option for joining asphalt or cedar roofing shingles.
3. Cost And Ease Of Installation:
Though the cost difference is negligible, same-size staples are less expensive than roofing nails.
Staple guns are lighter than roofing guns. So, you can easily maneuver them on the roof. You'll also face less hassle to reload a staple gun as you can carry a large number with you.
If you consider the jamming issue, you'll find staples are less frequently jammed during the drive and it's easy to reset if getting jammed than the roofing nail guns.
So, in consideration of cost and ease of installation, staples are the clear winner.
4. Precision Of Driving:
Though staple guns are easier to handle, it's difficult to get a precise depth of drive every time. You'll often find the staples either overdrive or underdrive into the shingles. If overdrive, it will pierce the shingles and cause a crack in the cold weather. Underdrive staples won't provide enough holding power.
Roundhead roofing nails have no such problem, however. You'll find a precise depth of drive every time.
5. Building Code:
Galvanized, steel, stainless steel, aluminum, or copper roofing nails are the appropriate fastener for roofing shingles, according to Chapter 9 of the International Residential Code (IRC 2015). It should have a least 12-gauge [0.105 inches (3 mm)] shank with a 3/8-inch-diameter (9.5 mm) head and meet ASTM F 1667 specifications.
Nails must be long enough to penetrate the roofing materials and not less than 3/4 inch (19.1 mm) into the roof sheathing. The nails must pierce the roof sheathing if it is less than 3/4 inches thick.
Edge: In accordance with the preceding discussion, we may state that nails, not staples, are the ideal fastener for roofing shingles.
Staple vs nails for furniture Work:
When it comes to furniture making and woodworking, choosing the right fastener is crucial. Staples and nails are two of the most commonly used fasteners in furniture works, but which one is more effective?
Both staples and nails have their pros and cons. Staples are easier to install and can hold pieces of wood together more securely than nails. They also have a lower risk of splitting the wood.
However, staples can sometimes be harder to remove and may cause damage to the wood when pulled out.
Nails, on the other hand, provide a stronger hold than staples and are easier to remove when necessary. They are also more versatile and can be used in a wider range of woodworking projects.
However, nails can sometimes split the wood or become loose over time, especially if the wood expands or contracts due to changes in humidity.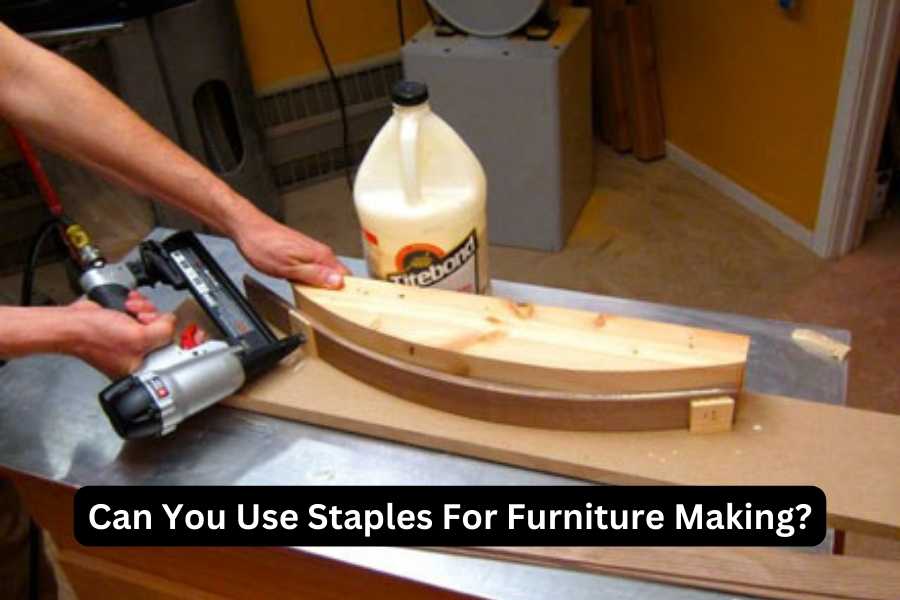 Ultimately, the choice between staples and nails depends on the specific project and the woodworker's personal preference. For smaller, less complex projects such as picture frames or small boxes, staples may be the better choice due to their ease of use and quick installation.
However, for larger and more complex projects such as cabinets or chairs, nails may be the better choice due to their strength and versatility.
Edge: Both staples and nails have their advantages and disadvantages when it comes to furniture work. The key is to choose the right fastener for the specific project and to use them correctly to ensure the best results.
Staples Vs Nails For Fabric Stitching Or Upholstery Work:
When it comes to fabric stitching or upholstery works, choosing the right fastener is essential. Staples and nails are two common types of fasteners used in these types of projects, but which one is more appropriate?
In upholstery works, staples are typically the go-to fastener. Staple guns are commonly used to attach fabric to wooden frames, such as those found in chairs, sofas, and other upholstered furniture. Staples provides a strong and secure hold, which is essential for maintaining the shape and structure of the furniture.
They are also relatively easy to use and can be inserted quickly, which is essential for high-volume production.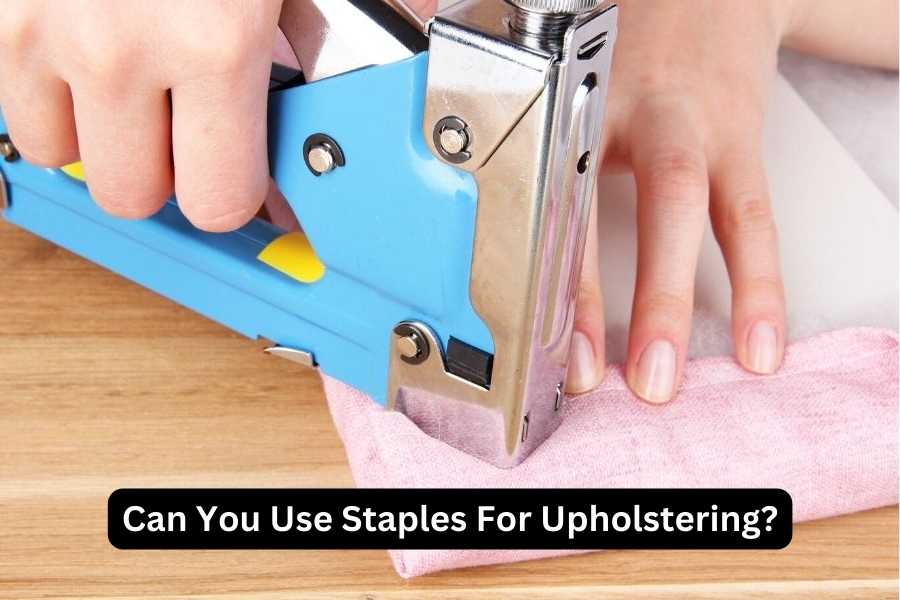 Nails, on the other hand, are not typically used in upholstery works because they can easily damage the fabric. Nails can leave holes or punctures in the fabric, which can weaken the material and lead to tears or fraying. In addition, nails do not provide as strong of a hold as staples, which can result in the fabric becoming loose or sagging over time.
In some cases, decorative nails or tacks may be used in upholstery works. These are typically hammered into the wooden frame and are used primarily for aesthetic purposes. They are not used to attach the fabric to the frame and are not considered a primary fastener.
Edge: In conclusion, staples are the more appropriate fastener for fabric stitching or upholstery works. They provide a strong and secure hold and are easy to use, making them a popular choice among upholsterers. Nails are not typically used in upholstery works because they can damage the fabric and do not provide a strong enough hold. It is essential to choose the right fastener for the job to ensure a professional and long-lasting result.
When to Use Staples Instead of Nails?
If you are confused by the details above, let me give you a brief explanation of when to use staples instead of nails.
1. Framing:
Staples can be used for framing in specific situations where speed and convenience are crucial factors.
For temporary frames or non-load-bearing structures, staples might be a suitable option.
However, for load-bearing frames or structures requiring maximum strength and durability, nails are the preferred choice.
2. Sheathing:
Staples are commonly used for attaching sheathing materials like plywood or oriented strand board (OSB) to wall or roof frames.
The ease and speed of using staples can be advantageous when covering large surface areas.
Ensure that the staple size and material are appropriate for the sheathing material and application requirements.
3. Roofing:
Roofing felt or underlayment can be effectively attached using staples.
Staples with plastic caps are often used in roofing projects to provide a secure hold and prevent water penetration.
It is essential to follow manufacturer guidelines and regional building codes when using staples for roofing.
4. Decking:
While nails are commonly used for decking due to their superior holding power, staples can be considered for specific decking materials.
Some composite decking materials or thin planks may work well with staples but always check manufacturer recommendations.
For traditional wood decking, nails are generally preferred for enhanced structural integrity.
5. Upholstery:
Staples are widely used in upholstery projects for securing fabric to frames and cushioning materials.
They provide a secure hold and are often more convenient to use than nails in this context.
Choose the appropriate staple size and material to ensure a firm grip without damaging the upholstery material.
6. Flooring:
Staples are commonly used in hardwood flooring installations.
Pneumatic staplers make the process faster and more efficient, particularly in large flooring projects.
However, for certain types of flooring or subfloor materials, nails may still be preferred for their enhanced stability.
In summary, staples can be used instead of nails in various applications, such as sheathing, roofing, upholstery, and flooring, among others. The choice between staples and nails depends on factors like project requirements, material compatibility, and structural considerations.
Always follow best practices and manufacturer guidelines when opting for staples as an alternative to nails to ensure safe and successful results.
Best Practices for Using Staples Instead of Nails:
Choose the Right Staple Type and Size:
Select staples that are appropriate for the material and the specific application.
Consider the thickness and density of the material when choosing staple size to ensure a secure hold without causing damage.
Use a High-Quality Staple Gun:
Invest in a reliable and high-quality staple gun or pneumatic stapler for more consistent and efficient results.
A good staple gun will provide proper driving force and reduce the risk of jamming or misfires.
Mind Material Compatibility:
Ensure the staples you're using are compatible with the material being fastened.
For instance, consider the type of staple (e.g., galvanized or stainless steel) to prevent corrosion or rust issues.
Prepare the Surface:
Ensure the surface is clean and free from debris before stapling.
Smooth out any imperfections or protruding materials that could interfere with staple penetration.
Proper Placement:
Position staples at regular intervals to achieve a uniform and secure attachment.
Avoid placing staples too close to the edge of the material, as it may lead to splitting.
Maintain Adequate Staple Penetration:
Ensure the staples penetrate deep enough into the material to provide a firm hold.
Incomplete penetration can result in loose connections and potential failure of the fastening.
Use Appropriate Staple Depth:
Many staple guns come with adjustable depth settings.
Adjust the staple depth to match the material's thickness and prevent over-penetration, which can cause damage on the other side.
Practice Consistent Stapling Technique:
Maintain a steady and consistent hand motion while stapling to avoid uneven or misaligned fastenings.
Applying steady pressure and controlling the staple gun's movement will result in more professional outcomes.
Test Staples on Scrap Material:
Before stapling important parts or materials, test the staple gun on scrap pieces to ensure proper penetration and alignment.
Follow Safety Precautions:
Always wear appropriate safety gear, such as safety goggles and ear protection, when using a staple gun.
Keep your hands and body clear of the staple's path to prevent accidents.
Check Local Building Codes and Guidelines:
If using staples in construction or building projects, be familiar with local building codes and guidelines to ensure compliance.
Regular Maintenance:
Keep your staple gun clean and lubricated to extend its lifespan and maintain its performance.
By following these best practices, you can confidently use staples as a reliable alternative to nails in various DIY projects and construction tasks, achieving professional and secure results.
Conclusion
The foregoing lengthy discussion makes it evident that the efficiency of staples vs nails is mostly dependent on the type of work you intend to conduct. As a result, there is no obvious winner, and you cannot rely on a single fastener. If you're a professional or a do-it-yourself woodworker, you'll need both of them to complete your project successfully.
Additional Resources:
Recent Posts