Whenever we heard the name of a stapler, the traditional office stapler comes to mind first. However, there is a significant difference between the office stapler and the other stapler used for construction purposes. And today, we're going to talk about different types of staple guns primarily used for various construction purposes.
Staple guns or crown stapler is essentially a mechanical system used to push heavy metal staples into various metals, wood, plastics or other materials by means of hand, electric or air power.
It wonders to new users, but pro carpenters or builders are well known for the diversified use of staple guns. Based on the applications, the power source and the size of the staples that can be used to drive a staple gun or crown stapler can be divided into many groups.
Let's sights them below with us.
Read Also: Brad Nailer Vs Crown Stapler: Which Is Worthy For Carpentry?
Different Types Of Staple Guns [Based On Power Source]
There are three different types of staple guns found on the market based on the power source they use, like the manual, electric (either corded or battery-powered), and the pneumatic.
Manual Staple Gun:
A manual staple gun is a hand-operated mechanical device normally driven by the arm and hand. They are very simple equipment and are usually cheaper than electric and pneumatic staple guns.
Manual staple guns are essentially dependent on the elasticity of the spring to load and unload its energy. And this energy comes from the strength of your muscle. It's very similar to the office stapler, but there's no plate or anvil underneath the staple.
As a plus, the manual stapler is very compact and easy to use. You can use light-duty tasks such as staple boxes, place flyers or posters on walls or telephone poles, affix upholstery with chairs or couches, or do daily household chores. The best example of this form is Stanley Stapler Gun.
Pros And Cons Of Manual Staple Gun
Benefits:
Portable and Compact
Great for household use and small projects
Suitable to do precision works like art or DIY project
Cost-saving as it required no fuel or electricity
Environmental friendly
Drawbacks:
Need muscle power, which slows down the speed of work as well as creates a burden for long-duration work
Read Also: Brad Nailer vs Finish Nailer: Which Is Good For Crown Molding?
Electric Staple Gun:
From the name, you can easily understand that the electric staple guns are run by either electricity connected through cord or battery cells. It is the second most common type of staple gun after manual and is suitable for speedy work. It is particularly suitable for works in the ceiling or tight corners where it is difficult to get leverage with a hand stapler.
Electric staple guns are comparatively much cheaper, less noisy, and compact than pneumatic staple guns. You may also use a battery-powered staple gun in off-grid or outdoor environments. The STANLEY Electric Staple is the best example of an electric staple gun.
Pros And Cons Of Electric Staple Gun
Benefits:
Faster than manual staple guns
Required no muscle power to run
Smaller in size and portable
Cheaper than the pneumatic staple guns and less noisy
Suitable for light-duty works
It's a good choice to work on fragile or thin materials
Drawbacks:
It cannot be operable in off-grid areas (unless the battery operated one)
Little awkward for exact works
Cost of operation (compared to air-powered one) is a bit high
Read Also: What Is The Best Pneumatic Framing Nailer?
Pneumatic Staple Gun:
The most powerful staple gun of the three is the pneumatic type and is known for its heavy-duty performance. You would need very little effort to run this type of staple gun as it is powered by compressed air pressure. You'll need an air compressor for this, though.
Pneumatic staple guns are very suitable for professional insulation work, paneling, flooring, or similar work where a large and long quantity of staples is needed. It is suitable for corner works as it has a long nose compared to electric or manual staple guns. They are, however, constrained by mobility, as you have to keep them attached to the air hose. The best example of a pneumatic staple gun is the Metabo HPT Pneumatic Stapler.
Pros And Cons Of Pneumatic Staple Gun
Benefits:
Unmatched power output
Very much suitable to handle heavy-duty tasks
Fast and give consistent performance
Durable and long-lasting
Great to drive staples into hard surfaces like woods, metal sheets, or plastics
Required less maintenance than the electric counterpart
It's suitable to use a different lengths of staples
Drawbacks:
Need high initial investment compared to an electric and manual stapler
A bit vulnerable to thin or fragile materials
The compressor makes remarkable noise when filling up its cycle
Read Also: Screws Vs Nails: When To Use Each Fastener?
Different Types Of Staple Guns [Based On Crown]
Again based on the width of the crown (the top middle part of the staples that hold two legs together), there are three types of stapler found on the market. They are –
Narrow Crown Stapler
Medium Crown Stapler
Wide Crown Stapler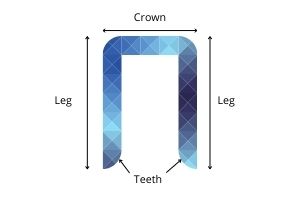 Narrow Crown Stapler:
Between the three, the narrow crown is the smallest in size and leaves a small footprint after use. It's also easy to penetrate; you need less pressure to push. It is indeed suitable for finishing and trim projects, such as molding, trim, cabinets, gift boxes, fruit boxes, drawers, and other delicate applications. Narrow crown staplers are very close to brad nailers in nature. An example of the narrow crown stapler is – BOSTITCH Narrow Crown Stapler.
Read Also: What Is The Best 18 Gauge Brad Nailer?
Medium Crown Stapler:
You can easily understand that the size of the medium crown staples is between the narrow and the wide crown. In applications where more holding power is required than the narrow crown, the medium crown stapler makes life easier. It is, therefore, suitable for furniture assembly, sheathing, subflooring, crate or pallet construction, vinyl siding, and similar tasks. An example of a medium crown stapler is – Makita AT1150A Medium Crown Stapler.
Wide Crown Stapler:
Obviously, the wide crown staples are broader in the width of the three staples and will give you the highest holding strength. So, where you needed a heavy-duty output, a wide crown stapler is useful. However, it will leave a greater mark and can ruin the aesthetics of your work.
Usually, what a medium crown stapler can do, a wide crown stapler can do the same thing. Additionally, you can use them for heavy-duty construction projects such as building trusses, house wrap, roofing, lathing, etc. An example of the wide crown stapler is – Freeman PWC50 Wide Crown Stapler.
Read Also: What Is The Best 16 Gauge Finish Nailer?
Different Types Of Staple Guns [Based On Wire Gauge]
Besides the above classifications, the crown stapler can be further classified into three categories based on the wire strength or gauge they used to drive. Like –
Fine wire:
Fine wire staples are the thinnest of the three, typically 20-22 gauges in thickness. Typical applications of fine wire staples include upholstery of furniture, vinyl, trim, picture frames, leveling, etc. 3PLUS H7116SP 22 Gauge 3/8-Inch Crown Pneumatic Upholstery Stapler is a good example of a fine wire stapler.
Medium Wire:
Medium wire staples are a bit thicker than fine wire and typically have a thickness of 18-19 gauge. You'll get extra holding strength than fine wire and can use it for upholstery and other medium-duty construction work, including furniture construction, pallet or crate construction, sheathing, subflooring, packaging, and more. We found Senco 1w0021n Sls18mg 1/4 Crown 1-1/2 Medium Wire Stapler is the right example of this category.
Heavy Wire:
Heavy wire is the thickest staple in its class, and they are usually 15-16 gauge in size. Being the thickest wire staple, you'll get the highest holding strength from it and apply it to any durable construction where any hard materials need to be added to plastic or wood. Typical uses of heavy wire staplers are furniture frames, roof shingles, house build, packaging, etc.
Senco MS6564 staple gun supports 15 Gauge heavy wire 7/16″ Crown staples and is suitable to do subfloor, framing, crating, or any heavy-duty task.
Read Also: What degree nail gun is best for framing?
Different Types Of Staple Guns [Based On Applications]
Are you getting tired, don't be. Our list is not over yet. When we see the crown staplers at the application angle, we again found several types. Like-
Construction Stapler:
A construction stapler is the most common form of a stapler and looks very similar to a nail gun. There are various sizes and shapes of construction staplers available on the market. Small construction staplers are ideal for finishing or trim work, and heavy staplers are suitable for house construction, sheathing, subflooring, etc. Senco – 3L0003N SNS41 16-Gauge Stapler is one of the best examples of the construction stapler that you can try for your construction projects.
Upholstery Stapler:
It is designed especially for the upholstery of furniture. However, there are several versions that can be used for various work, along with the upholstery. There are close parallels between the upholstery and the fine wire stapler, both using 20 gauge wire. So, during your picking, you have to be careful. PORTER-CABLE Upholstery Stapler is one of the best examples of this category.
Flooring Stapler:
Flooring staple guns also look like flooring nailers and have similar characteristics. They are typically used to install hardwood or engineered wood flooring. The flooring staplers can be classified into two types based on the actuation style – mallet actuated and trigger actuated.
Metabo HPT N4004AB Stapler is a good example of a trigger actuated flooring stapler that allows you to drive 1/4″ 18-gauge 1/2 to 1-9/16-inch staples into any solid or engineered hardwoods.
Packaging Stapler:
It is intended to close corrugated boxes used for shipping or packing. There are many types of packaging staplers available – pneumatic, electrical, or even manual. Some of the packaging staplers are designed to be used in a massive assembly line in a production house known as a bench-mounted stapler, and some are designed to drive repetitive and high-volume staples known as a clinch stapler.
An example of a clinch stapler is Klinch-Pak KP-CPN Pneumatic Carton Closing Stapler.
Hammer Stapler:
A Hammer stapler is a.k.a. a hammer tracker or a slap stapler. It's a manually operated machine that required a striking force to function and work like a traditional hammer. They are typically used for carpet installation, insulation, felt roofing, house wrap, and so forth.
An example of this category stapler is DEWALT DWHTHT450 Heavy-Duty Hammer Tacker.
Cap Stapler:
A cap stapler is a kind of specialty stapler most often used in the roofing industry. While its working principle is similar to other stapler types, it is typically used to install plastic caps in tandem. You may therefore use a cap stapler for felt roofing, foam board, and other selective applications. We found BOSTITCH SL1838BC as a reliable and easy-to-use cap stapler on the market.
Picture Frame Staplers:
It is specifically built to do precision tasks like ready-made, flat-back, and artistic framing applications. Typically any manual or electrical style stapler or point driver is included in this category.
We found YEAHOME 4-in-1 Stapler Gun as a good manual staple gun for building picture frames. However, you can also use it for upholstery, carpentry, roofing, and other general DIY crafting and decorating works.
Fence Staplers:
Fence staplers are built for the construction of wire fences. They are strong and can be powered either by gas or by a battery. The best example of a pneumatic fence stapler is Freeman PFS9 Pneumatic 9-Gauge 2″ Fencing Stapler. It helps you to construct any fencing project like a livestock horse fence or heavy mesh fence with ease.
Plier Staplers:
Plier stapler is a pneumatically operated stapler suitable for light, medium, and heavy-duty packaging and various industrial stapling tasks. Example: JK, Bostitch, and Salco brands. The best example of a plier-type stapler is Arrow Fastener P22.
Conclusion
Without any denial, crown staplers are very useful tools for different construction and DIY work. We tried to cover almost every possible sort of stapler in our discussion on the different types of staple guns. I hope this will help you choose your preferred one.
However, it would be prudent to carefully review the specification obtained by the various staplers prior to the collection. As some will offer multiple applications, and some others will only be designed to perform a particular task.
And finally, when you buy one, read the instruction manual carefully before you start operating, as almost all types of stackers are power machines and have a certain risk of operation. Don't forget to wear a safety harness, such as goggles, gloves, and earbuds.
Related Reviews
Different Types Of Nail Guns [A Complete List]
Which Saw Should I Use For DIY Projects
Maintenance Of Pneumatic Tools In The Winter
What Size Nail Gun Do I Need For Crown Molding?
15 Must-Have Power Tools For Home Improvement
9 Common Nail Gun Mistakes You Should Avoid
Tools Mirror is reader-supported. When you shop through retailer links on our site, we may earn an affiliate commission at no cost to you.
Recent Posts