If you purchase a new sofa and discover after a few months of use that it does not match your interior or has snags and stains as a result of poor quality, you may need to replace the upholstery.
You can either do it yourself or hire a professional to reupholster your sofa or wingback chair. If you've opted to do it yourself, the next step is to find the appropriate tools.
If you're a do-it-yourselfer, you probably have a brad nailer in your toolbox. But, can you use a brad nailer for upholstery? Or do you require something different?
According to our knowledge, crown staples are the ideal fastener for attaching upholstery to a couch or chair since they have a broad head and two extended legs for optimum gripping force.
To investigate this topic, we'll look for a suitable fastener between crown staples and brad nails for upholstery and see if a brad nailer can drive crown staples.
Crown Staples Or Brads For Upholstery
To understand between crown staples and brads which is the best option for upholstery, we have to look a bit in detail on them. Let's find what is crown staples and brads, their types, and their uses below.
What Is A Crown Staple?
A connector or fastener made from a U-shaped wire that has two legs and a crown (the top portion that connects two legs) is known as a crown staple.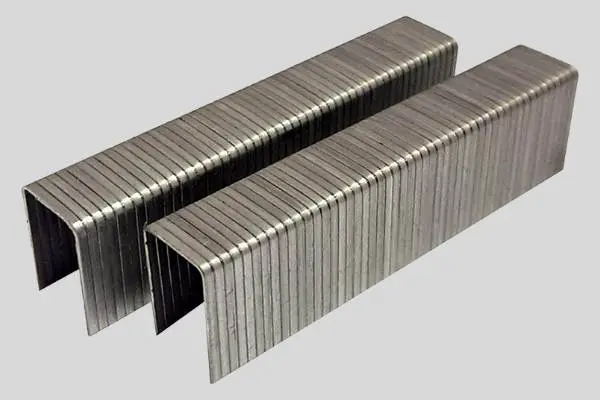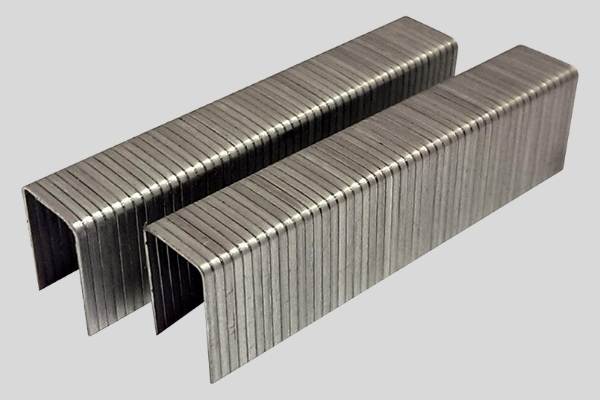 Types Of Crown Staples:
There are three types of crown staples found based on their thickness.
Narrow Crown Staples
Medium Crown Staples
Wide Crown Staples
The narrow crown staples have a narrower crown and are formed of thin wires, as the name suggests. As a result, following the drive, they left very faint imprints on something.
Medium crown staples are wider than narrow crown staples and are commonly used when a significant area needs to be covered.
Wide crown staples are slightly larger than medium crown staples and are frequently used for similar jobs to medium crown staples but with fewer aesthetics.
Read Also: Different Types Of Crown Staple Guns
Applications Of Crown Staples:
Crown staples are used in a variety of applications. Narrow crown staples can be used to join molding, trim, and paneling, as well as to make drawers, upholstery, gift, and fruit boxes. Medium and wide crown staples can be used for furniture installation, pallet and crate construction, sheathing, subflooring, and packaging.
Read Also: Best Staple Guns For Upholstery, Wood, And Crafts
What Is A Brad Nail?
Brad nails, commonly known as brads, are a type of connector or fastener constructed of thin 18 gauge steel wire. Instead of having a large head like crown staples, brads have a little head. As a result, they're simple to hide in wood or panel.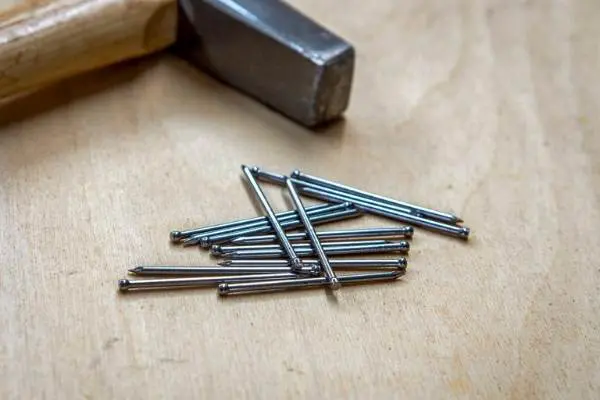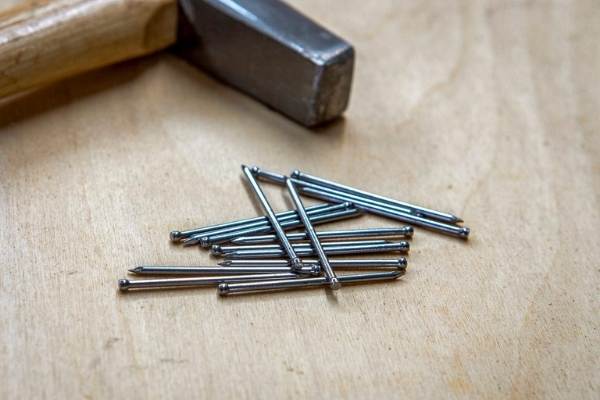 Types Of Brad Nails:
Brads have no variety like crown staples. There is only one type of brad available, which is 18 gauge and is 5/8 to 2-1/2 inches in length.
Read Also: Different Types of Nail Guns
Applications Of Brads:
Because brad nails are the smallest unit of finish nails, they're ideal for art and decorative projects like trim or thin crown molding installations, picture framing, and paneling. They're also great for crafting bird or pet houses, ornament boxes, and other thin wood crafts. Brads are ideal for narrow trim around windows and doors, as well as shoe molding, quarter-round molding, and shiplap.
Read Also: Best 18 Gauge Brad Nailers For Trim Carpentry
Summary: We can see from the above definitions of crown staples and brad nails that brads have a much narrower head than crown staples. As a result, when we use a brad nailer to drive brads into wood or other materials, they travel deep into the wood or other materials, making it difficult to trace.
Upholstering a chair, sofa, or other pieces of furniture, on the other hand, necessitates the creation of soft coverings that are as thin as an oven.
If we utilize brads to fasten upholstery to a chair or sofa, the coverings are likely to be pierced. As a result, we'll need some extra gripping strength, which crown staples can provide.
As a result, a crown stapler rather than a brad nailer is the perfect tool for upholstery work.
Read Also: Can You Use A Brad Nailer For Shiplap?
Can A Brad Nailer Use Staples?
When we discovered that brads aren't a good option for upholstery, we wondered whether we could use a brad nailer to drive staples instead.
The functional design of a brad nailer and stapler is identical. But they are intended for totally different purposes. One can drive straight thin nails while another is designed to drive fasteners having a crown. The head drive design and the magazine where we usually put the fasteners are also not the same. So, it is not possible to drive crown staples or staples with a typical brad nailer.
However, there are some brad nailers available on the market with 2-in-1 functionality. You can drive both staples and brads with such tools.
You can check the NEU MASTER NTC0060 brad nailer and stapler combo to get dual functionality in a single tool. I recently use it in one of my projects and found it very useful. It's an electrical motor driven device that can help you to drive 5/16 to 5/8 inch 3/8 staples and 1/2 to 5/8 inch brads. You'll also find this two-in-one electric brad nailer is ideal for fixing upholstery, insulation plastic sheeting, carpets, and other nailing applications at home, as well as dedicated renovation, repair, DIY, and hobby work.
If you wish to have this tool in your hand, you can buy it from Amazon use this link.
Read Also: Can You Use A Nail Gun For Drywall?
Takeaways: Can You Use A Brad Nailer For Upholstery?
From the above discussion, we have determined that the brad nailer is not a suitable alternative for fastening upholstery. When it is not possible to shoot staples with Brad Nailer, on the other side, staples are needed to get a lasting grip to cover the furniture with upholstery. As a result, you won't be able to use a brad nailer for upholstery.
However, if you have a brad staple combo, like Neu Master or Bostitch brad nailer/stapler combo, you can use it to connect upholstery.
Related Reviews:
10 Best Cordless Framing Nailers For DIY Woodworks
10 Best Finish Nailers For Finish Carpentry
10 Best Palm Nailers For Joist Hangers & Metal Connectors
7 Best Roofing Nailers For Shingles
7 Best Floor Nailers For Engineered Hardwood
5 Best Siding Nailers For Sheathing And Siding
15 Best Cordless Drill For Home Use
Recent Posts