Metabo, the new name of Hitachi, is a brand that always comes up with something different, something groundbreaking. And you will see no alternatives in the case of the Metabo HPT NR90AES1 Pneumatic Framing Nailer, too. It is a versatile tool that can be used for anything from floor and wall framing to mobile home and modular housing construction.
Once you start using this powerful fastening device, you've never got back to your structures' safety matters. Because to give you secure holding capacity, Metabo HPT NR90AES1 is specifically designed to drive 3-1/2-inch long 21-degree plastic collated framing nails into 2*4 frames.
​And the best part of this framing nailer is you don't need to worry much about the maintenance. Its distinctive head guard design allows you to quickly and effortlessly disassemble the device and thus save valuable working time. Indeed, the pneumatically driven Metabo HPT nail gun comes with all modern features and is always ready to deliver optimum performance with consistency.
We already tried to give you a glimpse of the best features of NR90AES1. If you want to know more details about those and want proof that it is the best pneumatic framing nailer or not, let's scroll for the following Metabo HPT NR90AES1 reviews.
Metabo HPT Framing Nailer, (NR90AES1)
NAILER: 21 degree plastic collated framing nailer
APPLICATIONS: Great for flooring and framing, truss build-up, window build-up, subflooring, roof decking, wall sheathing, and housing construction
LIGHTWEIGHT: At only 7. 5 lbs.
SELECTIVE ACTUATION: Allows sequential and contact nailing with the flip of a switch
TOOL-LESS DEPTH ADJUSTMENT
FASTENERS: Accepts 2-in up to 3-1/2-in plastic collated framing nails
COMPLIANT: Safety standards for pneumatic nailers in the United States
Specification Of Metabo HPT NR90AES1:
Fastener Type: Plastic Collation
Magazine Angle: 21 Degree
Fastener Length: 2 – 3-1/2 inches
Fastener Diameter: 0.113 – 0.148 inches
Magazine Capacity: 64-70 Nails
Magazine Loading: Rear
Operating Pressure: 70-120 PSI
Air Consumption: 0.09 SCFM @ 100 PSI
Dimension (LxWxH): 20-3/4 x 4-15/16 x 12-11/16 inches
Weight: 7.5 lbs.
Key Features Of Metabo HPT NR90AES1
Tool-less Depth Adjustment System
Two-piece anodized aluminum magazine
Dual-mode selective Actuation
Open Nose for easy Jam Clearing
Comfortable Rubber Grip
Include safety glasses
5-year warranty
Does Hitachi Make Metabo?
That's all right! When Hitachi rebranded as Metabo, it is unavoidable that we'd inquire, "Does Hitachi still make framing nailers or other power tools?"
"Metabo was a brand of the renowned power tools manufacturing company, the Metabowerke GmbH. Headquarter was in Nürtingen, Germany, and was founded in the 1920s. Later on 1st March 2016, Metabo was acquired by Hitachi Koki – a concern of Hitachi Group. However, just a year later in March 2017, Hitachi Group sold its sister concern Hitachi Koki to HK Holdings Co., Ltd., an entity of the investment firm KKR (Kohlberg Kravis Roberts) through a tendering process.
After that transition, Hitachi Power Tools has been renamed Metabo HPT on the eve of 17th October 2018. All new branded power tools 'Metabo' are currently manufactured in two factories in Nürtingen and Shanghai. And distributed its products worldwide through 23 companies and over 100 importers.
As professional woodworkers, we don't find much of a difference in quality. Instead, it transforms into something more innovative and trendy than it was previously. So, we may infer that rebranding or switching to a new company could not jeopardize Hitachi's original performance.
In fact, Metabo HPT is nothing more than a brand name for Hitachi. You'll find the same devices with the same quality, warranty, and guarantee policy. You'll notice that they both use the same batteries. Hitachi MultiVolt batteries and Metabo HPT MultiVolt systems, as well as Hitachi 18V batteries, are interchangeable.
As a result, we'll see the same packaging and color scheme as the label, which leads us to assume that it's just a name change.
Detailed Features Of Metabo HPT NR90AES1
Next Generation Design
Technology is Hitachi's primary driving force, which makes Hitachi a world-renowned company and leads to the development of products with superior design and reliability. NR90AES1 framing nailer also featuring Hitachi's next-generation "industrial design." It comes with a revamped head guard that helps you to disassemble the unit faster and easier than before, saving valuable time during tool maintenance.
Extremely Durable And Lightweight
The Metabo HPT NR90AES1 itself is a little over seven pounds or precisely seven and a half pounds, which is extremely light, and a framer, no matter if he/she is a pro or a DIYer, will work with it all day long.
The NR90AES1 also allows you to work in tighter spaces, and the collar around the muzzle cuts into the wood just enough to get a decent toenail in while you're hanging from the roof in awkward positions.
Not only is the gun light in weight, but it's also rugged and can take the job site abuse. It can absorb socks if it suddenly drops from a full eight feet of height of your ladder. Metabo HPT nail gun made of flexible materials, aluminum, which gives it extreme toughness to protect it from damage. And, even if you drop it until it splits, it won't kill the device entirely.
However, if the tool had a hook, it would be more convenient to hang it with a belt or trunk when operating at height.
Selective Actuation Switch
Changing the mode of actuation is nothing a big deal. But when you need to handle a project that demands frequent shifts of speed, a selective actuation switch comes in handy to increase productivity.
The Metabo HPT Tool knows it well and designs its NR90AES1 pneumatic framing nailer with a selective actuation switch, which allows you to change the actuation mode from sequential to bump by merely flipping a switch. It's really easy to do. Yes, indeed!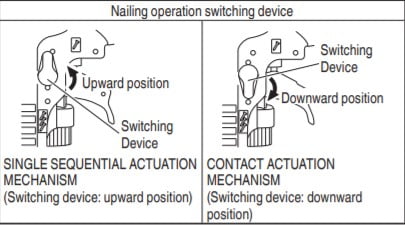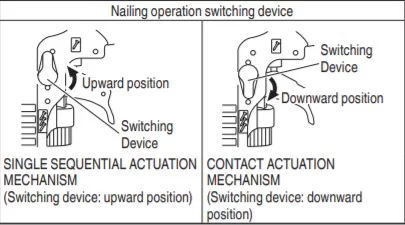 Versatile
With this Metabo framing nailer, you can drive a wide range of plastic collated framing nails. The perfect size of the nails is between 2 inches and 3-1⁄2 inches.
That being said, you can use this nail gun for a wide variety of tasks. This excellent nailer can be used to build wood frames and install floor tiles, building trusses, window making, subflooring, roof decking, wall sheathing, homes, and other similar ventures.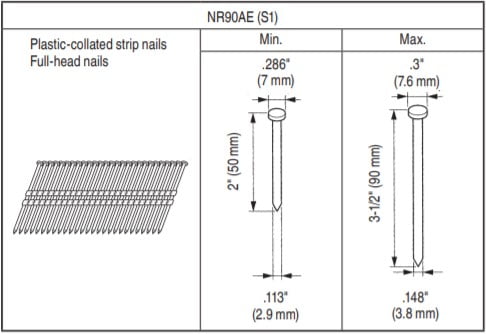 Rubberized Grip
Metabo HPT framing nailer is an ergonomically designed tool that ensures the proper balance during nailing. Besides being ergonomic and lightweight, it also makes the handle sturdy and comfortable with a rubber grip that protects accidental slip during operation.
Tool-Less Depth Adjustment
Without using any equipment to change the driving depth, you can easily countersink or flush drive nails into various materials. Yes! The tool-free depth adjustment mechanism of the Metabo HPT framing nailer allows you to adjust the depth just by setting the air compressor pressure. As a result, you won't have to look for equipment and can save time by simply matching the PSI to the hardness of the materials you'll be fastening.
Easy Nail Loading
The two-step nail loading system of Metabo HPT NR90AES1 makes fastener replenishments quick and easy. After inserting the nail strip from the back of the magazine, slide it forward through the magazine until it reaches the nail stopper. Then, pull the nail feeder to engage the nail strip correctly. That's it. Its two-step nail loading process also helps you to reduce the downtime of work.
Experience No Jamming Problem
We found all good feedback from the existing users of Metabo HPT framing nailer about the jamming problem. It is sporadic to get jammed during operation. Moreover, in the case of a jam, the open nose design of Metabo HPT NR90AES1 will provide you with easy access to clear it quickly.

Benefits Of Metabo HPT NR90AES1
Lightest nailer in its class
Sturdy design
Easy depth adjustment system
Excellent driving power
Outstanding nose visibility
Perfect for angle or toenailing
Excellent recoil control
Tool-free switch for mode change
Long-lasting anodized aluminum magazine
Limitations Of Metabo HPT Framing Nailer
No dry fire lockout
Absent of rafter or hanging hook
The air exhaust system is not adjustable
Found no anti-marring tips in the package
Freeman PFR2190 Vs Metabo HPT NR90AES1: A Comparison
Although both the Metabo HPT and the Freeman nailer are pneumatically driven and built to drive 21-degree plastic collated nails with lengths ranging from 2 to 3-1/2 inches, they have certain similarities and differences that render one superior to the other. Let's take a look at them-
While the Metabo HPT is an excellent choice for framing and other woodworking activities, we found that it lacks some useful features when compared to the Freeman PFR2190 nail gun.
The 360-degree adjustable exhaust, no-mar tip, no-slip teeth, anti-dry fire system, an air filter, or anti-dust cap are all included in the Freeman nailer. Even though they aren't the most important component, they are essential for a nailer's comfortable operation.
However, Freeman made its body out of magnesium rather than aluminum to make it more durable for long-term use. And you'll get all of the extra features we mentioned above without spending any more money, or even less than the Metabo HPT.
On the other hand, the Metabo NR90AES1 is lighter than the Freeman PFR2190, allowing you to drive nails all day without being fatigued. A flip switch for fast firing mode switching, an innovative head guard design for easy maintenance, an open nose for tool-free jam clearing, and a convenient rubber molded handle is also included. These features contribute significantly to the reduction of work time and effort required for framing.
Again, both nailers will help you obtain a long-lasting magazine, tool-free depth adjustment system, smooth toenailing, and other features necessary for a successful fastening, framing, or deck-building job.
Now, if you want something affordable but capable of performing all basic to advanced framing tasks, the Freeman PFR2190 is a good option. Otherwise, Metabo HPT NR90AES1 would be your cup of tea if you want something renowned and outstanding.
Is The Product Worth Your Money?
You can see from the above discussion that, while the Metabo HPT framing nailer has some minor drawbacks, it also has a slew of excellent features that make it a unique tool for both beginner and seasoned users. It also comes with a five-year warranty to protect your investment. As a result, once you have purchased it, it will undoubtedly be worth your money.
Frequently Asked Questions (FAQ)
Q-1. Is It Fit Between Studs Or Joists That Are 16-Inch O.C?
​The tool measures 12-11/16 between tips to top, which means it easily fits between 16-inch studs or joist.
Q-2. What Is The Recommended Nail Type And Size For This Nailer?
​21-degree plastic collated nails are recommended for this gun. You can use a wide range of 2 to 3-½ inches of framing nails in it.
Q-3. Is It Need Oil Frequently? If So, How Often?
​Yes! You must put oil twice a day 3 to 5 drops in the air inlet hooking area.
Q-4. Can I Do Toe Nailing With It?
​Yes! You can do toenailing effortlessly because of its open-nose design. It also allows you to nail accurately.
Q-5. How Much Air-Pressure Perfect To Drive Nails Precisely?
​The manufacturer recommended air pressure range is 70 to 120 PSI for this tool. However, to get a good result, you may set it at 90 PSI. It consumes as low as 0.09 SCFM@100 PSI air during framing works. To know more about this, please visit our page on the air compressor for a nail gun.
Final Words on the Metabo HPT Framing Nailer
In 2014, 2015, 2016, 2017, 2018 & 2019, Metabo HPT was selected as the preferred pro brand of pneumatic nailers in the Product Brand Surveys conducted by Builder & Developer Magazine. This level of success proves that Metabo HPT is a great brand, and you can easily keep trust in its product Metabo HPT NR90AES1 framing nailer.
It also proves that the Metabo HPT NR90AES1 is the best 21 degree pneumatic framing nailer around the globe.
Related Reviews:
Recent Posts