You may be asking yourself, should I rent or buy a framing nailer? Renting can seem like the more economical choice for some people. However, there are many pros and cons to renting vs buying a framing nailer that you need to consider before making your decision. In this blog post, we will compare the two and see which one is more economical!
What Is A Framing Nailer And What Does It Do?
I'm sure most skilled framers or carpenters understand what a framing nailer is. However, if you are a total outsider to this trade and simply want to remodel your home, we would like to clarify what a framing nailer is and what it does. Let's dive in.
Framing Nailer
A framing nailer is a tool that holds wood together by shooting nails into it. It can be used for a variety of projects, including fence and home construction, furniture assembly, and window installation. Framing nails have a long, thin shank (usually 3-½ inch in size) with a small circular head on one end and sharp points on the other.
Nailers for framing can be either cordless or pneumatic (meaning air-powered). You will need an air compressor to operate pneumatic framing nailers, and they are a powerful option to drive nails into any type of lumber. On the other hand, cordless nailers are usually powered by a lithium-ion battery or gas and are a good option to work in tight corners.
You can use a framing nailer to drive 2-inch or 6d nails through thinner wood like plywood, while you can also drive 3-1/2 inch or 16d nails to fasten thicker wood like hardwoods or particleboard boards.
Nailing guns usually have an adjustable depth setting so you can monitor how far the nail head penetrates the wood to prevent splitting or over flushing, as well as a dual actuation mode for quick or precise fastening. Based on functionality, there are many types of nail guns, read this blog post to know more about them.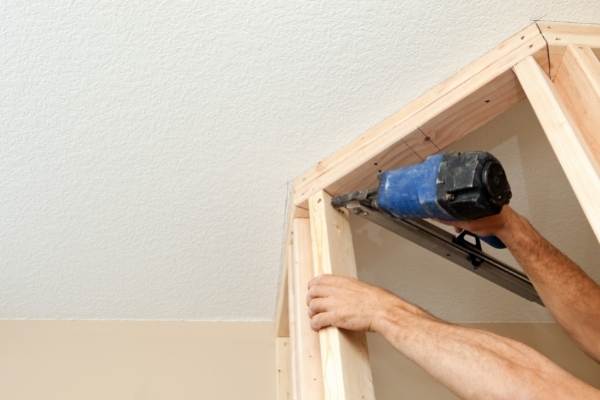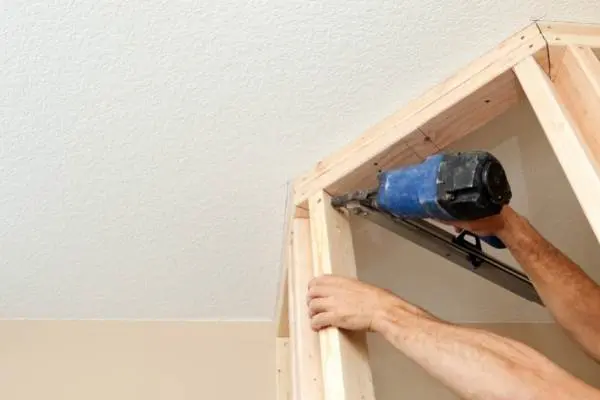 Uses Of Framing Nailer:
A framing nailer can be used for a variety of activities, including fastening lumber for furniture making to constructing decks or home remodeling. Let's take a closer look at those-
Home Construction: Framing nailers can be used inside or outside buildings because they will go through many types of materials like wood, concrete blocks, or plastic.
The process for building a home frame is similar to constructing a wooden fence where you use your framing gun to secure one board onto another across from it.
Besides building frames, you can also do siding, sheathing, or deck building for house construction with a framing nailer.
Framing A Door Or Window: A framing nailer is more effective than a hammer for hanging new doors because it can apply fasteners right through the door without damaging something on its way in or out!
However, to install window casing, it is better to use a finish nailer as they need to push thinner 16 gauge 2-1/2-inch nails.
Building Furniture: You can use a framing nailer to drive nails into solid wood boards or plywood. This is a quick and easy way to put together your own kitchen table, chair rails, and other products!!
Assembling Cabinets: If you are building custom cabinetry in your home, using pneumatic framing nail guns will allow you to quickly secure things together. It's a good option at working through many different materials, including hardwoods, particleboard, MDF, melamine coated board (aka "hardboard"), laminates – anything that has thickness.
You can also do it with a cordless framing nailer like Paslode if you want to avoid buying an air compressor.
Building Fences: Fences are often made of wood and required to drive heavy-duty nails to hold the boards in place. And a framing nailer is an excellent tool to fasten a 1x6x6 fence board on 4x4s or 2x4s hardwoods.
Oh! A small tip: Cedar is the best wood for fencing. You can also go for Redwood. However, pine is the least expensive option for fencing. [Source: outback.com]
Installation Of Roof And Deck Building: Framing nailers are also great for installing roofing wood and deck building. They provide a simple, lightweight way to attach materials together that can be hard to hold in place with other tools like hammers or screwdrivers!
Okay! Above, we attempted to provide a comprehensive overview of the framing nailer's applications. It is undeniably a powerful tool, but it does have some limitations. You cannot use it to adding crown moldings or do trim works. Finish nailers or brad nailers (typically built to drive 15 or higher gauge nails) would be more appropriate than framing nailers in this instance. So, you have to keep it in mind during renting vs buying a framing nailer.
Renting Vs Buying A Framing Nailer – Which One Is More Economical For Your Needs:
Skilled contractors don't think about working without framing nailers because they have such a wide range of applications. As a result, many people consider renting a framing nailer is odd. Usually, big machines like backhoes and cranes come to mind first when we think of renting.
Unlike high-priced devices, renting small tools like nail guns or circular saws is usually not a viable choice as well. However, if you only need to use such tools once in a while, renting rather than buying is considered a better option.
So, renting is more economical than buying a framing nailer if you just use it once in a while.
On the other hand, if you plan to use your framing nail gun often or need access to various tools for other jobs over a long time, purchasing might be the better choice, as renting would cost you more in the long run.
The majority of rental companies or stores charge about $30 – $40 a day to rent a nail gun, which is about 25%-30% of the cost of a brand new one. Depending on the type of nail gun, sometimes it needs 70% to 100% of the price of a new tool.
So, if anyone intends to use a nail gun for an extended period, say 4 weeks or more, he or she can purchase a new nail gun with the rent money.
However, the situation does not always remain equal. Budget can be a limitation at times, and buying a new one can be frustrating. Tools, on the other hand, are needed for maximum speed and a better finish. As a result, renting would be the best option in such cases.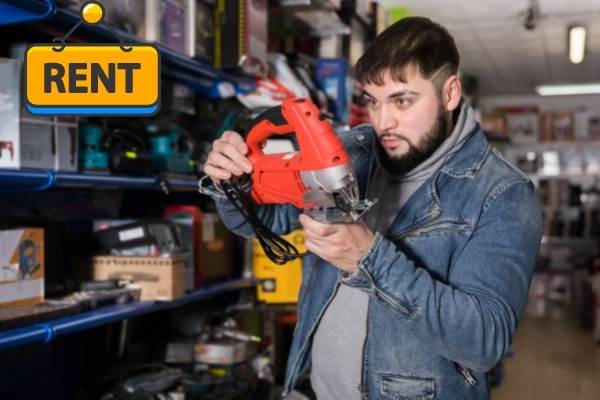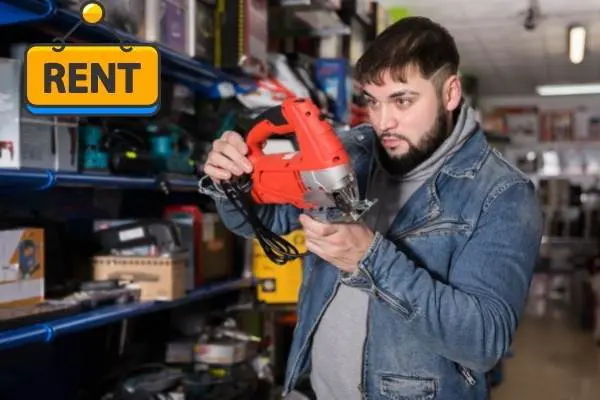 How Much Does Rent Or Buying A Framing Nailer Cost?
Framing nailers can cost anywhere from $85 to over $400. But don't worry too much about the initial price tag because you'll be able to recoup your investment (plus more) in just a few projects.
The leasing and buying costs are as follows:
Cost Of Renting A Framing Nailer
Owing to monthly fees, the total amount charged for rent is normally greater than it would have been if bought outright. However, if you don't have enough money or your ROI doesn't permit you to buy a new one, renting is the best option.
In that scenario, long-term renting might save you a lot of money since several companies provide discounted rates for long-term rentals (i.e., 12 months).
Let's look at how much it costs to rent a nail gun from various online stores:
| Duration | Home Depot | Lowe's | Lowe's | Menards |
| --- | --- | --- | --- | --- |
| Type of Nail Gun/Brand | Dewalt DW325PL Pneumatic Framing Nailer | Metabo NR1890DRS Cordless Framing Nailer | Metabo NR90AE(S1) Pneumatic Framing Nailer | Paslode 905600 Cordless Framing Nailer |
| 4 Hours | $20 | $26 | $19 | $20 |
| Per Day | $29 | $36 | $27 | – |
| Per Week | $116 | $144 | $108 | – |
| 4 Weeks | $348 | $360 | $270 | – |
Note: In the case of renting from Menards you have to pay $20 for the first 4 hours and $2 for each additional hour of use (the hourly rate only applies during store hours).
Therefore, the cost of renting a nail gun is primarily determined by the type of nailer and the location from which you will rent it.
Cost Of Buying A Framing Nailer
The purchase price plus installation fees ($185-$350) are included in the upfront cost of a framing nailer. Suppose you're a serious framer who uses framing nailers on a daily basis. In that case, the money you spent on buying a framing nailer will get back in just one project!
If you're looking to buy a new framing nailer, you may check out our blog post on the best framing nailer for a variety of options.
Pros And Cons Of Renting Vs Buying A Framing Nailer
Pros Of Renting A Framing Nailer:
Renting a framing nailer can be more economical than buying one if you only need it for a short period of time (for an hour or even a day).
If you're not a contractor, you do not need a nail gun on a long-term basis, so renting is a reasonable choice.
The initial cost of renting a framing nailer is much lower than buying.
It helps to bypass the upfront cost of purchasing a new nail gun.
Also, you did not have to deal with the bother of nail gun repair and servicing because the shop took care of it. Thus, it can save you time and money.
Cons Of Renting A Framing Nailer:
If you plan on using the nailer often, then renting is not as cost-effective because you'll have to pay for the rental every month and will also have to buy nails separately.
You just have a few choices when it comes to nail guns style to rent.
If you are unfamiliar with its application, you may not use it properly and end up paying the rental shop demurrage fees.
You'll still have to pay for gas cells if the nail gun is cordless or reserve an air compressor if the nail gun is pneumatically powered.
Another hassle of renting a nail gun is retrieving it from a nearby rented house and returning it on time.
Pros Of Buying A Framing Nailer:
You could save money in the long run by avoiding rental fees. And even though there's a larger initial investment, most framing nailers will pay off financially after one project due to their high efficiency.
If you do a lot of carpentry work that requires you to drive a lot of nails, brads, or staples, buying a nail gun is a better option than renting.
You have the choice of selecting the nail gun style that best suits your needs. If you don't have access to an air compressor, you can use a cordless nailer, which isn't always available for rent.
Buying a framing nailer may be more economical in this case because you won't have to worry about paying monthly fees or buying nails separately, but instead, just purchase them when they run out (which could happen less frequently).
Cons Of Buying A Framing Nailer:
The upfront cost of a framing nailer can be expensive.
Why Should I Rent Or Buy My Own Framing Nailer?
Owning a framing nailer is one of the best investments you can make as a carpenter or contractor. The nailers are expensive, but they will save you time and money in the long run. You can get a good framing nailer by spending $200 or less at once.
On the other side, renting a framing nailer from local rental stores, you need $20-$30 per day, which adds up quickly when doing large projects that take weeks to complete.
So, you can save lots of money if you buy your own tool instead of renting it out every time!
Again, suppose you just intend to use a framing nailer for a single project for a short period of time. In that case, renting can be more cost-effective than buying.
So whether you should rent or buy a framing nailer is entirely dependent on your current situation.
FAQ
Where to rent or buy a framing nailer?
There are several options available when it comes to purchasing a framing nailer. It's available from online stores, including Amazon and Home Depot, as well as local hardware stores and supermarkets. You may also go to professional blogger sites to get a critique, pros and cons, and the best recommendation on this.
The places where you can rent and purchase a nail gun are not the same. Even you can rent a nail gun if you live near a Home Depot, Lowe's, or Menards place. Therefore, the old hardware stores or ongoing construction projects may be a good source for nail gun rental. However, before renting a nail gun, be cautious of the terms and conditions.
Can I rent a nail gun from Home Depot?
Apart from selling new nail guns, Home Depot also rents a variety of home improvement equipment such as welders, saws, power tools, and air compressors. So go to Home Depot and rent a nail gun. However, you must live near a Home Depot location, and the tool must be accessible because they rent nail guns on a "first come, first served" basis.
To avoid the hassle, you can make a call to them before heading to them too.
Can I rent a nail gun from Lowe's?
Like home depot, Lowe's also provides framing nailers on a rental basis. To rent a nail gun from Lowe's, you have to pre-book it and then collect it from the local center after getting a confirmation mail from them.
Do all nail guns require a compressor?
No, it doesn't seem necessary an air compressor for all the nail guns. Air compressors are only required to run pneumatic tools; thus, pneumatic framing nailers need compressors to actuate nails.
Conclusion:
By going through the above pros and cons, you already got the idea of renting vs buying a framing nailer.
In short, if you plan on doing a lot of DIY home improvement projects at once (to justify buying rather than renting a framing nailer), the upfront cost of purchasing a framing nailer is well worth it. If you're just working on only one project, renting may be a better option.
Recent Posts