Cordless nailers are creating a lot of hype nowadays due to their versatile use and convenience. This cordless flexibility is the consequence of the effective use of battery energy and gas cartridges. So, we started to believe that cordless means a device that can run by battery or a fuel cell only.
However, the Bostitch 3 Tool Compressor Combo Kit proves us wrong. If you want to stick with pneumatic devices while still enjoying the convenience of cordless, the Bostitch BTFP3KIT is the right option for you. It actually opens the door for the DIYer and homeowner to use pneumatic tools.
The Bostitch btfp3kit 3 tool portable air compressor combo kit is intended for interior or exterior finishing, home decor, and other trimming work. A 6-gallon pancake compressor, an 18ga brad nailer, a 16ga straight finish nailer, and a heavy-duty crown stapler are included in the kit. Let's go over the specifics of each one below.
Efficient and Versatile: The Bostitch 3 Tool Compressor Combo Kit
The Bostitch 3 Tool Compressor Combo Kit is an essential investment for any DIY enthusiast. With its high-quality compressor and versatile tools, this kit will take your projects to the next level.
The compressor itself provides reliable and efficient performance, ensuring that your tools operate smoothly and consistently.
Meanwhile, the included nail gun, stapler, and brad nailer offer a range of options for completing various tasks.
The lightweight and durable design of each tool makes them easy to handle, while the kit's convenient carrying case allows for easy transportation and storage.
Overall, the Bostitch 3 Tool Compressor Combo Kit is a must-have for anyone looking to transform their DIY projects into professional-quality work.
Bostitch Air Compressor Combo Kit, 3-Tool (BTFP3KIT)
SB-1850BN 18 GA brad nailer in the air compressor combo kit drives 18GA brad nails from 5/8-inch to 2-inch
SB-1664FN 16 GA straight finish nailer drives 16 GA straight finish nails from 1-1/4-inch to 2-1/2-inch
BTFP71875 heavy-duty 3/8-inch crown stapler drives 3/8-inch crown staples from 1/4-inch to 9/16-inch and 18GA brad nails from 1/2-inch to 5/8-inch
1/4-inch x 15' PVC air hose includes fittings
Details Of Bostitch 3 Tool Compressor Combo Kit
Compressor Unit: The Bostitch BTFP02012 Air Compressor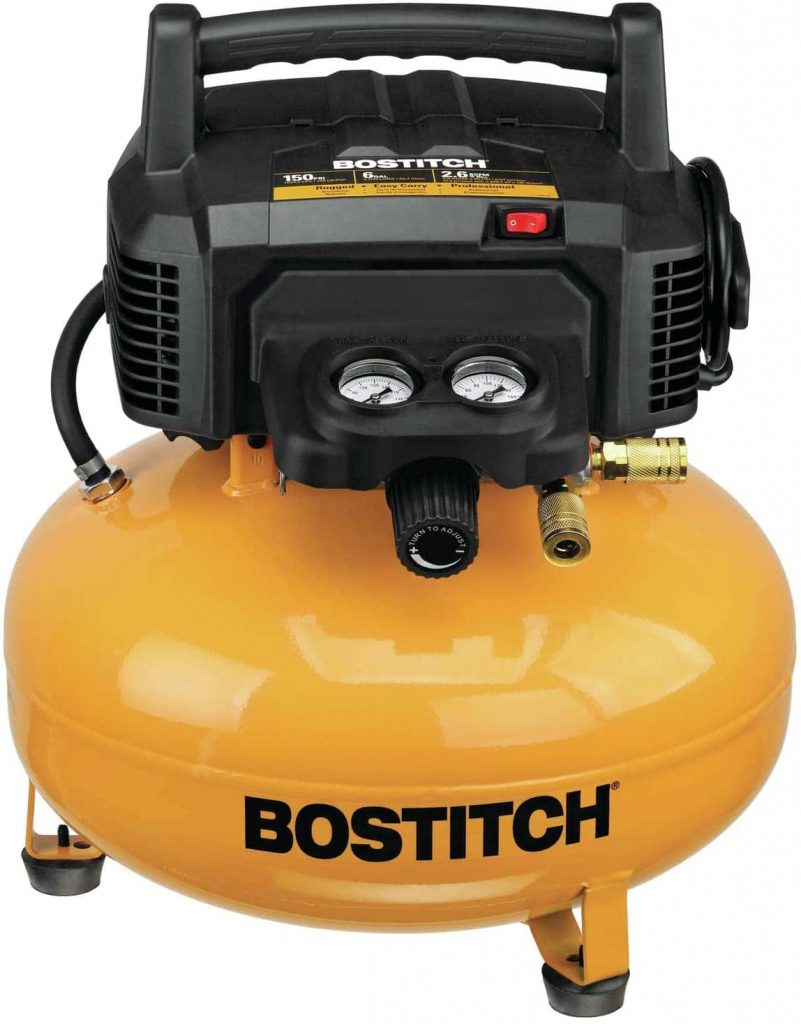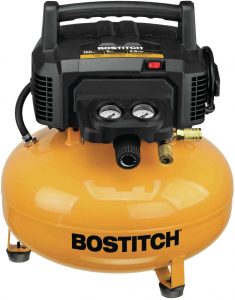 Spec Of BTFP02012 Air Compressor:
Max Pressure: 150 PSI
Pump Type: Oil-Free
Tank Size: 6 Gallons (22.7 L)
Flow Rate: 2.6 SCFM @ 90 PSI
Noise Level: 78.5 dBA
Weight: 29 pounds
Super Portable
The primary attraction of this 3 tool nailer combo kit is the Bostitch Air Compressor. While most other portable compressors have either low air pressure or small tanks that require a frequent run, the Bostitch 6-gallon pancake compressor's high-flow regulator and couplers are prepared to deliver optimum air pressure as needed to drive nails into the hardwood.
Because of this performance, the users nominated the BOSTITCH BTFP3KIT as the best portable air compressor in its class.
Why did they call it a portable air compressor?
Because you can move it wherever you need it very conveniently, even though it weighs 29 pounds, and once you inflated it with air by connecting it to an electric outlet, you can use it for a particular duration without further reconnection.
So, you could use it for outdoor work for a while.
It does, however, have some drawbacks. It won't be able to keep you going for long because the pressure will drop after a few moments. You'll need to reconnect it to the power line in that event.
It is preferable to use a long hose so that you can comfortably reach the end of your working area and attach the compressor to an extension cord for continuous operation.
High Capacity Pump
The best part of the Bostitch air compressor is it features a high-efficiency pump that can deliver 2.6 SCFM @ 90 PSI. You, however, get a maximum of 150 PSI pressure from this 6-gallon (22.7-liter) air compressor enables you to get a great run time with quick recovery.
This specification is reasonably good enough to run any framing or finishing or brad nailer smoothly without much recoiling.
Easy-To-Maintenance
Like the cordless devices, you will not need to pour oil and take care of maintenance issues of this Bostitch compressor to keep it workable regularly. Thus, it will save both your valuable time and money. You could also save yourself from any stains on the surface as it is oil-free.
Easy-To-Start Motor
You no more need to pull the rope to start the engine of your air compressor as Bostitch comes with an On/Off switch to start the motor conveniently. Even you can start this air compressor in cold weather conditions without any hassle.
This highly efficient motor is also equipped with a thermal overload protector, which automatically shuts off the engine in case of overheating.
Once shut off, you have to allow the motor to cool down to restart.
Sturdy Design
The Bostitch Portable Compressor's impact-resistant compound cushion protects it from job site damage or cavities, ensuring that it looks brand fresh at all times. As a result, you can keep it in the front space of your home as a decor item.
Low Noise
We have the fear that using an air compressor would result in a lot of squealing or banging. The Bostitch air compressor, on the other hand, is surprisingly quiet, producing a noise level of 78.5 decibels. It is still noisy, but not loud enough to cause hearing loss if you or anyone nearby are not wearing ear protection.
Tool 1: The Bostitch SB-1850BN Brad Nailer
Brad nailer is an essential tool to do delicate jobs like attaching decorative crown molding or trim work or basic home repair. And when you have the Bostitch brad nailer in your hand, you can handle your jobs super efficiently.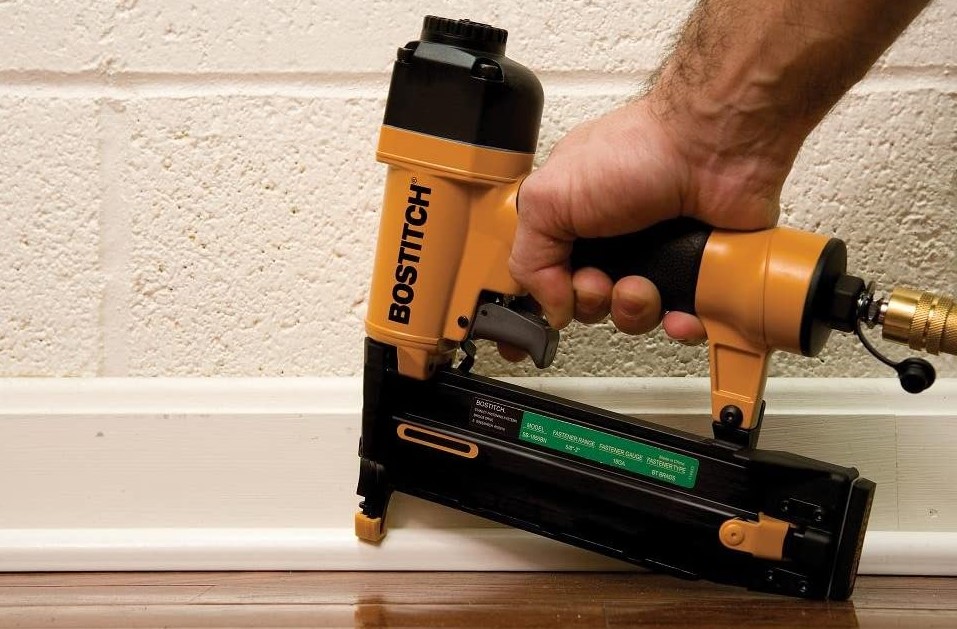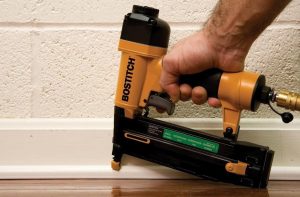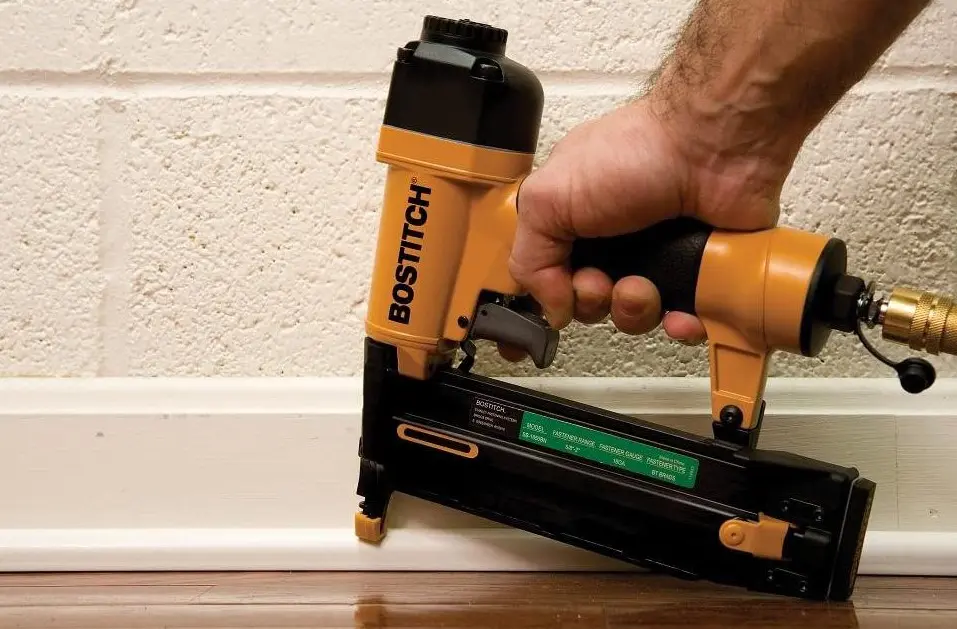 Spec of SB-1850BN 18GA Brad Nailer:
Fastener Size: 5/8 to 2 inches
Fastener Gauge: 18 GA
Magazine Capacity: 100 brads
Depth Adjustment: Yes
Adjustable Exhaust: Tool-free
Weight: 2.7 pounds
Dimension: 9.5 x 9.25 x 2 inches (H x L x W)
You can drive 18-gauge 5/8″ to 2″ brads into any trim or crown molding with this sturdy SB-1850BN brad nailer. You won't feel heavy when doing so because it just weighs 2.7 pounds. It also includes a no-mar pad to protect your work surface from scratches and an over-molded secure grip for superior control.
With its depth adjustment guide, you can easily change the depth of drive, and the tool-free adjustable exhaust helps you to steer the air away from you when working.
Applications Of Bostitch SB-1850BN Brad Nailer
Interior and exterior finishing and trim work
Furniture making
Cabinet work
Staircases
Paneling
Small crafts
Tool 2: The Bostitch SB-1664FN Finish Nailer
When a brad nailer is used for delicate work, a finish nailer is used to push nails into larger boards or crown moldings. Yes, indeed! Since brads are thinner and have less gripping strength than finish nails, you won't get enough traction from the brad nailer when fastening heavy boards.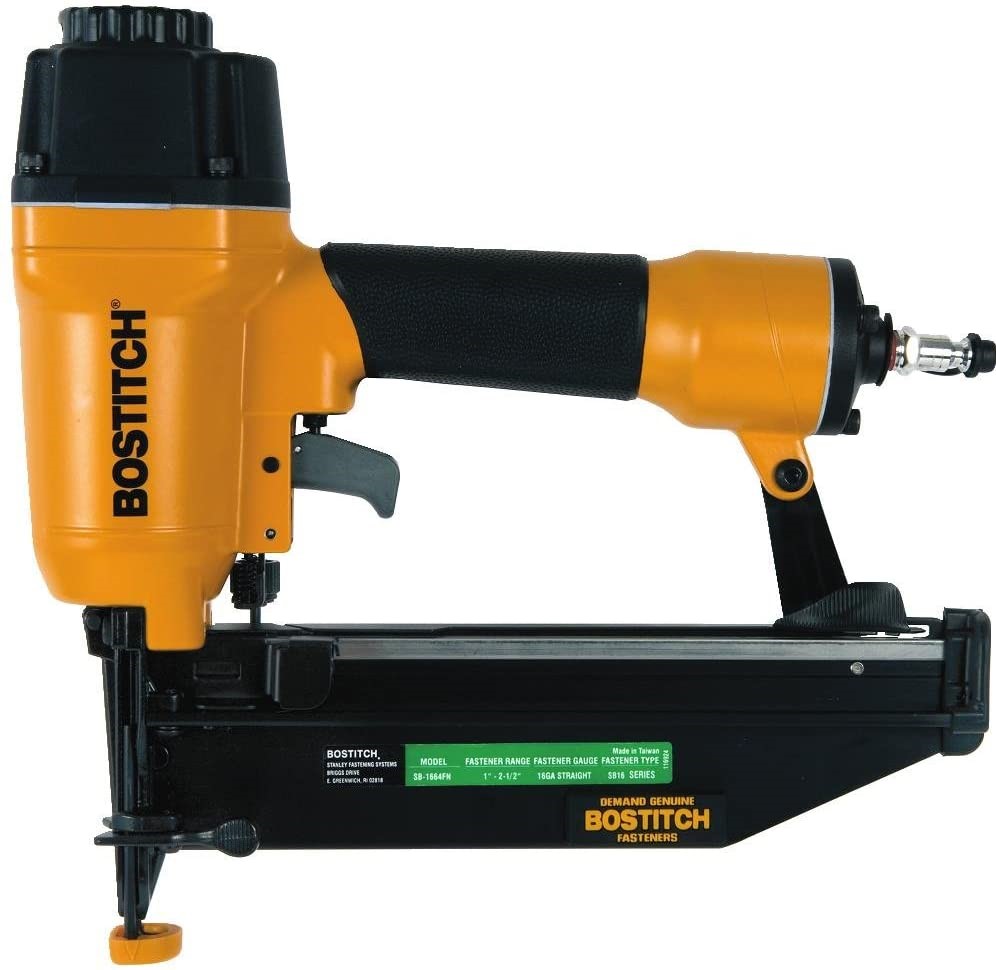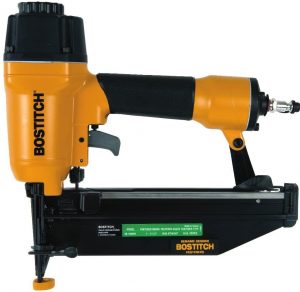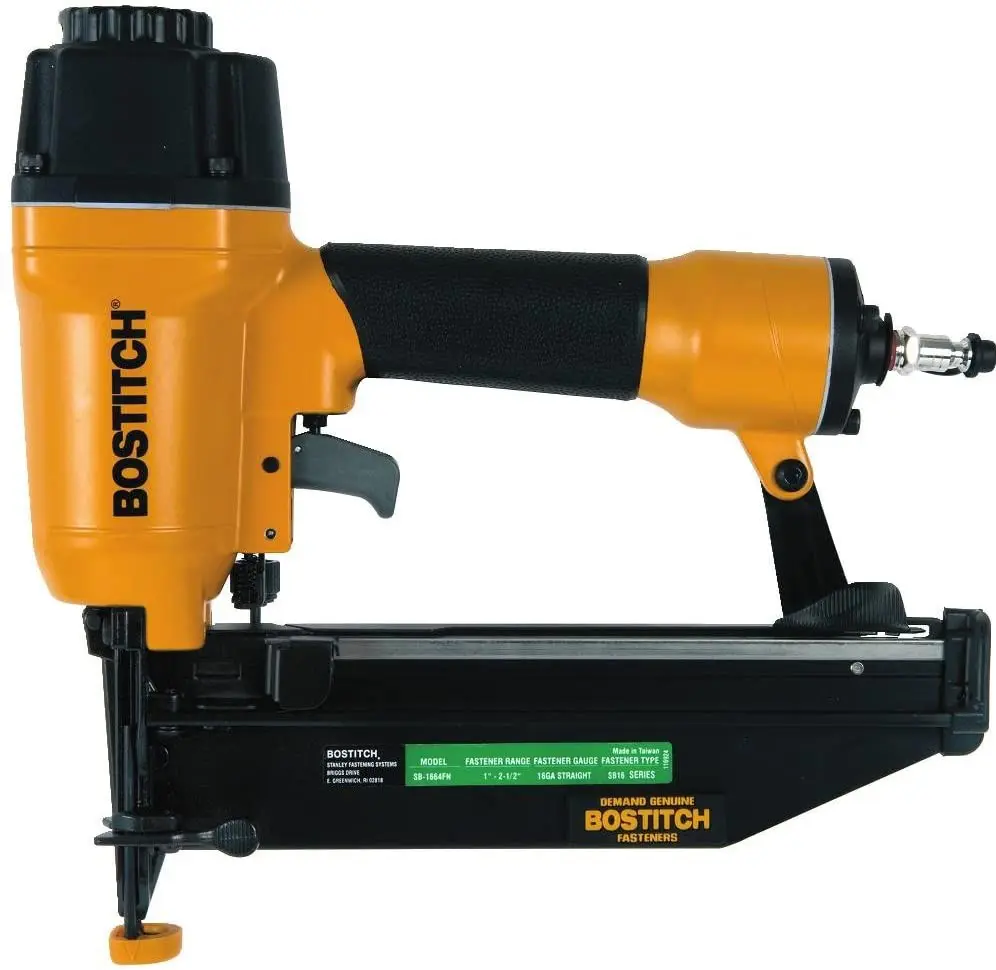 The spec of SB-1664FN 16GA Straight Finish Nailer:
Fastener Size: 1-1/4 to 2-1/2 inches
Fastener Gauge: 16 GA
Magazine Capacity: 100
Depth Adjustment: Yes
Adjustable Exhaust: Tool-free
Weight: 4.0 pounds
Dimension: 11.5 x 11.25 x 3 inches (H x L x W)
Therefore, Bostitch SB-1664FN Finish Nailer comes in handy for your heavy-duty interior and furniture work. It is a lightweight tool made of sturdy aluminum and comes with a handful of user-friendly features.
The SB-1664FN finish nailer can drive 16-gauge finish nails from 1-1/4 to 2-1/2 inches in length. It also has a depth adjustment guide to ensure that the nails are flush with the workpiece, an adjustable exhaust to force air away from your face, and a no-mar pad to protect the workpiece from denting.
Applications Of Bostitch SB-1664FN Finish Nailer
Installation of heavy boards
Exterior and interior finish and trim work
Assemble of furniture
Cabinet work
Staircases
Tool 3: Bostitch BTFP71875 Heavy Duty Crown Stapler 3/8-inch
You could use the BTFP71875 crown stapler either as a tracker or a brad nailer. Yes, absolutely! It will drive heavy-duty 3/8″ T-50 staples in sizes ranging from 1/4″ to 9/16″ and 1/2″ to 5/8″ brads.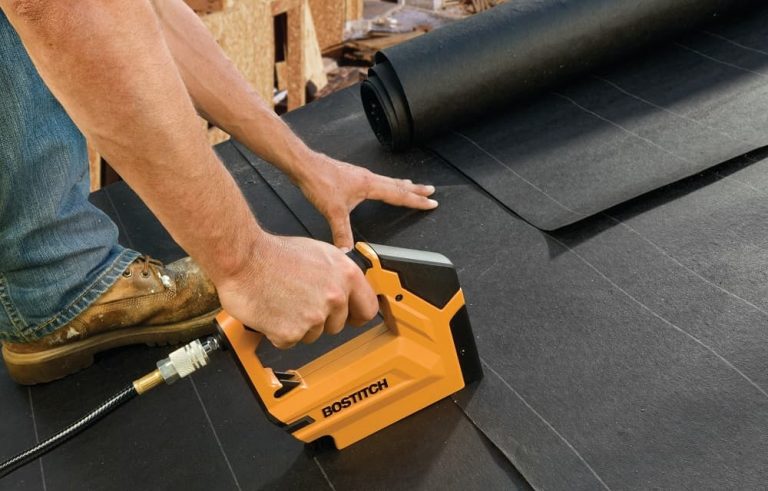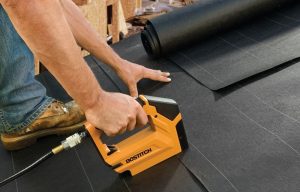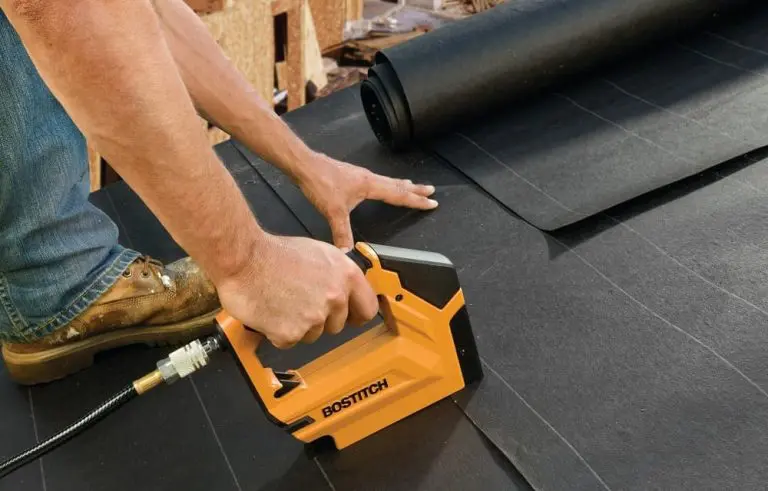 Spec of BTFP71875 3/8" Crown Stapler:
Stapler Size: 1/4 to 9/16 inches 3/8" stapler
1/2 to 5/8 inches 18 GA brads
Magazine Angle: Straight
Magazine Capacity: 84
Depth Adjustment: No
Weight: 2.3 pounds
Dimension: 2.3 x 11.3 x 7.8 inches (H x L x W)
It is lightweight and durable, despite being designed to handle heavy-duty tasks. Die-cast aluminum makes up the body of the BTFP71875. It also comes with a number of useful features.
It has a dual trigger, so you can use it safely and easily for longer periods of time. It also has a low fastener indicator that signals when the magazine needs to be reloaded. The magazine is also designed to load from the bottom, allowing for easy reloading.
Finally, you won't have to worry about maintenance because the machine no longer needs oil to operate. It also reduces the possibility of staining your workpiece.
Applications Of Bostitch BTFP71875 Crown Stapler
Upholstery
Interior trim work
Make frames for photos
Pallets or crates
Furniture
Installation of carpet or shingle
Flooring and Subflooring,
Sheathing
Read Also: Brad Nailer Vs Crown Stapler: Which One Is More Worthy For Carpentry?
The above three tools are made with reliability and durability in mind and are capable of handling a wide range of tasks. They are of sturdy construction and made of a composite shroud that protects gauges and controls against effects.
You can also use this tool all day – the ergonomics are top-notch. Not only is the handle firm, but it is also sleek to the side.
Applications Of Combo Pack
From the above discussion, we can say that the BOSTITCH 3 Tool Compressor Combo Kit is a perfect package to do all interior and exterior finishing and trimming projects and a myriad of other jobs like crafts, furniture, cabinets, and staircases.
Not only could you use the air compressor to run an air nailer, but you could also use it to inflate car tires and footballs, operate a spray gun or air blower, and even provide mild air pressure during hollow surface-supplied diving.
It can also be used in reciprocating pistons such as rotary vane, and rotary screws.
After completing the core tasks, you can use the Bostitch air compressor to clean the workspace of your workshop and remove dirt from chairs, tables, drawers, stairs, or cabinets in your home.
All of your cleaning tasks will be a breeze with this super-efficient compressor.
The Box Includes
Air Hose: Bostitch includes a superior quality 15-foot, 1/4″ PVC air hose with fittings, offering plenty of length for maneuverability. The 0.25-inch tube also ensures proper airflow to the blowgun. 
Fasteners: As a sample, Bostitch includes 1-1/4″ 18GA brad nails, 2″ 16GA straight finish nails, and T50 staples to allow you for instant use of all tools.
Benefits Of Bostitch 3 Tool Compressor Combo Kit
Little, beautiful but efficient compressor
Within 3 minutes, the compress reaches its maximum PSI of 150
Compact structure, easy to move around
Silent air compressor
Oil-free, Maintenance-free
Easy-to-startup
Tank fills very faster, in 2 to 5 minutes it reached starting position
Releasing air pressure is a breeze
Finish or Brad nailer capable of driving nails without any glitch
Nailers are equipped with easy depth and exhaust way adjustment
The crown stapler is a useful construction tool for many applications
Limitations Of Bostitch BTFP3KIT
Though it said it is portable, the weight of 29 pounds is not light enough
It is quieter than many other compressors, but not soundless
Some customer complaints about leakage issue
Frequently Asked Questions For Bostitch 3 Tool Compressor Combo Kit
Is the Bostitch pancake air compressor allows you to use a framing nailer?
Yes! It can run a framing nailer too. If you're a skilled framer, you know that 70-120 psi and 2.2 CFM are sufficient for driving a framing nailer. And this Bostitch pancake air compressor is capable enough to successfully operate a framing nailer.
Should it be necessary to plug in the Bostitch air compressor during use?
​If you start from zero, first, you have to connect it with an outlet to fill up the compressor. However, once the compressor reached its optimum pressure, you no more need to keep it plugged in.
But if you use it for nailing, it is recommended to keep it connected to get optimum pressure output.
The compressor can keep the air pressure, for a few days, perhaps even more during storage. You might be able to use some of that air to inflate a tire or blow up a basketball or balloon and still have some jet stream in your tank. You could measure the pressure level by using a pressure gauge attached to it.
What is the duty cycle of the Bostitch air compressor unit?
​This air compressor pump is capable of continuous operation. However, it is mentioned in the manual that if you maintain an average of 50% – 75% duty cycle, you will get a more prolonged life. It means that it is not wise to run the air compressor pump for more than 30-45 minutes at any specified hour.
Bostitch 3 tool compressor combo kit [A Video Review]
Final Thoughts
This BOSTITCH BTFP3KIT 3 tool compressor combo kit is, therefore, suitable for professional constructors as well as weekend warriors to accomplish any small or big project related to trimming or finishing works. The significant advantages of this package are its easy-to-carry pancake air compressor, which is small but efficient. So, you could give it an enticing try.
Related Reviews:
Tools Mirror is reader-supported. When you shop through retailer links on our site, we may earn an affiliate commission at no cost to you.
Recent Posts