Hello, Professional and Do-It-Yourself Framers! Prepare yourself! We're going to show you one of Bostitch's most strong and long-lasting cordless nailers. This cordless framing nailer will help you complete a variety of tasks such as framing, sheathing, fencing, deck building, and more. It'll also be one of the most efficient ways to finish your punch list tasks. Yeah, indeed! It's the Bostitch BCF30PTM1 cordless framing nailer we're talking about.
This lightweight framing nailer not only works very well, but is also very handy. You don't have to drag the hoses or buy the gas canisters because the battery runs them entirely. Its two-speed motor also allows you to drive a full range of framing nails into any untreated SPF lumber.
Like above, you will find a bunch of user-friendly features in the Bostitch 20v framing nailer. Let's scroll below to know more about this Bostitch cordless framing nailer.
Bostitch BCF30PTM1 Cordless Framing Nailer
The Bostitch BCF30PTM1 is an extremely versatile tool that can be used to drive a wide variety of framing nails for a variety of tasks in your home construction or renovation projects. It has a two-speed motor and a tool-free firing mode selector to easily adjust the actuation mode to sustain its powerful drive. It also comes with tool-free depth adjustment.
Most importantly, Bostitch made it light, weighing in at about 8 pounds, which is vital for carrying this form of tool all day and working over the head if required.
It also includes a rafter hook and other user-friendly features. Overall, the BCF30PTM1 is a fantastic tool for both skilled and home woodworkers.
Key Features Of Bostitch BCF30PTM1
Brushless motor and engine designed for dual-speed operation
Powerful drive allows actuating 3-1/2 inch nails into any lumber
Ideal for both clipped and full round head nails
Tool-free quick-change firing mode selector
Easy tool-free depth of drive adjustment system
Stall release lever to quick jam clearing
Specification Of Bostitch BCF30PTM1 At A glance
Power Source: Lithium-Ion Battery
Fastener Length: 2 – 3-1/2 inches
Diameter: 0.113 – 0.131 inches
Gauge: 30-Degree Paper Tape
Firing/Actuation Mode: Bump and Sequential
Magazine Loader: Rear Load
Belt/Rafter Hook: Yes
Collation Type: Paper
Depth Adjustment: Tool-Free
Dimension (LxWxH): 14 × 4 × 13.37 inches
Product Weight: 8.1 lbs.
Detailed Features Of The Bostitch BCF30PTM1
Brushless Two Speed Engine
If you look closely, you'll note some sweet resemblances between the two fantastic brands. Yeah, indeed! The Bostitch BCF30PTM1 20V Max Cordless Framing Nailer is nearly identical to the Dewalt DCN692 20V framing nailer in terms of design, color, style, and even battery. However, you cannot interchange the batteries between these two brands.
This similarity is not limited to the exterior appearance; the internal mechanisms of these two brands are also strikingly similar. Both brands include brushless motors.
The motor and engine of Bostitch BCF30PTM1 are designed as brushless two-speed. It makes this battery-powered framing nailer as powerful as a pneumatic one. That acts as the main driving force for flushing a complete array of framing nails up to 3-1⁄2 inches in LVL or engineered lumber.
Guesses, the reason behind this resemblance of design and internal functions is that both Dewalt and Bostitch are a branch of the Stanley Porter-Cable.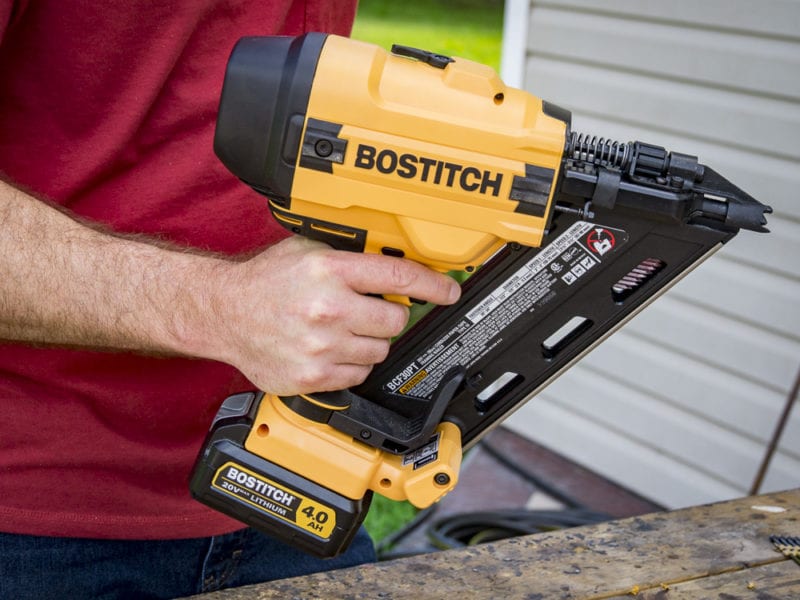 Ditch The Cost Of Fuel Cell
Besides the strong brand and powerful motor, this Bostitch cordless nailer will provide you with another benefit, and that is, you have no longer to spend your hard-earned money on purchasing fuel cells. Because of this, you can save up to $50–$60 a month compared to those who use gas framing nailers.
By using Bostitch BCF30PTM1, you can not only save fuel costs but also save precious 20 minutes of operational time compared to pneumatic users because you don't need to set up compressors or clean and oil your machine daily.
Ready To Shoot Pack
No need to install or fix any nut bolt, the BOSTITCH 20V MAX Framing Nailer Kit comes with a complete package that helps you to drive nails right after unpacking. The box contains a 4.0 Ah 20V MAX high-capacity Li-Ion rechargeable battery (BCF204) with a charger (BCB115) and a beautiful black carrying bag that makes it easy to carry the tools.
Suitable For Tight Corners
8.1 pounds (3.67 kg) of Bostitch battery framing nailer makes it a bit more robust than Paslode or Dewalt, but the body stature is comparatively small in size than the others. 13.37″ high, 4″ wide, and 14″ long BCF30PTM1 gives you superior maneuverability to drive nails smoothly in the tightest corners even between 16″ O.C.
Dual Actuation Mode
Tool-free selector knob positioned right above the trigger enables you to switch between sequential modes to contact actuation mode for precise and faster nailing.
Other Up-To-Date Facilities
Besides the above features, it comes with all other modern facilities like –
A tool-free depth adjustment system,
Stall release lever to reset the driver blade to clear the jam, easy-going rafter hook, dry-fire lockout for long-lasting performance,
Rear loading magazine for easy load of nails and
No-Mar pad to protect your working surface from denting or scratching.
Once you remove the no-mar pad of Bostitch BCF30PTM1, you could discover small tips that allow you to get the toe nailing right.
Although framing, decking, sheathing, and fencing works are worthwhile, you may have to face frequent jam issues, a little kick-to-recoil problem, and low or delay response from customer care, which is not acceptable from a brand like Bostitch.
Let's find more pros and cons of this excellent nail gun below.
Benefits Of Bostitch 20v Framing Nailer
The Bostitch BCF30PTM1 Cordless Nailer is a powerful and versatile tool that offers a range of benefits for professionals and DIY enthusiasts alike. Here are some of the key advantages of using this cordless nailer:
Cordless design allows for greater mobility and flexibility on job sites
The compact and lightweight design makes it easy to handle and maneuver
A rapid charge time of just 45 minutes ensures minimal downtime
Can drive up to 1200 nails per charge, increasing productivity
Superior depth control and precision placement ensure a professional finish
Tool-free jam release and depth adjustment simplify operation and maintenance
Compatible with a range of nail sizes and types for added versatility
Backed by a three-year limited warranty for peace of mind.
All these benefits make the Bostitch BCF30PTM1 Cordless Nailer an excellent addition to your toolkit.
Limitations Of BCF30PTM1
Though it is so convenient to use, it is a bit of heavy
Potential issues on jamming nails
The magazine made of hard plastic
Less potential to handle big projects
Solution: Some of the customers raise complaints that the tool is a bit heavyweight, but if you compare the power and weight ratio, you'll find it not substantial. Moreover, its compact size gives you complete freedom to move quickly.
Jamming nails is a common phenomenon in any framing or other nail guns. It is worth noting how your nailer treats this problem.
Bostitch 20v framing nailer has a built-in stall release lever to address this problem and help you to remove nails easily.
It has made its magazine with plastic instead of metal to reduce some weight, and it is normal that the cordless nailer still does not reach the pneumatic ones in terms of performance, which is right for BCF30PTM1 as well.
However, in pneumatics, you won't get cordless freedom. Therefore, every creation has a specific purpose that we must follow.
How to use Bostitch BCF30PTM1 Cordless Framing Nailer?
Here are the steps to use the Bostitch BCF30PTM1 Cordless Framing Nailer:
Prepare the nailer: Make sure the nailer is properly lubricated, and the battery is fully charged. Adjust the depth of the nailer using the tool-free depth adjustment feature.
Load the nails: Open the magazine and insert a strip of nails, making sure they are properly aligned and facing the right direction. Close the magazine and lock it in place.
Position the nailer: Hold the nailer firmly against the wood, making sure the nose is flush with the surface.
Fire the nailer: Pull the trigger to fire the nail. Repeat the process, making sure to keep the nailer in the correct position and angle.
Clear jams: If a nail gets stuck or the nailer jams, disconnect the battery and remove the magazine. Clear any debris or jammed nails, and reassemble the nailer.
Maintenance: After using the nailer, disconnect the battery and clean the nailer with a soft cloth. Lubricate the nailer according to the manufacturer's instructions.
It's important to read the user manual and follow all safety precautions before using the Bostitch BCF30PTM1 Cordless Framing Nailer.
How to load nails into the Bostitch BCF30PTM1 Cordless Framing Nailer?
To load nails into the Bostitch BCF30PTM1 Cordless Framing Nailer, follow these steps:
Open the magazine: Press the magazine release button and slide the magazine down to open it.
Insert the nails: Insert a strip of nails into the magazine, making sure they are properly aligned and facing the right direction. The tool accepts clipped and full round head nails in 30-degree paper tape collation.
Close the magazine: Push the magazine up until it clicks into place. Make sure the magazine is securely locked in place.
Check the nail level: Look through the nail window to check the nail level. If the nail level is low, reload the magazine with more nails.
It's important to read the user manual and follow all safety precautions before loading nails into the Bostitch BCF30PTM1 Cordless Framing Nailer.
Frequently Asked Questions (FAQ)
What Collated Nail Can I Use With This Bostitch Nailer? What Is the Distinction Between Wire Collation and Paper Collation?
Bostitch BCF30PTM1 enables 30-degree paper collated nails to be fastened. The wire nails are typically 28-degree, leaving more space between the nails, resulting in fewer pins per row. On the other side, paper nails are so close and carry more nails per line.
Can I Drive Nails Consistently With This Cordless Nailer?
Of course, yes! You can drive nails reliably with this Bostitch BSC30P1 by using two actuation modes, contact and sequential. However, you may have to encounter minimal delay between two firings like Dewalt.
Is It Good For Toenailing?
Yes! You can do toenails with it. The tips of the Bostitch framing nailer are very subtle in allowing you to toenails with ease.
What is the battery life of the Bostitch BCF30PTM1 Cordless Framing Nailer?
According to the manufacturer's website, the Bostitch BCF30PTM1 Cordless Framing Nailer has a long battery life and can drive up to 1200 nails per charge. However, the exact battery life may vary depending on factors such as the type of nails being used and the temperature of the work environment.
It is recommended to fully charge the battery before use and to have a spare battery on hand for extended use.
What is the voltage of the battery used in the Bostitch BCF30PTM1 Cordless Framing Nailer?
The Bostitch BCF30PTM1 Cordless Framing Nailer uses a 20-volt battery. The battery is a rechargeable lithium-ion battery that provides power to the nailer for driving nails. It is important to ensure that the battery is fully charged before using the nailer to maximize its performance.
What is the weight of the Bostitch BCF30PTM1 Cordless Framing Nailer?
The weight of the Bostitch BCF30PTM1 Cordless Framing Nailer is between 8.1 pounds. The weight of the nailer is an important factor to consider when using it for extended periods of time, as a lighter-weight nailer can reduce fatigue and strain on the user.
Final Observations On The Bostitch Cordless Framing Nailer BCF30PTM1
Bostitch is a pioneer of many new instruments and technology that began its voyage in 1896 in the nailer arena. There is, therefore, tends to zero possibility that they will present us with the worst instruments. The cordless framing nailer Bostitch BCF30PTM1 is no exception.
We find all the characteristics of a battery power framing nailer in it, and the brushless, dual-speed motor is powerful enough to give you professional results.
Yes, there are some drawbacks, but I think those are not deal-breaking, and you might choose one for your toolbox.
Recent Posts