The Bostitch F21PL is my go-to tool for creating frames and other woodworking projects. I've been using this nail gun for at least five years with no big issues.
I doubt you'll find a competitor to the Bostitch F21PL Round Head 21 degree framing nailer on the market. The Boston Wire Stitch Corporation, also known as BOSTITCH, made a long trip from 1896 to now. Throughout this tour, BOSTITCH draws a lot of attention for its high-quality goods, originality, and excellent customer service. I'm honored to be able to introduce a framing nailer designed by such a reputable company.
In this piece, I'll go over every detail of the Bostitch F21Pl framing nailer so you can learn its benefits and cons, why it's vital equipment for framing work, and how to get the best results from it. Therefore, without further ado, let's go to the end.
Pros And Cons of Bostitch F21PL framing nailer
Advantages Of Using Bostitch F21PL Nailer
Well-built and powerful enough to handle the toughest job on the site.
The positive placement feature is great for nailing joist hangers
Aggressive framing tip allows easy toenailing
Tool-less adjustable depth features
Tool-less jam-clearing features
Have the ability to shoot true 16D common nails
Super handy, operable in 16" O.C.
The bottom loading system makes it more user-friendly
Limitations Of Bostitch F21PL
It has no dry fire lockout system
Yes, there is indeed no dry fire lockout system in this nailer. However, once you become habituated, saving your nail gun from dry-firing will not be an issue. You can measure the endpoint of nail strips easily. Moreover, the magazine is a bit slanted in design, which gives you a clear view of the nail's area.
Switching between firing modes is a bit time-consuming
Though it takes some time to switch between sequential and bump firing modes, it is better to use single actuation if you think about safety. If you are not expert enough, then you do not need to frequently change between sequential and bump, too.
Little bulkier and heavier to work with all-day
Despite many complaints about its weight, its entire dimensions are 14.25 by 20.25 inches, and it weighs only 8.1 pounds. This indicates that it can easily travel between 16 inches O.C. and that its body bulk is insufficient when compared to its driving power and usability. As a result, it is the best-in-class framing nailer with a great power-to-weight ratio.
Specification Of Bostitch F21PL Framing Nailer
Power Source: Pneumatic
Operating pressure: 80 – 120 PSI
Magazine Capacity: 60 pcs
Magazine Angle: 21°
Fastener Range: 1½ – 3½ inches
Weight: 8.1 lbs. / 3.67 Kilos
Tool Height: 14.25 in
Tool Length: 20.25 in
Warranty: 1-7 years limited
Advanced Features Of BOSTITCH F21PL Framing Nailer
Two-in-One Nailer
Its two-in-one feature comes first in our mind if we compare the BOSTITCH with its other heavyweight rivals. Yes, Guys! BOSTITCH F21PL has a built-in unique interchangeable nosepiece that allows you to switch between the framing gun option to the sink joist holder nailer. This positive placement feature is a plus for those who need to handle decking works regularly.
So, you can perform the usual framing and metal connecting work with the help of this device without an issue.
Quality Build
Nail Gun is a critical tool in the sense that inappropriate handling will lead to serious incidents. Therefore, building quality is an essential feature of every framing nailer, and Bostitch correctly addresses it while producing Bostitch f21pl round head. They use magnesium as a structural material, which is a heavy-duty, but lightweight alloy used extensively in manufacturing sectors nowadays.
Affirmatively, magnesium is sturdy enough to withstand the struggles of busy work locations in your daily job and last longer. Accidentally falling from your hand one or two times would not be enough to sever the Bostitch F21PL.
Powerful
Driving energy is not a big issue for framing works of small-scale projects. However, if you have to do moderate or high-profile tasks like continuously framing a 4×4 truss or decking, then clearly very often, you need to drive nails deep into the engineered lumber, which requires significant energy. If you have a Bostitch framing nailer in your hand, there is nothing to worry about this matter as it combines energy and efficiency in a proper manner.
Bostitch F21PL offers you 1050 in-pound power to drive every nail precisely without putting pressure on your compressor. You can operate this device with 80 to 120 psi pressure. So, an air compressor that can generate this much pressure is enough to run it smoothly. You can do sheathing, siding, or strapping in any thickness of wood, or even in a thin sheet easily with this tool.
Comfortable Grip and user-friendly
F21PL Bostitch nail gun is designed to guarantee maximum convenience for its user. Yep! It comes with built-in rubber skid pads that protect your hand from touching the weapon during nailing and ensure a firm grip.
Weight is a significant consideration for any framing gun as contractors sometimes spend the whole day on it. Thanks to Bostitch, they present us with a framing nailer that is not so heavy or large that it creates muscle cramps and is not so light to decay rapidly. 8.1 pounds is the ideal match between energy and mass.
Bostitch F21PL comes with a depth control push button. With this device, you can change the depth of the drive, merely by pushing a button. It enables you to nail distinct kinds and thicknesses of materials quickly and continuously without any break time.
Furthermore, the gun connects with the air compressor at the bottom instead of the rear, which means nothing comes between you and your nail gun during nailing. Thus, you can use this device freely like a cordless nailer.
21 degree Round Head Nails
Bostitch F21PL design for shooting 21-degree round head plastic collated nails that are most widely used and available in the market. Round-head nails are also engineered to provide more excellent structural stability than clipped head nails and match the building code in the maximum number of states of America.
HurriQuake Nails
If you want to build a house in a hurricane-prone area, it is highly recommended to use HurriQuake nails. However, every nailer in the market cannot drive HurriQuake nails except Bostitch.
Anti-Jam Mechanism
Getting jammed during driving nails kills significant work time. Thanks to the anti-jam mechanism of F21PL, you can clear the jam quickly within seconds. In the case of nail guns not shooting nails, you can read our blog on this too.
Adjustable Rafter Hook
Often on the job site, you need to keep your two hands-free. A Rafter hook allows you to hang your nailer with a joist to free up your hand. F21PL BOSTITCH is equipped with an adjustable rafter hook, which gives you the above facilities too.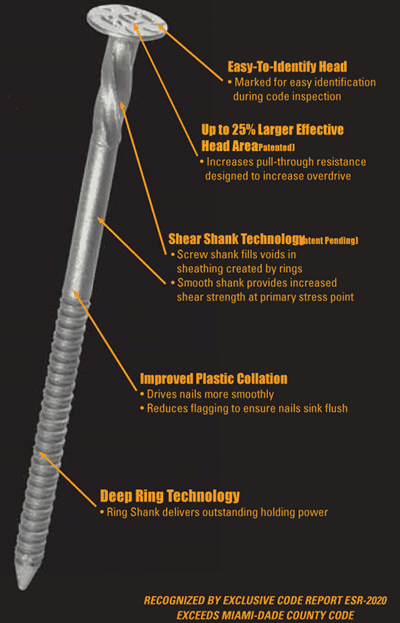 Scope Of Using The F21PL Bostitch Framing Nailer
Framing
Sheathing
Siding
Installing metal connectors
Trusses
Bridging
Wood to masonry
Engineered lumber
Strapping
Fencing
Exterior decks
Comparison With Other Nailers
Bostitch F21PL vs Freeman PFR2190
Both the Freeman and Bostitch framing nailers are made of the same material magnesium, which is lightweight but heavy-duty. Both handles are ergonomically secure and ready to serve high-volume works. Except for the two-in-one mode, the features that you find in Bostitch F21PL are also found in Freeman PFR2190.
Bostitch comes with an easily interchangeable nosepiece that enables you to switch between the framing function and the metal connector. Bostitch also encourages the use of HurriQuake nails, which are not permitted by Freeman PFR2190. From the above point of view, we can say that the Bostitch F21PL is more user-friendly than Freeman PFR2190
Is The Product Worth Your Money?
A large number of positive customer reviews on this nailer and 7-years of the manufacturer guarantee to make it a popular device both for contractors and DIYers. This also intends to accommodate a heavy workload and last longer. We hope this feature is certainly worth your investment to complete your framing and other woodworking jobs.
How to use a Bostitch F21PL Efficiently: Expert Tips
The Bostitch F21Pl framing nailer is a versatile and powerful tool, designed to help you tackle any framing project with ease. To use it properly, you must first ensure that the air compressor is set to the recommended pressure, which should be between 70-120 PSI.
Next, load the magazine with the appropriate nails, and adjust the depth control to ensure accurate and consistent nail placement.
When you're ready to fire, simply aim the nailer at the desired spot and position it at a 90-degree angle to the surface that you want to nail. Then pull the trigger to drive the nail into place. The tool will automatically drive the nail into the wood, leaving you with a strong and reliable connection.
It is important to always wear appropriate safety equipment, such as goggles and ear protection, and to follow all manufacturer instructions to ensure the safe and effective use of the tool.
With proper use and maintenance, the Bostitch F21Pl will be a valuable addition to your toolbox for years to come.
Frequently Asked Questions (FAQ)
What nail kind and size can I use with this Bostitch F21PL?
For framing and other wood construction purposes, you can use 21 degree round head plastic collated nails of size 2 to 3½ inches. You can also apply 1½ to 2½ inch 21-degree metal connector nails with this tool. For F21PL, you can choose Bostitch 21 degree plastic collated framing nails to shoot. You will be happy to know that the Bostitch is a suggested instrument for driving disaster-resistant nails – HurriQuake.
How many metal connecting nails can the magazine hold?
The magazine of the Bostitch F21PL can hold 60 pcs of framing and metal connecting nails. As a result, you can be enjoying uninterrupted nailing as you do not need to frequently change nail strips.
What Is The Power Source Of This Nail Gun?
Bostitch F21PL is a pneumatically powered nail gun that needs an air compressor to run. It, therefore, helps you to drive nails uninterruptedly and saves you the cost of purchasing batteries or fuel cells. However, if you have no air compressor up front, you will need to invest in it.
round head vs clipped head – Which One Is Better?
Clipped head nails are trimmed at one side and have less holding capacity than round head nails. Clipped head nails are also challenging to find on the market. So, most construction codes recommended round head nails.
Is it possible to use 22-degree nails in this Bostitch framing nailer?
Yes! You can use 21 to 22-degree 6D to 16D nails with this device without an issue.
Video Review: How To Change Nose Piece To Attach Metal Connector
Endnotes On BOSTITCH F21PL
After carefully considering our BOSTITCH F21PL Review, we have identified a couple of drawbacks, including the absence of a dry fire lockout mechanism and a conventional trigger shift switch. However, these downsides are relatively minor compared to the numerous positive features this tool offers.
One of the most impressive features of the Bostitch framing nailer is its interchangeable nosepiece, which allows users to switch between the metal connector and framing functions effortlessly. Additionally, the device has a simple push-button that controls depth, making it highly versatile and suitable for both professional contractors and DIY enthusiasts.
Furthermore, the Bostitch framing nailer f21pl comes with an extended seven-year warranty for both the U.S. and Canadian markets, providing users with added peace of mind. With its exceptional features and extended warranty, this tool is an excellent option for completing various projects with ease.
Related Posts:
Tools Mirror is reader-supported. When you shop through retailer links on our site, we may earn an affiliate commission at no cost to you.
Recent Posts