Are you thinking of switch-over from a traditional hammer to a modern nail gun, but are afraid to invest in a costly one? Don't worry, to shade your anxiety Valu-Air Nailer brought to you the 9021C 21 degree full round head model, which is one of the best cheap framing nailers on the market.
Despite offering a lower price – charge a fraction of the other high-end nail guns – has not compromised the quality. Valu-Air 9021C comes with an improved design capable of handling a wide range of applications like framing walls, floors, and roofs, sub-flooring, wall sheathing, or siding. You can drive plastic or wire collated 21 degree full round head nails up to 3-1/2 inches with it.
Let's find more exciting features of the Valu-Air 9021C framing nailer to know how can we make our task more comfortable with it.
Specification Of Valu-Air 9021C
Power Source: Air-powered
Magazine Angle: 21°
Fastener Range: 2 to 3½ inch
Weight: 8.8 lbs.
Dimension: 15.2 x 19.7 x 4.2 inches
Key Features Of Valu-AIr 9021C
21° full head framing nailer
Selective single or bump fire
Solid rear-loading aluminum magazine
Tool-less depth adjustment
Single piece heat-treated drive guide
Detailed Features Of Valu-Air Nailer 9021C
Improved Design And Durable
The body of the Valu-Air nailer is produced with die-cast aluminum making it robust and affordable for framing, decking, and other general fastening purposes. Not only does aluminum housing make it durable, but it also makes it lighter for the whole day's job. It has a single piece of heat-treated drive guide that ensures a longer life for wearable inner components.
Fingertip Depth Adjustment
You can now get a more precise countersink and flush nailing during driving nails to make 2×4 studs. Yes! The Valu-Air 9021C's fingertip depth adjustment system facilitates you to adjust the depth of drive on the go and shoot nails in a wide range of materials.
There is, however, confusion among users about this function. They found no button to adjust the drive depth. Instead, they discovered Allen Keys and were wrenched in the box. For your information, there is a knob connected to the spring on top of the nosepiece. You can rotate and adjust the depth of drive with it.
Easy-To-Use And Comfortable Grip
The manufacturer missed including an instruction manual written in English. However, it is so simple to use that you never feel the need for that. Valu-Air Nailer is a very user-friendly pneumatic nail gun. Just loaded the magazine with recommended nails, put some oil in the air connector, connect the compressor hose and that's it. Shooting is fun with it and can be dangerous too (if you failed to handle it properly). Haha!
Oh! Another point. The handle of this nailer is covered with a non-slip rubber grip which ensures a firm gripping during operation.
Rear Loading Magazine
The Valu-Air 9021C comes with a sturdy rear-loading aluminum magazine. It is therefore simple to fill with fresh nail strips. A sturdy performance is also provided by the aluminum construction.
Dual Firing Mode
When you're handling any professional construction projects, you'll need both precision and speed from a nail gun. As support for you, it comes with an optional bump fire trigger to change into a continuous firing mode. As a result, you can drive nails both in single actuation and bump fire mode according to your job site requirement.
However, bear in mind that if you're a beginner framer, you shouldn't attempt to employ bump fire as it could harm your body or the materials you're fastening.
Wide Range Of Applications
This improved design framing nailer allows you to work in many applications from home renovation to furniture assembling. It also helps you to do roofing and flooring, framing walls, wall sheathing/siding, and subflooring.
Hard Shell Carrying Case
Valu-Air comes with a handy carrying case made of hard plastic that helps to store and transport your device securely when not in use. You can purchase a carrying case individually for any other instrument, but it is an additional feature for such an affordable nailer.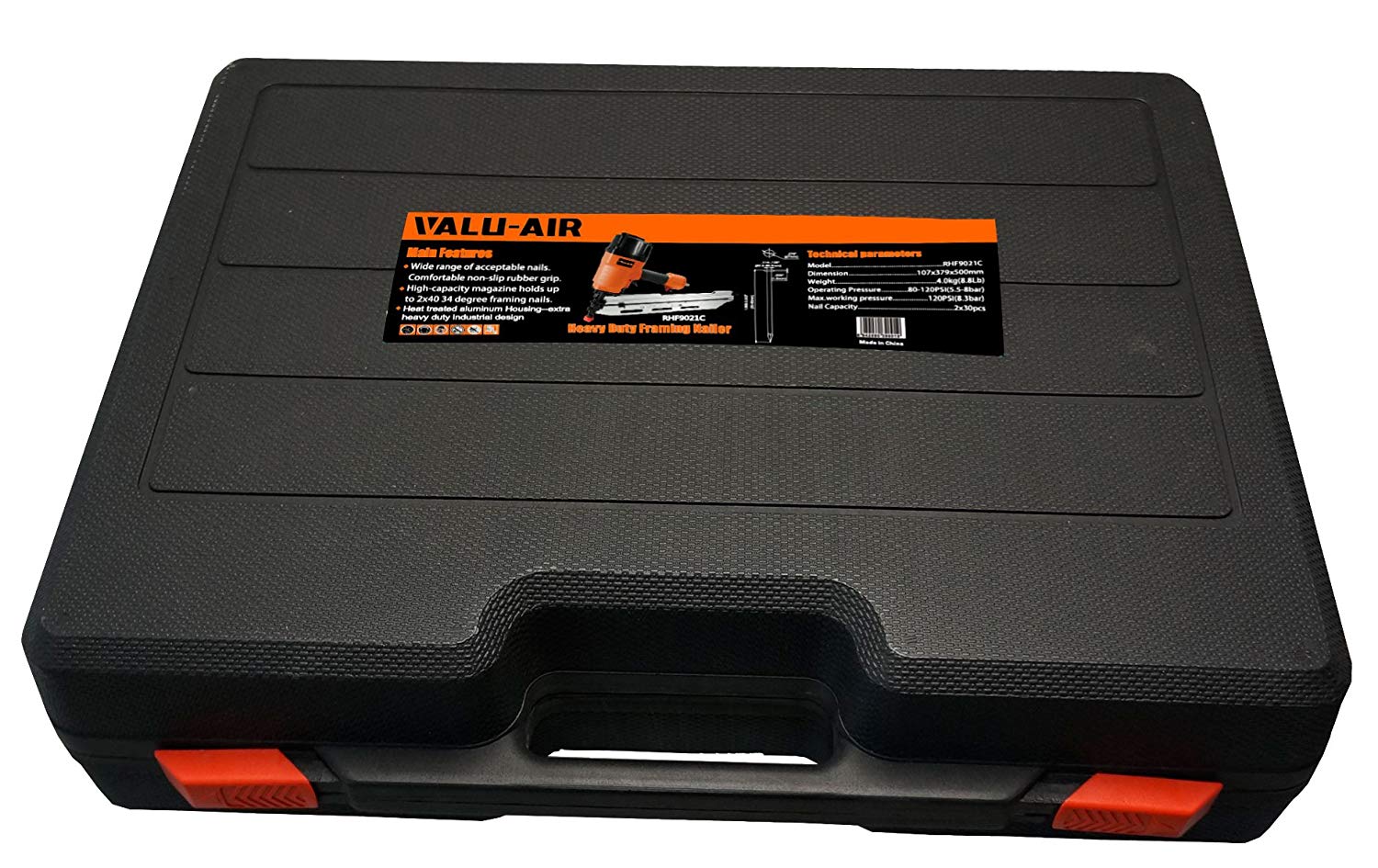 Included Component
The carry case of Valu-Air contains a Framing Nailer, a Bump Trigger, Allen keys and Wrench, and Oil. As a result, you will not need to look anything further to work with this nail gun.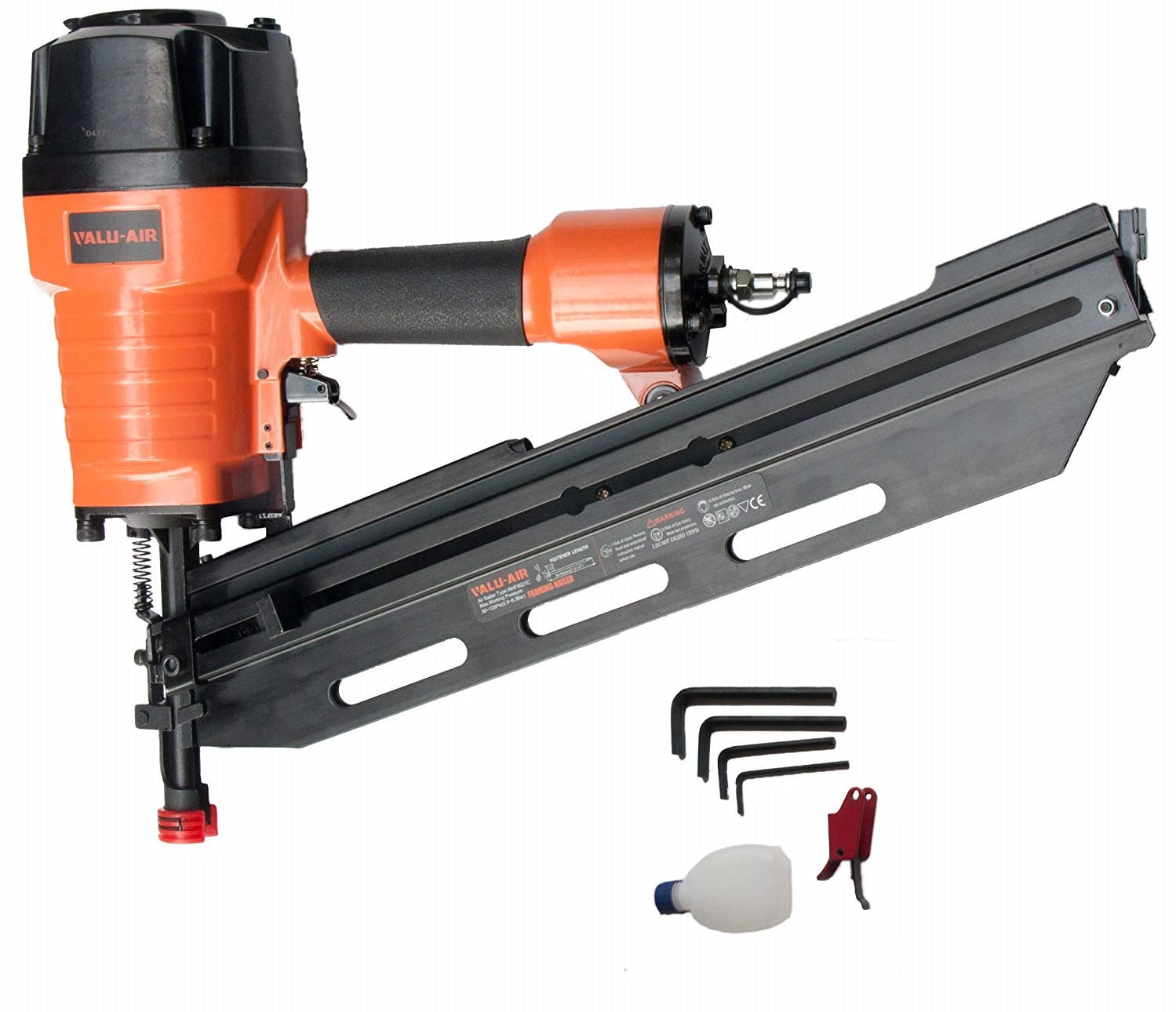 Key Differences With Its Competitors
There is no significant difference in appearance between Valu-Air Nailer and other similar products. However, the engine of value air is a bit different. We found a moving piston engine instead of Paslode's moving cylinder engine.
Advantages Of Using The Valu-Air Nailer 9021C
Great nail gun at an affordable price
Operational for both plastic and wire-collated nails
It works on a wide range of materials
Easy to use lightweight die-cast aluminum body
A non-slip grip ensures you hold the device with max comfort
Limitations Of 9021C Valu-Air With Solution
Could not drive 3½-inch nails all time as said in the ad
Jamming occasionally during the firing
Sometimes nail gun leaks air
Probable Solutions to the above cons:
If you found that your nailer could not flush nails of 3-and-a-half-inch size properly, it might be for air compressor pressure. Check that your nailer is getting enough air pressure during nailing or not. Usually, an air nailer required 80 to 120 psi to sink correctly.
If you found any jamming problems, you can go through the instruction manual or visit our blog on how to unjam a nail gun. It's not a big deal, and you can solve it quickly with a little know-how.
In case you found the nail gun leaks air, then check the head settings and gaskets. Maybe the gasket is torn and causes leaks. Replace it and reset the head to get a blameless performance.
Frequently Asked Questions (FAQ)
Q1.

What sizes of nails can be shot with the Valu-Air nail gun?
You can drive 21-degree full round-head nails, 2 inches to 3-1/2 inch size, with 0.113 inches to 0.148 inches shank diameter (plastic or wire collated).
Q2. What size compressor would be best for Valu-Air to efficiently drive nails?
To run the Valu-Air framing nailer smoothly, any compressor with a minimum of 1.5 hp power and 3-gallon capacity with 2.4 SCFM would suffice. To know more about the air compressor size you may visit this page.
Q3. Is there a bump shooting mode in Valu-Air?
Inside the carrying case, there is an extra trigger (red color) for bump firing mode. Simply substitute the black single-fire button with the red bump-fire button, and you're nice to go.
Final Thoughts
Valu-Air Nailer 9021C 21 degree full round head framing nailer is a beautiful device that capable of serving everything from framing walls to the siding. Even you can use it for your sub-flooring or roofing jobs. Thus it can become a superb choice for users looking for lightweight and comfortable grip tools to tackle their projects all around the house.
Related Reviews
Recent Posts