Are you tired of tripping over cords and getting tangled up in wires while working on your framing projects? Look no further than the Paslode 905600 Cordless XP Framing Nailer. This innovative tool allows you to leave cords behind, giving you the freedom and flexibility to work anywhere without being tethered to an electrical outlet.
With its lithium-ion battery, the Paslode 905600 can drive up to 9,000 nails per charge, making it a reliable and efficient addition to your arsenal of tools. Its lightweight design also reduces fatigue, allowing you to work longer without feeling weighed down.
The Paslode 905600 Cordless XP Framing Nailer also includes a variety of features to ensure accurate and consistent nail placement, such as a depth-of-drive adjustment, an angled magazine for easy access in tight spaces, and a no-mar tip to protect your work surface.
So, say goodbye to the hassle of cords and wires and hello to the convenience of the Paslode Cordless framing nailer.
Paslode 905600 Cordless XP Framing Nailer
Paslode is a product of the Illinois Tool Works (ITW) division, founded 100 years ago by Chicago financier Byron Smith. From the start, it is one of the world's leading specialist manufacturers of advanced industrial machinery, consumables, and related services.
As a result of its creative fastening solutions and services, skilled contractors, remodelers, and traders relied on the Paslode 905600 cordless XP framing nailer to improve on-the-job performance, customer satisfaction, and profit growth.
Paslode is also a pioneer in the field of gas-powered cordless tool technology and has been providing a reliable, high-quality fastening solution since 1986.
Now, we're going to review the Paslode 905600 cordless nailer model, which is the updated version of the Paslode 902600. It develops aim to give you the same performance-proven, non-stop nailing all day long.
What Does Paslode Mean?
Do you know the undertone of the word 'PASLODE?' I'm learning it just now. If you break the term 'PASLODE,' you'll find- PA for packing, S for shipping, LO for loading, and DE for devices. It's interesting, Nah!
Paslode is a tool company that was founded in 1935. It was then acquired by Illinois Tool Works in 1986. They invented many firsts in the construction industry, such as the Stapling Hammer (1940), the world's first Pneumatic Nailer (1959), and the Paslode Impulse Framing Nailer (1986), also known as a gas or cordless nail gun.
The Specifications Of Paslode Cordless Nail Gun
Power Source: Battery and gas cartridge
Weight: 7.2 lbs.
Dimension (H x L x W): 14.5″ x 12″ x 4″
Speed:2-3 nails per second
Nail Capacity: 1 Strip
Nail Range: 2″ – 3¼"; 0.113 – 0.131″ in shank diameters
Nail Angle: 30° Paper Collated
Nail Type: Paslode Roundrive Offset Full Head (GalvGuard or Brite)
Fuel Type: All-Season Formula framing fuel
Fuel Cell Life: max. 1,200 nails per canister
Battery Life: max. 9,000 nails per charge
Warranty: 5 Years limited with 2 years service promise
Key Benefits Of Paslode 905600
Increased productivity, 15% more power to drive nail flush in LVL, and harder woods
Work in all seasons, even at 14°F down the temperature
Lightweight, 7.2 pounds only
Superior control and comfort to work over the head or tight corners
50% longer battery life, can drive 9000 nails per charge
Easy to load fuel cell, can drive 1200 nails
Less chance of getting jammed or misfiring
Paslode 905600 Cordless XP Framing Nailer
Increased Productivity - Drives nails flush in LVL and other hardwoods that remodelers encounter.
All Season Formula - Works in temperatures down to 14°F.
Lightweight - 7.2lbs. for better comfort and control while working overhead or in tight spaces.
Guaranteed Durability 50% Longer Run-time with 7V Li-ion Battery for up to 9,000 nails per charge.
Compact Design: Fits between 16" o.c. studs, joists and roof trusses.
Before going to the Paslode CF325XP cordless framing nailer's detailed features, I like to discover how a Paslode nail gun works.
How Do Paslode Nailers Work?
Before going to the working procedures let's discuss some important aspects of the Paslode nail gun.
The most important thing about the Paslode Cordless Framing Nailer is it eliminates the need to use a bulky air compressor and hoses. They said first, you have the right to enjoy complete freedom during driving nails in remote corners. 
To ensure freedom, it adds the fuel cell and the battery as an alternative to the air compressor. The fuel cell is a small metal container packed with flammable compressed gases. When you press the trigger to drive nails, the compressed gas is sprayed into the ignition chamber.
Then a spark plug connected to a battery creates a spark and combusts the gas inside the chamber. That creates a colossal shove and drives nails. The operating theory of this gas-powered Paslode Framing Nail Gun resembles a two-stroke car engine.
The combustion chamber of the Paslode 905600 cordless framing nailer is divided into two parts and is usually open to the atmosphere.
We can breakdown the whole process of firing into the following few steps-
Push the contact tip onto the workpiece. When we pushed the tip, the lower piston chamber is pushed into the upper part and seal the space.
Simultaneously, a small amount of fuel jetted into the chamber from the gas canister or fuel cell.
As the trigger is pulled, a spark plug powered by a battery ignites the fuel charge, creates combustion, which pushes the piston and the attached drive pin to the bottom of the chamber, and drives the nail.
A limited amount of combustion gas is stored temporarily in the side chamber and is used to thrust the piston back to its previous place after the nail has been triggered.
After raising the contact tip from the wood piece, the combustion chamber opens, and the exhaust gas is blown away by a small fan.
I hope it quenches your thirst for learning about the Paslode working principle a bit. Now, let's move forward to know what individuals think about the Paslode CF325XP cordless framing nailer.
Features Of Paslode 905600 Cordless XP Framing Nailer
15% Added Firing Power
One of the biggest advantages of using a cordless framing nailer is that it doesn't need an air compressor or hose to work. We do note, however, that there is a lack of power among them. But again, Framers! We want to reassure you that in the case of Paslode 905600, this will not be the case.
Paslode 905600 offers you 15 percent more power than its competitors. It means that you will get increased productivity with fewer or no standing nails and better performance while nailing in any LVL or hardwood.
Even you can compare its firing force with any pneumatic nailer.
Perform In All-Weather Conditions
When the temperature goes down to a minus point, it becomes challenging to shoot nails with most of the framing nailers regardless of corded or cordless. Yes! If you check your compressor or hoses at a temperature of -10°C, you may find frosting effects on them.
However, Paslode cordless framing nailer is designed in such a way that it offers you to use it in all seasons, even as low temperatures as 14°F. It becomes possible due to its advanced all-season formula Paslode gas cartridge. 
At this temperature, pneumatic framing nailers and their associated compressors are also not working properly.
Lightweight And Ergonomics
Probably Paslode 905600 is one of the lightest cordless framing nailers in the market. Yep! With 7.2 pounds of weight, you feel very comfortable while nailing especially in remote corners or over the head or attach siding from the ladder.
Apart from its petite weight, it comes with an ergonomically designed handle with a smooth grip to guarantee maximum equilibrium during the job. The CF325XP Cordless Framing Nailer magazine is aligned at a 30-degree angle with the driver blade, making it more compact to fit easily in between 16" OC studs or joist and roof trusses.
So, like portability, Paslode is the clear winner in ergonomics and compactness.
Enhanced Battery Power
Do you remember how many nails drive a Paslode 902600 nailer? Ok! No need to recall. We are now talking about the advanced model of Paslode. In sooth, Paslode 905600 7.4-volt lithium-ion battery can drive 9000 nails per charge, which is a sharp 50% higher than its previous versions.
You could also charge it fully within an hour and a half and allow you to shoot 200 nails after 2 minutes of charging. Very much pleasing, ha!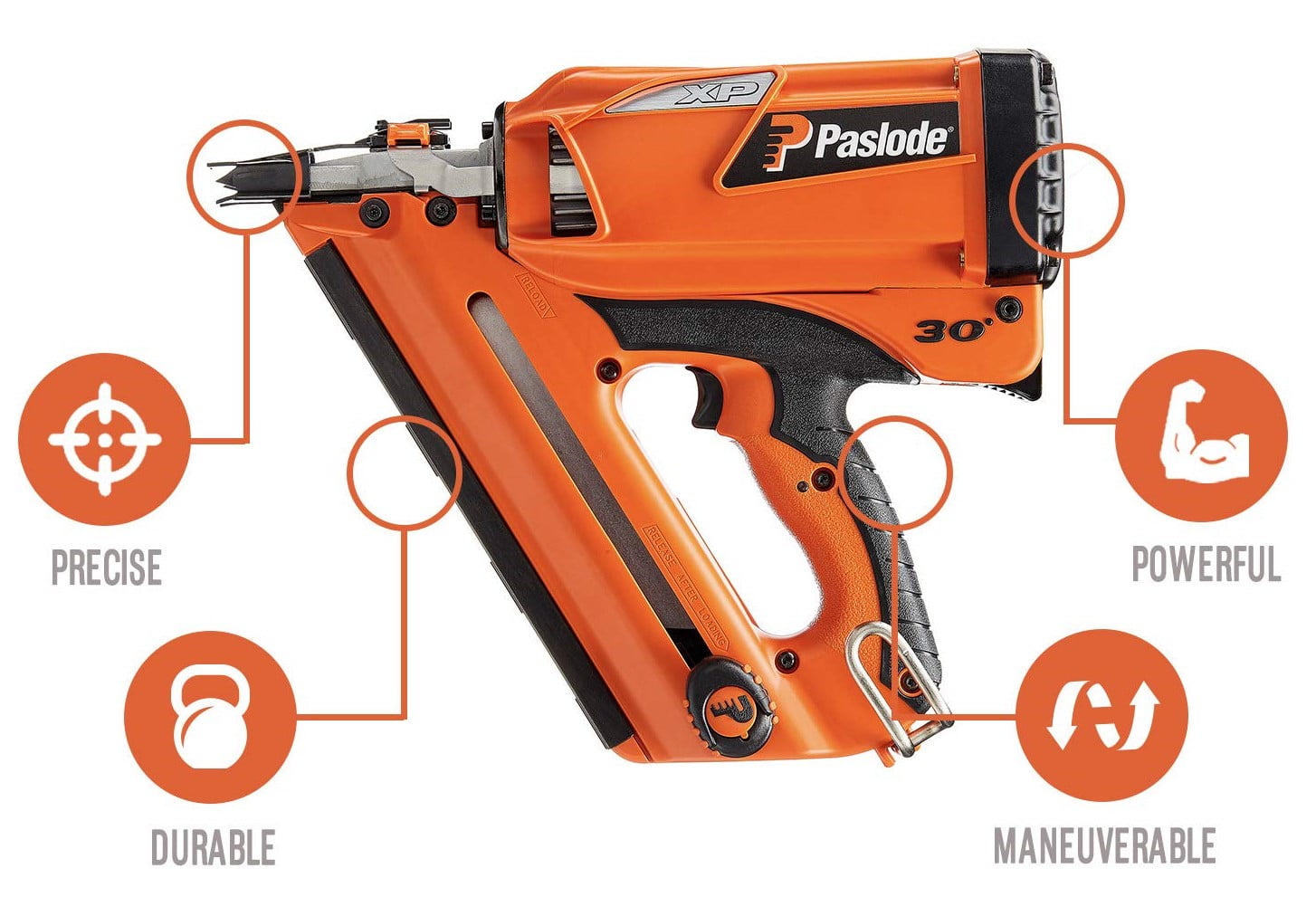 Recoil Control And Reaction Time
Precision nailing depends mostly on the recoil control or the kickback or the backward movement of the nail gun. Paslode cordless nailer owns this correctly and designs all its devices accordingly.
With this Paslode cordless nail gun, you can shoot 2-3 nails in a second. It's become possible due to short reaction time or zero delay in firing, making it comparable to any pneumatic nail gun.
Clear Nose Points
The Nosepiece of the Paslode Cordless XP Framing Nailer is easy to see when nailing, which is a major plus for you. As a result, you will get the best performances under challenging angles while avoiding tumbles. You also need to apply much less pressure to the nailer in potentially tricky positions.
Excellent Tool-Free Depth Adjustment
It comes with a thumbwheel for easy depth adjustment. As a result, you can set your depth of drive according to the hardness of the materials you are going to fasten. The best part is that you can do it without using any tools or Allen key like others.
Toenailing
The aggressive teeth of the nail gun are designed to grab the wood at an angle firmly. Therefore, toenailing with Paslode 905600 is a breeze.
Magazine Capacity and Built
Magazine of the Paslode cordless framing nailer CF325XP is made of stainless steel which means you do not need tense about its durability like other cordless as well as it will battle against jam problems. It will also allow you to load the nail strip quickly and change outs.
However, we are unable to give you good news about the capacity of the magazine. Like the other cordless nail guns, it's also designed to hold only one strip at a time.
Power Saving Mode
The battery standby position of this super cordless nailer allows you to retain power. If you left it unemployed for a while, it would automatically go into the standby position. The power-saving mode of the Paslode 905600 not only saves your operating costs but also helps to conserve the environment.
Exclusive Service Promises
The service promises to play a vital role when it comes to purchasing a power tool. Keep this in mind, Paslode framer nail gun come up with an offer of a 2-year exclusive service commitment that guarantees free repair without issue.
Benefits Of Paslode 905600 Nailer
Beautiful and Ergonomically designed
Compact and Lightweight
High-speed and accurate fastening
Longer battery life with a quick charging option
Strong enough to handle older hardwoods
Easy and quick nail loading
Excellent toenailing
Outstanding recoil control
Limitations Of Paslode 905600
Cons: Lacking a bump fire mode and adjustable exhaust
Solution: With the Paslode cordless framing nailer, you can shoot 2-3 nails per second, which is a terrific speed for any nailer. So, from my point of view, there is no need for a bump fire mode.
The adjustable exhaust is usually required for a pneumatic nailer because it uses high-pressure air continuously. It will not create any significant difference in the cordless option if there is no adjustable exhaust.
However, if there is a fan assembly in Paslode, it could blow away the smelly gases.
Cons: More expensive than premium pneumatics
Solution: If you're looking for a quality product, you have to pay for it. Paslode cordless XP framing nailer does what they say.
If you compare it to its competitors, it may seem high, but if you compare its price to its quality, it doesn't seem dear-bought.
Cons: Purchasing a gas cartridge is costly
Solution: Yes, Indeed! Changing gas cartridges on a regular basis will increase the cost of operation. However, with a single Paslode gas cartridge, you can drive up to 1,200 nails, which is enough to complete a small project.
On top of that, if you think about convenience, it will no longer appear to be substantial.
Cons: Some users dislike the smell of exhaust gas
Solution: Yeah! True again! For those who have a sensitivity to smell, this stinky gas is disgusting. But if you already decided to go with the Paslode 905600 because of its advantages, at the same time you want to avoid the bad odor, you can use a gas mask while working.
Cons: Can hold only one stick of nails
Solution: Despite the fact that the Paslode CF325XP magazine is only designed to hold one stick of nails, the loading process is extremely simple. As a consequence, you can save time by ensuring continuous shooting.
Frequently Asked Questions For Paslode 905600 Cordless XP Framing Nailer
Is it comes with any hard carry case? If so, what else it includes?
​Yes! It comes with a nice hard plastic-made case to protect your weapons as well as assist you to carry safely. It contains the following parts-
Clear Safety Glasses
Battery Charger
7.4V Li-ion Rechargeable Battery
Hex Key
Owner's Manual
Tool Reference Guide
Do you have to use oil in the Paslode cordless nailer every day?
​The Paslode Cordless nailer is pre-lubricated from the factory. It is therefore not necessary to oil it during regular use. However, it's better to check the tools when you first open the box, as there's a chance that the oil could get out of the box during transport. It would help if you oiled it properly in such a case and start working after finishing every cleaning process.
Could I use any type of oil in the Paslode Cordless Nailer after it has been cleaned up?
​No! It will not be wise to use any kind of oil in your lovely Paslode 905600. If you pour oil, chances are there the build-up of combustion residue rapidly, which leads to poor performance and needs more frequent cleaning.
So, you should use only the Paslode Cordless Tool Lubricating Oil (part number 401482S) for better efficacy. 
How To Load And Use A Paslode CF325 Lithium-Ion Cordless Framing Nailer | Video
Final Thoughts
If you're going through the word-to-word of this Paslode 905600 Cordless XP Framing Nailer Review, you already know all the ins and outs about it. At this endpoint, we're just saying that Paslode 905600 is the best cordless nailer you can trust. It does indeed have some drawbacks, but those are very negligible given their advantages. The best part of it is that it can drive a nail flush like a pneumatic framing nailer.
So, if you think about cordless, you may go with it.
If you want to check out more such cordless products, you may visit our reviews and buying guide page on the 10 best cordless nailers.
Related Reviews
Tools Mirror is reader-supported. When you shop through retailer links on our site, we may earn an affiliate commission at no cost to you.
Recent Posts