Disclaimer: Hitachi's current name is Metabo HPT. It's the same tool with a new name. We're reviewing the Metabo HPT NT65MA4 Finish Nailer instead of the Hitachi NT65MA4 Finish Nailer for your convenience.
In the world of woodworking, efficiency is key. As any seasoned woodworker knows, time is a precious commodity, and every second spent fiddling with tools or struggling with equipment is a second wasted. That's where the Metabo HPT NT65MA4 Finish Nailer comes in.
This powerful and versatile tool is designed to make woodworking faster, easier, and more precise than ever before. Whether you're working on a DIY project at home or tackling a professional job in a workshop, the Metabo NT65MA4 Nailer is an essential tool that can help you improve your efficiency and get the job done right the first time.
In this blog post, we'll take a closer look at the Metabo HPT NT65MA4 15 Gauge Angled Finish Nailer and explore some of the ways it can help you improve your woodworking efficiency. We'll explore its key features and benefits, including its lightweight design, powerful performance, and precision accuracy.
We'll also examine some real-world examples of how woodworkers have used this tool to expedite their finished woodworking job.
So if you're ready to take your finished woodworking to the next level, let's keep reading this article.
How Metabo 15 Gauge Finish Nailer Can Improve Your Efficiency?
The Metabo 15 Gauge Finish Nailer is a reliable tool that can significantly improve your efficiency when working on finishing projects. With its powerful motor, precision firing, and adjustable depth control, this nailer ensures that your nails are inserted consistently and accurately every time. Its ergonomic design reduces hand fatigue and provides a comfortable grip, allowing you to work for longer periods without feeling discomfort.
Additionally, its quick-release magazine makes reloading nails easy and hassle-free. With the Metabo 15 Gauge Finish Nailer, you can complete your finishing projects quickly and efficiently, minimizing downtime and maximizing productivity.
This tool is an ideal choice for both professional contractors and DIY enthusiasts.
Metabo HPT NT65MA4 Finish Nailer | An Overview
The Metabo HPT NT65MA4 finishing nailer comes in handy when you need to mount crown and base moldings, and install window and door casings, chair rails, kitchen cabinets, exterior trim, staircases, and more. It'll also actually be useful when you need more gripping strength but don't want to use bigger nails (like 3 inches) to avoid splitting the surfaces.
The Metabo NT65MA4 15-Gauge Angled Finish Nailer comes with a built-in integrated air duster, promising to be the best finish nailer on the market. You can keep your surroundings clean by using that. As a result, you'll be able to start your nail day with a fresh look.
It's a portable pneumatic finish nailer that only weighs 4.2 pounds. It will feel insignificant in your hand and will aid in better maneuverability, especially when working in tight spaces. Furthermore, it's not only light, but it's also tough. Aluminum was used to construct the body.
It also has several advanced features, such as tool-free depth adjustment and a selector switch for smoothly changing firing modes. Let's look at some more features in the Hitachi NT65MA4 reviews below.
Metabo HPT Finish Nailer Kit, (NT65MA4)
FASTENERS: 15-gauge nails from 1-1/4-in Up to 2-1/2-in In length
APPLICATIONS: Ideal for installing crown and base moldings, window and door casings, chair rails, cabinets, exterior trim, and staircases
TRIGGER: Easily switch from sequential to contact with a simple flip of the switch
DEPTH ADJUSTMENT: Tool-less
LIGHTWEIGHT: Only 4.2 lbs.
EXHAUST PORT: 360-Degree fully adjustable
AIR DUSTER: Yes
MAGAZINE: Angled magazine
WARRANTY: 5-Year Tool Warranty
Key Features Of Metabo HPT NT65MA4
Integrated air duster to clean dust and debris
Tool-free selector switch to quickly change the firing mode
Can drive a wide range of 15 gauge fasteners from 1-¼ to 2-½ inches
Tool-free depth adjustment system
360-degree swivel air exhaust port
The magazine is angled for quick maneuverability in tight spaces.
Specification Of Metabo NT65MA4
Power Source: Pneumatic
Fastener Type: 15 gauge 34° DA style angled finish nails
Fastener Range: 1-1/4″ to 2-1/2″
Magazine Capacity: 100 nails
Operating Pressure: 70 to 120 PSI
Air Consumption: 0.045 ft3/cycle at 100 psi
Air Inlet Size: 1/4 NPT inch
Dimension (L x H x W): 13-1/2 x 12 x 3 inches
Weight: 4.2 lbs. /1.9 kg
Housing Material: Aluminum
Detailed Features Of Metabo HPT NT65MA4 Finish Nailer
Well-Built Aluminum Body
The name Hitachi itself explains its reliability, and there is no need for further clarification. Hitachi invests adequate quality time in the development of its NT65MA4 15 gauge finish nailer without any deviation. It uses an aluminum alloy to make the body lightweight, a mere 4.2 pounds, making it convenient in your hand for a full day of work.
Also, it comes with an elastomer grip, which ensures a secure hold besides comfort. So, the way heavier models do, it won't wear you out.
Capacity
The Metabo NT65MA4 is designed to fire 15 gauge finish nails, as you might have noted. You'll be surprised to learn that its previous edition, the NT65M2S, was designed to fire 16-gauge finish nails.
Are you curious as to why they chose a 15 gauge finish nailer? The development of 15 gauge finish nailers was motivated by the fact that 16 gauge finish nails are subtle and thinner, with less holding ability than 15 gauge finish nails.
The 15 gauge finish nailer allows you to fasten a heavy molding like a 1-1/4″-thick baseboard and trim easily and securely. Therefore, You can do more demanding woodworking tasks like nailing door jams or stairs, crown and base moldings, cabinets, and exterior trimming with it.
To do so, Hitachi 15 gauge angled finish nailer allows you to actuate 1-1/4 inch 34-degree angled nails at 70 psi into any soft lumber like pine, and at 120 psi pressure, you can flush 2-1/2 inch pins into any hardwood like Oak with no issue. Plus, its angle magazine allows you to reach tight corners easily.
Depth Of Drive
You have to fasten various materials while doing woodworking jobs. So, there is nothing better than having a tool that supports the tool-less depth of drive adjustment. A renowned company like Hitachi knows it well and designs its Metabo NT65MA4 accordingly.
You will find a dial knob located conveniently just below the non-slip elastomer grip trigger to adjust the flash drive. The elastomer trigger also gives you improved control and a professional finish.
Easy Nailing Operation
The nailing operation is quick and simple thanks to a simple switch, which is enabled by a flip of the nicely curved selective actuation trigger. It allows you to switch from single to contact firing by simply pressing a switch upward or downward, without the need for any additional parts or equipment.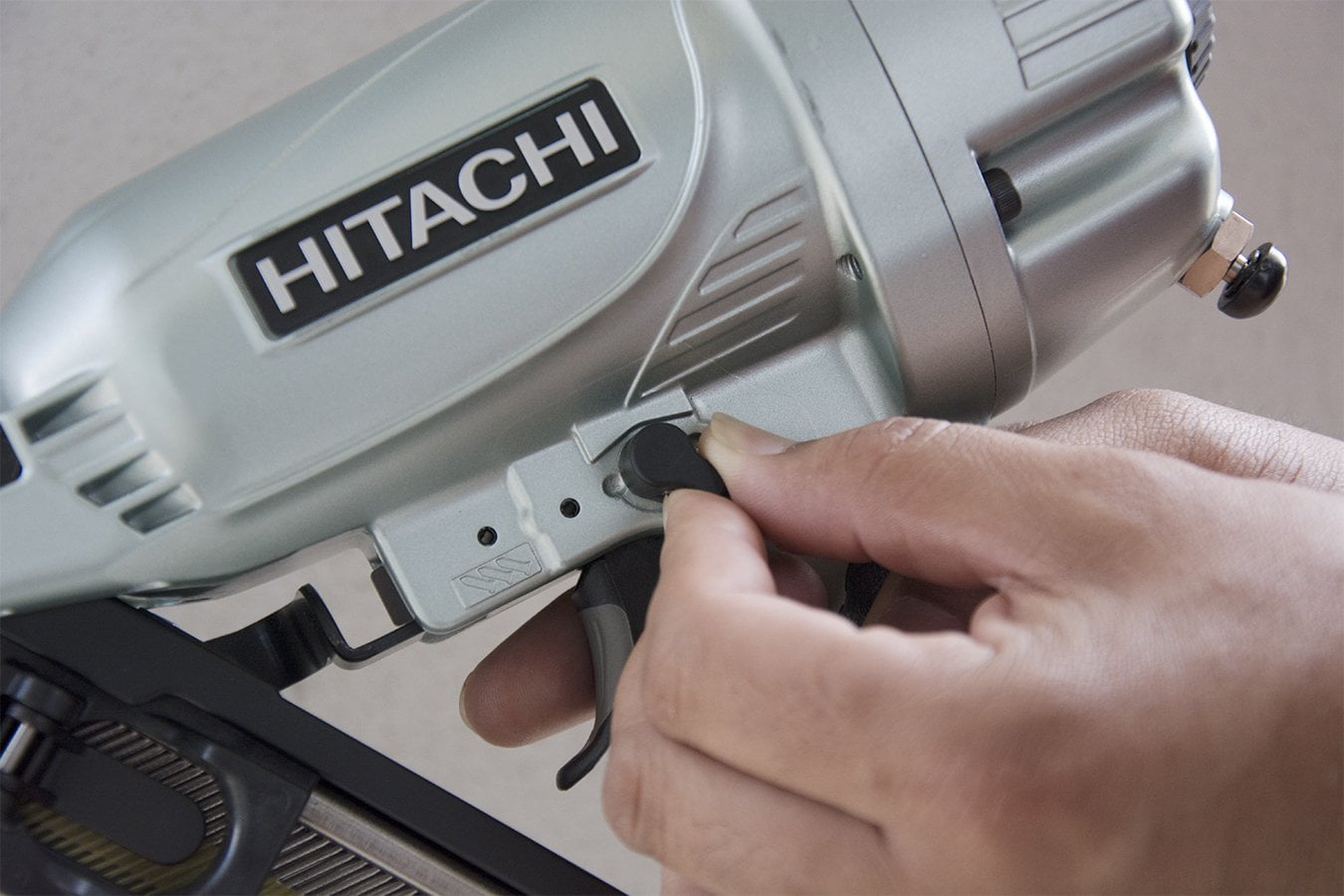 Adjustable Exhaust
A fully customizable 360-degree air outlet/portal on the top of the Metabo finish nailer head can easily steer exhausted air, as well as dirt and oil, away from the user.
With the help of this 360-degree exhaust portal, typically, you can adjust the combustion air exhaust path to prevent chewing dust on drywall while assembling the baseboard over a dusty subfloor. You can also protect your hat from flying off while fastening the door or window casing or any other finishing job by adjusting its direction.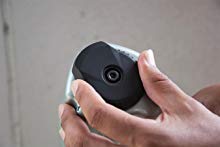 Air Duster For Clean Work Surface
A neat and tidy workspace will give you a sense of clarity, allowing you to think more deeply about your work. To address this issue, the Metabo NT65MA4 finish nailer comes with a unique feature that allows you to quickly eliminate dust and dirt from the work surface. Yes, absolutely!
That's the built-in air duster, which will make cleaning a lot easier for you, resulting in a cleaner working atmosphere every day. It will also help you to complete your work faster.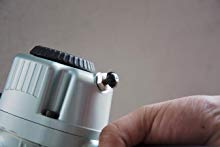 The air duster works by collecting air from the compressor and passing it through the nailer chamber. Then forcibly ejecting it through a hole in the machine's front. You could easily run this device according to your needs by pressing a button.
Tool-Free Jam Clearing
Metabo finish nailer design with a clear nose with an easy-to-open latch that allows you to quickly extract nails if any jam occurs. The best part is you'll not need to use any tools to clear it. To know more about jam clearing, you may visit our blog on how to unjam a nail gun.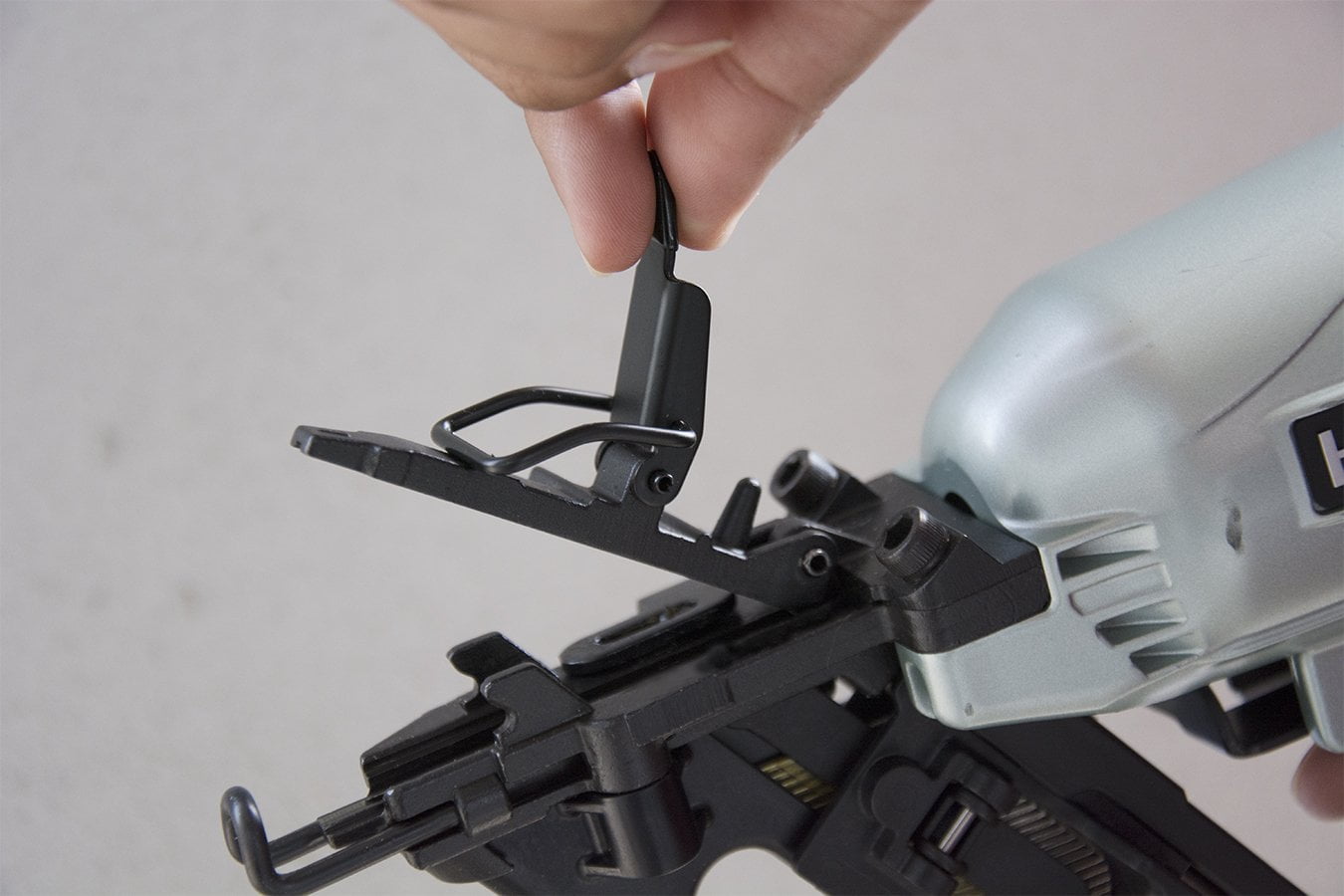 Damage Protection No-mar tip
Finish nailers do mostly decorative and sensitive work, such as driving nails into soft boards or plywood, where you need a guard that protects your surface from denting by the sharp tips of the tools used.
By keeping this in mind, Hitachi includes the No-Mar tip to protect the valuable work surface from potential damage. If not needed, you can also remove it and stored it in the device for further use.
Comfortable To Use
In addition to its lightweight body, Metabo NT65MA4 covers its handle with a rubber grip that adds extra comfort and secure hold to work with it for a long day.
It comes with a pre-assembled air fitting that is angled upwards to keep the hose out of the way of the user and workpiece while driving nails. Therefore, you can enjoy hassle-free nailing.
If you find the above features are not satisfying, you could also pay a visit to our page on the best finish nailer, where you will get reviews on the 10 top quality finishing nailers along with buying tips.
Real-world examples of how woodworkers have used Metabo finish nailer
The Metabo 15 gauge finish nailer is a powerful and versatile tool that woodworkers often use to expedite their finished woodworking jobs.
Here are two real-world examples of how woodworkers have used this nailer to expedite their finished woodworking jobs:
Crown Molding Installation:
When installing crown molding, precise and secure attachment is crucial for achieving a professional finish. Woodworkers use the Metabo 15 gauge finish nailer to quickly and accurately fasten the crown molding to the walls and ceilings.
The nailer's angled design allows them to reach tight corners and awkward angles easily, saving time and effort compared to traditional nailing methods.
Furniture Assembly:
When assembling wooden furniture pieces, such as cabinets, bookshelves, or tables, the Metabo 15 gauge finish nailer comes in handy. It allows woodworkers to rapidly attach trim, moldings, and other finishing elements, giving the furniture a polished appearance.
The nailer's adjustable depth settings ensure that nails are driven to the right depth without damaging the surface, resulting in a clean and professional look.
In both of these examples, the Metabo 15 gauge finish nailer helps woodworkers streamline their projects, improve efficiency, and achieve high-quality results in less time compared to manual nailing techniques.
What you will get with the Metabo finish nailer?
If you buy Metabot HPT NT65MA4 finish nailer, you will get the following accessories with it.
1x NT65MA4 Finish Nailer
1x convenient carrying case
1x safety glasses
1x no-mar tip
1x 1/4″ NPT Male Plug
1x owner's manual
Some Typical Applications Of NT65MA4 Finish Nailer
Metabo finish nailer is a versatile tool that you can use to perform the following tasks with speed and efficiency.
Installing crown and base moldings
Cabinet and furniture making
Window and door casings
Chair rails, cabinets, exterior trim, and staircases
Manufacture housing
On-site and mobile home construction
Benefits Of Metabo HPT NT65MA4
Compact and lightweight aluminum body
The angled magazine for quick access in tight corners
Integrated air duster for faster and cleaner job completion
Clear nose for precise nailing and natural jam clearing
Easy-to-dial tool-free depth adjustment
Easy rear-loading magazine
Selective Actuation switch
Adjustable exhaust portal
Limitation Of Metabo HPT NT65MA4
The overall performance of this 15 gauge finish nailer is excellent and difficult to find any flaw except dry-fire lockout system and lack of belt hook.
Problem 1: Lack of belt hook
A belt hook is needed when you drive nails in odd positions or when you need both hands free. So, it's undoubtedly a backlog of this system. We hope Hitachi will understand this and bring a correction in their design soon. Nevertheless, you can fix a belt hook by visiting your closer workshop/hardware shop if you often need to use this facility.
Problem 2: No dry-fire lockout system
Absent dry-fire lockout can cause damage to the working surface as well as reduce the life of the unit. Although it doesn't have a dry-fire lockout feature, you can use the magazine window to gauze the endpoint of the nail strip. Whenever you find low nails in the magazine, you need to quit nailing and reload a fresh strip to continue your work.
How To Use Metabo HPT Finish Nail Gun?
Here are some general steps on how to use the Metabo HPT Finish Nail Gun:
1. Prepare the nail gun: Before using the nail gun, make sure it is properly assembled and lubricated. Check the user manual for specific instructions on how to do this.
2. Load the nails: Open the magazine and insert the nails into the nail gun. Make sure the nails are properly aligned and seated in the magazine.
3. Adjust the depth: Depending on the type of material you are nailing, you may need to adjust the depth of the nail. This can usually be done using a depth adjustment wheel or knob on the nail gun.
4. Position the nail gun: Hold the nail gun firmly and position it at a 90-degree angle to the surface you want to nail.
5. Fire the nail gun: Press the trigger to fire the nail gun. Make sure to keep your fingers away from the firing area and wear appropriate safety gear, such as eye protection and earplugs.
6. Repeat: Continue firing the nail gun, moving it along the surface as needed, until you have completed your nailing task.
7. Unload the nails: When you are finished, remove any remaining nails from the magazine and store the nail gun in a safe place.
Note: These steps are general guidelines and may vary depending on the specific model of the Metabo HPT Finish Nail Gun. Always refer to the user manual for detailed instructions and safety guidelines.
Frequently Asked Questions For Metabo HPT NT65MA4 Finish Nailer
What is the difference between 15ga and 16ga finish nailer?
The difference between a 15ga and 16ga finish nailer lies primarily in the size of the nails they can accommodate. A 15ga finish nailer is designed to handle nails with a diameter of 0.072 inches or 1.829 mm, while a 16ga finish nailer is capable of driving nails with a diameter of 0.0625 inches or 1.588 mm.
This may seem like a small difference, but it can have a significant impact on the quality of your finished project. The 15ga nailer is typically used for heavier trim work, while the 16ga nailer is better suited for lighter, more delicate trim. It's essential to choose the right tool for the job to ensure a professional and polished finish.
What Capacity Compressor Does It Need To Run Efficiently?
The size of the compressor depends on the pressure, air consumption, and the number of equipment running at a time. Therefore, you can calculate your air compressor size by using the following formula.
Amount of Air Required = number of nailers x average nails driven each minute per nailer x air consumption at given air pressure x safety factor (1.2 always)
For Example: Let's assume, you run two nailers at a time and drive 30 nails per minute with 100 psi air pressure. Then the required size of the air compressor will be
Amount of air required to run two nailer = 2 x 30 x 0.045 (1.29) x 1.2 = 3.24 CFM (ft3/min) or 92.88 liter/min
Therefore, you need an air compressor that can produce 3.24 CFM air to run two nailers simultaneously.
Does Hitachi Sell Its NT65MA4 Finish Nailer In A Hard Case?
​​​Yes. It comes with a beautiful and slim hard case to store or transport your device securely.
Is It An Oil-Free Device?
​Not really. You need to pour oil twice a day to keep it running. Visit page 10 of the operational manual of the Metabo HPT finish nailer for more details.
What type of nails are compatible with Metabo HPT Finish Nail Gun?
You can use any generic 15 gauge nail length from 1-1/4 to 2-1/2 inches in this NT65MA4 finish nailer, including Senco or Grip-Rite, with no issue.
Final Thoughts On Hitachi 15 Gauge Angled Finish Nailer
​We have no doubt about the excellence of the Hitachi brand and, therefore, its product Metabo HPT NT65MA4 15 Gauge Angled Finish Nailer. It is, indeed, a beautiful device that ensures superior control, along with durability for efficient trimming and other woodworking jobs. It consists of all the essential high-end features to perform its job precisely and comfortably.
In addition, this finish nailer allows you to drive any generic 15 gauge finish nails along with Hitachi nt65ma4 nails, which is a big relax that you can collect fasteners from your nearby hardware stores or online marketplaces without thinking much.
Besides the above features, we also liked its air duster to clean debris quickly and effectively before nailing. Its lightweight body with an angled magazine fits into tight corners and messy spaces with no issue.
Although we noticed two setbacks of this super finish nailer, they're not substantial enough to pull anyone back from getting it.
Related Posts
Tools Mirror is reader-supported. When you shop through retailer links on our site, we may earn an affiliate commission at no cost to you.
Recent Posts