You're a do-it-yourself homeowner who has to undertake some renovations, build something on the patio, or hang a picture or two on the wall every now and then. However, you may find that driving nails in those situations is inconvenient because neither a hand hammer nor a power nail gun appears to be sufficiently expedient.
You might be happy to learn that there is a third option that is somewhere in between the two. That's the palm nailer, a little yet powerful tool for completing DIY projects with ease.
Today, we'll go over the differences between a palm nailer, framing nailer, and hammer, as well as when each is best used, so you can make an informed decision about which one to use for your next DIY project.
Let's dive right in.
Hammer Vs Framing Nailer Vs Palm Nailer: An Overview
One thing all three tools have in common is that they are all designed to help in nailing. However, a hammer is an ancient tool that requires physical exertion to employ, whereas framing and palm nailers are modern nailing methods designed for precision and comfort.
Scroll down to the page to read more about the hammer vs framing nailer vs palm nailer in-depth –
Hammer
Every professional and homeowner is familiar with the hammer, which is an age-old tool (estimated to be 3.3 million years old). It can be used in carpentry, blacksmithing, stone breaking or shaping, percussive playing, and a variety of other applications. There are around 40 different types of hammers.
Our today's focus is the framing hammer or claw hammer, which are commonly used in carpentry. A framing hammer is primarily a heavy-duty rip hammer with a straight tail (weighing roughly 20 to 32 ounces in the case of steel head), and a claw hammer is specially built for woodworking, capable of driving and pulling nails as needed.
Besides framing hammers, there are other types of hammers too that are suitable for small to medium woodworking or craft. Ball, cross, and straight peen hammer, Warrington, joiner, etc., are some examples that are good for finish woodworking, like making cabinets or attach the trim molding.
Until the invention of the power nail gun, the only pounding tool was the hammer. However, once framing nail guns arrive on the scene, the hammer's effectiveness is questioned. Let's look at the advantages and disadvantages of utilizing a hammer.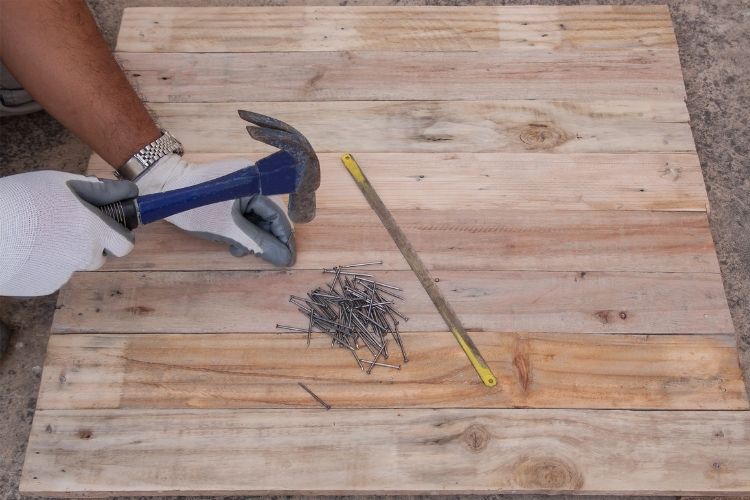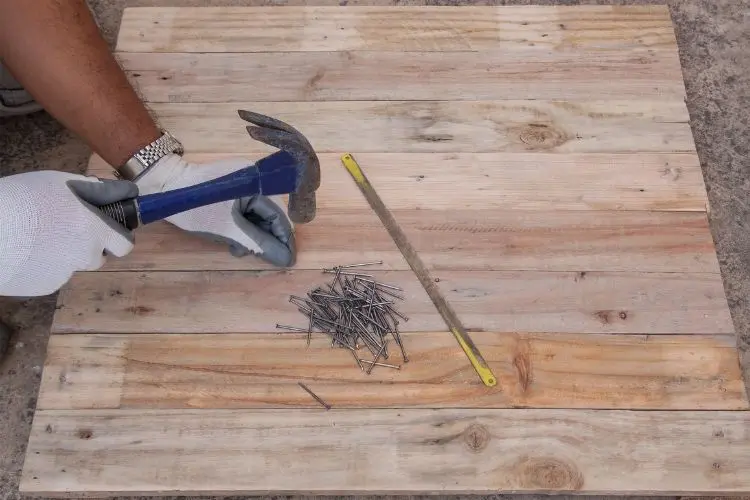 Benefits Of Using A Hammer
Despite the advancement of the contemporary framing nail gun, the hammer or framing hammer is still in use. Furthermore, many professional framers believe that using a framing hammer gives them additional leverage or an edge while constructing a building's foundation.
They appear to be an ideal tool for framing your house and nailing down two-by-fours or four-by-fours. It will provide you more control over the depth of drive and the tightness of the fit.
The great aspect is that you don't need an air compressor or a battery to drive nails with a framing hammer. They're also small and convenient to carry around in your waist belt.
Drawbacks Of Using A Hammer
Although there are several advantages to utilizing a hammer, it is limited in terms of speed and precision. Because tying a frame or studs takes manual labor, it is never possible to apply equal pressure in a straight line. If you swing the hammer at an angle, you'll see that the nails bend. You have to give extra labor to pull it and nail it again.
When nailing your new trim in your living room, you can't use a framing hammer since it will break apart. You must maintain a specialized hammer on hand for various tasks, which can be scary at times.
Another big weakness of using a hammer is that pounding a nail requires two hands. One hand is used to hold the nail, and the other is used to hammer it, which can be dangerous if the nail head is missed.
If you choose a hammer that has two parts – the head and the handle – the risk of nailing increases once again because they can separate at any time while hammering.
You also take into account user weariness and trauma. If you use the wrong size hammer on a daily basis, you're likely to get problems like Carpal Tunnel or Tennis Elbow, or you can end up hurting up your shoulder.
Framing Nailer
A framing nailer is a high-capacity nail gun that can be powered by an air compressor or a lithium-ion battery. It can drive nails into any lumber at high speed and at a faster rate for framing, decking, fencing, or room construction.
It can be pneumatic or cordless, depending on the power supply. While pneumatic framing nailers use compressed air pressure to drive a piston, cordless framing nailers employ lithium-ion battery power or a fuel cartridge to achieve the same results.
Pneumatic framing nailers are lighter and more popular among professional framers, whereas cordless framing nailers may be used anywhere without tangled hoses or hefty air compressors, making them a desirable option for DIY homeowners.
Let's get the pros and cons of using a framing nailer below so you can compare it to the convenience and discomfort of using a hammer.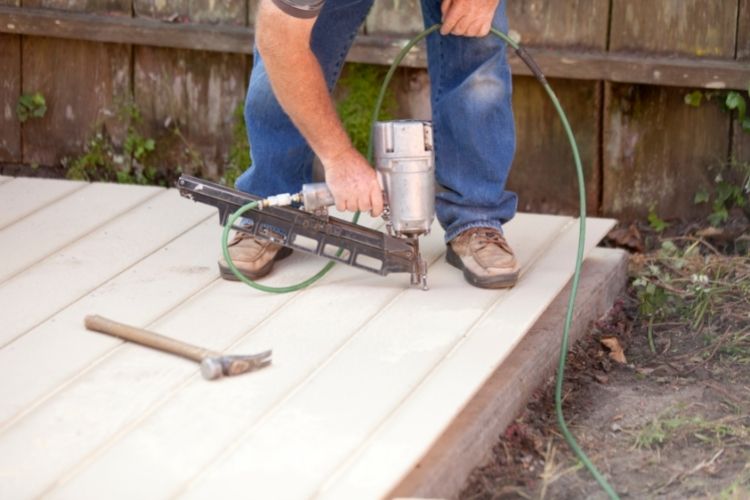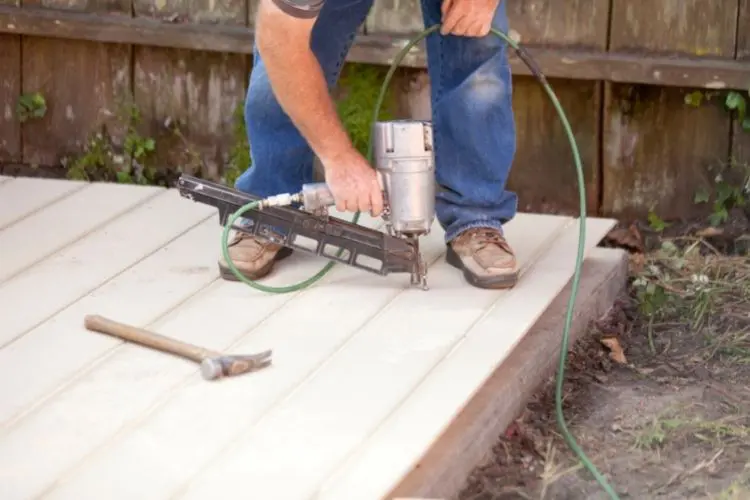 Benefits Of Using A Framing Nailer
Once you've chosen the right depth of drive and assembled the wood that needs to be joined, you can drive 2-3 nails per second using a framing nailer, which is practically impossible with a framing hammer. So, one of the major advantages of employing a framing nailer is the speed of nailing.
A framing nail gun also provides great drive, allowing you to blast nails into any engineered or solid lumber without the use of muscle force. It also ensures that you apply the same amount of pressure when driving your nails, which is ideal for good bonding.
You'll achieve accurate nail placement if you can set the tip of the framing nail gun in the appropriate position at the proper angle. The accuracy of a framing nailer is difficult to match with the accuracy of framing hammers.
You no longer need to carry those sharp pins on your palm or waist belt (which may cause injury) because framing nailers have a huge built-in magazine to hold a number of nails or strips of the nail. Furthermore, you will no longer need to grasp the nails with a bare hand when nailing, saving your fingers from being injured by hammering.
As a result, it will be a terrific choice for DIY homeowners as well as professionals because it combines power, precision, and efficiency in one instrument.
Drawbacks Of Using A Framing Nailer
Although you will find a framing nailer to be comfortable and quick, it is significantly more expensive than a hammer. You will also find it is a little heavier than a hammer, which can lead to arm fatigue over time.
Another significant issue is that, despite the fact that framing nail guns are supposed to drive nails accurately, they occasionally discover proud nail heads that require the use of a hammer to rectify. And you may only use a framing nail gun until the battery has sufficient charge or you have a hose connected to an air compressor. You are also limited in your capacity to access isolated regions while using an air compressor as a power source.
Framing nailers and the air compressors that go with them are also noisy, which can be bothersome to the users. When using framing nail guns, eyeglasses and earplugs are mandatory for safety.
Palm Nailer
When a hammer refuses to deliver enough leverage to drive nails without risking your fingertips, and a framing nail gun appears bulky and expensive, a palm nailer can give comfort for your DIY projects.
You may not know what a palm nailer is, but if you're into any type of home remodeling or design work, they might be your new best friend.
A palm nailer is an air-powered tool that uses common bulk nails instead of collated – which sounds like it would take more energy than just using regular old tools… right? Wrong! The truth is these are actually much easier to use on small jobs because they fire quickly with little recoil force required (which means less strain on your hand). Plus, there's a kind of satisfaction you get from nailing something into the trusses or through the joist hangers to secure decking.
Though pneumatic palm nailers are the most common, cordless alternatives powered by lithium-ion batteries are also available. Cordless palm nail guns provide you the freedom to drive nails in any location with the same pounding force as a pneumatic nail gun.
It, like a hammer and framing nailer, has some advantages and disadvantages. Let's have a look at those below.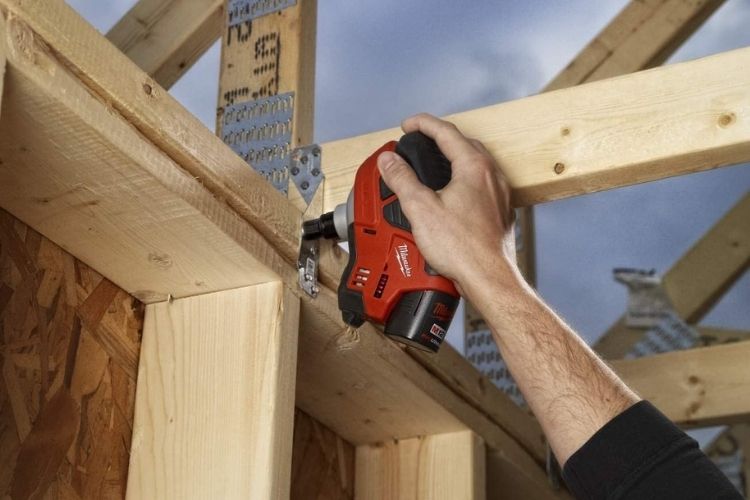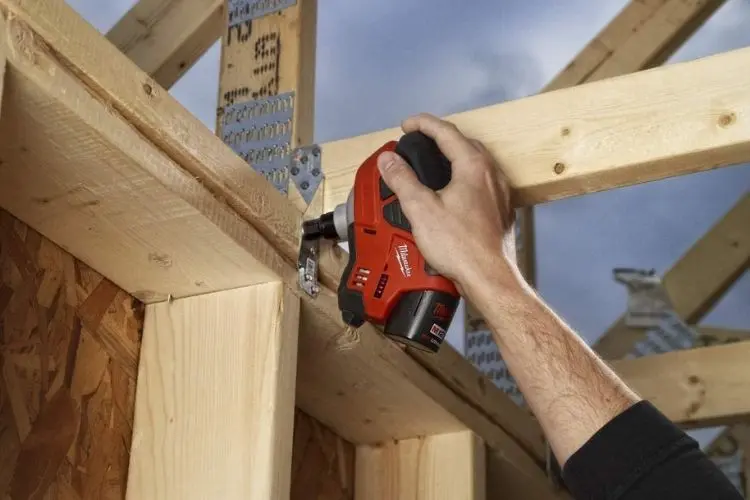 Pros Of Using A Palm Nailer
You can use a palm nailer for all kinds of projects that require nails, and the fact that they're small and lightweight (most are under a pound) that they can fit easily in your palm. Because of their size, you can use them to drive nails into difficult-to-reach corners effortlessly. They're instrumental when you need to drive large bulk nails in tight places where a nail gun won't fit and you can't swing a hammer.
Despite the small size, usually, they can drive 1-1/2 to 3-1/2 inches common bulk nails into any engineered or solid board. Some heavy-duty palm nailers (weighing less than two and a half pounds) can also drive 2 to 6 inches long nails too.
They are extremely precise, sometimes even more so than full-size nail guns, and they are simple to use. It's as simple as placing it against your materials and lightly pressing it down with your palm pressure.
Palm nail guns are also treated as an easy way to install joist hangers and metal connectors or other fasteners with only one hand. They are also inexpensive and highly portable. So, what could be better?
Cons Of Using A Palm Nailer
Though it can handle a wide range of nailing jobs, it cannot match the speed of other regular size nail guns because it can only shoot one nail at a time. As a result, if you need to fire nails repeatedly, it will not be useful.
Palm nailers produce a lot of vibration while nailing. This vibrating effect might sometimes destroy the materials you're attempting to fasten, particularly fragile or thin trim or molding. As a result, they are less efficient when it comes to finishing carpentry.
Hammer Vs Framing Nailer Vs Palm Nailer: A Comparison
| Criteria | Hammer | Framing Nailer | Palm Nailer |
| --- | --- | --- | --- |
| Required Power Source | Manually Operated | Pneumatic or Battery Powered | Pneumatic or Battery Powered |
| Acceptable Nail Types | Common bulk nails | Collated nails | Common bulk nails |
| Acceptable Nail Size | Can drive any size of nails depending on hammer size | Usually can drive 2 to 3-1/2 inches nail | Can drive 1-1/2 to 6 inches long nail |
| Weight | Usually lightweight (20 to 32 ounces) | A bit of heavy (5 to 12 pounds or more) | Remarkably lighter than nailer, even some models are lighter than hammer too (1 to 2.5 pounds) |
| Portability | Highly portable | Little heavy to transport | Highly portable |
| Speed of nailing | Need several strokes to pound a single nail | High speed, can drive 2-3 nails per sec | Faster than a manual hammer, but very slow compared to frame nailers |
| Accuracy | It depends on users capability | Highly accurate | Highly accurate |
| User-Friendly | Not always easy-to-use | Convenient | Extremely Convenient |
| Cost | Low cost | Expensive than a hammer or palm nailer | Inexpensive |
Takeaways
There is no clear victor in our hammer vs framing nailer vs palm nailer comparison. If you compare a hammer to a framing nailer, you'll see that framing nailers are more user-friendly due to their accuracy and quickness. However, there are some scenarios that you won't be able to solve without a hammer.
When comparing a framing nailer to a palm nailer, you'll find that they're both needed at distinct stages of the woodworking process. A framing nailer is the most preferable option for heavy framing works, and a palm nailer will be particularly useful for fastening joist hangers or metal studs.
So, which one you should choose relies totally on the situation you're dealing with. Professional woodworkers amass a wide variety of tools for their toolbox. However, as a DIYer, you have the freedom to select the finest option for your needs.
Related Reviews:
Recent Posts