For centuries, hardwood flooring is treated as an elegant, high-end aesthetic choice for floors. It also offers wood's comfort, elegance, and beauty that never goes away from style. Solid hardwood or engineered wood flooring is, therefore, a reliable and attractive option when you are looking to renovate your home or business room.
So, what's next? I know what you think of it. Manually installing such hardwood floors is not only boring but also time-consuming and painful. Guys, those days are gone! The NuMax SFL618 3-in-1 Pneumatic Flooring Nailer is the perfect solution that is needed to overcome those problems.
With the NuMax 3-in-1 Flooring Nailer, you can efficiently and professionally perform various works from fastening T-Cleats to L-Cleats and Stapling. So, it will no longer seem hard for you to fix any hardwood floor once you step on this great device.
It's reasonable, long-lasting, and above all, filled with lots of innovative features, unlike its rivals.
So, if you have no idea what features this hardwood floor nailer has to offer? Okay, this is what I'm going to talk about. So, let's dive in without further delay.
How the Numax SFL618 Nailer Simplifies Your DIY Flooring Project?
The Numax SFL618 Nailer is an essential tool that can greatly simplify your DIY flooring project. Thanks to its user-friendly design and powerful performance, this nailer can help you quickly and easily install hardwood, engineered wood, and bamboo flooring with precision and efficiency.
Equipped with a 3-in-1 magazine that accommodates T-cleats, L-cleats, and staples, this versatile tool is perfect for a wide range of applications. Additionally, its ergonomic handle and adjustable depth control ensures a comfortable and customized experience, while its lightweight construction makes it easy to maneuver and transport.
With the Numax SFL618 Nailer, you can achieve professional-quality results with ease.
NuMax SFL618 3-in-1 Pneumatic Flooring Nailer Features
Spending on something a lot isn't a waste if it gives you the output you desired for. But spending even a penny on something that will not do you any good is a total waste.
Wait, and don't worry! You don't have to be an Engineer to buy the NuMax Flooring Nailer. It's affordable, and it'll go on for years, so you don't have to buy another one in a while.
What Features Are You Going To Get Into It?
It is designed to put in the tongue and groove hardwood flooring
High-strength aluminum and heat-treated steel parts constructed for it
3-in-1 option: T & L Cleats and Staples
Damage protection No-mar design to save a finished flooring surface
Two interchangeable base plates to work on 1/2″ to 3/4″ flooring
The NuMax SFL618 is a lightweight hardwood flooring nailer built with a body made of aluminum. It has an ergonomic grip handle for easy maneuverability along with interchangeable base plates, which allows you to move from 1/2 inch to 3/4 inch plates according to hardwood floor thickness. Which makes it really great for flooring jobs.
When using this NuMax floor nailer, owing to its extended handle, you will never face any achy back. You don't have to hit hard, too, because its light strike bumper gives you low-impact fastener driving. It comes with a white rubber mallet to push hardwood floors in place.
Therefore it is an ideal tool for the efficient handling of professional jobs and home DIY projects.
Features Of Numax SFL618
Multi-Functional: 3-in-1
You can need to drive many flooring nails and even staples depending on your working condition when you start fastening floor planks. L-shaped or T-shaped cleats are ideal for the installation of thicker-shaped hardwood floors with high Janka hardness species including Red and White Oak, Tigerwood, Cumaru, or Amendoim.
On the other side, staples are a good option for building subfloors made of plywood.
So, grab the NuMax SFL618 pneumatic 3-in-1. It will allow you to drive both L-shaped and T-shaped cleats and 15-1/2 to 16 gauge staples without damaging your hardwood floor or leaving any marks on it.
Versatile
You cannot use a flooring nailer to do other nailing work like framing or siding. On top of that, if you buy a floor nailer that can only do a single job, your investment will not be worth it. Instead, if you have a hardwood flooring nailer that can fasten different kinds and thicknesses of floorboards, it is always better.
With NuMax 3 in 1 flooring nailer, nails can be driven into a wide variety of different thickness floorboards starting from Oak to Maple or Hickory. What you have to do is change their interchangeable base plates. It comes with two base plates for 1/2 inch and 3/4 inch thick flooring.
Not only does it help you to drive cleats or staples tightly, but it also helps protect your finished flooring surfaces thanks to its no-mar feature.
This is also the right choice for DIYers to achieve skilled results undertaking home renovation and maintenance tasks as well as construction workers on the job site.
Construction And Materials
If you're talking about its construction, the NuMax floor nailer is of heavy-duty quality. This nailer is not only flexible but also strong and sturdy.
In order to ensure reliability and toughness, a body made of die-cast aluminum and heat-treated steel has been built on different sections of this flooring nailer. Since it requires constant movement, it is prudent for the manufacturer to use aluminum as a body material, which makes it not only durable but also lightweight.
So, yes. You don't need much muscle strength to push the machine on the floorboards, just as it won't harm the finished floors.
Durability, Longevity, And Power
Numax is a brand that offers a wide range of products, including framing nailers, finish nailers, and more that are highly acceptable to both professional contractors and DIYers. They follow a stringent quality management protocol and use the most robust materials during the manufacture of their equipment.
The NuMax flooring nailer SFL618 is no exception to this. You will, therefore, be assured of its durability and longevity.
When it comes to power, it can drive 1-1/2 inch to 2 inches, 15.5 to 16 gauge cleats, and crown staples smoothly at a power of 70 to 110 psi.
Comfort And Maneuverability
If you want to install 3/4-inch hardwood planks on a 300-square-meter wooden subfloor with 2-inch L-cleats, you need about 8 hours of work as a professional contractor. If you need to cover a bigger floor area or you're a DIYer, you'll need more time to finish.
So, the nailer you're going to use to do this job should be ergonomically comfortable.
And if you touch the NuMax SFL618, you can feel the ergonomics of it. It comes with a rubber-lined handle for easy grip and is ergonomically designed to ensure ease of operation during long shifts.
Its lightweight body construction, weighing 12 pounds only, gives you incredible balancing power, too.
Real Value For The Money
Like every other NuMax nailer, this device is premium but less costly than its rivals. And you're getting a flooring nailer for hardwood installation that is balanced, robust, reliable, and highly comfortable at a cheaper but high-end tool size.
Details Of Numax SFL618 Nailer/Stapler Package
Specification: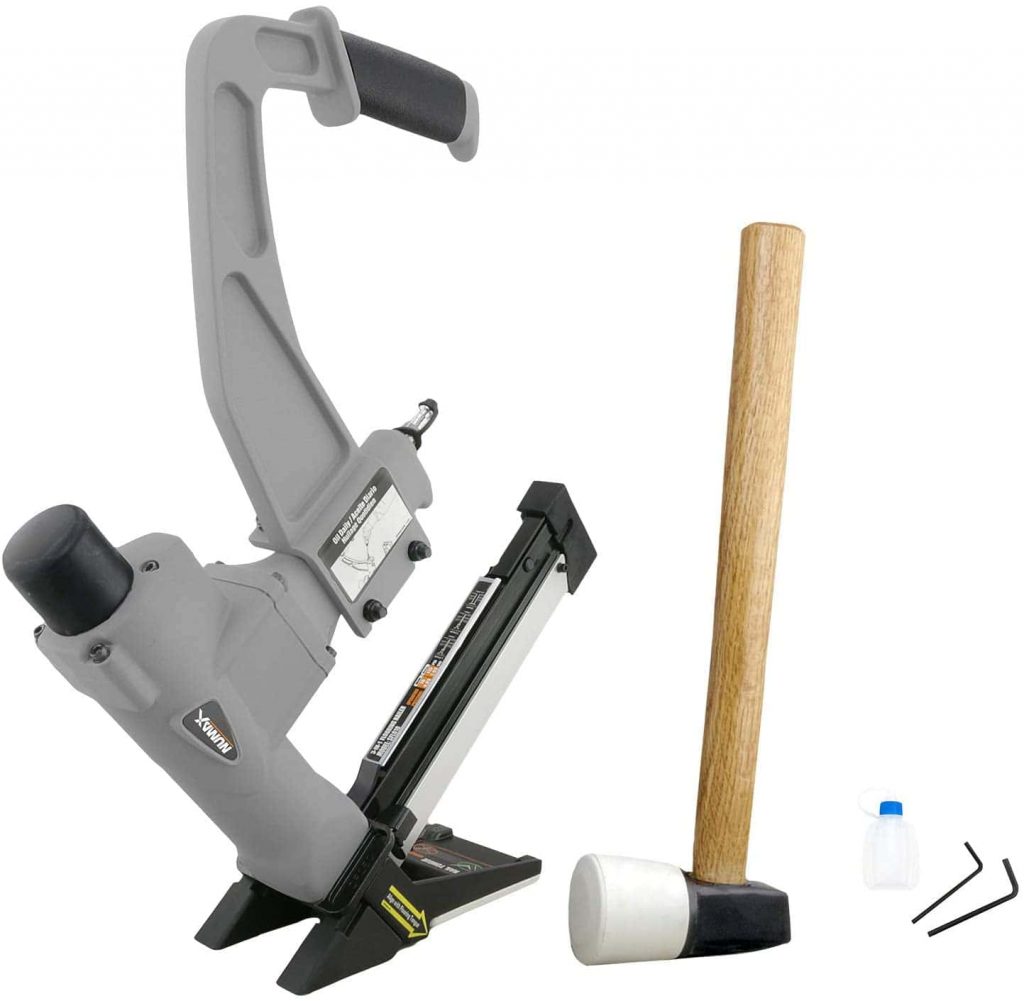 Operating Pressure: 70 – 110 PSI
Fastener Gauge: 16 gauge for T & L Cleats, 15-1/2 gauge for Staples
Fastener Crown: ½ inch
Fastener Range: 1-1/2 – 2 inches
Magazine Capacity: 90 – 120 Staples, 100 T & L Cleats
Compatible Fasteners: 1-1/2″ – 2″ 16-gauge glue collated T & L cleats, and 1-1/2″ – 2″ 15.5-gauge glue collated 1/2″ crown staples
Net Weight: 12 lbs.
Overall Dimensions: 15.13 x 3.5 x 21.38 inches
Warranty: 1-year limited warranty for tool and 30 days for wearable parts
​

Applications:
Installation of solid tongue and groove hardwood flooring
Engineered wood flooring
Floor carpeting
Package Includes:
It comes with a white rubber mallet, an air tool oil, and adjusting tools to ensure the highest performance. It also has the option to add a Flooring Nailer Roller Base Converter when buying this device to increase the efficiency even more.
Benefits Of Numax SFL618
A perfect tool to install the tongue and groove hardwood flooring
Lightweight and durable die-cast aluminum body
It can drive both staplers and cleats for versatility
Its ergonomically designed long handle makes it easy to maneuver
Pneumatic-powered tools give you consistency and effortless nailing all the time
No-mar base plates are excellent for delicate woods
High-capacity cleat and stapler magazine for longer nailing without interruption
Limitations Of Numax Flooring Nailer
No dry-fire lockout system
Solution: When you get used to this app, you will no longer need a dry-fire locking system. Until then, you can either inspect the strike zone frequently or watch the exhaust sound (it becomes louder at the end of the magazine) to protect the dry fire.
You may adopt Brandon's strategy as well. Mr. Brandon is a Numax floor nailer user and engineer at BSME, Northeastern, USA. He put some blue painter's tape on the magazine where the pusher rests. It stops the pusher when there are only 5 to 10 nails left.
No case for storage
Solution: It will be better if it comes with a storage case, at least for the extras (oil, augments, etc.). Whatever, to store it properly for the sake of reuse, you can buy a bag or a tool organizer for the accessories. You can try this Heavy Duty Rolling Chest & Cabinet Storage Box by Stalwart.
Comparison: Numax Vs Freeman Floor Nailer
You may know that Numax and Freeman both are marketed, distributed, and warranted by Prime Global Products. So, it will not be surprising that both products have similar features. Yes! If you see Numax SFL618 and Freeman PFL618c side by side, you will find no difference between them. Let's see the table below.
| Features | Numax SFL618 | Freeman PFL618C |
| --- | --- | --- |
| Power Type | Pneumatic | Pneumatic |
| Operating Pressure | 70-110 PSI | 70-110 PSI |
| Fastener Gauge | T & L Cleats: 16 GA / Staples: 15.5 GA | T & L Cleats: 16 GA / Staples: 15.5 GA |
| Fastener Crown | ½ inch | ½ inch |
| Fastener Range | 1-1/2″ – 2″ | 1-1/2″ – 2″ |
| Magazine Capacity | 100 cleats and 90 – 120 staples | 100 cleats and 90 – 120 staples |
| Anodized Magazine | Yes | Yes |
| Ergonomically Designed | Yes | Yes |
| Heavy-duty Construction | Yes | Yes |
| Net Weight | 12 pounds | 11.46 pounds |
| Dimension | 16.75 x 3.5 x 22.75 inches | 16.75 x 3.5 x 22.75 inches |
| Warranty | 1-year | 7-years |
| Applications | 1/2″ to 3/4″ thick solid tongue and groove | 1/2″ to 3/4″ thick solid tongue and groove |
| Price | Check on Amazon | Check on Amazon |
So, for your flooring job, you can either choose from Numax or Freeman, both are ready to provide the same job satisfaction you need.
How to Use Numax SFL618 Nailer for a Flooring Project?
If you are looking to undertake a flooring project, the Numax SFL618 nailer can be a valuable tool for you. Before starting the project, ensure that the nailer is appropriately lubricated and has the correct air pressure setting.
To begin, align the nailer with the board's tongue and insert the nailer's nose into the board's end. Squeeze the trigger to drive the nail into the board. Keep the nailer level and maintain a consistent speed while nailing to prevent damage to the wood.
Repeat the process until you complete the installation.
Remember to wear eye and ear protection while using the nailer.
With proper use, the Numax SFL618 nailer can make your flooring project a breeze.
Maintenance Tips of the Numax SFL618 Flooring Nailer
As with any power tool, proper maintenance is crucial to ensure optimal performance and longevity. To maintain the Numax SFL618 Flooring nailer, there are a few key tips to keep in mind.
First, always clean the tool after use to remove any dust or debris that may have accumulated.
Second, regularly check and tighten any loose screws or bolts to prevent any damage or accidents. Third, lubricate the moving parts with a high-quality oil to ensure smooth operation.
Finally, store the nailer in a dry, cool place to prevent any rust or corrosion from occurring.
By following these simple tips, you can ensure that your Numax SFL618 Flooring nailer stays in top condition for years to come.
Frequently Asked Questions For Numax SFL618 Flooring Nailer
Which is a better option for a hardwood flooring nailer, buying or renting?
It depends on the size and nature of the project you're going to handle. If you are a DIYer and need to install hardwood floors for a single room, it might seem cheaper to rent a floor nailer than buy one.
However, if you compare the price of the tool, especially the Numax floor nailer, you may find that the cost of rent for three or more days is equal to the price of a new device.
If you're a professional manufacturer, buying a hardwood flooring nailer will be the best way to rent.
Is the Numax SFL618 compatible with every nail brand on the market?
Of course! You could use any generic brand, like Bostitch floor nails or staples, to drive with the Numax flooring nailer.
Can I use finish or brad nails in this gun?
Oops! You cannot. It only allows the fasteners to be 16 gauge "T & L" cleats and 15.5 gauge staples. However, in a limited case, you can use a brad nailer or a finish nailer to fasten hardwood floors.
Should I use staples or nails for hardwood flooring?
There are two kinds of hardwood floors – solid and engineered. Generally, nails that are also known as cleats in solid wood floors and staples for plywood or engineered boards should be used.
However, both staples and cleats could be used for both floor types.
Due to the need for a vapor barrier, it is important to use only the recommended length of the nails and staples so that they can only reach the subfloor.
What should be the correct size of nails for 3/4 inch hardwood flooring?
When building 3/4 "solid wood flooring over a subfloor with floor joists, or when building 3/4" flooring over a concrete slab, over two 1/2 "plywood layers, you could use 2-inch long cleats.
Unboxing the Numax SFL618 Flooring Nailer [Video]
Final Thoughts
Why would you waste your money renting one or attempting to get the job done with all those poor-quality flooring nailers on the market? Make every penny count and buy the one that offers you the best. And if you want the best flooring nailer at a reasonable price, you can rely on the NuMax SFL618 3-in-1 pneumatic flooring nailer/stapler with your eyes closed.
If you're reading this post word by word, it should be clear to you why the brand is unique from others. However, if you want more research on it, you can ask your neighbors. I think you'll be getting positive feedback.
Related Reviews:
Tools Mirror is reader-supported. When you shop through retailer links on our site, we may earn an affiliate commission at no cost to you.
Recent Posts